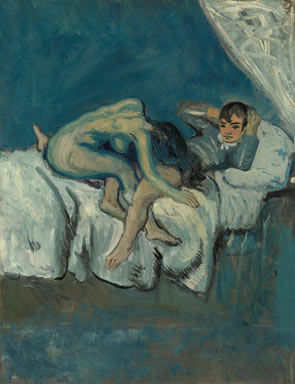 Pablo Picasso (Spanish, 1881–1973), "Erotic Scene", 1902 or 1903. Oil on canvas, 27 5/8 x 21 7/8 inches. The Metropolitan Museum of Art, Bequest of Scofield Thayer, 1982. (1984.433.22) ©2010 Estate of Pablo Picasso / Artists Rights Society (ARS), New York.
NEW YORK, NY (AP).- A painting disowned by Pablo Picasso is expected to have its U.S. debut in a major exhibit of his work at New York City's Metropolitan Museum of Art, though it's unlikely to be a highlight of the show.

Questions have been raised about the authenticity of the painting, which is called "Erotic Scene" and shows a naked woman nestling her head in a man's lap.

But the Met's curator of 19th-century, Modern and Contemporary art says that wasn't the reason it had been kept in storage since being acquired in 1982. Curator Gary Tinterow says it was simply "not very good." He calls it "slapdash."

Maybe that's why Picasso said the painting was "a joke by friends."

Tinterow says Met researchers confirmed it was by Picasso before including it in the show of 300 works opening April 27.

Information from: The New York Times, http://www.nytimes.com. Copyright 2010 The Associated Press.