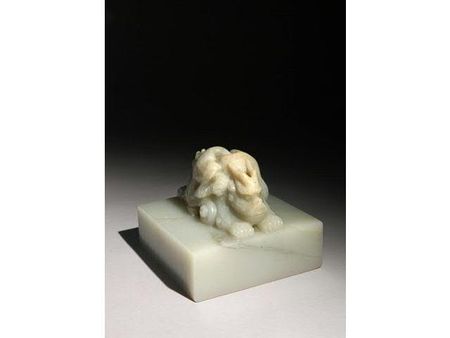 Sceau de l'empereur Qianlong, portant l'un de ses pseudonymes.
Cachet en jade néphrite céladon, très légèrement veiné de rouille sur le sommet. La prise est sculpté de deux dragons adossés et enlacés, traités dans un style archaïsant. Il porte quatre caractères en écriture archaïque, aux traits en courbes et aux extrémités en pointes, dites « feuilles de saule » : Xintian zhuren « Le seigneur s'en rapportant au Ciel ». Il s'agit de l'un des pseudonymes de l'empereur Qianlong (r. 1736-1795) choisi par le souverain se souvenant d'un essai écrit en 1759 : le Kaihuolun (De la dissipation des doutes). On y trouve ce passage : « Comment sauriez-vous comprendre comment je gouverne en m'en rapportant au Ciel ? » dont il fit une maxime politique.
Hauteur totale : 88 mm, Hauteur du socle : 37 mm, empreinte : 106 mm de côté. Estimation : 400 000/600 000 €.
Une empreinte, parfaitement semblable à celle de cette pièce, figure dans le Qianlong baosou (Recueil des sceaux de l'empereur durant l'ère Qianlong). On connaît deux autres cachets portant l'inscription Xintian zhuren, tous deux en stéatite de Shoushan. L'un est conservé au musée du Palais à Pékin ; l'autre fait partie des collections du musée national du Palais à Taibei. Seul le nôtre use de graphies très rares pour les deux premiers caractères.
Provenance : Ce cachet aurait appartenu à Ferdinand Brunetière (1849-1906) critique littéraire et académicien.
Chassaing - Marambat SVV. Mme Papillon d'Alton, M. Ansas. Toulouse. Samedi 17 avril, à 11 h. Tél. : 05.61.12.52.00 - Fax : 05.61.12.52.05 - Email : chassaing-marambat@interencheres.com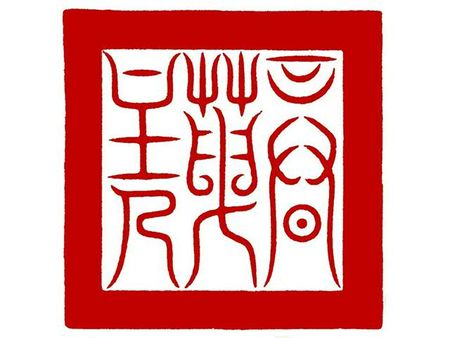 A Seal with one of Emperor Qianlong's pseudonyms.
The knob of this celadon nephrite jade seal with shades of yellow ochre on top is carved with two archaic style back to back intertwined dragons. It bears four Older archaic style "willow leaves" char acters with round strokes and pointed tips: Xintian zhuren "The ruler who relies upon Heaven". This is one Emperor Qianlong's (r. 1736-1795) noms de plume. He chose it when reminiscing a sentence in the Kaihuolun (On dispelling Doubts) an essay he wrote in 1759: "How can you know for certain I rely upon Heaven to rule?" which he turned into a political maxim. As this text was completed in 1759, such seals certainly only date back to between that year and the Emperor's death in 1799.
Total height: 3.46 in. , height of base : 1.45 in. , imprint : 4.17 in. square. Estimation : 400 000/600 000 €.
An imprint in the Qianlong baosou (Album of impressions of His Majesty's seals during the Qianlong era) perfectly matches that of this seal. Two other seals bearing this inscription are known, both in Shoushan soapstone. One belongs to the Beijing Palace Museum, the other is kept in the Taibei National Palace Museum. Only ours displays very rare graphs for the first two characters.
Background : This seal is reputed to have belonged to Ferdinand Brunetière (1849-1906) the French literary critic and academician.