Marlene Dietrich, Shanghai Express, 1932. Design: Travis Banton. Black silk velvet, glass beads. Private Collection.
Icons of Costume: Hollywood's Golden Era and Beyond features the fashions and accessories worn by luminous film stars such as Elizabeth Taylor, Errol Flynn, Audrey Hepburn, Warren Beatty, Barbara Stanwyck, Gene Kelly, Loretta Young, Arnold Schwarzenegger and many others. More than 50 costumes and objects present the still-influential designs of celebrated fashion designers, from the 1940s through the 1990s, including Edith Head, Adrian, Walter Plunkett, Orry-Kelly, Bob Mackie and others of legendary renown. Drawn, in part, from numerous films that were nominated for an Academy Award for Best Costume, six of them took the Oscar home. Also included are rare publicity stills, lobby cards, jewelry, and film props, as well as an exciting interactive component that lets visitors experience the sights and sounds of the movie studio as well as be a star in their own film scene. Rounding out the exhibition is an hour-long video of 35 memorable clips from films with a distinct Bucks County connection, such as Casablanca, Lassie Come Home, On the Waterfront, West Side Story, The Buddy Holly Story, and A Star is Born.
According to the exhibition's curator, Erika Jaeger-Smith, "These costumes are remarkable survivals, and their impact on today's fashions is immediately recognizable. The unique aspect of this exhibition is its concentration on the early years in Hollywood."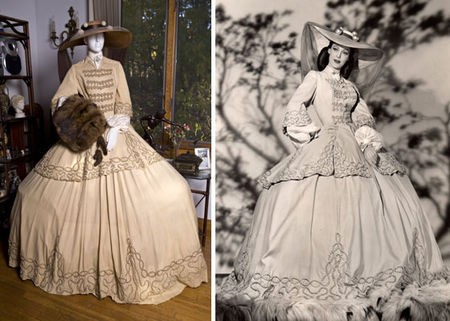 Loretta Young, The Men in Her Life, 1941. Design: Charles Le Maire. Maize gown, chenille trio on hoop skirt, picture hat, chiffon streamers, mink muff. Private Collection.
Ryan O'Neal, Barry Lyndon, 1975. Design: Milena Canonero/Ulla-Britt Söderlund. Beige raw silk court coat and vest, stockings, slippers. Private Collection.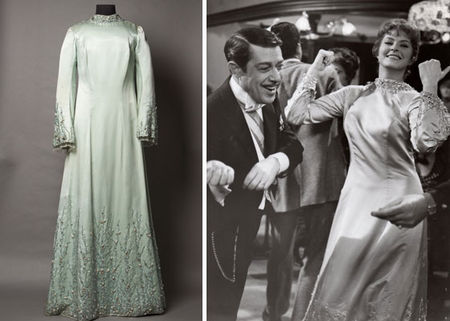 Ingrid Bergman, Cactus Flower, 1969. Design: Moss Mabry. Aquamarine satin gown, studded with pearls and rhinestones. Private Collection.
Barbara Stanwyck, The Great Man's Lady, 1942. Design: Edith Head. Black velvet gown, silver bugle beads. Private Collection.