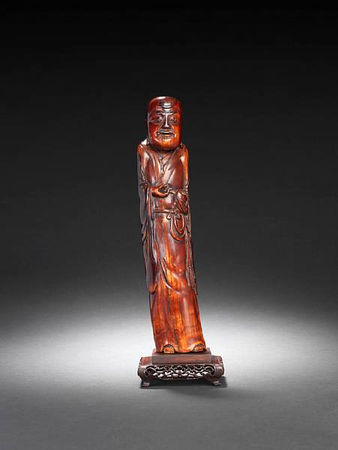 A stained ivory figure of a luohan, Ming Dynasty. photo Bonhams
The slender standing figure wearing long cascading robes, secured with a belt with long hanging tassel, holding an alms bowl in his left hand, the large head carved with furrowed brow and flanked by pendulous earlobes, the ivory stained to a rich treacle colour, wood stand. 24.7cm (9¾in) high (2). Estimate: £4,000 - 6,000, HK$47,000 - 71,000
An ivory and gilt-mounted square tray, Ming Dynasty. photo Bonhams
The four sides finely carved in openwork with a central lotus scroll flanked by phoenix, above shaped aprons similarly carved with floral scrolls, the four corners mounted in chased gilt each depicting phoenix in flight amidst ruyi-shaped clouds, with inset wood base inscribed with the name Zou Yong. 24.9cm x 24.8cm (9¾in x 9¾in). Estimate: £2,500 - 3,500, HK$30,000 - 41,000

Footnote: Compare to a similar tray, without the gilt mounts, sold at Christie's New York, 15 September 2009, lot 223 (see below)
Bonhams. Fine Chinese Art, 13 May 2010. New Bond Street www.bonhams.com
A rare carved ivory and wood square tray, Qianlong period (1736-1795). Photo: Christie's Images Ltd 2009.
The sides finely carved in openwork with panels of angular foliate scroll encompassing two dragon heads confronted on a stylized lotus, within narrow borders of foliate sprays and above shaped aprons carved with bats amidst clouds, with textured, rounded corners, the base inset with a figured wood panel - 9 5/8 in. (24.5 cm.) square. Est. $8,000 - $12,000. Price Realized $18,750.
Provenance: Old Mid-Atlantic private collection.
Notes: An ivory rectangular tray of this type, dated Wanli/Chongzhen, which also has openwork sides and aprons, as well as a wood bottom, was included in the exhibition, Chinese Ivories from the Kwan Collection, Art Gallery, The Chinese University of Hong Kong, 28 July - 14 October 1990, no. 86. The Kwan tray has engraved silver plaques at the corners, indicating that the corners of the present tray may have been textured to facilitate the application of similar silver plaques.
Christie's New York, 15 September 2009 www.christies.com