Yue ware type kendi, 10th century, diameter 21 cm, height 19 cm.
JAKARTA .- Indonesia failed on Wednesday to auction a 10th century treasure trove which was salvaged from a Chinese shipwreck off Java island about five years ago because there were no bidders.
Organisers had hoped to raise USD 80 million from the 271,000 items that were supposed to go under the hammer at a government auction house in Jakarta
But officials said bidders were probably deterred by government rules that require bidders to deposit 20% of the total estimated value to join the auction.
The shipwreck was found 90 miles (145 km) off Cirebon, in West Java, following a tip-off from local fishermen in 2004 and it took 30 divers and some 22,000 dives to recover the treasure.
But the auctioneer was forced to close the auction because there was no response.
An Indonesian fisheries ministry official, Sudirman Saad, said before the auction about 20 companies and individuals had shown interest in the treasure, which includes Chinese porcelain and gold jewellery studded with rubies and sapphires.
"If you want to sell something like that there are certain ways to do it, and you need to have big marketing, big promotion. You have to go where the buyers are," said the owner of the salvage company, Luc Heymans.
"The buyers, they're in China, Hong Kong, Singapore, so you go there."
Fisheries minister Fadel Muhammad said the government will see whether the bidding rules need to be changed.
He said there may be another auction. The rules allow two more auctions a week after the first one before the collection can be offered to auction houses or museums.
Museums in Taiwan, Singapore and China have informally expressed interest in the treasure, he said.
The Indonesian government has agreed to split the money with the private salvage company which helped recover the treasure. (from daymix.com)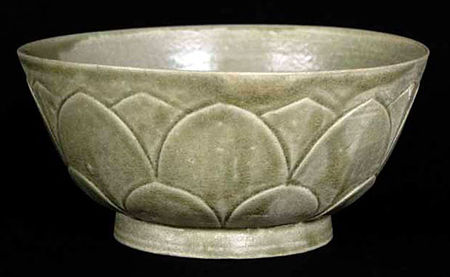 Yue ware bowl with carved lotus petal motif, 10th century; Diameter 16 cm, base 8.5 cm, height 8 cm
Gold plated Arabic-style dagger, 10th century; Diameter 4 cm, length 16 cm
Emerald green glass vessel, 10th century, rim diameter 4 cm, base 8 cm, height 10 cm