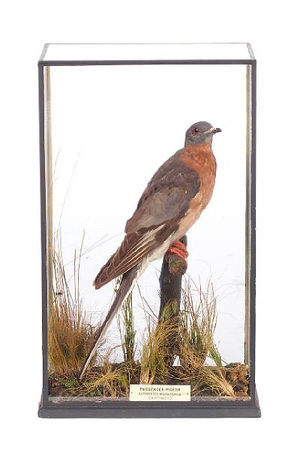 An extinct passenger pigeon. photo Bonhams
on an L-shaped perch on a grassy base, the five glass case containing an ivorine museum label, 44cm high - Estimate: AUD 8,000 - 12,000, GBP 4,800 - 7,200, USD 7,200 - 11,000

Footnote: Whilst numerous specimens of the passenger pigeon exist in American and European museums, very few are still in private collections, especially one that is in such good condition.

Cf. Errol Fuller, Extinct Birds, 1987, p. 112-117, fig 37-41, and plate XXVI.

The fate of the passenger pigeon is one of the most famous stories of extinction in recent history. Passenger pigeons were once among the most numerous birds on earth, swirling in vast flocks obscuring the sun across the skies of North America in the 18th and early 19th century. So numerous were they, that when they landed on branches often perched on each others backs, their collective weight would break thick branches and even topple entire trees. In one hunting competition no less than 30,000 birds were required to win a prize. How tragic then that, within the lifetime of a human being, this species was reduced to a single individual that died 1914. And the principle cause? Hunting, season upon season, decade following decade until those remaining sporadic populations dwindled to such critical levels that recovery was impossible. Martha, the last remaining bird died in Cincinnati zoo on 1st September 1914, at 1pm, possibly the only instance to date when the precise time of the extinction of a species has been known.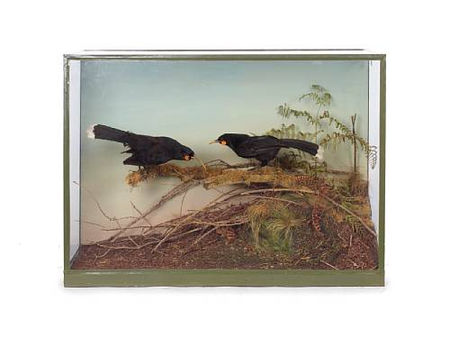 A rare pair of extinct adult male and female huia. photo Bonhams
interacting with one another on moss-covered branch perches amid ferns and grasses, in four glass case, 81cm high (32" high) - Estimate: AUD 8,000 - 12,000, GBP 4,800 - 7,200, USD 7,200 - 11,000
Footnote: Cf. Errol Fuller, Extinct Birds, 1987, p. 229-233, figs. 77-9, pl LVII.

The territory of the huia was restricted to the mountains and lowland forest of the south half of New Zealand's North Island. Introduced mammalian and bird species, and habitat loss due to cultivation also contributed to the decline of a species that seemed never to have been widely distributed in the first place.
The huia was prized both by Maoris for their tail feathers and by Europeans as stuffed specimens for museums, cabinets and drawing room decorations. The portrait artist, C.F. Goldie depicts a Maori chief wearing four huia tail feathers in his hair, in his 1913 painting, The Last of the Cannibals. Worn in battle, offered as tokens of friendship or respect, tail feathers embodied enormous power and value. Indeed, they were carefully stored in beautifully carved treasure boxes known as waka huia. Europeans admired their dramatic orange wattles and were intrigued by the stark sexual dimorphism exhibited in the shapes of their bills. This adaption allows for cooperation between sexes in the gathering of food; the male's stouter bill breaking open wood crevices so the female's slender bill can extract insect larvae. This behavioural bond may also have contributed to its demise, because if one bird was captured or shot, its mate would show signs of distress and remain in the area endangering itself, rather than fleeing.
Sir Walter Buller's, A History of the Birds of New Zealand, in 1872 noted that at that time the species was far from abundant, and by the time the supplement was published thirty-three years later in 1905, he accepted that the huia was already doomed to extinction. The last recorded sighting was just a couple of years later in 1907, although unconfirmed accounts suggested some pairs living on until the 1920's.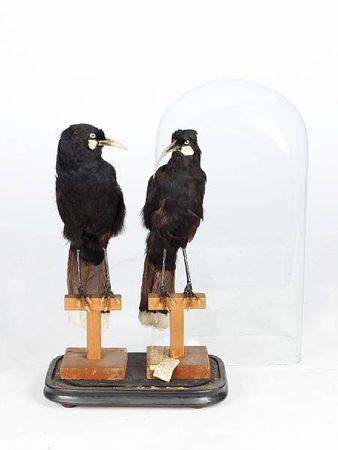 A pair of extinct adult male and female huia. photo Bonhams
on rudimentary cage perches bearing labels dated 1874 and inscribed, 'Wanganua' under a glass dome, 52cm high (20.5" high) - Estimate: AUD 8,000 - 12,000, GBP 4,800 - 7,200, USD 7,200 - 11,000
An exceptional collage of Asian pheasants and partridges. photo Bonhams
displayed on naturalistic rockwork and foliage with jewel beetles, and comprising a chukar, a male western tragopan, male Himalayan monal, male Blyth's tragopan, two male koklass pheasants and male and female kalij pheasant on a nest of eggs, in a large Victorian ebonised case on stand, 158 x 156cm (62" x 61.5") - Estimate: AUD 5,000 - 7,000, GBP 3,000 - 4,200, USD 4,500 - 6,300
A very rare display of paradise and ground parrots. photo Bonhams
two now-extinct Australian paradise parrots perched either side of a rare Australian ground parrot on a single branch amid native foliage, in five glass case, 62cm high (24.5" high) - Estimate: AUD 4,000 - 6,000, GBP 2,400 - 3,600, USD 3,600 - 5,400

Footnote: There are very few paradise parrot specimens in private collections throughout the world. The sale of this lot represents a very rare opportunity to acquire a cased display of a pair of these spectacular native Australian psittaciformes, with the added bonus of a rare ground parrot.

Cf. Errol Fuller, Extinct Birds, 1987, p.135-137, plate XXVII and fig 55.

Last reliably recorded in 1927, its decline can be attributed to a number of environmental factors, including habitat loss due to increasing numbers of grazing farm animals, and a period of drought associated with bush fires that depleted food supplies. The capture and export of paradise parrots as cage birds to Europe, where their spectacular plumage was greatly admired, no doubt exacerbated theier decline in the wild to critical levels. Although captive breeding was successful, no aviary stock was ever built up.
An extinct adult male huia. photo Bonhams
standing on a twig perch with grass tuft above a sandy base, in an architectural mahogany four glass case, 62cm high (25" high) - Estimate: AUD 3,000 - 4,000, GBP 1,800 - 2,400, USD 2,700 - 3,600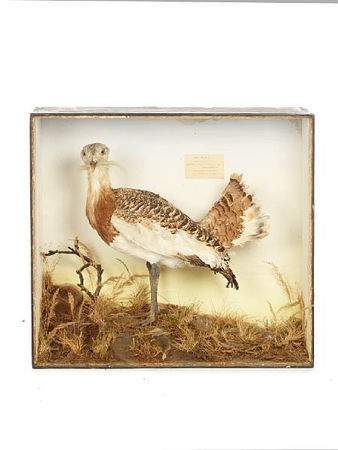 A historically interesting male great bustard. photo Bonhams
standing on a grassy mound with tail feathers and moustache plumes erect, bearing a label inscribed, '...from the collection of the Rt. Hon. E. Bouverie... Lavington, Wilts...one of the last surviving bustards killed on Salisbury Plain about 1871', in an ebonised case, 89cm high (35" high) - Estimate: AUD 2,000 - 3,000, GBP 1,200 - 1,800, USD 1,800 - 2,700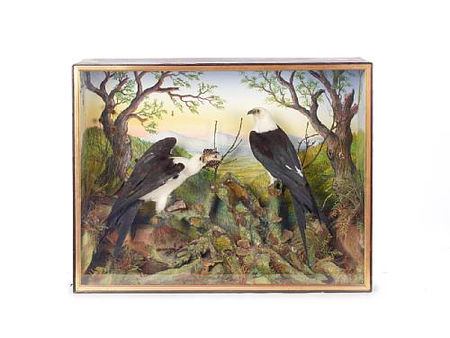 A fine pair of adult swallow-tailed kites by James Gardner of London. photo Bonhams
on woodland perches amid fungus and grasses, one simultaneously holding a moth in its beak and in one talon, in a gilt-lined ebonised case, 75cm high (29.5" high) - Estimate: AUD 2,000 - 3,000, GBP 1,200 - 1,800, USD 1,800 - 2,700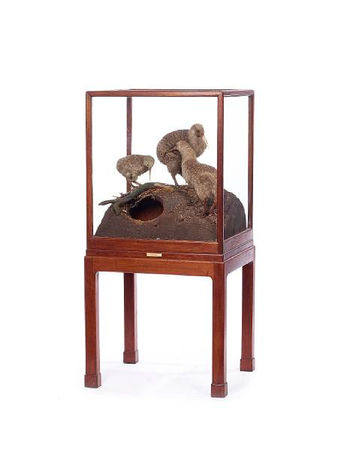 A family of three little spotted kiwis. photo Bonhams
standing above their nest hole, in a square mahogany framed five glass case on stand, 144cm high (56.5" high) - Estimate: AUD 2,000 - 3,000, GBP 1,200 - 1,800, USD 1,800 - 2,700
A foraging pair of brown kiwis. photo Bonhams
on twig-strewn undulating base, in a square mahogany case on stand, 155cm high (61" high) - Estimate: AUD 1,500 - 2,500, GBP 900 - 1,500, USD 1,400 - 2,300
An adult greater spotted eagle. photo Bonhams
standing on a seaweed-covered rockwork perch with salmon prey in one talon, in a five glass case, 84cm high (33" high) - Estimate: AUD 1,500 - 2,500, GBP 900 - 1,500, USD 1,400 - 2,300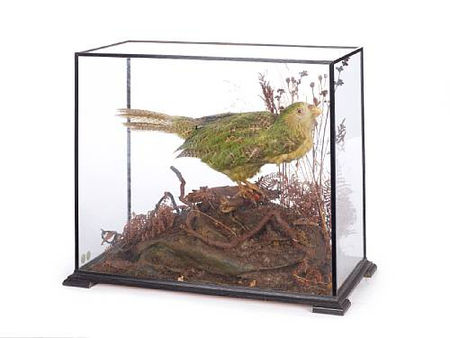 A rare adult kakapo. photo Bonhams
standing on a branch on a soily rockwork base amid ferns and grasses, in five glass case, 59cm high (23" high) - Estimate: AUD 1,500 - 2,500, GBP 900 - 1,500, USD 1,400 - 2,300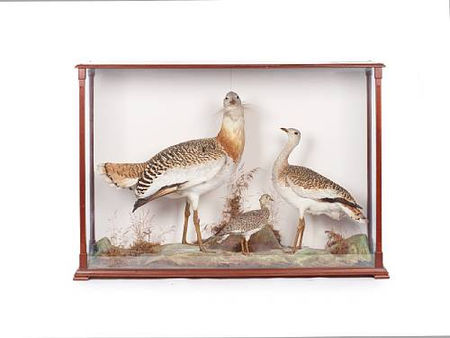 A family group of three great bustards. photo Bonhams
comprising a male, female and chick standing on a grassy undulating base, in an architectural mahogany three glass case, 109cm high (43" high) - Estimate: AUD 1,500 - 2,000, GBP 900 - 1,200, USD 1,400 - 1,800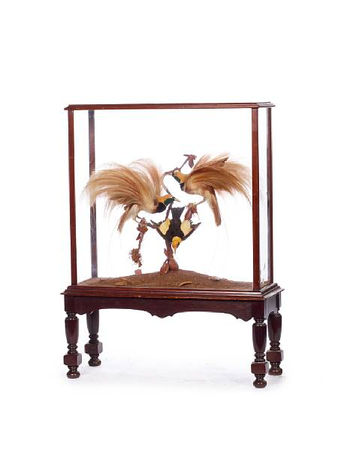 A trio of male birds of paradise and a bower bird. photo Bonhams
standing on branch perches displaying their plumage, and comprising two adult male Raggiana birds of paradise and a regent bowerbird, in a Victorian mahogany four glass case on stand, 112cm high (44" high) - Estimate: AUD 1,200 - 1,800, GBP 720 - 1,100, USD 1,100 - 1,600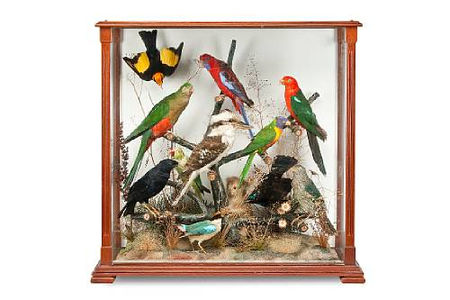 A collage of east Australian fauna. photo Bonhams
displayed on branch perches and rockwork with grasses,with a koala kitten beneath and array of birds, comprising an adult male regent bowerbird, adult crimson rosella, adult male and female Australian king parrot, adult laughing kookaburra, female red-winged parrot, adult rainbow lorikeet, adult male satin bowerbird, adult male paradise riflebird, adult green catbird and adult noisy pitta, in an architectural mahogany case, 83cm high (32.5" high) - Estimate: AUD 1,200 - 1,800, GBP 720 - 1,100, USD 1,100 - 1,600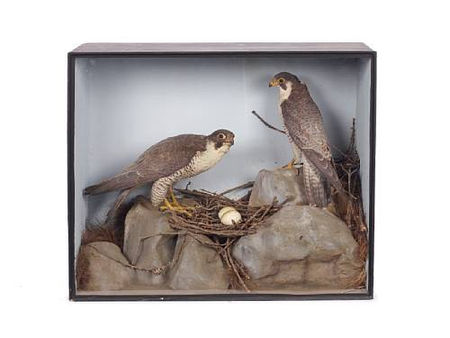 A pair of adult peregrine falcons by T. E. Gunn. photo Bonhams
attending their nest of two eggs on a rocky outcrop, in glazed case, 64cm high (25" high) - Estimate: AUD 1,200 - 1,800, GBP 720 - 1,100, USD 1,100 - 1,600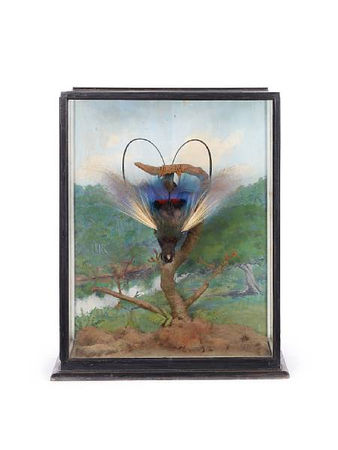 An adult male blue bird of paradise. photo Bonhams
in characteristic and spectacular upside down mating display, hanging from a branch perch, in a four glass case, 70cm high (27.5" high) - Estimate: AUD 1,200 - 1,800, GBP 720 - 1,100, USD 1,100 - 1,600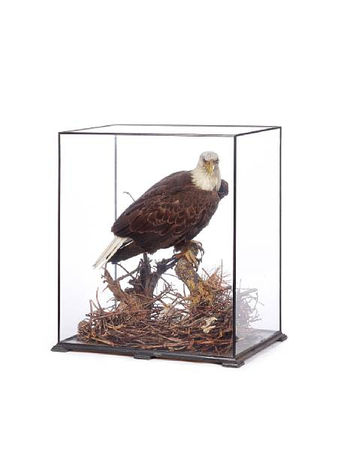 An adult bald eagle. photo Bonhams
standing on a branch perch over its pine-twig nest which contains a pair of eaglets and the skull of a rodent, 90cm high (35.5" high) - Estimate: AUD 1,200 - 1,800, GBP 720 - 1,100, USD 1,100 - 1,600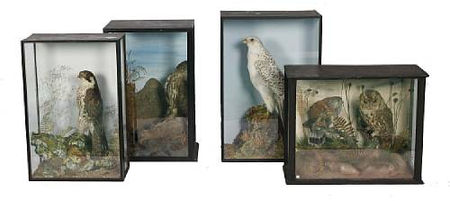 Four bird of prey displays. photo Bonhams
comprising a Eurasian buzzard with leveret prey in its talons, a young peregrine falcon on mossy bark perch, a kestrel and tawny owl both perched on a branch, and an adult gyr falcon on mossy perch, largest 70cm (27.5") (4) - Estimate: AUD 1,200 - 1,800, GBP 720 - 1,100, USD 1,100 - 1,600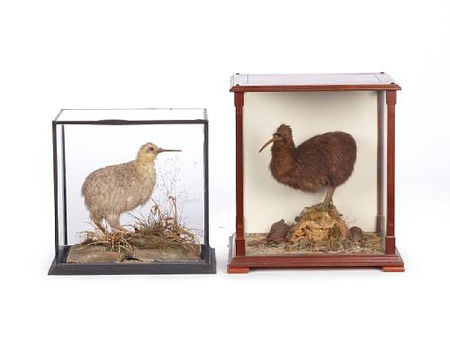 Two kiwi displays. photo Bonhams
comprising an adult northern brown kiwi on raised mossy mound and in architectural mahogany three glass case, and a pale morph of an adult lesser spotted kiwi on a grassy undulating base and in a five glass case, 19 3/4in x 17 3/4in (500 x 450mm) (2) - Estimate: AUD 1,200 - 1,800, GBP 720 - 1,100, USD 1,100 - 1,600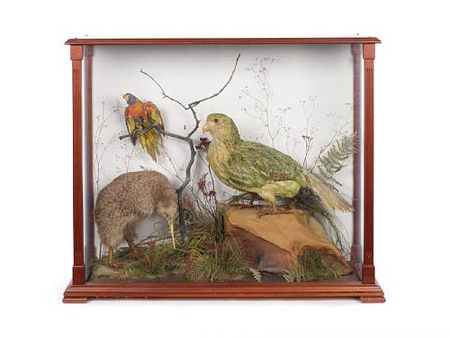 A trio of Antipodean birds. photo Bonhams
comprising a rare kakapo on rockwork, a rainbow lorikeet on a twig perch and a lesser spotted kiwi foraging on the ground, in an architectural three glass case, 183cm high (72" high) - Estimate: AUD 1,200 - 1,800, GBP 720 - 1,100, USD 1,100 - 1,600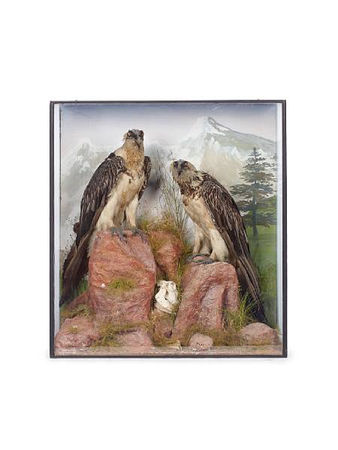 A fine pair of adult male and female lammergeiers by White of Salisbury, c. 1895. photo Bonhams
standing on rockwork feeding perches with monkey skull below, in an ebonised three glass case, interesting label behind detailing the circumstances around their collection in the Himalayas, 123cm high (48.5" high) - Estimate: AUD 1,000 - 1,500, GBP 600 - 900, USD 900 - 1,400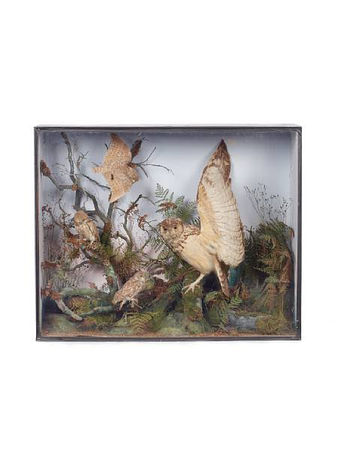 A group of owls by H. Ward. photo Bonhams
comprising an adult short-eared owl with open wings, and three little owls, all in a woodland setting of foliage and branches, 87cm high (34" high) - Estimate: AUD 1,000 - 1,500, GBP 600 - 900, USD 900 - 1,400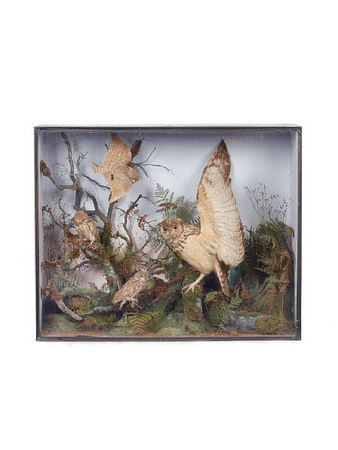 A group of owls by H. Ward. photo Bonhams
comprising an adult short-eared owl with open wings, and three little owls, all in a woodland setting of foliage and branches, 87cm high (34" high) - Estimate: AUD 1,000 - 1,500, GBP 600 - 900, USD 900 - 1,400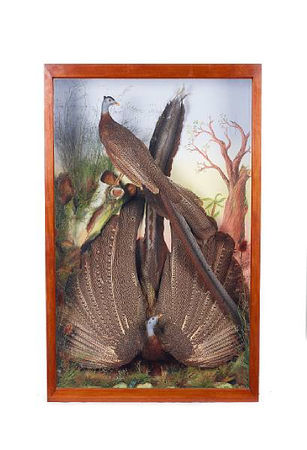 A fine pair of adult male great argus pheasants by James Gardner of London. photo Bonhams
one displaying his vibrant plumage on grassy and stony ground, the other perched above, 165cm high (65" high) - Estimate: AUD 1,000 - 1,500, GBP 600 - 900, USD 900 - 1,400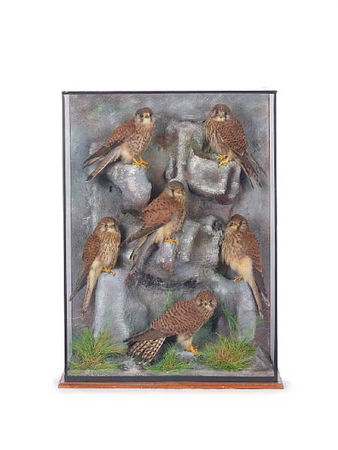 A collage of six common kestrels. photo Bonhams
males and females perched on a rock face with grasses at the base, in four glass case, 87cm high (34" high) - Estimate: AUD 800 - 1,200, GBP 480 - 720, USD 720 - 1,100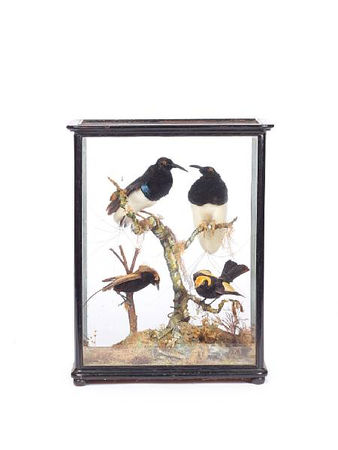 A display of bowerbirds and birds of paradise. photo Bonhams
all males in breeding plumage and perched on branches, comprising two twelve-wired birds of paradise, a regent bowerbird and a magnificent bird of paradise, in ebonised five glass case, 69cm high (27" high) - Estimate: AUD 800 - 1,200, GBP 480 - 720, USD 720 - 1,100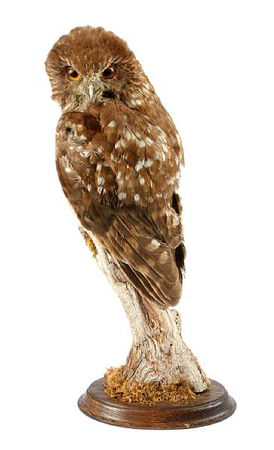 A tasman boobook. photo Bonhams
probably of the Lord Howe Island race and therefore extinct, seated on a perch looking to the left, under a glass dome, 35cm high, (13.5" high) - Estimate: AUD 1,000 - 1,500, GBP 600 - 900, USD 900 - 1,400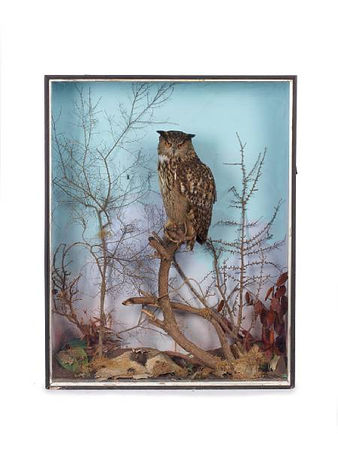 A fine Eurasian eagle owl. photo Bonhams
seated on a branch hunting perch amid deciduous flora, in gilt-lined glazed case, 141cm high (55.5" high) - Estimate: AUD 1,000 - 1,500, GBP 600 - 900, USD 900 - 1,400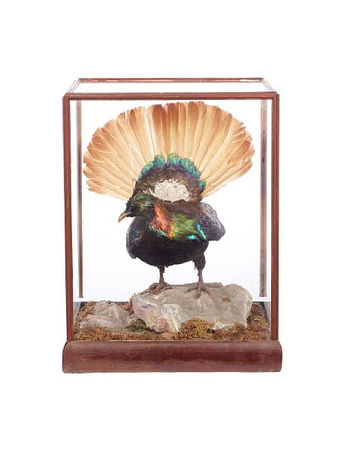 A Himalayan monal. photo Bonhams
standing on rockwork base with tail fanned, in a five glass case, 69cm high (27" high) - Estimate: AUD 800 - 1,200, GBP 480 - 720, USD 720 - 1,100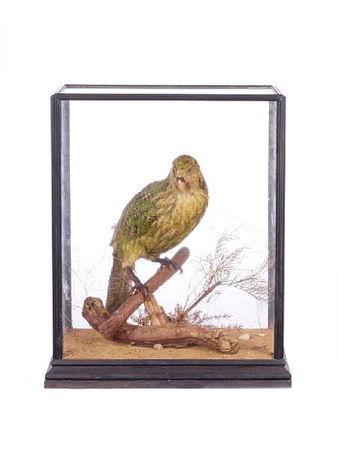 A rare adult kakapo. photo Bonhams
sitting on a stump perch amid grasses on a sandy base, in a five glass case, 67cm high (26" high) - Estimate: AUD 800 - 1,200, GBP 480 - 720, USD 720 - 1,100
A group of five great owls. photo Bonhams
comprising a snowy owl on rockwork perch, a spotted wood owl on truncated perch under glass dome, two cape eagle owls, one on a mossy perch under glass dome, the other with wings outstretched on a gnarled perch, and a great horned owl on a y-shaped perch, largest 97cm high (38" high) (5) - Estimate: AUD 800 - 1,200, GBP 480 - 720, USD 720 - 1,100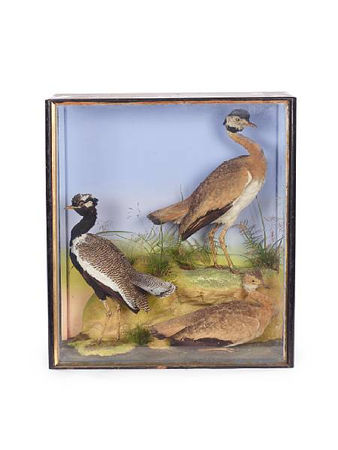 A trio of African bustards. photo Bonhams
comprising a pair of adult male and female white-bellied bustards, and a male white-quilled bustard, standing and sitting on grassy rockwork in three glass case, 75cm high (29.5" high) - Estimate: AUD 800 - 1,200, GBP 480 - 720, USD 720 - 1,100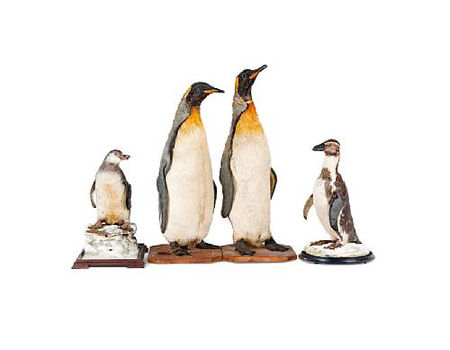 Four penguin displays. photo Bonhams
comprising two adult king penguins on plain wood bases, with old labels and provenance to 1901, a fairy penguin on icework base in a five glass case, and a humboldt penguin on snowy base under glass dome, tallest 81cm (32") (4) - Estimate: AUD 800 - 1,200, GBP 480 - 720, USD 720 - 1,100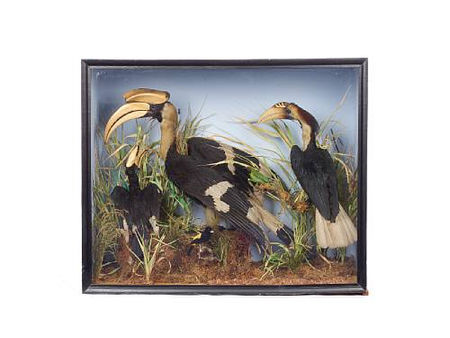 A collage of male hornbills and songbirds. photo Bonhams
perched amid foliage on a stony base, and including an oriental pied hornbill, a great hornbill and a Papuan hornbill, a yellow-rumped widow bird and a golden-fronted leafbird, in glazed case, 97cm high (38" high) - Estimate: AUD 800 - 1,200, GBP 480 - 720, USD 720 - 1,100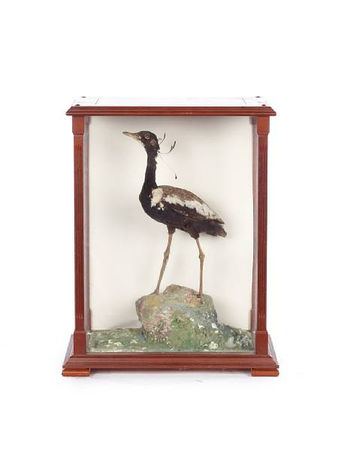 A rare male lesser florican. photo Bonhams
standing on rockwork base, in an architectural mahogany three glass case, 57cm high (22.5" high) - Estimate: AUD 800 - 1,200, GBP 480 - 720, USD 720 - 1,100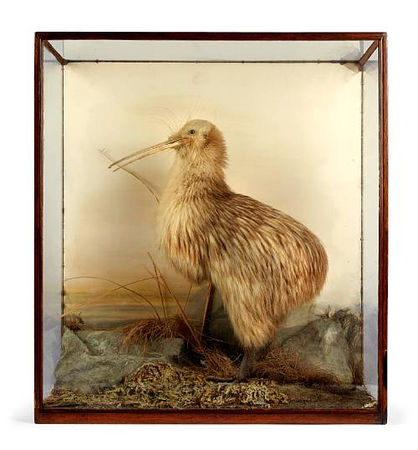 A part albino northern brown kiwi by Rowland Ward. photo Bonhams
standing on mossy base with rockwork to one side, in four glass display, 61cm high (24" high) - Estimate: AUD 800 - 1,200, GBP 480 - 720, USD 720 - 1,100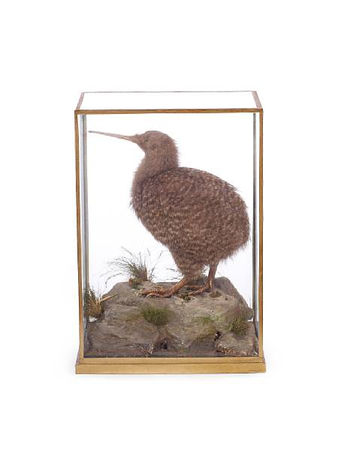 An adult female little spotted kiwi. photo Bonhams
standing on rockwork with tufts of grass, in five glass case, 48cm high (19" high) - Estimate: AUD 800 - 1,200, GBP 480 - 720, USD 720 - 1,100
A display of three hornbills. photo Bonhams
comprising a pair of helmetted hornbills perched above a Papuan hornbill below, in five glass bamboo case, 167cm high (65.5" high) - Estimate: AUD 600 - 1,200, GBP 360 - 720, USD 540 - 1,100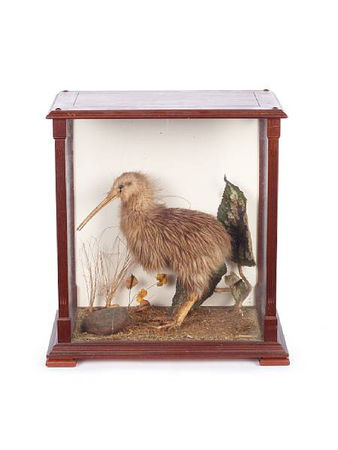 A southern brown kiwi. photo Bonhams
standing on a mossy base amid grass, leaves and a pebble, in architectural mahogany three glass case, 50cm high (19.5" high) - Estimate: AUD 700 - 1,000, GBP 420 - 600, USD 630 - 900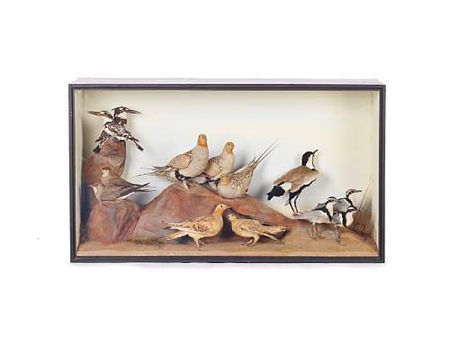 A collage of African and Asian desert and shore birds by John and Ann Burton of Gloucestershire. photo Bonhams
perched on rockwork on a sandy base, including two pied kingfishers, two adult collared pratincoles, three adult Pallas sand-grouse, two male and female spotted sand-grouse, an adult spur-winged plover, and three adult Egyptian plovers, 60cm high (23.5" high) - Estimate: AUD 700 - 1,000, GBP 420 - 600, USD 630 - 900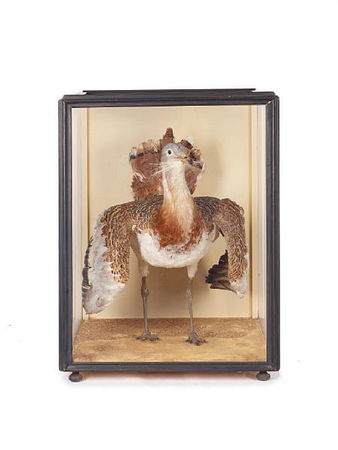 An adult male great bustard. photo Bonhams
standing and displaying with wing, tail and moustache plumes spread, in an ebonised four glass case, 111cm high (44" high) -
Estimate: AUD 600 - 1,000, GBP 360 - 600, USD 540 - 900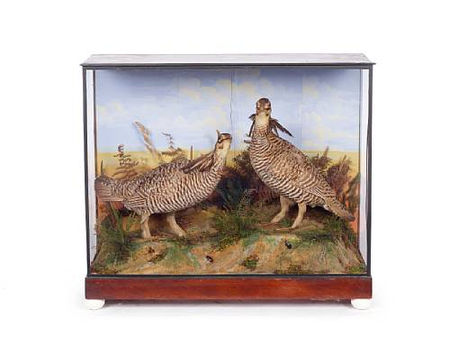 Two displays of greater prairie chickens. photo Bonhams
comprising a pair standing on grassy mounds in three glass case, and a single male on colourful rockwork base in an architectural mahogany case, 60cm and 50cm high (23.5" and 19.5" high) (2) - Estimate: AUD 600 - 1,000, GBP 360 - 600, USD 540 - 900
Two adult male greater prairie chickens. photo Bonhams
standing on raised mounds amid grasses, one displaying his bare orange cervical sac, in three glasss case, 53cm high (21" high) - Estimate: AUD 600 - 800, GBP 360 - 480, USD 540 - 720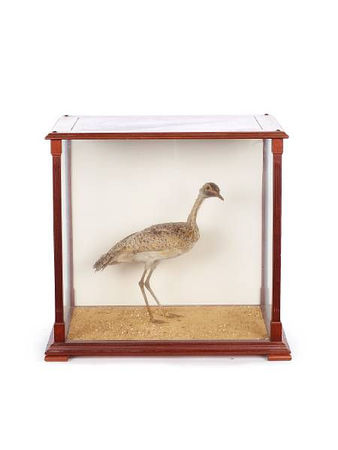 A rare female lesser florican. photo Bonhams
standing on a sandy base, in an architectural mahogany three glass case, 56cm high (22" high) - Estimate: AUD 600 - 800, GBP 360 - 480, USD 540 - 720
A display of three albinistic adult scops owls. photo Bonhams
with varying degrees of albinism, on fern and lichen covered branch perch, under glass dome, 55cm high (27.5" high) - Estimate: AUD 600 - 800, GBP 360 - 480, USD 540 - 720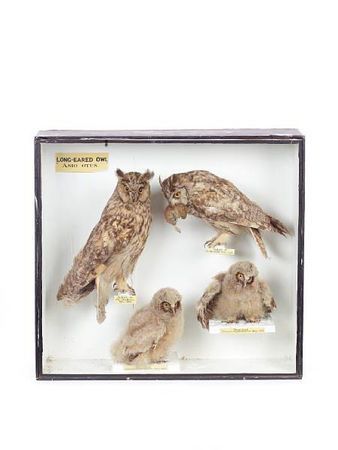 An educational display of long-eared owls. photo Bonhams
two adults and two chicks each on separate perch, the adult male with mouse in its beak, all bearing labels with provenance to Ireland and Scotland in 1902 and 1903, in glazed case, 56cm high (22" high) - Estimate: AUD 600 - 800, GBP 360 - 480, USD 540 - 720
A male great Indian bustard by Henry Shaw of Shrewsbury. photo Bonhams
standing on a rockwork base with foliage, in a gilt-lined ebonised case, 125cm high (49" high) - Estimate: AUD 600 - 800, GBP 360 - 480, USD 540 - 720
A Cape Barren goose. photo Bonhams
standing on a sandy mound before a tuft of grass, in a five glass case, 81cm high (32" high) - Estimate: AUD 600 - 800, GBP 360 - 480, USD 540 - 720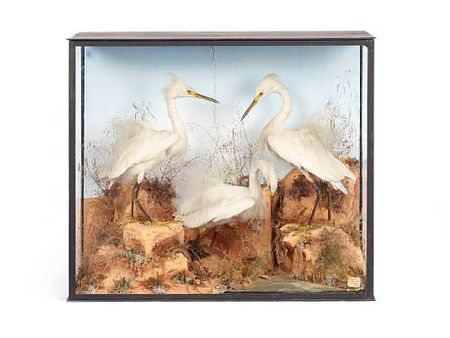 Three adult snowy egrets. photo Bonhams
in breeding plumage,standing on sandy rockwork amid foliage beside a pond, old label with provenance to 1870, in three glass case, 69cm high (27" high) - Estimate: AUD 600 - 800, GBP 360 - 480, USD 540 - 720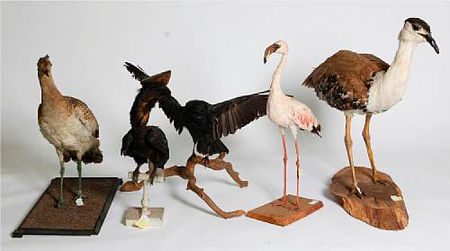 Five large uncased birds. photo Bonhams
comprising a female great bustard on log slice, a great Indian bustard, a lesser flamingo, a black-casqued hornbill on a perch and an Australian raven on a branch, largest 84cm high (33" high) (5) - Estimate: AUD 600 - 800, GBP 360 - 480, USD 540 - 720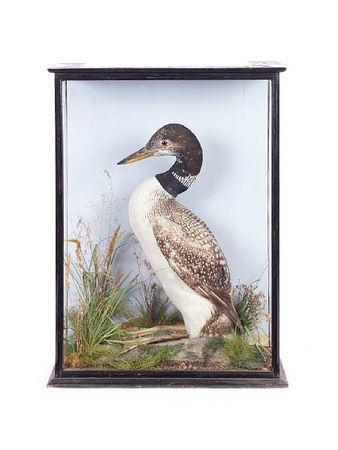 Two displays of common loons. photo Bonhams
one immature and standing on a flat, rockwork base beside grasses, the other an adult in full breeding plumage, standing on a guano covered rock, strewn with aquatic foliage and molluscs, both in three glass cases, 70cm and 82cm high, (27.5" and 31.5" high) (2) - Estimate: AUD 600 - 800, GBP 360 - 480, USD 540 - 720
A male great Indian bustard by Henry Shaw of Shrewsbury. photo Bonhams
standing on a rockwork base with foliage, in a gilt-lined ebonised case, 125cm high (49" high) - Estimate: AUD 600 - 800, GBP 360 - 480, USD 540 - 720
A display of bustards and grouse. photo Bonhams
standing on rockwork amid grass tufts and comprising a female Namaqua sand grouse nesting below a female and juvenile white-quilled bustard, and a rare female lesser florican, 75cm high (30" high) - Estimate: AUD 500 - 800, GBP 300 - 480, USD 450 - 720
Five bird of paradise and bowerbird displays. photo Bonhams
comprising three superb birds of paradise and two regent bowerbirds, all mounted on perches, three under glass domes, (5) - Estimate: AUD 500 - 700, GBP 300 - 420, USD 450 - 630
An adult male snowy owl. photo Bonhams
on a frosty rock perch amid grasses, in an architectural three glass case, 77cm high (30" high) - Estimate: AUD 500 - 700, GBP 300 - 420, USD 450 - 630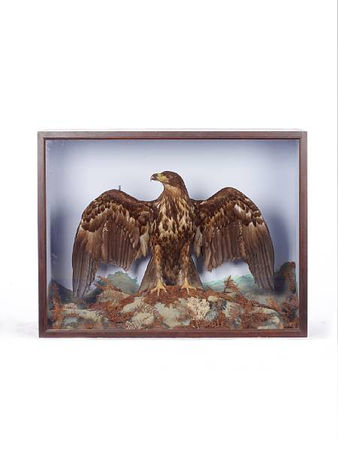 A greater spotted eagle by John Leadbeater. photo Bonhams
standing on a mossy rockwork perch with wings spread, 95cm high (37.5" high) - Estimate: AUD 500 - 700, GBP 300 - 420, USD 450 - 630
Two bird displays of curl-crested acari and Raggiana bird of paradise. photo Bonhams
the acari on a simple cage perch, the bird of paradise perched above a spotted pardalote and a ruby topaz, both under domes, 41cm and 52cm (16" and 20.5") (2) - Estimate: AUD 500 - 700, GBP 300 - 420, USD 450 - 630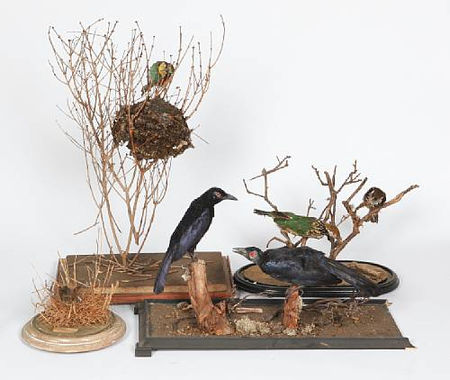 Four bird displays. photo Bonhams
comprising a two manucodes (glossy-mantled and crinkle-collared) interacting on short stumps, a European bee eater perched on a wasps nest, both in five glass cases, an Australian emu wren on grassy twig perch and a pair of white-eared catbirds on branching twig perches, both under domes, tallest 65cm (25.5") (4) - Estimate: AUD 500 - 700, GBP 300 - 420, USD 450 - 630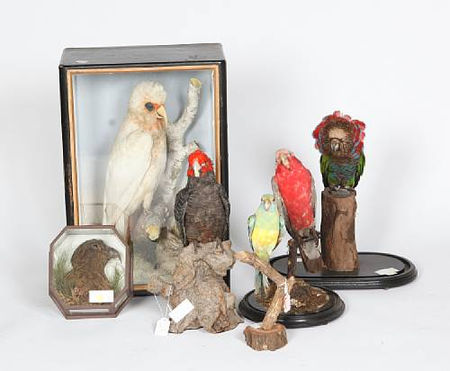 A group of six parrot displays. photo Bonhams
comprising a male galah under glass dome, a 'Cloncurry' Australian ringneck on twig perch, a bust mount of a kea in small chamfered glass case, a red-fanned parrot on a stump, a long-billed corella on a branch perch in three glass case, and a male gang-gang cockatoo on gnarled perch, largest 53cm high (21" high) (6) - Estimate: AUD 500 - 700, GBP 300 - 420, USD 450 - 630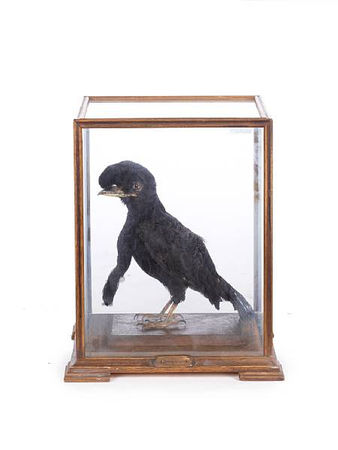 Two displays of a paradise riflebird and an Amazonian umbrellabird. photo Bonhams
the riflebird displaying on a branch, the umbrellabird standing on a simple base, both in five glass cases, 41cm high (16" high) (2) - Estimate: AUD 500 - 700, GBP 300 - 420, USD 450 - 630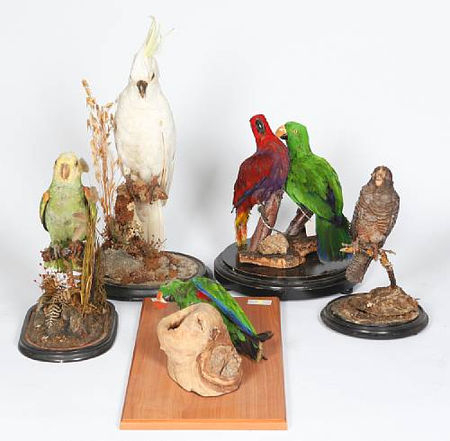 Five parrot displays. photo Bonhams
comprising a sulphur-crested cockatoo on grassy moss covered perch under a dome, a pair of male and female eclectus parrots under a dome, another eclectus parrot on a wall plaque, a yellow-crowned amazon on a grassy moss covered perch under dome, and a female gang-gang cockatoo on simple twig perch under dome, tallest 59cm (23") (5) - Estimate: AUD 500 - 700, GBP 300 - 420, USD 450 - 630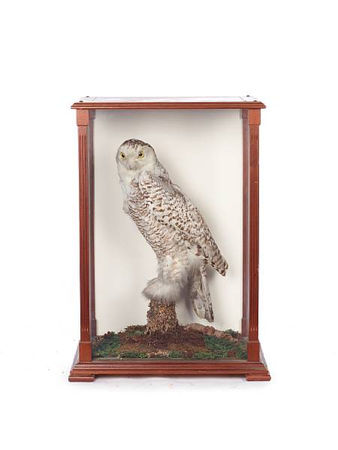 Two bird displays of an owl and a bird of paradise. photo Bonhams
comprising an adult snowy owl on a short mossy perch, and a male Raggiana bird of paradise displaying on a twig perch, both in architectural mahogany three glass cases, 81cm and 62cm high (32" and 24.5" high) (2). Estimate: AUD 500 - 700, GBP 300 - 420, USD 450 - 630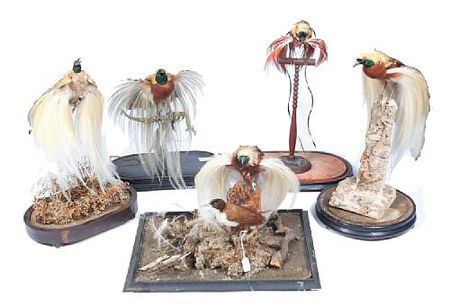 Four cased bird displays. photo Bonhams
comprising two bitterns, an albino crow, and a satyr tragopan with a white-naped jay, largest 76cm (30") (4) - Estimate: AUD 500 - 700, GBP 300 - 420, USD 450 - 630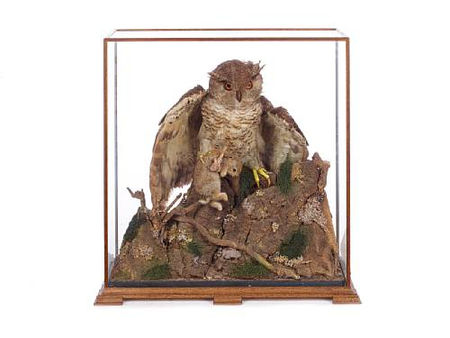 A Cape eagle owl. photo Bonhams
with leveret prey in one talon, standing on a stump perch amid lichen and moss, in five glass case, 67cm high (26" high) - Estimate: AUD 500 - 700, GBP 300 - 420, USD 450 - 630
An adult European honey buzzard by Leadbetter & Co. of London. photo Bonhams
standing on its blackbird prey on lichen and mossy base, in three glass case, 56cm high (22" high) - Estimate: AUD 500 - 700, GBP 300 - 420, USD 450 - 630
A group of ten small cased bird displays. photo Bonhams
including a Eurasian jay, regent honeyeater, redpolls, Eurasian goldfinch, ruff and reeve, northern wryneck, common kingfisger etc., (10) - Estimate: AUD 500 - 700, GBP 300 - 420, USD 450 - 630
An adult African fish eagle. photo Bonhams
standing on a rockwork perch, under glass dome, 80cm high (31.5" high) - Estimate: AUD 500 - 700, GBP 300 - 420, USD 450 - 630
Two displays of birds of paradise. photo Bonhams
comprising a pair of adult Raggiana birds of paradise and a king bird of paradise, perched on a shell-strewn base in three glass case, and an adult lesser bird of paradise displaying above a black-breasted puffleg hummingbird, under glass dome, 62 and 75cm high respectively (24.5" and 29.5" high respectively) (2) - Estimate: AUD 500 - 600, GBP 300 - 360, USD 450 - 540
A yellow-throated toucan. photo Bonhams
standing on a branch perch, in oak five glass case, 37cm high (14.5" high) - Estimate: AUD 400 - 600, GBP 240 - 360, USD 360 - 540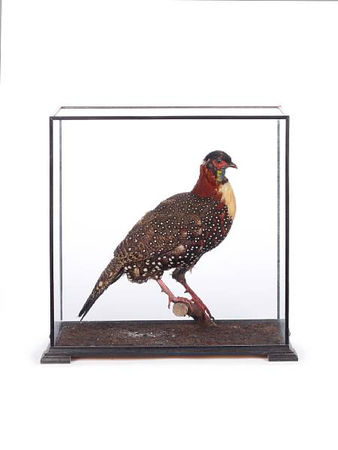 An adult male western tragopan. photo Bonhams
standing on a low stump perch above earthy base, in a five glass case, 60cm high (23.5" high) - Estimate: AUD 400 - 600, GBP 240 - 360, USD 360 - 540
Two bird displays of a ruffed grouse and a Eurasian curlew. photo Bonhams
the grouse perched on mossy base with colourful fungus and in five glass case, the curlew on grassy rockwork base in three glass case, 46cm and 52cm high (18" and 20.5" high) (2) - Estimate: AUD 400 - 600, GBP 240 - 360, USD 360 - 540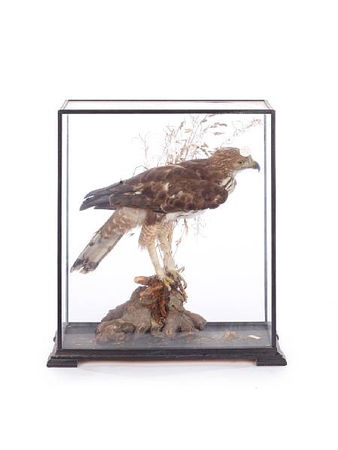 A changeable hawk eagle. photo Bonhams
standing on gnarled wood perch issuing grass, in a five glass case, 57cm high (22.5" high) - Estimate: AUD 400 - 600, GBP 240 - 360, USD 360 - 540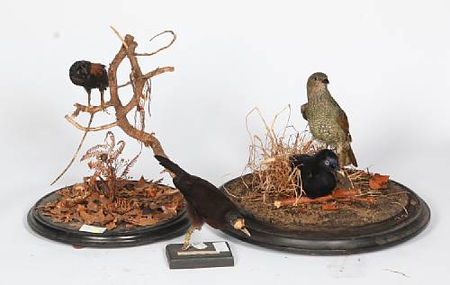 Three exotic bird displays. photo Bonhams
comprising a pair of satin bowerbirds on grassy stump under broad glass dome, an uncased rare long-tailed paradigalla on a twig, and an uncased rare male saddleback on branching perch with oakleaf strewn base, various sizes (3) - Estimate: AUD 400 - 600, GBP 240 - 360, USD 360 - 540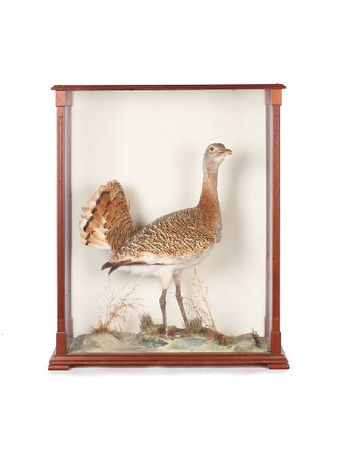 A young male great bustard. photo Bonhams
standing with tail erect on a grassy mound, in an architectural mahogany three glass case, 103cm high (40.5" high) - Estimate: AUD 400 - 600, GBP 240 - 360, USD 360 - 540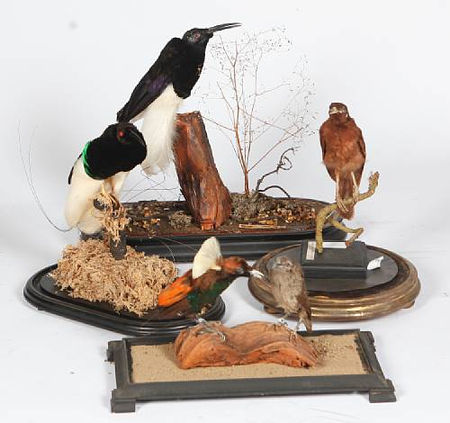 Four exotic bird displays. photo Bonhams
comprising a greater bird of paradise female on a twig perch, two twelve-wired birds of paradise both under glass domes, and a pair of magnificent birds of paradise on log perch and in a five glass case, (4) - Estimate: AUD 400 - 600, GBP 240 - 360, USD 360 - 540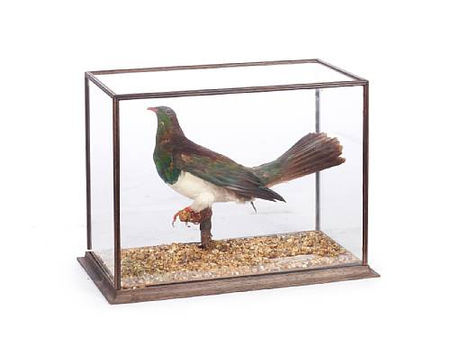 Two bird displays of Eurasian nightjars and New Zealand pigeon. photo Bonhams
the pigeon on a low perch with shingle base and in five glass case, with label inscribed and dated, 'Kereru - York Bay, North Island, 11.2.06, mounted by C. Poynter, Petone, NZ', the nightjars perched and swooping, one with an insect in its beak, in three glass case, 41cm and 43cm high (16" and 17" high) (2) - Estimate: AUD 400 - 600, GBP 240 - 360, USD 360 - 540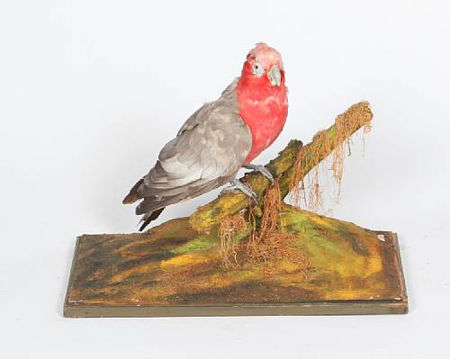 A female galah by Rowland Ward. photo Bonhams
mounted on a low branch stump on mossy mound, in five glass case, 40cm high (15.5" high) - Estimate: AUD 400 - 600, GBP 240 - 360, USD 360 - 540
Two displays of Eurasian jays. photo Bonhams
both pairs interacting, one pair perched on a forked branch, the other on fern and grassy groundwork, 42cm high (16.5" high) (2) - Estimate: AUD 400 - 600, GBP 240 - 360, USD 360 - 540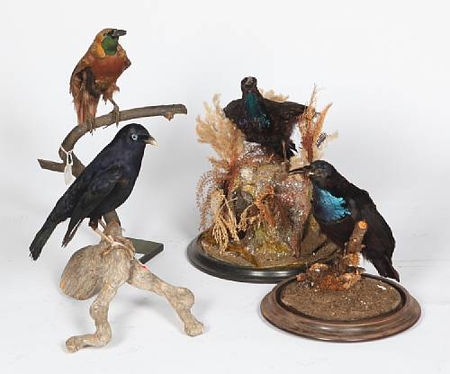 Four exotic bird displays. photo Bonhams
comprising a satin bowerbird on gnarled perch, a lesser bird of paradise on perch, and two magnificent riflebirds on perches and under glass domes, (4) - Estimate: AUD 400 - 600, GBP 240 - 360, USD 360 - 540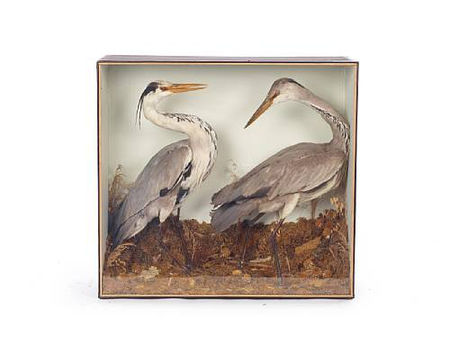 Two bird displays of grey herons and ring-necked pheasants. photo Bonhams
the herons interacting on a mossy and floral base, the pair of part-albino pheasants by A. C. Foot of Bath, standing on rockwork bases, both in glazed cases, 72cm and 56cm high (28" and 22" high) (2) - Estimate: AUD 400 - 600, GBP 240 - 360, USD 360 - 540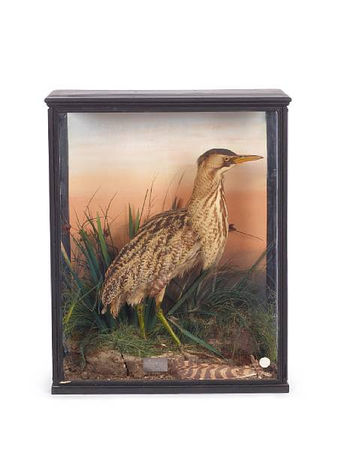 Three displays of Eurasian bitterns. photo Bonhams
one standing on a grassy mound in a three glass case containing a label with provenance to 1913, the other two standing in glazed cases, 68cm, 65cm and 72cm high (26.5", 25.5" and 28" high) (3) - Estimate: AUD 600 - 900, GBP 360 - 540, USD 540 - 810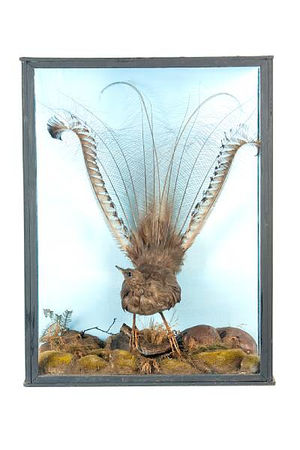 Two displays of male superb lyrebirds. photo Bonhams
both showing elegant tail feathers, one in five glass case, 94cm and 98cm high (37" and 38.5" high) (2) - Estimate: AUD 400 - 600, GBP 240 - 360, USD 360 - 540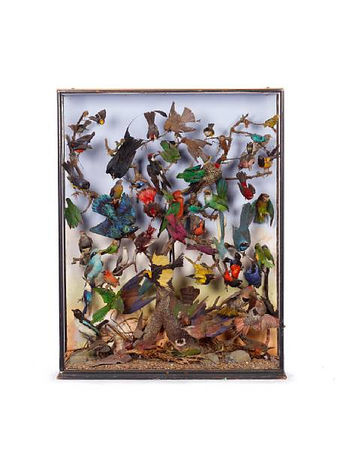 A large collage of exotic birds. photo Bonhams
displayed on branch perches on a stony base, approximately 60 individuals of 53 species, 133cm high (52" high) - Estimate: AUD 400 - 600, GBP 240 - 360, USD 360 - 540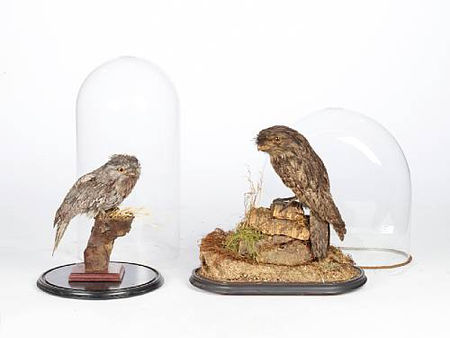 Two tawny frogmouths. photo Bonhams
one on log pile hunting perch with mosses and grasses, the other on a hollow log perch, both under glass domes, first 70cm high (27.5" high) (2) - Estimate: AUD 400 - 600, GBP 240 - 360, USD 360 - 540
A pair of wekas. photo Bonhams
one standing on a mossy log behind the other on a stony base, in architectural mahogany three glass case, 50cm high (19.5" high) - Estimate: AUD 400 - 600, GBP 240 - 360, USD 360 - 540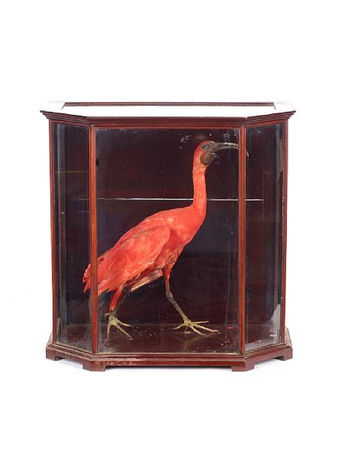 A scarlet ibis. photo Bonhams
striding in six glass chamfered mahogany case, 51cm high (20" high) - Estimate: AUD 400 - 600, GBP 240 - 360, USD 360 - 540
Four juvenile flightless bird displays. photo Bonhams
including a cassowary chick, a large rhea chick under glass dome, a cassowary chick with striped body in five glass case, and a pair of small rhea chicks in five glass case, tallest 63cm (25") (4) - Estimate: AUD 400 - 600, GBP 240 - 360, USD 360 - 540
Five birds of paradise displays. photo Bonhams
comprising a pair of lesser birds of paradise in five glass case, three other displaying males of lesser birds of paradise,two of which are under domes, and a red bird of paradise male on a cage perch and under glass dome, tallest 55cm high, (21.5" high) (5) - Estimate: AUD 400 - 600, GBP 240 - 360, USD 360 - 540
Four owl displays. photo Bonhams
comprising a northern hawk owl on perch with fungus in three glass corner cabinet, a pearl-spotted owlet on perch, a southern white-faced owl on perch under glass dome, and two other small owls under a glass dome, largest 73cm, (28.5") (4) - Estimate: AUD 400 - 600, GBP 240 - 360, USD 360 - 540
Two uncased bird displays. photo Bonhams
comprising a red-legged seriema and female northern ground hornbill, both on gnarled wood perches, both about 74cm high (29" high) (2) - Estimate: AUD 400 - 600, GBP 240 - 360, USD 360 - 540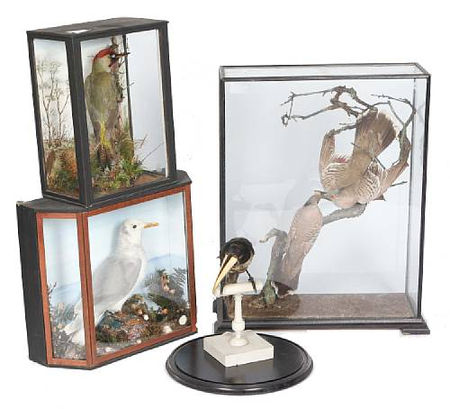 Four bird displays. photo Bonhams
comprising probably a black-legged kittiwake or possibly a mew gull on grass, moss and shell strewn base in canted three glass case, a pair of crested pigeons interacting on a single branch perch in five glass case (old collection label), a Eurasian green woodpecker on a grass and lichen covered stump in three glass case, and a black-necked acari on painted cage perch under a dome, tallest 64cm (25") (4) - Estimate: AUD 500 - 700, GBP 300 - 420, USD 450 - 630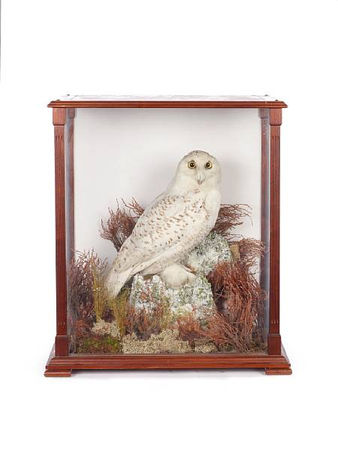 A great grey owl. photo Bonhams
standing on a lichen covered stump perch, in an architectural mahogany three glass case, 78cm high (31" high) - Estimate: AUD 300 - 500, GBP 180 - 300, USD 270 - 450
An adult kea. photo Bonhams
perched on mossy rockwork, in five glass case, 47cm high (18.5" high) - Estimate: AUD 300 - 500, GBP 180 - 300, USD 270 - 450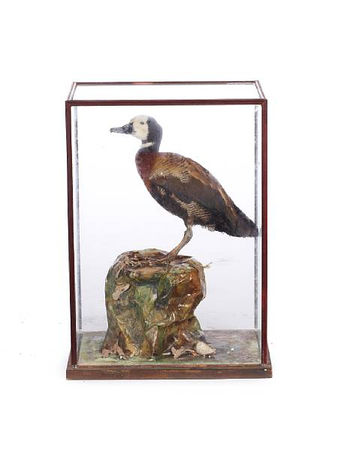 Two bird displays of a satin bowerbird and a white-faced whistling duck. photo Bonhams
the satin bowerbird on low perch, labelled with provenance to Townsville, Queensland in 1899, the duck on pedestal mount, 37cm and 48cm high (14.5" and 19" high) (2) - Estimate: AUD 300 - 500, GBP 180 - 300, USD 270 - 450
Two cased owl displays. photo Bonhams
comprising a group of two barn owls and a tawny owl perched on grassy mounds and stump, and a pair of barn owls, one pinning down a finch with its talons, on grassy mound with peacock feathers, both in three glass cases, largest 56cm high (22" high) (2) - Estimate: AUD 300 - 500, GBP 180 - 300, USD 270 - 450
A fan display of a laughing kookaburra. photo Bonhams
the wing and tail feathers arranged around the head, ebonised turned handle, in glazed case, 57cm high (22.5" high) - Estimate: AUD 300 - 500, GBP 180 - 300, USD 270 - 450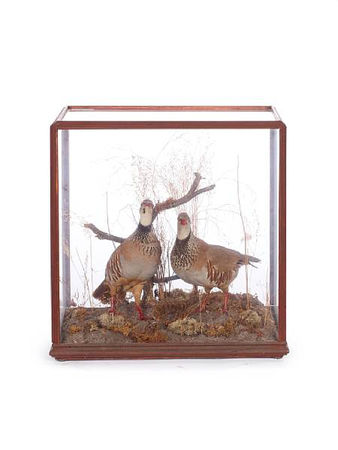 A pair of red-legged partridges. photo Bonhams
foraging amongst moss and grass in five glass case, 55cm high (21.5" high) - Estimate: AUD 300 - 500, GBP 180 - 300, USD 270 - 450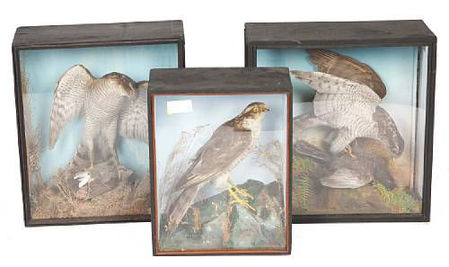 Three Eurasian sparrowhawk displays. photo Bonhams
two perched on rockwork holding down their prey with their talons,in three glass cases, the third in a single glazed case, largest 43cm high,(17" high) (3) - Estimate: AUD 300 - 500, GBP 180 - 300, USD 270 - 450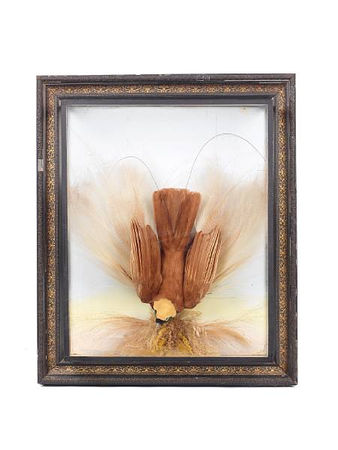 A male greater bird of paradise by Bazeley of Northampton. photo Bonhams
bowed above a floral display with display plumage exposed, in a wall-hung five glass frame case, 61cm high (24" high) - Estimate: AUD 300 - 500, GBP 180 - 300, USD 270 - 450
A short-toed eagle. photo Bonhams
on a stump perch with grasses beneath, in glazed case, 76cm high (30" high) - Estimate: AUD 300 - 500, GBP 180 - 300, USD 270 - 450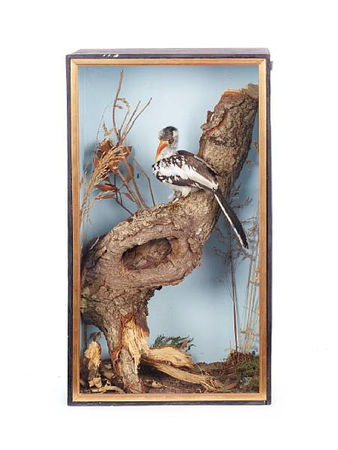 An adult red-billed hornbill. photo Bonhams
standing above its branch hollow nest, in gilt-lined glazed case, 74cm high (29" high) - Estimate: AUD 300 - 400, GBP 180 - 240, USD 270 - 360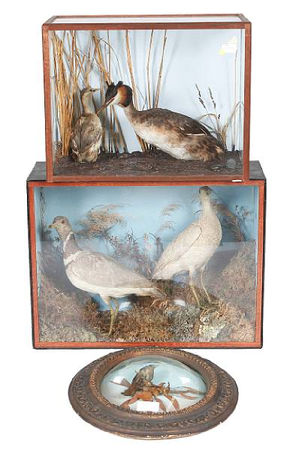 Three bird displays. photo Bonhams
comprising a great crested grebe and chick beside reeds on a muddy base in four glass case, and an adult pilotbird in an oval-framed case, and a pair of little bustard, in glazed case, 16in x 20in (410 x 510mm) (3) - Estimate: AUD 300 - 400, GBP 180 - 240, USD 270 - 360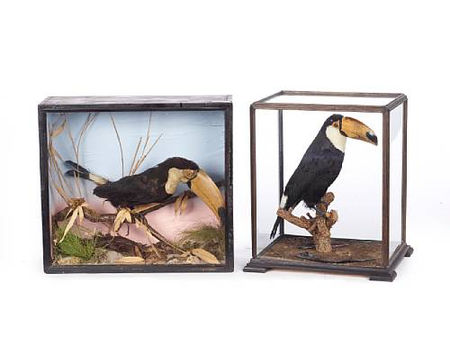 Two displays of toco toucans. photo Bonhams
both on branch perches, one in five glass case, both 50cm high (19.5" high) (2) - Estimate: AUD 300 - 400, GBP 180 - 240, USD 270 - 360
An adult great horned owl. photo Bonhams
on a stump perch with fungus and foliage, in a bowfront corner case, 80cm high (31.5" high) - Estimate: AUD 200 - 300, GBP 120 - 180, USD 180 - 270
Fourteen various bird displays. photo Bonhams
including two black-winged kites in five glass case, a capuchin bird on a cage perch, a New Zealand tui and weka, two Gouldian finches on a branch, an Abyssinian roller on a twig perch, and eight others (14) - Estimate: AUD 200 - 300, GBP 120 - 180, USD 180 - 270
Bonhams. The Owston Collection, 25 Jun 2010 to 26 Jun 2010. The Overseas Passenger Terminal, Sydney