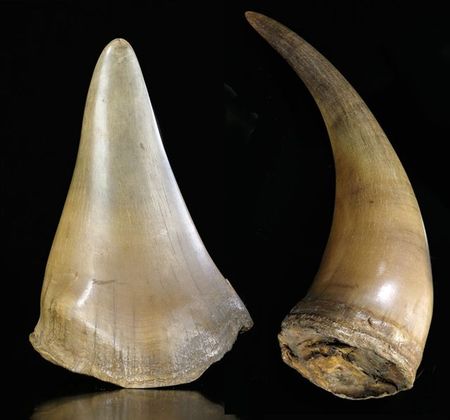 Two rhinohorns. © 2010 Nagel - Auctions
unmounted - Weight: 3,16 and 1,18 Kg - L. 48/25 cm - Estimate € 8 000,00. Hammer price € 49 000,00
Property from the German officer Johannes hunted between 1895 and 1901 - Weight: 3,16 and 1,18 Kg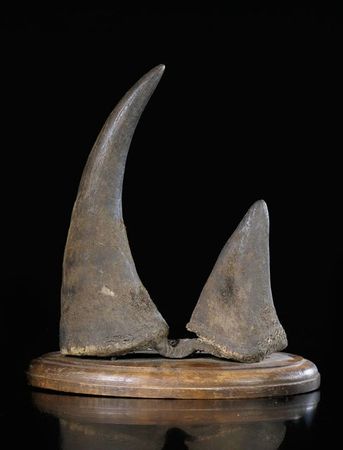 Two rhinohorns. © 2010 Nagel - Auctions
mounted on a wood stand - Weight: 1,74 Kg - L. 30/17 cm. Estimate € 5000,00. Hammer price € 21 000,00
Property from the German officer Johannes hunted between 1895 and 1901
Two rhinohorns. © 2010 Nagel - Auctions
unmounted - Weight: 2,60 and 1,14 Kg - L. 57/22 cm. Estimate € 7 000,00. Hammer price € 28 000,00
Property from the German officer Johannes hunted between 1895 and 1901.
A rhinohorn. © 2010 Nagel - Auctions
mounted with a thread rod, bought 1938, weight with mount 2,089 kg - L. 38 cm. Estimate € 5 000,00. Hammer price € 16 500,00
A large rhinohorn.© 2010 Nagel - Auction
mounted with a thread rod, bought 1938, weight with mounts: 2,143 kg - L. 45 cm. Estimate € 5 000,00. Hammer price € 18 500,00
"The German Asian art specialist in NAGEL, Mr. Trautmann, knew exactly about the high prices in China. As many buyers Are chinese dealers and collectors, He simply put the horns into the Chinese Antique auction, and he was right, because the results are like crazy. The buyers were of course NO Europeans, but only Chinese........
These horns are or were considered having no value here in Germany, and they were hanging at a wall for decoration in Stuttgart Villa since over 110 years. As a curiosity only. Until Mr. Trautmann, the specialist of NAGEL, saw them and asked the German family to give to him to see, if the Chinese would buy it. And he was right.
The high prices are probably not the final prices, as the buyers were perhaps only dealers, who will resell them to other collectors in China. They make powder from it, and sell by microgramm. They are so crazy, better they eat the horn of their footnails,, it is more fresh....
But if we would find one old forgotten horn somewhere in a house in Germany........well....that is another story.
So I think the real living animals have no chance to survive as long Chinese pay that unbelievable amount for the horns.......whatever laws are made, it is the law of market.......and greed.......but they might only survive protected in Zoo s", comme l'écrit très justement T.U. qui nous a envoyé le lien et ses commentaires. Merci à lui ! Autant, je les aime comme objet de curiosités, autant je désapprouve ce que les chinois en font et surtout, la chasse et le massacre de ces pauvres et innoncents animaux.