A pair of blue and white garden seats. Ming dynasty, Wanli period. photo Sotheby's
each of bombe rounded form with a lion mask handle applied to each side at the centre of the body, painted with a wide central band of peacocks amongst peony issuing from rockwork, between two bands of raised bosses, above a band of breaking waves at the base and below a band of shaped cloud collar panels of peony, the upper surface with four Buddhistic lions playing animatedly with brocade balls, around a central pierced roundel in the form of a coin - 36.5cm., 14 3/8 in. Est. 30,000—40,000 GBP Lot Sold 73,250 GBP
PROVENANCE: Christie's New York, 20th September 2002, lot 318.
NOTE: A related seat, in the Shanghai Museum, is illustrated in Wang Qingzheng, Underglaze Blue and Red, Hong Kong, 1993, p. 231, fig. 5, and was included in the exhibition A L'ombre des Pins. Chefs-D'oeuvre D'art Chinois du Musee de Shanghai, Musees D'art et D'histoire, Geneva, 2004, cat. no. 120; and two further examples were sold in our Hong Kong rooms, 17th May 1988, lot 135, and 17th November 1975, lot 195.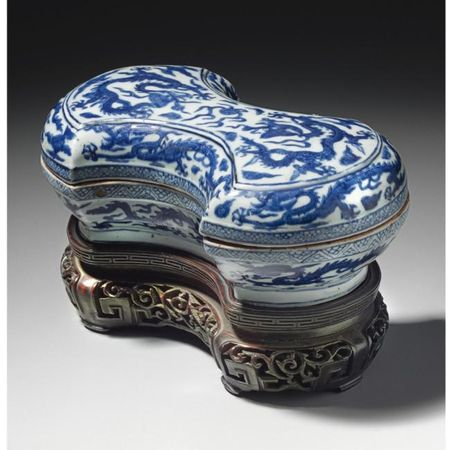 A blue and white ingot-shaped box and cover. Wanli mark and period. photo Sotheby's
the cover painted with two five-claw dragons contesting a central flaming pearl amongst flame and cloud scrolls within a raised ingot-shaped panel, the rounded sides of both box and cover with borders of striding dragons facing opposite directions, the rims with saw-tooth borders - Est. 20,000—30,000 GBP Lot Sold 61,250 GBP
NOTE: The unusual shape of this box is enhanced by the dynamism of the dragon design; see a closely related example, in the Musee Guimet, Paris, illustrated in Daisy Lion-Goldschmidt, Ming Porcelain, Fribourg, 1978, pl. 213; one in the Baur Collection, published in John Ayers, The Baur Collection. Chinese Ceramics, vol. 2, Geneva, 1969, pl. A187; another included in the China Institute in America Exhibition of Chinese Art from the Newark Museum, China Institute in America, New York, 1980, cat. no. 26; and a fourth example sold at Christie's Hong Kong, 29th May 2007, lot 1458.
A blue and white double gourd vase. Ming dynasty, 16th century. photo Sotheby's
the lower lobe painted with a continuous scene of Immortals in a fenced garden with a crane below a band of flower heads on a diaper ground to the waisted middle, the upper lobe similarly painted with Immortals including Shoulao and Liu Hai on his toad amongst breaking waves - 36cm., 14 1/8 in. Est. 15,000—20,000 GBP Lot Sold 18,750 GBP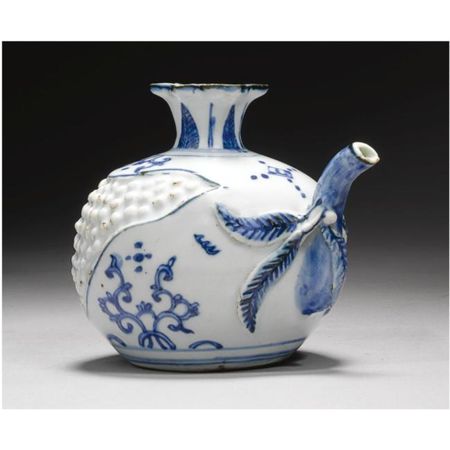 A blue and white 'pomegranate' ewer. Ming dynasty, Wanli period. photo Sotheby's
the rounded body with a shaped area revealing the moulded 'seeds', painted with scrolling arabesques, with leaves applied to the outward-curved spout, with a band of ascending leaves at the waisted neck below the flared star-formed rim, later wood cover - 14cm., 5 1/2 in. Est. 4,000—6,000 GBP Lot Sold 6,875 GBP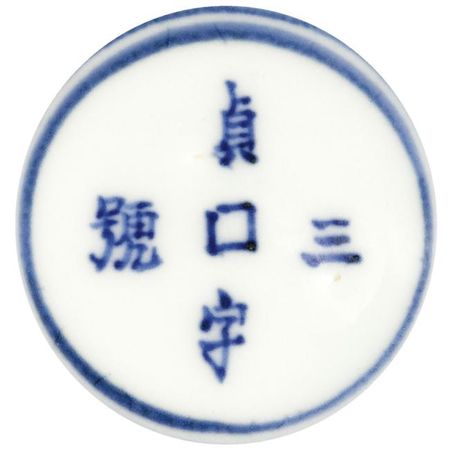 A blue and white bowl. Ming dynasty, Chongzhen period. photo Sotheby's
the short tapering foot rising to rounded sides and a flaring rim, painted to the exterior with jardinieres of peony in a garden, the interior painted with a flower spray below a band of classic scroll at the rim - 15.5cm., 6 1/8 in. Est. 3,000—4,000 GBP Lot Sold 3,250 GBP
NOTE: The mark on the base reads and can be translated as follows:
Zhenzi san hao
The pure character number three.
Sotheby's. Fine Chinese Ceramics & Works of Art. 12 May 10 London www.sothebys.com