A one owner 1962 'barn find' DB4 Aston Martin used as a 'test mule' by James Bond special effects designers is to go up for auction at Bonhams Aston Martin car sale at the Aston Martin Works Service, Newport Pagnell on 22nd May 2010 – the only auction devoted entirely to this iconic marque.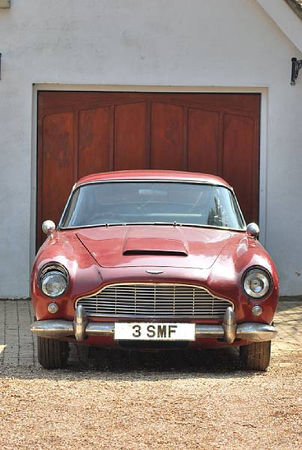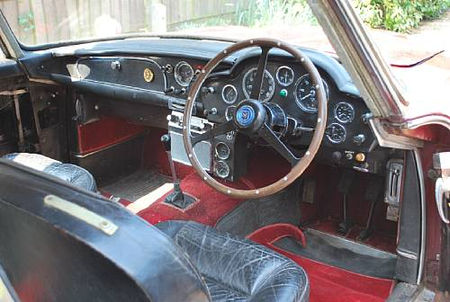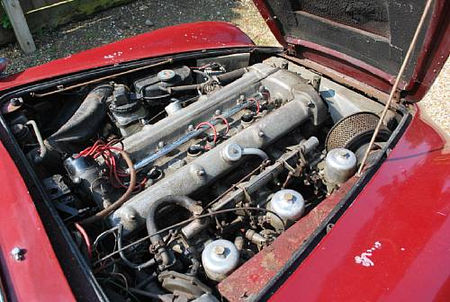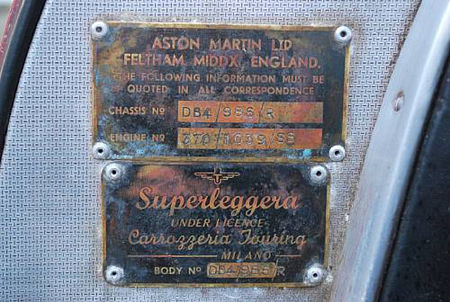 1962 Aston Martin DB4 Series IV Vantage Saloon. photo Bonhams

Registration no. 3 SMF. Chassis no. DB4/986/R. Engine no. 370/1039/SS - Estimate £40,000-50,000 Sold for £84,000

Note: 'Performance, controllability and comfort have been combined in the Aston Martin DB4 to make it a highly desirable car: one in which long journeys can be completed very quickly indeed with the minimum of risk or discomfort and the maximum of pleasure.' - The Motor.
Manufactured between October 1958 and June 1963, the DB4 developed through no fewer than five series. The first had already undergone a number of improvements, including the fitting of heavy-duty bumpers after the first 50 cars, before the second series arrived in January 1960. A front-hinged bonnet, bigger brake calipers and an enlarged sump were the major changes made on the Series II, while the third series featured separate rear lights, two bonnet stays and a host of improvements to the interior fittings. The fourth series was readily distinguishable by its new grille, with seven vertical bars, shallower bonnet intake and recessed rear lights, while the final (fifth) series manufactured between September 1962 and June 1963 was built on a 3.5" longer wheelbase (allowing for increased leg room and a larger boot) and gained 15" wheels, an electric radiator fan and the DB4GT-type instrument panel. As always, a Special Series Vantage engine was available as an option. This unit, equipped with larger valves, raised compression ratio and triple SU carburettors produced no less than 266bhp at 5,700rpm, an increase of 26bhp over standard. Almost all DB4 Vantages were built with the faired-in headlights of the DB4GT.
An ex-factory demonstrator, this 'barn find' DB4 was built for press tycoon Max Aitken (1st Baron Beaverbrook) and was purchased in December 1963 by the current vendor. The Aston was a regular sight at Pinewood Studios where its owner worked as a special effects designer, and served as a 'test mule' during preparatory work for the first James Bond movie, 'Goldfinger', being measured for the various gadgets – ejector seat, machine guns, etc – that would feature on the silver DB5 driven by Bond (Sean Connery) in the film. Somewhat annoyed by the delayed delivery of DB5s from the factory, Bond franchise producer Cubby Broccoli once turned to the DB4's owner and said, 'Why don't we just use your car and spray it silver?'
The Aston was spared that fate but worse was in store, as it was 'rear-ended' by a getaway car fleeing a jewel robbery in London. '3 SMF' was repaired but for some reason came back without a boot lock, a deficiency exploited by thieves who made off with the battery, tools and spare wheel while the car was parked. This incident happened in the summer of 1974, at which time the Aston was consigned to the garage where it has remained ever since.
Interesting modifications made to '3 SMF' include a special factory-fitted clutch with lighter 'push', an Icelert (fitted by the factory prior to a trip to Moscow in the 1960s), an engine vacuum gauge and a thermostatically activated overheating alert. Sold strictly as viewed, this potentially most rewarding DB4 restoration project is offered with copy old-style logbook and Swansea V5.

A 1976 Aston Martin V8 Coupé adapted with numerous components from the process unit used during the filming of the 007 epic 'The Living Daylights' is also on offer at Bonhams auction, and is estimated to fetch £40,000-60,000.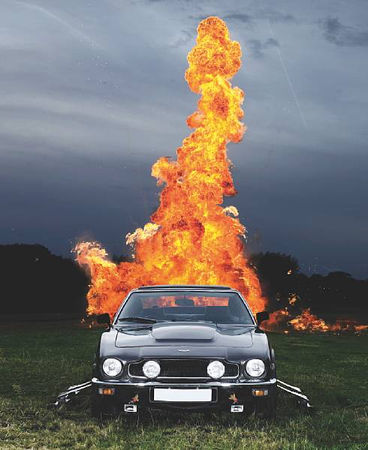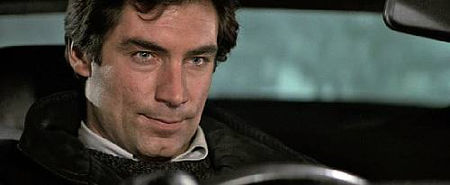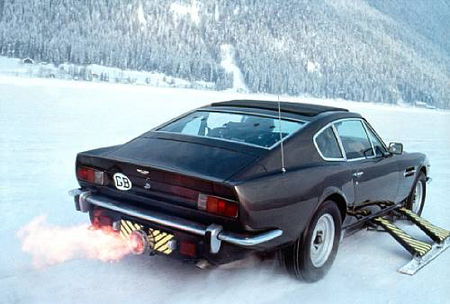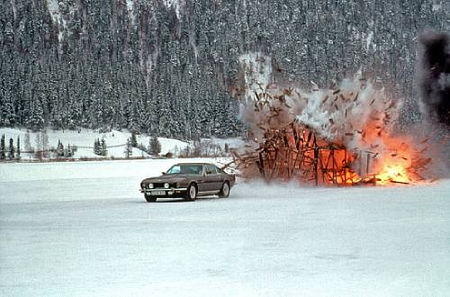 1976 Aston Martin V8 Coupé. photo Bonhams
Chassis no. V8/11472/RCA. Engine no. V/540/1472. Estimate: £40,000 - 60,000 Unsold
Several years ago Dr Peter Nelson, founder of 'The Bond Museum' in Keswick, was invited to Pinewood Studios with Eon Productions' accountant to inspect the contents of the now famous Shed 10. Shed 10 was used by the James Bond producers to store many of their old props, and the building had rarely been unlocked in many years. Inside were several Aston Martin V8 vehicles from the 1987 James Bond film, 'The Living Daylights', staring Timothy Dalton. Some were glassfibre shells and some were complete road and stunt cars. It was an amazing sight and Dr Nelson was able to purchase from the store one complete car, one glassfibre shell, one half-complete car and the 'process unit'. The latter was a V8 that had had the front and rear ends removed to enable the camera crew to film Timothy Dalton driving the car in front of a 'blue screen' in the studio.
Only one of the Aston Martins used in the film was actually a new model: the V8 Volante that was the personal vehicle of Chairman Victor Gauntlett. However several cars were needed for filming so a clever movie trick was performed: the producers made it appear that the car would have a winter hard top fitted in Q's laboratory so that for the remainder of the film they could simply use a coupé version. These other 'winterised' V8s were older 'Oscar India' cars made to look like the new model, as many would need to be destroyed during the filming.
The process unit was first shipped to Aston Martin dealers, Stratton Motor Company in Norfolk, who informed Dr Nelson that the chassis was far too badly damaged to repair so he bought a 1976 model, chassis number 'V8/11472/RCA' from Bob Fountain of Aston Services, while Philip Watson at Stratton's stripped every last nut and bolt off the damaged car. Dr Nelson then transferred many of the process unit's components onto this running chassis, including the seats, interior, bonnet, wheels, skis, etc. However, the film car's dashboard and other minor trim items were not transferred, the original dash being left in place. These original parts will be included in the sale for the new owner to complete the conversion if he/she so desires, together with many other V8 components from the cars destroyed or damaged during the filming, including trim, a spiked tyre, etc.
This car has appeared at numerous motor shows and James Bond events around the world and has become quite a celebrity vehicle. In 2009 the Aston went on show at Dr Nelson's new museum 'The Bond Museum' at Keswick in the Lake District and became a star attraction, featuring at the Goodwood Festival of Speed and in Octane magazine's article about 'Bond cars'. Indeed, many fans considering 'The Living Daylights' Aston Martin V8 to be one of the best Bond vehicles with its skis, rockets, bullet-proof screen and even jet propulsion. In 2010 Dr Nelson sent the film's main car off for restoration and when complete it took the place of the process car in the Museum.
James Bond vehicles are rarely available for sale these days and James Bond Aston Martins are almost impossible to acquire at any price. Although not used during the film's production, '11472' incorporates many of the original 'Bond gadgets' from 'The Living Daylights' and thus represents a rare opportunity to acquire a James Bond-related Aston Martin at a fraction of the cost of an actual movie car. (It should be noted that the registration mark '77 GYL' is being retained by the vendor).

Tim Schofield, UK Head of Collectors Motorcars Department comments, "James Bond vehicles are rarely available for sale these days and James Bond Aston Martins are almost impossible to acquire at any price. This car incorporates many of the original 'Bond gadgets' from 'The Living Daylights' and is a must for any true 007 fan."