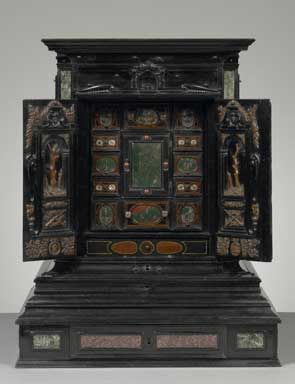 Unknown and Three wood carvings by Albert Jansz. Vinckenbrinck (Dutch, about 1604 - 1664/1665). Display Cabinet (Kabinettschrank), about 1630. Ebony and other tropical and European woods, porphyry, gemstones, marble, pewter, ivory, bone, tortoiseshell, enamel, mirror glass, brass, and painted stone. H: 73 x W: 57.9 x D: 59.1 cm, 53.1 kg. The J. Paul Getty Museum, Los Angeles
LOS ANGELES, CA.- To showcase one of the most complex objects in its collection, the J. Paul Getty Museum will debut cutting-edge technology to explore a 17th-century display cabinet from Augsburg, Germany. Using Augmented Reality (AR), visitors to the Getty's website will be able to achieve unprecedented access to this fascinating object.

The Augsburg Display Cabinet (around 1630), or Kabinettschrank, is the centerpiece of one of four newly reinstalled galleries in the Museum's North Pavilion. A piece of furniture, it served as a repository for rare and exotic objects such as medals, gems, and shells. Displayed on a Renaissance marble table, each of the cabinet's four sides are open to reveal its unexpectedly complex series of drawers, doors, and cupboards. A folding medal display case contains a collection of gems, rings, coins, and medals from the Museum's Sculpture and Decorative Arts and Antiquities collections, while a mirrored door on the opposite side reflects the viewer.

The AR feature allows users to experience the Augsburg Cabinet via a 3-D object overlay on a live video feed from the viewer's webcam—in this case, a simulation of the cabinet. The model spins, tilts, and responds as the viewer interacts with it, creating the sense of participation. This experience is caused both by the viewer's presence in the live video along with hand-eye engagement used to control the cabinet's movement.

The Augmented Reality experience was created by the Museum's Collection Information & Access department, charged with developing innovative means to present objects in the permanent collection to empower visitors to direct their own experience with the works of art.

"We constantly seek to create dynamic presentations that engage visitors and give them new ways to interact with objects in our collection," says Erin Coburn, head of Collection Information & Access. "Augmented Reality has previously been used primarily for advertising and promotional purposes, but we felt it offered the possibility for audiences to experience art objects in a new way and thought this particular work in our collection was ideally suited for this new technology."

To experience the Augmented Reality technology, and explore the Augsburg Display Cabinet, visit www.getty.edu/collectorscabinet.