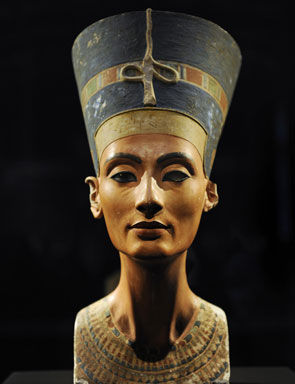 The Nefertiti bust at New Museum in Berlin, Germany. EPA/RAINER JENSEN
CAIRO (AP).- Germany's foreign minister says the 3,300-year-old bust of Queen Nefertiti that has been in a Berlin museum for decades is in Germany legally and could break if moved to Egypt.

Egypt's antiquities chief had said he will formally demand the return of the bust of the 14th century B.C. monarch because it was taken out of Egypt with fraudulent documents in the early 20th century.

German Foreign Minister Guido Westerwelle said Saturday the case is still open but that German experts believe even lending the statue to Egypt could endanger it.

Germany has declined past Egyptian requests for the bust's return, saying it was too fragile to move.

Egypt is campaigning to retrieve thousands of antiquities spirited out during Egypt's colonial period and afterward.

Copyright 2010 The Associated Press.