Halsey Minor (2004) - photographe jdlasica - Licence Creative Commons
SAN FRANCISCO (ETATS-UNIS) [26.05.10] – L'homme d'affaires et millionnaire américain, Halsey Minor, sort vainqueur de son procès l'opposant à la maison de vente Christie's US. Cette dernière doit lui verser une indemnisation de 8,5 millions de dollars pour fraude et violation de contrat.
Le juge William Alsup du tribunal de San Francisco a ordonné à la maison de vente Christie's US de payer 8,57 millions de dollars – environ 7 millions d'euros – de dommages et intérêts à Halsey Minor, directeur de CNet Network Inc. D'après le Wall Street Journal le montant important compense selon la cour la perte financière subie par Minor sur la revente de ses œuvres pendant les cinq mois – de mai à novembre 2008 – durant lesquels Christie's a gardé les pièces en garantie d'un arriéré de paiement.

En mai 2008, peu avant le début de la crise économique, Minor qui devait déjà 12 millions de dollars à Christie's pour l'achat de nombreuses œuvres – dont un portrait de Grace Kelly par Andy Warhol – confia à la maison de vente le soin de vendre un lot de six œuvres de Richard Prince de sa collection dont un important tableau intitulé « Nurse in Hollywood # 4 » - adjugé 6,5 millions de dollars en mai 2010 chez Phillips de Pury. Au total, les œuvres étaient estimées à 25 millions de dollars. La maison de vente accepta de trouver un ou des acquéreurs dans un délai de deux semaines selon un document apporté pour preuve lors du procès.

En août 2008, Minor demande la restitution de ses œuvres qui n'avaient pas trouvé preneur. La maison de vente a répondu que ces derniers lui seraient retournés prochainement alors qu'elle avait clairement décidé – des courriers électroniques entre le personnel le prouvent – de ne pas les lui remettre tant que Minor ne serait pas acquitté de la totalité de sa dette. Il lui restait alors 7 millions de dollars d'arriérés. Les œuvres lui sont finalement retournées en novembre 2008 et Minor attaqua Christie's en décembre.

La somme du préjudice est notable et peut paraître excessive quant on sait que Minor fait partie de la liste des « persona non grata » de Christie's et de Sotheby's, c'est-à-dire qu'il lui est interdit de vendre, d'enchérir ou d'acheter dans ces deux maisons de vente.

Pour justifier sa décision, la cour a mentionné l'attitude indélicate de Christie's envers Minor au sujet de sa décision de garder les œuvres en garantie accusant ainsi la maison de vente de fraude pour avoir détenu à tort la propriété d'autrui. De son côté, Christie's envisage un pourvoi en appel. www.artclair.com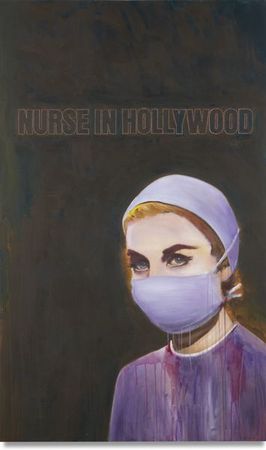 Richard Prince , 'Nurse in Hollywood #4' Acrylic and inkjet on canvas. 69 x 42 in. (175.3 106.7 cm). Signed, titled and dated "2004 R. Prince Nurse in Hollywood #4" on the overlap. Sold at $6,466,500. photo Phillips de Pury & Company
The Nurse. She is historically typecast as an icon of goodness, a benevolent caregiver and healer. However the 20th century has played with that role and eroticized it, casting her as a different character: a lustful and naughty object of sexual desire. It is this striking tension between the good and the wicked that Richard Prince so astutely captures in his Nurse series and what makes these works such intriguing and sought after paintings.
Richard Prince. The name alone conjures up a whirlwind of images, all indelibly cemented in the culture of American kitsch and mass media. One cannot hear his name without picturing his most recognizable icons: the cowboy, the Marlboro Man and of course, his most coveted, the Nurse. The visual iconography of Prince's work over the last thirty years spans the gamut of the American vernacular from the opulent to the seedy. His early photographic representations of lavish luxury items remarked on consumerism while those of almost-naked women splayed across their boyfriends' motorcycles addressed overt sexuality and gender roles. From his early unadulterated snapshots of cigarette ads to his latest painterly homage to de Kooning, his art re-appropriates and re-imagines what art means and what it can be. Nurse in Hollywood # 4 is the apotheosis of this varied and exceptional career, and is easily the finest piece from his Nurse series.
Prince began his artistic career at Time-Life magazine, clipping articles of potential interest for the writers. What remained, most would have considered useless scraps, but instead Prince saw ready-made art. The simplicity of his genius lay in taking (or in his own words, stealing) these un-authored images, re-photographing them and calling them art. The comparison to the pioneering Marcel Duchamp is powerful and significant. In the same way that Duchamp challenged the preconceptions of the artistic process and of what could be labeled as art for his generation, so does Prince for ours. Duchamp said of his first readymade, the famous Bicycle Wheel, that he "created" it because he enjoyed looking at it. This is a fundamental principle of Prince's art and is evident in all of his work. Richard Prince believes art should make people feel good and so he creates what he likes.
He first exhibited the Nurse series in 2003 at Barbara Gladstone Gallery in New York. The show sold out of these highly coveted paintings even before it officially opened. In his introductory essay for the catalogue, Matthew Collings surmises on Prince's attraction to this new subject:
Some of these nurse's are blind! Maybe it's because he's noticed there's something going on generally in the series to do with veiled or masked or restrained feeling, and so he occasionally experiments with emphasizing blindness […] And I suppose he gets [the nurses] from book jacket illustrations because he likes the sexy stream in modern ordinary talk, and in ordinary entertainment—he wants to stay close to home. He says a Nurse sometimes emerges fully formed, more or less without struggle. Other times it might be the end of the day, the kids have had their dinner, he's had some wine, he goes in the studio, puts on Cream or the Velvet Underground, looks at what he did earlier, feels good, gets painting again and then completely mucks it up.
Nurse in Hollywood #4, is not only the most important painting from this series but is also one of Prince's most glamorous, direct and stunning ones. The viewer experiences sheer pleasure in looking at it. The work is based on the 1965 Jane Converse novel whose spoiler reads: "When a Hollywood producer 'discovers' nursing student Kitty Walters he asks her to choose: her dream of becoming a R.N. or every girl's dream of becoming a star." In Prince's painting she does not have to choose: she embodies both the pure and wholesome nurse ready to fill her professional role and the undone vamp with come-hither eyes ready to fill her fantasized role.
Is she a muffled virgin or a brazen vixen? Both. Prince's nurses are anonymous amalgams of female typecasts from the sexy pinup girl to the pure Florence Nightingale, from virgins to nymphomaniacs, from angels of mercy to angels of death and from Hollywood to Washington. They emerge from the canvas as both predator and prey, all players in the game of sexual desire. The story of Converse's nurse continues on the back cover of her book, "Her ash-blond hair. Her big brown eyes. Her pert figure. These were only frosting to her personality – personality that was pure whistle bait. So what if Kitty Walters was a nursing student just three months short of graduating? So what if her idea of heaven was the symbol R.N. pinned on a starched white uniform? Phil Harlan wasn't called "Boy Wonder" for nothing. He was dynamic, magnetic, charming, a glib Svengali whose record of convincing was 100 percent. Phil Harlan would have no trouble turning a dedicated would-be nurse into a determined Hollywood starlet. At least that's what Phil Harlan thought…"
Converse's Hollywood Nurse must decide between following her passion of becoming a nurse or falling into the temptations and peril of Hollywood glamour. Of course she must also choose between lovers along the way. Richard Prince's nurse is a bit bolder than her namesake and the story becomes all about the nurse, our main character, without the distraction of her male suitor leering over her shoulder on the original cover. By obscuring the man with heavy swaths of paint, Prince leaves the viewer alone with our nurse. His brush transforms the original cover (which has been scanned, printed and enlarged onto canvas) with layer upon layer of rich pigment until all that remains are the nurse and the moniker. He uses lush strokes and drips of paint ranging in color from hot bright hues of magenta and turquoise reminiscent of the 1960s to, in this case, darkly mysterious deeper tones of plums, navy blues and chocolate browns. The present work very much pays homage to the canvases of Mark Rothko in both treatment and color. This painterly, layered background creates a potent shadowed stage set from which the now displaced nurse emerges.
Glowing above her, like the Hollywood sign, the title of this work beckons the viewer in—with just one word, evoking a place of seduction and glamour where anything is possible. This symbolism of Hollywood also makes a heady statement to the power and seductiveness of fame and how far people are willing to go to achieve it. This very subject has captured the imagination of some of the most famous artists of the last thirty years including Andy Warhol and Ed Ruscha. Like Ruscha, Prince has always been interested in the correlation between image and text. He began incorporating words into his photographs in the mid-1970s and then devoted entire canvases to his Joke paintings. It is no surprise then that the title of the book plays such an integral role in his nurse paintings. Without them, she would have no context other than being a beautiful (or in some cases, sinister), floating figure. The words build a framework around her and create a story and association that continues to unfold every time the viewer looks at the canvas.
Nurse in Hollywood's striking resemblance to Grace Kelly, a Hollywood icon and beacon of elegance, femininity and beauty is unmistakable. Captured by Warhol in one of his famous pieces, the likeness becomes even more apparent. Grace Kelly is a woman beyond compare and so is this nurse. Prince has given her the liberty of eye contact, something not garnered upon his other nurses whose eyes are generally either averted or covered by a diaphanous veil of white paint. Her brilliant blue eyes and penetrating, direct gaze is confident and overt yet not aggressive, much like the actress herself. The glimmer of seduction hinted at by her eyes is metered by the fact that her eyes are her only means of expression. The mask protects her anonymity but also defaces and silences her. The viewer longs to see what expression she is hiding beneath it and this only heightens the innuendo and drama of the canvas. The darker side of Hollywood, fame and beauty are hinted at by the blood-like drips of burgundy and purple paint that trickle off of her mask and down her shoulders evoking the much gorier side of nursing. Her glowing presence on the canvas stands in high contrast to the shadowy background. She emerges from this rich dark brown set in vibrant strokes of icy lavender and juicy reds. She stops at the front of the picture plane, addressing the viewer with a smoldering stare, her startling blue eyes and white face possessing both an ephemeral beauty and a sinister ghostliness.
What is perhaps most striking about the Nurse in Hollywood #4 is that she is cast to appear more like a doctor, further questioning the gender roles made so poignant by this series. Scrubs have replaced her starched white uniform and her nursing cap is replaced by a surgical cap which covers her hair. All vestiges of femininity, lust and sex are seemingly covered in this painting (except for her eyes) yet instead of dampening the seductive appeal of the work, it heightens it. She is a glamorous Hollywood character, a nurse in disguise.
Always the provocateur, Prince's art is all about desire. It represents covetousness, of a beautiful woman or of an alpha male, of a luxury watch or a perfectly appointed living room, of sex or of words. The desire is never left unadulterated however – there is always an element of subversion or of something ever-so-slightly out of reach that brings such power to his work. There is always a hint of irony and a sense of humor in Prince's paintings. A somewhat mysterious figure himself, we can never be quite sure of exactly how ironic Prince is trying to be and this leaves the viewer even more absorbed by his art.
The nurse is a beautiful representation of a fantasy based in reality—a composite embodiment of our culture's overactive imaginations and cravings. It is an outdated perception yet still holds weight in today's culture. Therein lays Prince's strength—his ability to timelessly capture these flash moments in the American cultural vernacular and make them modern. Prince has doctored his nurses so they seem both delicate and glamorous yet still portray an element of delicious vice. And this is exactly what he is so known for—he takes the seemingly banal and elevates it to cult status, creating aesthetically stunning pieces that address the divergence between what is real and what is created. Layered with this depth, Nurse in Hollywood #4 is a seminal piece—Prince has created art for art's sake and just as he intended, this painting is a provocatively brilliant piece that you just love to look at.