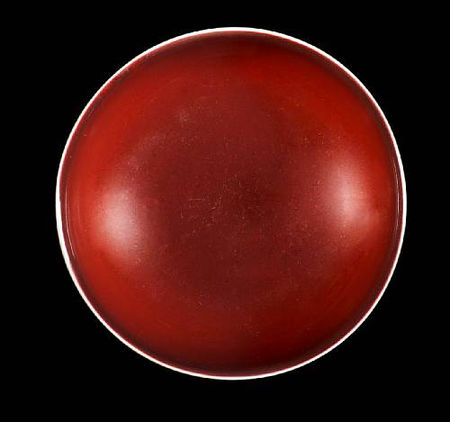 A copper-red glazed dish. Qianlong six-character mark within a double circle and of the period. photo Bonhams
The finely potted dish with elegant flaring sides, the interior and underside covered in a rich red glaze. 7.6cm (6 3/4in) diam. Estimate: HK$60,000 - 80,000, USD 7,700 - 10,000 Unsold

清乾隆 霽紅釉盤 雙圈六字楷書款

The six-character mark, inscribed in three columns on the base, is written in kaishu, suggesting that the dish is from the early years of Qianlong's reign.
A fine copper-red glazed stem bowl. Qianlong six-character seal mark and of the period. photo Bonhams
Finely potted, of sumptuous globular form supported on a splayed foot, covered in a rich attractive copper-red glaze. 18.8cm (7 1/2in) diam. Estimate: HK$200,000 - 300,000, USD 26,000 - 39,000 Unsold

清乾隆 霽紅釉高足碗 雙圈六字篆書款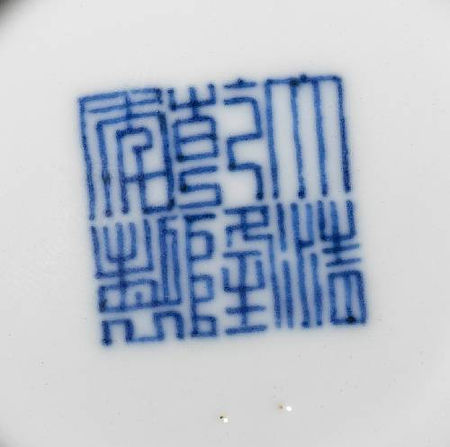 A blue-glazed bowl. Qianlong six-character seal mark and of the period. photo Bonhams
Of deep circular form resting on a short tapered foot and flaring at the rim, covered in a brilliant adamantine-blue glaze. 14.9cm (5 3/4in) diam. Estimate: HK$120,000 - 150,000, USD 15,000 - 19,000 Unsold
清乾隆 霽藍釉碗 六字篆書款
Bonhams. Fine Chinese Ceramics, Works of Art and Paintings, 28 May 2010. JW Marriott Hotel www.bonhams.com