Christie's auctioneer Jussi Pylkkanen points to Pablo Picasso's 1903 painting 'Portrait of Angel Fernandez de Soto' during an auction of Impressionist and Modern Art in London June 23, 2010. The piece sold for over 34 million pounds Sterling (51 million US dollars). REUTERS/Paul Hackett
London – The Impressionist and Modern Art Evening Sale took place this evening at Christie's and realized £152,595,550 / $226,451,796 / €184,030,233 selling 75% by lot and 74% by value.
Giovanna Bertazzoni, Director and Head of Impressionist and Modern Art, Christie's London: "Global bidders competed at this evening's auction and demonstrated that the art market continues to attract significant levels of spending, particularly for the rarest and most exceptional works of art. We are particularly pleased that Picasso's portrait of Angel Fernández de Soto realized over £34 million with proceeds to benefit arts culture and heritage in the UK, and that for the first time an auction in London has broken the £150 million barrier."
The top price was paid for Portrait of Angel Fernández de Soto, 1903, a Blue Period masterpiece by Pablo Picasso (1881-1973), which sold for £34,761,250 / $51,585,695 / €41,922,068. Offered at auction by The Andrew Lloyd Webber Foundation, a charity which focuses on the promotion of arts, culture and heritage in Britain, it was acquired by an anonymous telephone bidder. It had been acquired by the Foundation at auction in New York in May 1995 for $29,152,500.
Buyer breakdown (by lot / by origin) were 55% Europe, 40% Americas and 5% Asia.
Mark Wordsworth, Chairman of the Andrew Lloyd Webber Foundation: "We are pleased that the Angel de Fernández de Soto by Pablo Picasso sold at auction today. The Trustees of the Foundation will now consider how best to apply the funds to promote the advancement of the arts, culture and heritage in the UK."
Lord Lloyd-Webber: "I am pleased that my Foundation has raised over £30 million, especially in such austere times. This is a significant amount to devote to the Foundation's passions - architecture and the sponsorship of young talent in musical theatre."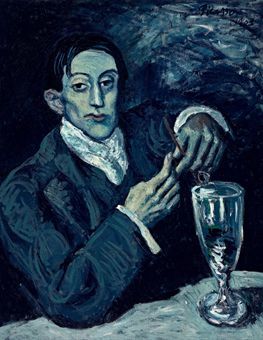 Pablo Picasso (1881-1973) Portrait d'Angel Fernández de Soto , signed and dated 'Picasso 1903' (upper right) oil on canvas, 27 5/8 x 21¾ in. (70.3 x 55.3 cm.) Painted in Barcelona in 1903. Photo: Christie's Images Ltd 2010
Estimate £30,000,000 - £40,000,000 Purchase Price £34,761,250 (€41,922,068) to an Anonymous.
Provenance: Paul von Mendelssohn-Bartholdy, Berlin.
Justin K. Thannhauser, Berlin and Lucerne, by 31 August 1935.
M. Knoedler & Co., Inc., New York, by whom acquired from the above on 2 September 1936.
William H. Taylor, West Chester, Pennsylvania, by whom acquired from the above in October 1936.
Donald and Jean Stralem, New York, by whom acquired from the above through the agency of M. Knoedler & Co., Inc., New York, in May 1946; sale, Sotheby's, New York, 8 May 1995, lot 14.
Acquired at the above sale by the present owner.
Literature: J. Cassou, Picasso, New York, 1940 (illustrated pl. 47).
F. Elgar & R. Maillard, Picasso, Paris, 1955, p. 185 (illustrated, titled 'Angel Fernández de Soto').
D. Sutton, Peintures: époques bleue et rose, Paris, 1955, no. 24. P. Daix & G. Boudaille, Picasso, The Blue and Rose Periods, A Catalogue raisonné, 1900-1906, London, 1967, no. IX.20, p. 225 (illustrated, titled 'Angel Fernández de Soto').
A. Moravia & P. Lecaldano, L'opera completa di Picasso blu e rosa, Milan, 1968, no. 74, p. 93 (illustrated).
C. Zervos, Pablo Picasso, oeuvres de 1895 à 1906, vol. 1, Paris, 1969, no. 201 (illustrated pl. 90, titled 'Angel Fernández de Soto'). D. Sutton & P. Lecaldano, The Complete Paintings of Picasso, Blue and Rose Periods, London, 1971, no. 74, p. 92 (illustrated p. 93).
J. Palau i Fabre, Picasso, Life and Work of the Early Years, 1881-1907, New York, 1981, no. 911, p. 542 (illustrated p. 352, titled 'Blue Portrait of Angel F. de Soto').
J. Warnod, Le bateau lavoir, Paris, 1986, p. 61 (illustrated, titled 'Portrait de Soto').
J. Richardson, A Life of Picasso, 1881-1906, vol. I, New York, 1991, p. 285-286 (illustrated p. 285, titled 'Portrait of Angel de Soto').
P. Daix, Picasso: Life and Art, London, 1993, p. 36.
M. Covenay, Cats on a chandelier: the Andrew Lloyd Webber story, London, 1999, p. 213.
B. Léal, C. Piot & M.-L. Bernadac, The Ultimate Picasso, New York, 2000, no. 120, pp. 60 and 506 (illustrated p. 64, titled 'Blue Portrait of Angel F. de Soto').
Exhibited: Buenos Aires, Galeria Müler, Exposición Pablo Ruiz Picasso, October 1934, no. 4.
Philadelphia, Museum of Art, Exhibition of French Art, March - April 1937.
New York, M. Knoedler & Co., Inc., Loan Exhibition of Allied Art for Allied Aid, June 1940, no. 18.
New York, M. Knoedler & Co., Inc., Exhibition Celebrating Knoedler's One Hundred Years -- 1846-1946, April 1946, no. 76.
New York, M. Knoedler & Co., Inc., Picasso before 1907. Loan Exhibition for the Benefit of the Public Education Association, October - November 1947, no. 15 (illustrated, titled 'Angel Fernández de Soto').
New York, The Metropolitan Museum of Art, Summer Loan Exhibition, August 1949.
New York, The Metropolitan Museum of Art, Summer Loan Exhibition, July - September 1960, no. 87.
New York, M. Knoedler & Co., Inc., Picasso: an American Tribute, April - May 1962, no. 18 (illustrated, titled 'The Absinthe Drinker').
New York, The Metropolitan Museum of Art, Summer Loan Exhibition, July - September 1962, no. 63 (loan no. L 62.63.6).
Toronto, The Art Gallery, Picasso and Man, January - February 1964, no. 17 (illustrated p. 37, titled 'Angel Fernández de Soto/The Absinthe Drinker'); this exhibition later travelled to Montreal, Museum of Fine Arts, February - March 1964.
Dallas, Museum of Fine Arts, Picasso: Two Concurrent Retrospective Exhibitions, February - March 1967, no. 7 (illustrated p. 14, titled 'The Absinthe Drinker').
New York, The Metropolitan Museum of Art, Summer Loan Exhibition, July - September 1968 (loan no. 68.85.9).
New York, Saidenberg Gallery Inc., Homage to Picasso for his 90th Birthday. Exhibition for the benefit of the American Cancer Society, October 1971, no. 2 (illustrated p. 17, titled 'The Absinthe Drinker'). New York, Acquavella Galleries, Inc., Picasso. A Loan Exhibition for the Benefit of Cancer Care, Inc., The National Cancer Foundation, April - May 1975 (illustrated, titled 'The Absinthe Drinker').
New York, The Metropolitan Museum of Art, on loan, 1990-1991.
London, Royal Academy of Arts, Pre-Raphaelite and Other Masters. The Andrew Lloyd Webber Collection, September - December 2003, no. 282 (illustrated, titled 'Angel Fernández de Soto').
London, The National Gallery, on loan, May - September 2005 (loan no. 665).
London, The National Gallery, Rebels and Martyrs: The Image of the Artist in the Nineteenth Century, June - August 2006, no. 39 (illustrated p. 117).
Notes: This painting was withdrawn from sale in 2006 as a result of an ownership claim by the heirs of Paul von Mendelssohn-Bartholdy. That dispute has been resolved and the heirs of Paul von Mendelssohn-Bartholdy have dropped all claims to the painting.

Painted in Barcelona in 1903, Portrait d'Angel Fernández de Soto is an historic picture dating from the pinnacle of Pablo Picasso's celebrated Blue Period. Many of Picasso's biographers and critics agree that it was during his 1903 stay in Barcelona, his last prolonged visit to Spain before he returned to Paris and essentially made France his home, that the Blue Period reached its peak. This is clear in this portrait of his friend Angel in the dominant colours, the ashen skin, the elongated features and hands and even the theme of absinthe hinted at by the curl of green paint in the glass. Picasso is presenting Angel as a dissipated flâneur, and also as a visionary seeking inspiration through his pipe and glass rather than the more ascetic methods favoured by the Christian saints presented in similar poses by the Old Masters. The importance of this painting is clear from both its extensive exhibition history, which features many instances where it was shown in significant retrospectives during the artist's own lifetime, and by its distinguished provenance. It was formerly owned by Paul von Mendelssohn-Bartholdy, one of Picasso's important pre-Second World War collectors, and was later in the collection of Donald and Jean Stralem, which featured a range of works by the artist alongside those of pillars of art such as Paul Cézanne, Alberto Giacometti, Vincent van Gogh, Fernand Léger, Henri Matisse and the Nabis among others. When their collection was offered at auction in 1995, Portrait d'Angel Fernández de Soto was purchased with funds donated by the famous composer Andrew Lloyd-Webber for the charitable foundation that bears his name; it is for the benefit of The Andrew Lloyd-Webber Foundation, which focuses on the promotion of the arts, culture and heritage in Great Britain, that it is now offered for sale. While the momentum of the Blue Period carried through to the early period of his stay in the Bateau Lavoir, the notorious and ramshackle warren of artists' studios and apartments in Montmartre, it was in Barcelona that Picasso had truly taken the Blue Period to its culmination, be it in his portraits such as those of Sebastíe Junyer Vidal, of the poet Jaime Sabartés and this one of his old friend Angel, or in his more Mannerist images of blind men and beggars. Crucially, while some of those other works are almost idealised visions of human misery, Portrait d'Angel Fernández de Soto provides a personal and indeed searingly psychological insight both into the sitter's character and into Picasso's life during this crucial period, when he was still unrecognised by the wider world yet was gaining an increasing following amongst a small circle of friends and supporters. It is a tribute to the quality of the works from this important moment in his career that so many of them grace the walls of museums throughout the world and that as early as 1914, the critic Gustave Cocquiot, who had so favourably reviewed Picasso's first Paris exhibition over a decade earlier, wrote that collectors sought them out especially; it was in that same text that Cocquiot identified the 'période bleue' for the first time in writing (G. Cocquiot, Cubistes, Futuristes, Passéistes: Essai sur la Jeune Peinture et la Jeune Sculpture, Paris, 1914, p. 147).

As well as marking the apogee of the Blue Period, Portrait d'Angel Fernández de Soto started a new chapter in the development of the portrait as a genre and a discipline. By the time he painted this work, Picasso had already been looking at the examples of Edvard Munch, Paul Gauguin and Vincent van Gogh; here, rather than imitating them, he was already bringing something new to portraiture, finding a manner in which he could express the state of both painter and subject alike, a notion perfectly suited to the Blue Period works. Picasso's stylisation has allowed an expressive, and indeed expressionistic, quality to come to the fore, marking a milestone in his oeuvre. It is for this reason that, comparing this portrait to some of Picasso's portraits of the Soler family painted only just prior to this, John Richardson has highlighted the leaps and bounds that were clearly evident in this bold and accomplished vision of his friend:

'The portraits that Picasso did of his closest friends, Angel de Soto and Sabartés, in the course of his last months in Barcelona delve far more deeply into character and take far greater liberties than the Soler ones. The deformations in the Soto portrait - the jug ear, skewed mouth, prognathous chin - seem caricatural, but the image transcends caricature. By this time Picasso had learned how to exploit his inherent gift for caricature in depth as a means of dramatising psychological as well as physiognomic traits. Whereas the average caricaturist externalises things and comes up with an image that is slick and trite - an instant cliché - Picasso internalises things and comes up with an enhanced characterisation of his subject. Picasso enlarges Angel's heavy-lidded eyes out of all proportion and endows them with his own obsidian stare. Among his immediate predecessors, only van Gogh had this ability to galvanise a portrait with his own psychic energy' (J. Richardson, A Life of Picasso: Volume I: 1881-1906, London, 1991, pp. 285-86).
Picasso's Blue Period resulted in a string of masterpieces that depicted human misery in a new, essentially expressionistic manner. Coming hot on the heels of the success of his Parisian and Spanish scenes that had resulted in significant sales at his exhibition at the gallery of Ambroise Vollard in 1901, this idiosyncratic stylisation received a cool reception at the time. This resulted in Picasso's lack of funds during the period, which itself doubtless fuelled the Blue Period's atmosphere, with its waifs and destitution. Sabartés suggested that the Blue Period came about thanks to Picasso's almost perverse stubbornness: 'Perhaps one of the reasons for the lack of sales was the change in Picasso's style. The fact that his earlier work had pleased the public was enough to put him against it' (Sabartès, quoted in ibid., p. 231). Certainly, during the period, Picasso's lack of sales and consequent shortage of funds saw him returning to Barcelona and even to Malaga to solicit funds from various family members. The Blue Period was therefore very much a product of Picasso's stays both in Paris and Barcelona, and indeed many of the greatest of the pictures associated with it were painted in Catalonia, not in France. This was particularly true of the 1903 visit, when he was staying with his parents in their home at Carrer de la Mercè 3: during this visit, he painted and soon sold La vie, which has often been considered one of the greatest masterpieces of the Blue Period, meaning that he had funds to buy better materials. It may be as a result of this change in circumstances that Portrait d'Angel Fernández de Soto has such a lush, painterly surface, especially in comparison to some of the earlier Blue Period works.

Thematically, a great deal of Picasso's subjects during this time were from the French capital, where the young artist had deliberately explored the lowest levels of deprivation that he could find, taking them as forms of extreme social realism and distilling them into something all the more striking and tragically poetic. Even during his previous stay in Barcelona in 1902, when he had created a significant number of Blue Period works, Picasso had been thinking back to the destitute, often diseased prostitutes he had seen in the women's prison of Saint-Lazare, to which he had gained access through a venereologist, Dr Louis Jullien (see ibid., p. 218). These extreme visions of misery and social commentary remained central to the Blue Period, as is evident when looking at La repasseuse (Solomon R. Guggenheim Museum, New York), painted in 1904 after his return to Paris. However, the portraits formed another often highly autobiographical strand: through the deliberately restricted, understated palette and the expressionism of this emotional filter, Picasso was able to convey more of the character of his sitters - his friends. Portrait d'Angel Fernández de Soto is all the more striking as a Blue Period portrait because, showing his subject with his pipe and glass as he had also shown Junyer Vidal in a bar, Picasso was combining a strain of that social commentary, adding a narrative element and making this likeness all the more intriguing, informative and impressive.

Picasso's own life and experiences were central to the development of the Blue Period, which saw him looking back to the suicide in 1901 of his great friend and fellow artist, Carles Casagemas Coll. As Picasso himself explained: 'It was thinking about Casagemas's death that started me painting in blue' (Picasso, quoted in ibid., p. 182). Casagemas' influence on the Blue Period formed a sort of book-end for Picasso, marking both its inception and the beginning of its close. For the Blue had really seeped into Picasso's works in the portraits of the dead Casagemas (painted from the imagination, as Picasso arrived in Paris after the event, having been in Spain) and then in Evocation (L'enterrement de Casagemas) of 1901. Casagemas' death in Paris had in part ushered in this fascination with misery, perhaps reflecting Picasso's own feelings of guilt surrounding his treatment of his friend. These feelings did not, it seems, disappear, even over the space of a couple of years: in 1903, when he had returned to Barcelona, Picasso found himself sharing the same studio with Angel in the loft of 17 Riera Sant Joan that he had shared with Casagemas only a few years earlier. Picasso and Casagemas had together decorated it with witty and occasionally bawdy murals, which remained as reminders of that earlier time. Picasso now found himself once more working in the same surroundings, with the murals still intact; a notoriously superstitious man, he had also become increasingly interested in mysticism while in Paris through the influence of his friend Max Jacob, and one cannot help but feel that these decorations, these reverberations from a more hopeful moment in his career and his friend's life, must have had some impact. Certainly, Casagemas was still on Picasso's mind during this stay in Barcelona in 1903, as is clear from his presence in La vie.
That picture, with its hieratic combination of figures, shows Casagemas near naked, embraced by a naked woman while conversing with another woman holding a child; in the background are what appear to be more Blue Period works. La vie has often been interpreted as an exorcism of the feelings of guilt that Picasso felt, regarding Casagemas. For the unstable artist, with whom Picasso had shared digs in Barcelona and in Paris and who had been his companion for some time, had shot himself in Paris when he had been spurned by his lover, Germaine. After they had left Paris and had travelled to Malaga, Picasso had seen that Casagemas appeared to be deteriorating psychologically and had put him on a boat for Barcelona; while Picasso had then headed briefly to Madrid, Casagemas had returned to Paris. There, after a short stay, he had arranged a farewell dinner for himself at which he tried to shoot Germaine and, believing he had killed her - in fact, she had not even been hit - turned the gun on himself. Casagemas' features and story threaded themselves through Picasso's Blue Period works, culminating in La vie, at which point the possible guilt that he felt about Casagemas' death - and his own subsequent affair with Germaine - appears to have been more or less expunged.

The first complex Blue Period composition, Evocation (L'enterrement de Casagemas), clearly owed a debt to El Greco's The Burial of the Count of Orgaz of 1586. At the time, the wider art establishment still regarded El Greco with disdain; it was only a few years later that Picasso's friend Miguel Utrillo, one of the founders of the legendary Barcelona meeting point for artists, Els Quatre Gats, wrote the first monograph on his work; within a short time, his fame would, albeit centuries late, have spread and he would become an intriguing inspiration to many Expressionist artists. However, within Picasso's small circle, El Greco was already considered a great precursor, combining mysticism and expressionism in his idiosyncratic paintings. Looking at Portrait d'Angel Fernández de Soto, and especially comparing it with his earlier homages from the dawn of the Blue Period and even before, it is clear that Picasso had now digested that influence in a new way. In the pallor of Angel's face, the mannerist pose that he has adopted, the way he has been depicted with attributes - the pipe, the glass - like some secular, contemporary saint, Picasso has taken El Greco's legacy and made it his own. He has distilled the plastic quality that is so vivid in the pictures by El Greco that he would have seen in the Prado and especially in Toledo and has channelled it here, granting Angel a sculptural quality that makes the painting all the more intense (this also reflects Picasso's increasing interest in sculpture, with which he had experimented, in part under the guidance of his friend Emili Fontbona, during this period; it is doubtless no coincidence that, during the 1903 stay, he also ended up subletting a studio from his friend, the sculptor Pablo Gargallo). The swirling brushwork of this portrait lends the painting a vortex-like internal energy that is a far cry from many of the earlier, more static Blue Period works which had taken sculpture, for instance Romanesque Catalan religious figures, as their inspiration.

Picasso was vying for position now as El Greco's heir; his sketchbooks from earlier years had included the ritualistic invocation, 'Yo El Greco, yo Greco'; now he was pushing this to a further level (ibid., pp. 290-91). For Cocquiot, it was at this moment that Picasso finally began to break new ground in his art, having formerly owed too much to the examples of Steinlen and Toulouse-Lautrec:

'while he is suddenly so smitten with El Greco that he hangs photographs of the Master's incredible paintings around his bedroom, he breaks new ground with the 'blue period'... It is the skeletal period of famished couples, transfixed before a glass of absinthe' (Cocquiot, quoted in R.J. Boardingham, 'Gustave Cocquiot and the Critical Origins of Picasso's 'Blue' and 'Rose' Periods', pp. 143-47, M. McCully (ed.), Picasso: The Early Years 1892-1906, exh. cat., Washington, D.C., 1997, p. 147).

The forlorn visionaries in the great paintings from the later stage of Picasso's Blue Period in Barcelona all clearly show their allegiance to El Greco, and likewise are all marked out by that originality that Cocquiot here identified, be it in Le repas de l'aveugle in the Metropolitan Museum of Art, New York, in Le vieux guitariste in the Art Institute of Chicago, or in Portrait d'Angel Fernández de Soto. Many of the great paintings from this late stage of his Blue period share the lush brushwork, the vacant, visionary stares, the cool blue tones and the mannered, exaggerated poses of the protagonists; they also often feature similar elongated hands as seen here, a detail which Picasso's friend Sabartés would discuss: '... the hands in Picasso's blue work seem to seek one another's warmth. Some are outstretched as if the finger tips wished to touch what they are reaching for, hands that denote fear and throb with anxiety; some timid, others frozen with cold, others astir as if to banish solitude' (Sabartés, quoted in W. Boeck & J. Sabartés, Picasso, London, 1961, p. 130). Crucially, providing an intriguing and engaging counterpoint to his clear ability to 'depict' human misery in these subjects, Picasso has imbued each of these characters with a fragile dignity. As Sabartés himself would later write, 'The blue which gave a unity of tone to his colour in this period came to be the gleam of a little illusion or hope. At times he speaks of this blue with great enthusiasm, describing it in a phrase like a prayer uttered in a sigh. Why? Because in his paintings blue shows itself as an aspiration to sublimity in the midst of desperation or sadness' (Sabartés, quoted in ibid., p. 36).

Sabartés recorded Picasso's ideas regarding the Blue Period in terms that explain firstly why, especially in the wake of Casagemas' suicide, the young artist would turn to misery for inspiration, and secondly to what extent Portrait d'Angel Fernández de Soto encapsulates these qualities:

'art emanates from Sadness and Pain... Sadness lends itself to meditation... grief is at the basis of life. We are passing through... a period of uncertainty that everyone regards from the viewpoint of his own misery... a period of grief, of sadness and of misery. Life with all its torments is at the core of [Picasso's] theory of art. If we demand sincerity of the artist, we must remember that sincerity is not to be found outside the realm of grief' (Sabartès, quoted in Richardson, op. cit., 1991, p. 217).

Sabartés' recollections of the time, when he knew Picasso and indeed was captured by him in several Blue Period portraits, reveal that the artist would accentuate this atmosphere of pain, heightening that notion of grief, by deliberately adopting an uncomfortable position while painting: 'I generally found him in the middle of the studio, not far from the stove, seated on a dilapidated chair, perhaps lower than an ordinary chair, because discomfort does not bother him and he seems even to prefer it as if he delighted in self-mortification and enjoyed subjecting his spirit to tortures so long as they spur him on. The canvas was placed on the lowest part of the easel, and this compelled him to paint in an almost kneeling position' (Sabartés, quoted in Boeck & Sabartés, op. cit., 1961, pp. 124-29). As he did with Angel in this portrait, Picasso was placing himself in the role of the visionary, as a martyr. It is in terms of that concept of sincerity being best located within the realm of grief and pain that Picasso's Blue Period portraits gain their incredible strength. Through the subjects, the deliberately restricted palette and Picasso's own experience - both in terms of his position while painting and his own near-poverty - the portraits of this time serve as records of familiar figures from the artist's own life, but it is precisely because of that familiarity that they also serve as perfect portals to the world of misery, and therefore of artistic truth, that the trailblazing young artist was exploring during this time.

Angel Fernandez de Soto's friendship with Picasso is entwined in the very fabric of the early part of his career, his reputation, his myth. It was towards the end of the Nineteenth Century that Angel, a painter, and his brother Mateu, a sculptor, had met Picasso at the Cabaret Edén Concert. From the time of that introduction until the end of the Blue Period, Picasso would spend a vast amount of his time with one or other of the Soto brothers. On the streets of Barcelona, Angel and Picasso seemed like two dandies: Picasso would even share a pair of gloves with Angel in order to look more elegant, each of them keeping the unclothed hand concealed in a pocket. Angel sometimes worked as an extra in the theatre and Picasso told Richardson that this, and his access to costume, led to his frequent depictions of his friend as an urbane flâneur (Richardson, op. cit., 1991, p. 115). While he met them when still a teenager, Picasso's charisma and talent had already marked him out as something special, and they all became within a short time frequent visitors to Els Quatre Gats, fraternising with the earlier generation of Modernista artists. Still in his teens at the end of the Nineteenth Century, Picasso designed menus and brochures for Els Quatre Gats, and indeed is thought to have painted the sign that hung outside it, and would return there on his subsequent visits to Barcelona.

The 'four cats' of the name were the founders of the establishment: the artists Ramón Casas i Carbó, Santiago Rusiñol i Prats, Miquel Utrillo and the main proprietor, Pere Romeu. Many of the interior decorations were created by Casas and his colleagues including the mural showing him and Pere Romeu on a tandem bicycle, while the furniture was designed by Josep Puig i Cadafalch, one of the great architects of the period and an active promoter of Catalan culture. Puig i Cadafalch had been the architect of the Casa Martí whose ground floor Els Quatre Gats occupied; due to his political activism, he was later elected to be second president of the Mancomunitat de Catalunya.

These 'Quatre Gats', bastions of the Modernista style, held a huge sway over younger artists such as the Soto brothers, Casagemas and Picasso at the end of the Nineteenth Century. However, within the space of the year 1900, Picasso began to rail against the pedestals upon which he had placed Casas in particular. Picasso had two exhibitions in Els Quatre Gats that year, and while the first was clearly indebted to Casas, the second already brought a new breath of artistic air to the art scene there. It was following this, spurred on by his thirst for innovation, for modern life and for new worlds to conquer, that Picasso had made his first trip to Paris, the city to which several of the Gats themselves had made their pilgrimages in prior years. The Blue Period which followed, and which included works such as Portrait d'Angel Fernández de Soto, marked out the strides that Picasso took, advancing by leaps and bounds and becoming the tireless innovator whose influence and importance is stills so keenly felt today.

Before his first journey to the French capital, and for much of his return visits to Barcelona over the following three years, Els Quatre Gats would remain a crucial centre of gravity for Picasso and his young friends, a social hub and place of sustenance - perhaps influenced in part by the fact that these artists, familiar with the place, had more chance of eating on credit there. The importance of Els Quatre Gats to these friends and to Picasso in particular is perhaps most evident from the design he created for a flyer in 1902, which showed him outside the venue, sitting with Pere Romeu, the artist Josep Rocarol, Angel and Sabartés. However, this new generation of artists was not keeping the place alive in the same way as before. Pere Romeu aside, the other 'Cats' no longer frequented it as much, and it was in July of 1903, the year that Portrait d'Angel Fernández de Soto was painted, that Els Quatre Gats closed.

While Picasso was in Paris, he saw a great deal of Angel's brother, Mateu. Indeed, in the winter of 1901, Mateu had shared rooms with him; similarly, when Picasso returned to Barcelona in 1902, he shared a studio with Angel, who lived in the rooms at 10 Carrer Nov de la Rambla, next to the Edén Concert, as well as sharing the Riera Sant Joan studio the following year. It is a telling tribute to the importance of the brothers Soto to Picasso during this period that his frontal 1901 portrait of Mateu was one of the few Blue Period works which he retained in his own private collection until the end of his life. The brothers likewise appeared in a range of saucy and amusing vignettes from these early years, showing them in an array of poses in the brothels and bars that they would frequent; in them, Angel usually has his pipe in his mouth, rather than in his hand as in Portrait d'Angel Fernández de Soto, a difference that accentuates the contemplative air of this depiction rather than the more caution-to-the-wind decadence and frolics of the others.

There were several differences between the two brothers: Angel was tall while Mateu was shorter. It was in part for this reason that while Angel was known as 'Patas arriba' Mateu was 'Patas abajo' (Angel's nickname 'Patas', meaning paws, legs or feet, was also due to his preference for walking everywhere - going a pata; 'Patas arriba' means upside-down and is used to denote a mess, while 'Patas abajo' appears to play on that: 'boca abajo,' or 'face down,' also means upside-down (see ibid., p. 492n)). Mateu, the sculptor, worked hard, and managed to maintain a modest career through his art for the rest of his life; Angel, during this period, was 'an amusing wastrel,' as Picasso himself recalled (ibid., p. 115); in fact, despite the possibly ill-auguring activities during these years, Angel would later come to be a significant political figure in the cultural scene in Spain, serving as 'comisario artistico' to the painters' union; John Richardson has pointed out that, after the painters had drifted apart, there was a poetic synchronicity when the Republican government during the Civil War appointed Picasso director of the Prado and Angel a deputy of the arts. Sadly, the same Civil War would claim Angel's life when he was knocked down by an ambulance going through the darkened streets of Barcelona during a bombardment in 1938. Conxa Rodriguez has written a biography of Angel, for which his portrait served as a cover illustration, El Ángel de Picasso: historia de un bebedor de absenta, Barcelona, 2003.

These distinctions, though, were far in the future at this time. During his stay in Barcelona in 1903, Picasso was distracted by the endless festivities in the studio that he shared with Angel. All too often Picasso was tempted into the sort of activity that he captured in his vignettes, be it drinking, eating or visiting brothels, and soon found that he needed to escape this indulgent influence in order to concentrate more on his artistic developments. He therefore moved out to a studio at 28 Carrer del Commerç sublet from his friend, the sculptor Pablo Gargallo. While the subject may imply that this painting predates Picasso's move to Gargallo's studio, the picture's richness and its similarity to those other full masterpieces of this period may indicate that it dates, as Richardson has said, to the end of his stay in Barcelona. Intriguinglu, almost two decades later, Gargallo, who had so famously sculpted a bust of Picasso, also created one of Angel; it was created alongside a sculpture of Angel's hand holding a pipe, a tribute both to his own trademark prop and, perhaps, as Josep Palau i Fabre has posited, to this very painting.

Often, Portrait d'Angel Fernández de Soto has been given an additional title: The Absinthe Drinker. Certainly, the serpentine wisp of green that Picasso has painted in the glass implies that this may indeed show Angel drinking 'La Fée Verte,' as absinthe was known. To some people at the end of the Nineteenth Century and beginning of the Twentieth, the 'Green Fairy' was considered a scourge, to others a means of heightened awareness, or at least heightened entertainment. Art Nouveaux posters promoted the drink, while artists either celebrated or commiserated with those who enjoyed it. Edouard Manet and Edgar Degas both captured it in a sombre and contemplative manner in their pictures: the latter's Dans un café (or simply Absinthe), which was one of the first Impressionist pictures ever to be sold at Christie's in 1892, appears to be a forlorn chronicle of the fall of a woman. Indeed, the picture was considered scandalous enough that there was hissing in the auction and it caused a further outcry when exhibited the following year.

The ambience in Degas Absinthe was in marked contrast to the jollity and joviality of Henri de Toulouse-Lautrec's Monsieur Boileau or to Vincent van Gogh's deeply personal, solitary shimmering vision of the drink in which he himself so famously sought solace or inspiration. Where Degas and Manet seemed to disapprove, to present cautionary tales of the lure and destructive power of absinthe, both Toulouse-Lautrec and Van Gogh indulged in it with great frequency; the fact that each was subsequently incarcerated due to mental illness was considered by some no coincidence, and helped create the myth of the madman artistic visionary which the Portrait d'Angel Fernández de Soto appears to invoke. It was thought to be Toulouse-Lautrec, Picasso's early hero, who had introduced Van Gogh to absinthe. Indeed, in an 1887 portrait of Van Gogh, Toulouse-Lautrec even shows a glass with tell-tale green contents in front of the Dutch artist.

It was doubtless in part through the influence of figures such as Toulouse-Lautrec and the poets to whose work Picasso was being introduced by his friend in Paris, Max Jacob, that the theme of absinthe appeared in Picasso's own work again and again during the first decade and a half of the Twentieth Century, the period during which he changed the entire landscape of Western art. Many of his own acquaintances during this hedonistic period indulged in the Fée verte. Tellingly, Picasso chose not to celebrate it in the exuberant manner of Toulouse-Lautrec's pictures, but instead to mine a different quality from this subject: one of Picasso's most famous images of this subject is his 1901 painting, La buveuse d'absinthe, now in the Hermitage Museum, St. Petersburg, which in atmosphere though not in colour appears linked to the Blue Period. Comparing it with the Degas, one understands Wilhelm Boeck's declaration that, 'A Degas absinthe drinker is a sensual woman who finds a measure of happiness in her addiction; a Picasso absinthe drinker is a sufferer surrendered to mysterious powers, who cannot be judged by earthly standards' (Boeck & Sabartés, op. cit., 1961, p. 123). That work was filled with poetic, contemplative atmosphere, accentuated by the planar method with which Picasso has captured the scene. By contrast, the brushwork and stylisation in Portrait d'Angel Fernández de Soto already lends it a swirling energy that itself invokes intoxication.

Was it this intoxication that made absinthe such a perfect subject for Picasso as he pushed back the boundaries of artistic representation? First with the Blue Period, and then to a greater extent with the Cubism that he pioneered, Picasso returned to the theme of absinthe while creating works that explored the world through what was then considered distortion. Thus, in his 1911 Cubist still life, Le verre d'absinthe, now in the Allen Memorial Art Museum in Oberlin, Ohio, the apparatus for drinking absinthe - the glass and the spoon - is shown at the centre of the work through the accumulation of refracted planes and other elements. The haze of Cubistic forms through which Picasso was attempting to render the forms of the real world in two dimensions are curiously, even playfully, suited to the theme of absinthe, implying that to drink in this picture is itself to partake of this altered perception of reality. Similarly, in his celebrated 1914 bronze, one of his rare Cubist sculptures, hand-painted examples of which are held by several prestigious museums, Picasso showed the towering paraphernalia pierced and punctuated with negative space, an impossible Babel-like contraption that nonetheless is so strikingly vivid in its communication of its subject that the viewer immediately recognises the subject, regardless of the stylistic manoeuvres. That sculpture continues to explore the new ways of representing the world in a manner that far surpasses illustration, reflecting Picasso's further journeying down a path on which the Blue Period, and indeed Portrait d'Angel Fernández de Soto, marked such a vital milestone.
Further leading highlights of this evening's sale:
Frauenbildnis (Portrait of Ria Munk III), one of the last great female portraits painted by Gustav Klimt (1862-1918), sold for £18,801,250 / $27,901,055 / €22,674,308 against an estimate of £14 million to £18 million.

Le baiser, 1969, by Pablo Picasso (1881-1973) realized £12,137,250 / $18,011,679 / €14,637,524. Painted during a particularly fertile and productive period in the artist's career, it was exhibited at the celebrated exhibition of Picasso's work at Palais des Papes in Avignon in 1970 and had been expected to realise £8 million to £12 million. It had been acquired by the vendor at auction in London in June 2003 for £2,861,600.

Parc de l'hopital Saint-Paul, 1889, by Vincent van Gogh (1853-1890) realized £9,001,250 / $13,357,855 / €10,855,508. Painted during the artist's voluntary confinement at the asylum of Saint-Paul-de-Mausole, one of the richest and most important periods of his career, it was offered at auction having been in the same distinguished European collection since the 1960s (estimate: £8 million to £12 million)

Nu à la chaise longue, 1923, an important and colourful work by Henri Matisse (1869-1954) which was formerly in the collection of the industrialist and celebrated collector Henri Canonne, sold for £6,649,250 / $9,867,487 / €8,018,996. Until the pre-sale exhibition at Christie's it had been unseen in public since the year after it was painted (estimate: £5.5 million to £8.5 million).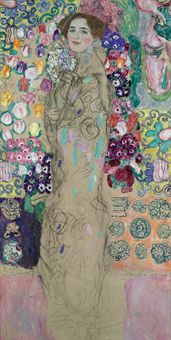 Gustav Klimt (1862-1918) Frauenbildnis (Portrait of Ria Munk III) oil and charcoal on canvas, 70 1/8 x 35 3/8 in. (180.7 x 89.9 cm.) Painted in 1917-1918. Photo: Christie's Images Ltd 2010
Estimate 14,000,000 - 18,000,000 Purchase Price £18,801,250 (€22,674,308) to an Anonymous
Provenance: Aranka Munk, Vienna and Bads Aussee, by whom acquired from the artist.
Wolfgang Gurlitt, Berlin (see note).
Neue Galerie der Stadt (later, Lentos Kunstmuseum), Linz (inv. no. 149), by whom acquired from the above by 1956.
Restituted to the heirs of Aranka Munk in June 2009.
Literature: F. Novotny & J. Dobai, Gustav Klimt, New York, 1967, no. 209, p.369 (illustrated pl.101, titled 'Damenbildnis').
C.M. Nebehay, Gustav Klimt, Dokumentation, Vienna, 1969, no. 599 (illustrated p. 471, titled 'Damenbildnis', dated '1917-1918').
W. Hofmann, Gustav Klimt und die Wiener Jahrhundertwende, Salzburg, 1970, no. 74 (illustrated, titled 'Damenbildnis', dated '1917-1918'). A. Bäumer, Gustav Klimt, Women, New York, 1985, p. 132 (illustrated pl. 52, dated '1917-18').
S. Partsch, Klimt, Life and Work, London, 1989, p. 258 (illustrated pp. 259-260, dated '1916-1917').
F. Whitford, Gustav Klimt, London, 1990, pp. 198-199.
G. Fliedl, Gustav Klimt, 1862-1918, The World in Female Form, New York, 1998 (illustrated p. 223, dated '1917/18').
Exh. cat., Gustav Klimt, Modernism in the Making, National Gallery of Canada, Ottawa, 2001 (illustrated p. 127, dated '1917-1918').
S. Koja, 'Jenes völlig Verschlungene in der Schönheit des Scheins...', in exh. cat., Gustav Klimt: Landscapes, Österreichische Galerie Belvedere, Vienna, 2002, p. 43.
S. Lillie, Was einmal war. Handbuch der enteigneten Kunstsammlungen Wiens, Vienna, 2003, pp. 776-777 and 1245.
Exh. cat., Gustav Klimt, The Beethoven Frieze and the Controversy over the Freedom of Art, Fundación Juan March, Madrid, 2006 (illustrated p. 183, titled 'Portrait of Ria Munk', dated '1917/18').
R. Price (ed.), Gustav Klimt, The Ronald S. Lauder and Serge Sabarsky Collections, New York, 2007, p. 69 (illustrated fig. 26, dated '1917-18').
A. Weidinger, Gustav Klimt, London, 2007, no. 246, p. 306 (illustrated).
M. Bisanz-Prakken, 'Ria Munk III von Gustav Klimt, ein posthumes Bildnis neu betrachtet', in Parnass, March 2009, p. 3 (illustrated).

Exhibited: Amsterdam, Stedelijk Museum, 1957, no. 125.
Salzburg, Residenzgalerie, Expressionismus, 1957, no. 49.
St. Gallen, Kunstmuseum,Österreichische Kunst, 1957, no. 33.
Stuttgart, Württembergischer Kunstverein, Die Klassiker der österrreichischen modernen Kunst von Klimt bis Wotruba, 1957, no. 38 (illustrated).
Baden-Baden, Staatliche Kunsthalle, Aus der Zeit um 1900, 1959, no. 70.
Recklinghausen, Städtische Kunsthalle, Torso, das unvollendete als künstlerische Form, May - July 1964, no. 223.
New York, Guggenheim Museum, Gustav Klimt and Egon Schiele, February - April 1965, no. 26.
Rome, Galleria La Medusa, Sulle Orme della Wiener Secession, December 1965.
Tokyo, Isetan Museum of Art, Gustav Klimt, January - February 1981, no. 13 (illustrated).
Brussels, Musées Royaux des Beaux-Arts de Belgique, Gustav Klimt, September - December 1987, no. 33 (illustrated p. 78).
Florence, Palazzo Strozzi, Gustav Klimt, November 1991 - March 1992, no. 35 (illustrated p. 137).
Vienna, Österreichische Galerie Belvedere, Klimt's Women, September 2000 - January 2001 (illustrated p. 141).
Notes: This work has been requested for the forthcoming exhibition, Vienna 1900 - Klimt, Schiele and their Times, to be held at the Fondation Beyeler, Basel, from September 2010 to January 2011.

In 1912, beginning with his second portrait of Adele Bloch-Bauer, Gustav Klimt embarked on a new cycle of radiantly colourful and richly detailed full-length standing portraits of women that he would continue until his death in 1918. The most famous artist in Vienna and widely recognised as being one of the finest ever portrait painters of women, Klimt, in these later, more joyous, colourful and painterly portraits extended the Orientalist mood of his earlier Byzantine-inspired 'golden portraits' into a even more dramatic play between figuration, decoration and abstraction. Klimt took many months and sometimes even years to complete these large, extraordinarily sumptuous, painstakingly worked and almost fantastical paintings. With their unique way of embedding their female subjects like jewels or flowers into an almost abstract decorative parade of rich floral and oriental form and colour, they are among the artist's finest and most modern paintings.

Begun in 1917, and still in progress when Klimt died in February 1918, Frauenbildnis (Portrait of a Lady) is perhaps the very last of these great portraits. It belongs to a group of highly important and nearly-completed pictures that were left in the artist's studio at this time and which now provide a unique and fascinating insight into the extraordinary richness, subtlety and complexity of Klimt's unique working practice. The woman in this portrait is unknown, though it has for a long time been widely thought that it is the last of three paintings Klimt made between 1912 and 1918 of Maria Munk, the twenty-four-year old daughter of wealthy Viennese businessman Alexander Munk and his wife Aranka Pulitzer Munk. Daughter to Charlotte Pulitzer of the newspaper family, Aranka Munk was also the sister of Serena Lederer, Klimt's most important patron. Serena and her husband August Lederer owned the largest collection of Klimt's work and, as the most sought-after portrait painter in Vienna, Klimt had painted both Serena and her mother Charlotte. Even though he had also painted the family Munk alongside Serena Lederer and the Pulitzers in their theatre box in his 1887-1888 painting of the auditorium of the old Burgtheater, it seems likely that the commissioning of Klimt to paint 'Ria' Munk, as she was known, was arranged by Serena Lederer, as, in contrast to most his portraits, this work was to be a posthumous one.

At noon on the 28th December 1911, Ria Munk had taken her own life by shooting herself in the chest after a falling out with her lover, the writer Hans Heinz Ewers. The tragedy was recorded in the diary of the Viennese writer Arthur Schnitzler on New Year's Day 1912, but it caused little scandal. Like duelling, suicide was not an uncommon way out of an impasse in matters of love or honour in turn-of-the-century Vienna. Indeed, it seems to have been part of a widespread love of theatre and spectacle that as Stephan Zweig observed permeated all areas of society at this time. 'In Vienna,' he wrote, 'even funerals found enthusiastic audiences and it was the ambition of every true Viennese to have a lovely corpse, with a majestic procession and many followers; even his death converted the genuine Viennese into a spectacle for others. In this receptivity for all that was colourful festive and resounding, in this pleasure in the theatrical, whether it was on the stage or in reality, both as theatre and as a mirror of life, the whole city was at one' (Stephan Zweig, The World of Yesterday, London, 1943, p. 18).

In a similar vein, and as a part of the Viennese obsession with sex, death, music and spectacle, the death-mask portrait and the more illustrious death-bed portrait had also grown to become highly fashionable amongst the elite of the city, and so it was that, after the tragedy of Ria Munk's suicide, Klimt was commissioned to paint a death-bed portrait of her. This he did rendering her, as a kind of tragic heroine in the manner of Millais' Ophelia, reclining contentedly and at peace on a rich and colourful bed of flowers. Evidently, however, this portrait did not satisfy the Munk family as a suitable memento of their daughter and according to Erich Lederer (Serena's son), Klimt was again commissioned to paint a second portrait of Ria, this time as if made from life. Klimt appears to have set to work on a full-length portrait of Ria (though it may also possibly have been of her sister Lola) in 1913 in the manner of his new cycle of standing portraits. Soon afterwards, however, he abandoned it, complaining to his long-time friend and confidant Emilie Flöge that 'the Munk portrait... wouldn't come together! Can't make it a likeness!' (Gustav Klimt, 'Postcard to Emilie Flöge', 1913, quoted in Gustav Klimt, Modernism in the Making, exh. cat., p. 223).

It is widely thought that the painting that Klimt was having such trouble with is the one now known as Die Tänzerin, in the collection of the Neue Galerie in New York, and that this work - though originally a second portrait of Ria Munk - was subsequently altered by Klimt into its present more erotic, bare-breasted form as the portrait of a dancer - probably Johanna Jusl, a dancer with the Vienna Hofoper and a regular model of Klimt's. Because of the facial resemblance of the woman in Frauenbildnis to the first of Klimt's portraits of Ria Munk, and because the structure of its floral and oriental backdrop echoes the similar background of what was supposedly his second attempt -Die Tänzerin.

Taking the simple and oft-repeated format of all of Klimt's late full-length portraits of women, in this work Klimt presents Ria (if that is who she is) standing sideways and turning to face the viewer with a serene smile. As in his great portraits of other esteemed Viennese society women, Adele Bloch-Bauer (second portrait), Paula Zuckerkandl, Eugenia (Mäda) Primavesi, Elizabeth Lederer and Friederike Maria Beer for example, in this work Klimt envelops his subject in the painting's highly decorative background. Indeed, the unfinished state of this work, (virtually complete around the face and head and yet still to be designed with regards to the dress and floor), reveals how central this sense of the integration of the woman into background was to the artist. As in Die Tänzerin, the intensely patterned and decorative background is made up of flowers, floral patterns and oriental design.

The flowers are shown clustered around the face and figure of Ria gradually opening out onto floral patterns and the oriental designs of kilims and silk wall hangings. As in Die Tänzerin, with its awkward and in fact impossible background, the patterns presented in this work too are wholly artificial and belong to a wide range of sources that Klimt has seemingly collaged together into a radiant world of floral and decorative splendour, as if it were a fantasy landscape. The fact that the backgrounds of these two works are similarly impossible suggests also perhaps that they are related and were intended to be understood by the viewer as fantasy portraits.

Like the vast majority of Klimt's later portraits, this work both invokes and derives from the unique and heavy decorative Orientalism in which the artist, in his later years, had increasingly immersed himself. As a young Egon Schiele recalled of a visit to Klimt's Hietzing studio, the whole place was dominated by Far Eastern art and artefacts. In addition to an extensive collection of kimonos, Schiele recalled seeing 'Japanese woodblock prints and two large Chinese pictures... African sculptures... on the floor and, in the corner by the window, there was a black and red Japanese suit of armour.' Along another wall 'was a large built-in cupboard containing the most beautiful Chinese and Japanese costumes' (Egon Schiele, quoted in Whitford, Gustav Klimt, London, 1990, p. 120).

Klimt's evident passion for Far Eastern art, something which seems to have grown out of his earlier love for Byzantine art and the orientalism of the Middle East, informs not just the content and iconography of his late paintings, but also much of their structure and composition. In particular, the setting of his subjects in a full-length and predominantly frontal pose echoes closely the imperial portraiture of Chinese painting. Similarly, the strong vertical format in these works and the extensive use of almost stacked patterns of flat decorative backgrounds as a setting for his sitters also recalls Japanese 'pillar prints' and the decorative schemes of bijin-e, 'pictures of beautiful women'. The Viennese painter Anton Faistauer claimed in 1923 that such oriental elements were an intrinsic part of Klimt's nature, writing that, 'for Europeans Klimt is an outsider... (and) it would be better not to compare him at all to western ways. He is incomprehensible to the West, to the French and Germans, and his art, for now, is rejected there... He is conceivable only in Vienna, better still in Budapest or Constantinople. His spirit is entirely oriental. Eroticism plays a dominant role in his art, and his taste for women is rather Turkish... He is inspired by the decorations of Persian vases and oriental carpets, and especially delights in the gold and silver of his canvases' (Anton Faistauer, 'Neue Malerei in Osterreich', 1923, in Gustav Klimt, Modernism in the Making, exh. cat., Ottawa, 2001, p. 41).

Following the pattern of 'golden portraits' such as those of Fritza Riedler of 1906 and Adele Bloch Bauer of 1907, in which the background of the painting became as equally important as the sitter - if not indeed more so - in his later, even more sumptuously decorated portraits, Klimt allowed large areas of ornamental design to actually take precedent over their sitters. The substance of the figure in these works is now often dissolved into the decorative movement and rhythm of the paintings' glorious background patterns of oriental silk hangings and/or flowers. It is an almost heraldic integration of the figure into the decorative space of the painting that seems to set the 'modern' woman, like his famous 1907 portrait of a lone sunflower in a garden for example, into a suitably radiant, colourful and ultimately exotic setting. Another significant feature of portraits such as Frauenbildnis is that, in addition to the overt frontality of the pose with the figure looking straight out of the picture directly at the viewer, Klimt often adopted a low viewpoint. This has the effect of partially elevating the woman, raising her up and accentuating the natural sense of aura that is also conveyed by the intense colour and detail of the background. Like an apparition of the sitter's soul materialising behind them - a kind of spectacular kaleidoscopic aura filling the picture frame - the rhythms of colours and twisting decorative form all seem to articulate and give pictorial expression to the sensuality and innate eroticism of the female figure standing at its centre. In this way, as many scholars have observed, Klimt's portraits become not so much those of the individual women concerned as portraits of womanhood itself.

In his 'Women portraits' - the works for which he is perhaps, best known - Klimt's tendency to stage his sitters within an arranged and specifically exotic environment, has its roots in the full-length standing portraits of James Abbott McNeill Whistler. But, whereas, as in a portrait such as Whistler's Rose and Silver: The Princess from the Land of Porcelain of 1863-1864, Whistler has set his subject in front of a staged oriental setting of Japanese screens and carpets, Klimt actively embeds his figures within the abstract and floral patterning of such a background as if they too were decoration. His portrayal of women as illuminating but also decorative beings, reflects, in this respect, the close identification between women and flowers, that runs through all of Klimt's work from his women portraits to his landscape and flower paintings portraits. In many of the latter for example, Klimt tends to anthropomorphosize plants so that their forms are often suggestive of human figures, even, it has been observed, the forms of specific women he knew. Similarly, most of his portraits of women make a clear association between the sitter and the flowers or floral pattern with which she is surrounded. A short poem Klimt wrote towards the end of his life perhaps most clearly illustrates the almost total identification the artist seems to have made between women and flowers. 'The water lily grows in the lake. It is blossoming. In its soul it grieves over a handsome man' (Klimt 'Poem', May 1917, REF)

Klimt's associating of women with flowers, perhaps at its most poignant in this work in which he has evidently sought to portray his deceased subject as the most radiant bloom in a pictorial sea of flowers, also reveals much about the way he not only saw women but used them in his painting. As many people were quick to point out even during Klimt's lifetime, his portraits of women seem to 'clothe' the woman in a radiant and sensual environment. It was almost as if she were a naked flower that had to be set into a kind of floral arrangement of form and colour, in order for her inner nature to be best expressed, and it is in fact Klimt's last unfinished paintings that most accurately reveal this unique painterly practice of using his paintings to 'dress' the women he portrayed. In Die Braut (The Bride) for example, the unfinished state of the painting reveals how Klimt has actually painted the naked form of the woman on the right of the painting, before subsequently beginning to clothe her with a fantastically patterned dress painted directly over her naked figure. In Amalie Zuckerkandl, Johanna Staude, Damenbildnis in Weiss, and here in this work, Klimt has resolved and completed the main part of the work by establishing the central force and poetry of the picture, through an integration of each sitter's face with an appropriate background, but has yet to finalise the design of her clothes leaving them largely unworked. As Frank Whitford has pointed out, it was Klimt's practice to make many studies for every portrait, working out all the necessary combinations and design elements before painting, but here Frauenbildnis 'reveals that at this stage of his career at least, the process of exploration and comprehension through drawing continued on the canvas. He made marks, remade and corrected them in charcoal before establishing more definitive outlines in paint' (Frank Whitford, Klimt, London, 1990, p. 198).

For this work, possibly Klimt's last great female portrait, the artist made at least twenty sketches - both half and full-length studies. In spite of this, as the free painterly style and the sketching in charcoal directly onto the canvas reveals, the artist continued to pursue ideas impulsively while he worked on the painting. Fusing abstract form and colour with rich pattern and with closely observed figurative detail, this painting, with its free spontaneous brushstrokes and joyous coordination of elements, reflects not only the great pleasure that Klimt took in his art, but also the essential modernity of his late work. Drawing together the rich patterned backgrounds of Matisse's recent paintings (see Intérieur aux aubergines, for example) and the sumptuous expressive detail and heightened colour of Van Gogh and Gauguin, this painting, with its conventional 19th Century subject-matter, verges in some ways on the point of abstraction. Like Klimt's late landscape paintings, here the entire subject matter of the painting has been flattened into a joyous and open field of form and colour within which the artist has revelled. Mixing figurative, decorative and abstract detail into an almost hallucinatory tapestry of flowing arabesques and floral form, Klimt has created a unique painterly collage, an extraordinary fusion of East and West, of figuration and abstraction and of the traditional and the modern.

Frauenbildnis is thought to have been among the several intriguingly modern but also unfinished paintings that were left in Klimt's studio after his death. Soon afterwards, and presumably because it is the commissioned portrait of her daughter Ria, it came into the possession of Aranka Munk. The painting was then housed in Aranka Munk's lakeside villa in Aussee until 1941 when the villa and its contents were seized by the Gestapo and it passed into the hands of the collector and dealer William Gurlitt. In 1953, Frauenbildnis was among a number of important paintings that Gurlitt donated to the Neue Galerie der Stadt in Linz, which came to be known as the Lentos Museum. The painting subsequently remained in the Lentos Museum, Linz until June 2009, when it was restituted to Aranka Munk's heirs.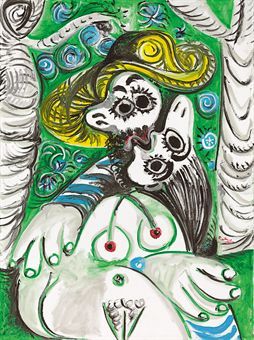 Pablo Picasso (1881-1973) Le baiser, signed 'Picasso' (lower right); dated and numbered '10.12.69 II' (on the reverse), 20l on canvas, 51 1/8 x 37¾ in. (130 x 96 cm.) Painted in Mougins on 10 December 1969. Photo: Christie's Images Ltd 2010
Estimate 8,000,000 - 12,000,000 Purchase Price £12,137,250 (€14,637,524) to an Anonymous
Provenance: Galerie Louise Leiris, Paris.
Private collection, Europe, by whom acquired from the above.
Acquired from the above; sale, Sotheby's, London, 23 June 2003, lot 26. Acquired at the above sale by the present owner.
Literature: R. Alberti, A Year of Picasso, Paintings: 1969, New York, 1971, no. 70, p. 218 (illustrated p. 87).
C. Zervos, Pablo Picasso, oeuvres de 1969, vol. 31, Paris, 1976, no. 542 (illustrated pl. 171).
Exh. cat., Le dernier Picasso 1953-1973, Musée national d'Art moderne, Centre Georges Pompidou, Paris, 1988, p. 122 (illustrated).
Exh. cat., Picassos Surrealismus Werke 1925-1937, Kunsthalle, Bielefeld, 1991, p. 122 (illustrated).
The Picasso Project (ed.), Picasso's Paintings, Watercolours, Drawings and Sculpture, A Comprehensive Illustrated Catalogue 1885-1973, The Sixties III, 1968-1969, San Francisco, 2003, no. 69-549 (illustrated p. 287).
Exhibited: Avignon, Palais des Papes, Pablo Picasso, 1969-1970, May - October 1970, no. 133.
New York, Tony Shafrazi Gallery, Picasso, Bacon & Basquiat, May -
July 2004.
Notes:
1969 was one of the most prolific years of Pablo Picasso's career. During the course of that year, an incredible parade of romantic, whimsical characters emerged in his drawings, prints and paintings, including musketeers, lancers, odalisques and artists. Despite being in his 80s, Picasso's energies were at an apex, as is reflected by the fact that an entire volume of the 33 tome catalogue raisonné compiled by his friend Christian Zervos is devoted to his output from that year, and by the exhibition which was dedicated to his 1969 pictures in the Palais des Papes in Avignon. That show, held in 1970 and organised by Christian and Yvonne Zervos, included several pictures devoted to the theme of the kiss including Le baiser, painted on 10 December 1969.

The embracing couple was a subject to which Picasso devoted much attention during the course of 1969; Le baiser is the last of the pictures on the theme from that year, and in that sense and in terms of its orgiastic explosion of lush colour and frenetic brushwork, marks a culmination. Looking at Le baiser and its earlier sister-pictures, one can see the progression and evolution of the motif. Many of the earlier works, for instance the example painted towards the end of October which is now in the Musée Picasso, Paris, focus on the heads of the lovers in more cropped compositions; others pay more heed to the background, yet none to the degree shown here. In Le baiser, Picasso has clearly revelled in showing this couple out of doors, with the bearded man wearing a straw hat largely concealed by the naked figure of the woman which dominates so much of the canvas.

Looking at this visceral depiction of the nude, one is reminded of John Richardson's observation that Picasso's late works, like his Cubist pictures, appear as though they could pass the 'armpit test'. This was the result of a discussion between Braque and Picasso in which they had hoped to convey more than just the appearance of their subjects, but also some other dimensions of information, some deeper truth. Certainly, the sprawling nude in Le baiser appears to pass that test. Looking at the earthy naked figure, with breasts and genitalia on bold and emphatic display, one understands Picasso's declaration that, 'You have to know how to be vulgar, paint with four-letter words. I do it more and more every day' (Picasso, quoted in W. Spies, 'Painting against Time', pp. 14-45, Spies (ed.), Picasso: Painting against Time, exh. cat., Vienna & Dusseldorf, 2006, p. 20).

As was only appropriate in the work of an artist who was a prolific and notorious womaniser, couples were a recurrent motif in Picasso's oeuvre. Even in his earliest exhibitions in Barcelona and subsequently in Paris, men and women were shown clutched in embraces. Looking at Le baiser, one detects in the carnal, animalistic energy of this writhing couple, this mass of body with grasping hands, a similar perspective to that which characterised Picasso's surrealistic images from the 1920s. In those works, strange, biomorphic forms were locked in consuming, carnivorous embraces, perhaps reflecting Picasso's own horror at being anchored in marriage with Olga Khokhlova. In Le baiser, any sense of horror has been removed: while the bodies are locked, writhing together in a manner reminiscent of the televised wrestling which Picasso followed so keenly during this period, the overall atmosphere is essentially romantic. This is emphasised by the verdant flora in the background and by the woman's breasts, which are playful visual puns on cherries, and even include the linking stalk. This is a painting about enjoyment, and the sweeping brushstrokes and sensual range of textures of the oils ramify that, indicating Picasso's own thrill in rendering this scene.

Picasso had long felt as though he was in dialogue with many of the great painters of the past. This was all the more true during the post-War years, when he openly created his own reprisals of celebrated paintings such as Delacroix's Les femmes d'Algers, Velasquez's Las Meninas and, the year before he painted Le baiser, Ingres' Le bain turc. By dint of the fact that the couple in this picture is shown outdoors, with the man clothed and the woman naked, there appears to be a reference to Manet's Le déjeuner sur l'herbe, which Picasso had also reincarnated in his own idiom during the previous decade. At the same time, the figure of the artist, with his beard and straw hat, recalls one of Picasso's other long-dead mentors: Vincent van Gogh.

The reference to Van Gogh is accentuated in Le baiser by the mouth-watering green of the background and the swirling, spiralling lollipop-like blue flowers that punctuate it, recalling the Dutch artist's own paintings, for instance the sky in Starry Night. Richardson has observed that Van Gogh remained a vital touchstone for Picasso, although the nature of his influence shifted. At the beginning of his career, Picasso had looked to him as a fellow peintre maudit, a tragic example of the cost of genius and of the perils of lack of recognition. During the post-War years, though, it also was because of their shared lust for life, for light, and for the sensuality of the South of France that Picasso looked to his predecessor, as well as the expressionistic paint handling on such clear display in Le baiser. The landscape within which Picasso was living during this time, and indeed the arena where he went to see the corrida, were those where Van Gogh had trod eighty years earlier. This clearly struck a chord with Picasso, who was a superstitious and mystical man: he may have hoped that some of his forebear's spirit lingered on still, that he might be able to invoke it in his works. Certainly, Picasso has painted Le baiser with a passion that is evident in its bold colours, the looping rings that form the column-like trees in the background, the almost fluid forms of the two bodies and most of all the highly-variegated surface that allows him to throw the impastoed areas into bolder relief through contrast with the areas left in reserve, with the primed canvas showing through. As is the case in the thick oils of some of Van Gogh's most celebrated masterpieces, this adds a dimension of tactile, and therefore sensory, interplay to Le baiser.

The clear evidence of Picasso's exertions in creating this painting reveals the extent to which he remained a tireless innovator regardless of his advanced years. During the post-War period in particular, Picasso had cast aside some of the more obscure notions of representation with which he had played such an important role in changing the face of figurative art such as Cubism and Surrealism, and instead began to create images that had a new strength, a new directness. This was echoed in the vividness of the brushwork itself. So here, Le baiser is like a jolt of energy, an instantly readable picture filled with atmosphere and information alike.

The palpable energy that characterises Picasso's late works has often been seen as an almost existential attempt to ward off death, to fend off intimations of mortality; this idea is reinforced by the roles of his male protagonists, who function almost as substitutes for the artist himself, carrying out the various romantic acts or tales of derring-do of which is was now less capable. In his romantically-themed pictures in particular, many people have posited that Picasso's vigorous pictures with subjects involving couples provide an insight into the artist's life with his second wife, Jacqueline, whom he had married in 1961 after several years already living together. Certainly, while the male figures often function as tangential alter egos for the artist, the women seem to be based on Jacqueline. For Picasso, painting her appears to have been a form of sensuous possessive act, a way of caressing her and getting close to her desireable body. This was also the motivation behind many of his scenes, often highly explicit, of couples throughout his career.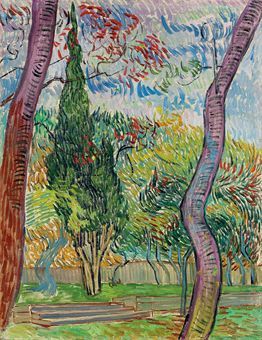 Vincent van Gogh (1853-1890) Parc de l'hôpital Saint-Paul, oil on canvas, 26 3/8 x 20¼ in. (66.7 x 51.5 cm.) Painted in October 1889. Photo: Christie's Images Ltd 2010
Estimate 8,000,000 - 12,000,000 Purchase Price £9,001,250 €10,855,508) to an Anonymous
This work has been requested for the forthcoming exhibition Up Close, Van Gogh, to be held at the National Gallery of Canada, Ottawa, and the Philadelphia Museum of Art from January to September 2012.
Provenance: Théo van Gogh, Holland, by 1891.
Madame J. van Gogh-Bonger, Amsterdam, by 1925.
V. W. van Gogh, Amsterdam, by 1927.
The Leicester Galleries, London.
Galerie Thannhauser (no.1134), Paris and Lucerne, in 1927.

Ralph M. Coe, Cleveland, Ohio, 1927-1959; sale, Sotheby's, New York, 14 January 1959, lot 82.
Wildenstein Gallery, New York.
Acquired from the above by the family of the present owner in 1963.
Literature: J.-B. de la Faille, L'oeuvre de Vincent van Gogh, catalogue raisonné, vol. II, Paris and Bruxelles, 1928, no. 640 (illustrated).
W. Scherjon & J. de Gruyter, Vincent van Gogh's Great Period, Amsterdam, 1937, p. 340, no. 152 (illustrated).
J.-B. de la Faille, Vincent van Gogh, Paris, 1938, p. 442, no. 642 (illustrated).
P. Lecaldano, L'opera pittorica completa di Van Gogh e i suoi nessi grafici, vol. II, Milan, 1966, no. 727 (illustrated p. 223).
J. Hulsker, The Complete Van Gogh, Paintings, Drawings, Sketches, 1980, p. 415, no. 1800 (illustrated, titled 'Trees in the Garden of Asylum').
Bulletin of the Columbus Gallery of Fine Arts, Fall 1950, p. 35 (illustrated).
I. F. Walther & R. Metzger, Vincent Van Gogh, Sämtliche Gemälde, vol. II, Cologne, 1989, p. 559 (illustrated).
Exhibited: Amsterdam, Municipal Museum, The Municipal Museum Exhibition, July - August 1905, no. 207.
New York, Montross Gallery, October 1905, no. 66.
Basel, Kunsthalle, Vincent van Gogh, March - April 1924, no. 46.
Zurich, Kunsthaus, Vincent van Gogh, 3 July - 10 August 1924, no. 57.
Stuttgart, Württembergischer Kunstverein, October - November 1924, no. 28.
Paris, Galerie Marcel Bernheim, Vincent van Gogh, Exposition Rétrospective, January 1925, no. 36.
The Hague, Pulchri Studio, March - April 1925, no. 26.
Munich, Glaspalast, 1926, no. 2071.
Berlin, Galerie Thannhauser, 8 January - February 1927 (not in catalogue).
Cleveland, Museum of Art, French art since 1800, 1929 (illustrated p. 168).
New York, Wildenstein & Co.,The art and life of Vincent van Gogh, 1943, no.49 (illustrated).

Cleveland, Museum of Art, The work of Vincent van Gogh, 1943, no. 49 (illustrated p. 90).
Cleveland, Museum of Art, Work by Vincent van Gogh, 1948, no. 23 (illustrated pl. XXIV).
Columbus, Gallery of Fine Arts, Masterpieces of Painting, 1950, no. 37.
New York, Wildenstein & Co., Van Gogh, 1955, no. 52 (illustrated p. 60).
New Haven, Yale University Art Gallery, Pictures collected by Yale alumni, 1956, no. 99 (illustrated).
Los Angeles, Municipal Art Gallery, Vincent van Gogh, 1957, no. 17 (illustrated p. 31).
London, Wildenstein & Co., The French Impressionists and some of their Contemporaries, April - May 1963, no. 71 (illustrated).
Martigny, Fondation Pierre Gianadda, Van Gogh, June - November 2000, no. 79.
Notes: Painted in October 1889, Parc de l'hôpital Saint-Paul dates from one of the richest and most important periods of Vincent van Gogh's life. The picture is filled with the rhythmic swirls that lend his greatest paintings their unique energy. The cypress especially reaches for the sky, a darting series of curlicues thrusting heavenwards, making all the more dramatic an impression by its contrast with the lighter, scintillating, ever-shifting forms of the rest of the landscape. Meanwhile, two trees in the foreground snake their way across the painting like incongruous bars, adding a strange spontaneity to Van Gogh's choice of view, which comes to resemble a snapshot in its unusual composition.

It was during his voluntary confinement at the asylum of Saint-Paul-de-Mausole, in Saint-Rémy-de-Provence, that Van Gogh created some of the greatest of his paintings, especially in the latter part of 1889. Perhaps surprisingly, many of the masterpieces dating from this period were painted in the wake of one of his fits, after which he had been unable to use oils for six weeks. His return to oil painting in September 1889 after a month and a half was characterised by a new-found boldness and enthusiasm. The life that pulses through the striations that comprise the forms of Parc de l'hôpital Saint-Paul has an electric vitality to it. Van Gogh appears to have tapped into the raw energy of existence itself, creating a shimmering painting that appears to show some underlying spiritual and organic dimension to nature.

Van Gogh had originally gone to Saint-Paul-de-Mausole following a string of debilitating fits in Arles, where he had been living with Gauguin. In the most renowned of these attacks, Van Gogh had had an altercation with Gauguin and had then cut off part of his own ear and given it to a local prostitute, before being been found later bleeding in bed. The townspeople gradually came to pressure the authorities to have the artist confined in hospital, and through the intervention of some of the senior doctors who were sympathetic to him, he was eventually placed in the care of the asylum, which lay some fourteen miles outside Arles, occupying a building that had originally been a 12th-century Augustinian monastery. At certain points during his time in Saint-Rémy, Van Gogh had a varying degree of access to the world around him; sometimes he was confined to his rooms, sometimes allowed to wander the countryside or even visit Arles. In the wake of his fit in July, though, he was confined to the grounds of Saint-Paul itself for some time. This, to Van Gogh, was no great hardship, as the slightly ramshackle grounds themselves provided endless themes to be painted. Earlier, he had written to Theo extolling the virtues of the gardens:

'Since I have been here, the deserted garden, planted with large pines beneath which the grass grows tall and unkempt and mixed with various weeds, has sufficed for my work, and I have not yet gone outside. However, the country round St. Rémy is very beautiful and little by little I shall probably widen my field of endeavour' (Van Gogh, The Complete Letters of Vincent van Gogh, London, 1958, Vol. III, no. 592, p. 173).

He later went into more detail in describing some of the effects of the light and colour on his surroundings, providing a catalogue of the sights that itself reads in parts as though he is inventorising the visual contents of Parc de l'hôpital Saint-Paul:

'From time to time there are moments when nature is superb, autumn effects glorious in colour, green skies contrasting with foliage in yellows, oranges, greens, earth in all the violets, heat-withered grass among which, however, the rains have given a last energy to certain plants, which again start putting forth little flowers of violet, pink, blue, yellow. Things that one is quite sad not to be able to reproduce. 'And skies - like our skies in the North, but the colours of the sunsets and sunrises more varied and clearer...

'I also have two views of the park and the asylum, where this place looked very pleasing. I tried to reconstruct the thing as it might have been, simplifying and accentuating the haughty, unchanging character of the pines and cedar clumps against the blue' (Van Gogh, ibid., no. 610, p. 222).

In his catalogue raisonné of Van Gogh's works, A.M. Hammacher considered Parc de l'hôpital Saint-Paul to be one of the two views that the artist mentioned here (Jan Hulsker considered this reference to be to two other pictures, F642 and F643, but nonetheless considered the present work to form part of the same group of pictures). Meanwhile, de la Faille considered Parc de l'hôpital Saint-Paul to have been the latter work to which Van Gogh referred when he wrote describing two pictures: 'I have a study of two yellowing poplars against a background of mountains and a view of the park here, an autumn effect in which the drawing is a little more nave and more-home-felt' (Van Gogh, ibid., no. 609, p. 221). Certainly, there is a directness in this painting, a deliberate navet that adds to its engaging charm. Indeed, in looking at this intimate landscape, one can well understand the honesty of Van Gogh's earlier reassurance to his brother that, 'You will see that, considering my life is spent mostly in the garden, it is not so unhappy' (Van Gogh, ibid., no. 592, p. 174). These grounds provided an endless variety of scenes and sights and visual effects, and it is a reflection of Van Gogh's amazing enthusiasm for rendering the world around him in oils, as well as a result of his confinement, that he created a range of pictures during this period showing a similar view as is seen in Parc de l'hôpital Saint-Paul, sometimes even showing the same trees and steps. It is perhaps a mark of Van Gogh's own appreciation of the success of this particular view that it can be seen hanging on the wall of his studio in his own painting of the window in his room at Saint-Paul.

The directness with which Van Gogh channelled the world around him into his pictures was in part inspired by his love of Japanese art, and indeed in both its spontaneity and its composition, Parc de l'hôpital Saint-Paul appears to owe a great deal to his love of Hiroshige in particular. Van Gogh copied several of Hiroshige's prints, and here appears to have created a landscape view that, through the use of the barring trees in the foreground, echoes perfectly some of the striking compositions in his Japanese predecessors woodblock prints. Van Gogh had in fact headed to the South of France, to Arles, originally in search of a more accessible version of the Japanese landscape. As he had earlier written to his brother, justifying the additional expenses of staying in Arles: 'About this staying on in the South, even if it is more expensive, consider: we like Japanese painting, we have felt its influence, all the impressionists have that in common; then why not go to Japan, that is to say the equivalent of Japan, the South?' (Van Gogh, ibid., no. 500, p. 589). He then expanded upon the subject, explaining that it was the manner of execution as well as the sight of the landscape that interested him in Japanese art and which he sought to echo in his own unique way:

'I wish you could spend some time here, you would feel it after a while, one's sight changes: you see things with an eye more Japanese, you feel colour differently. The Japanese draw quickly, very quickly, like a lightning flash, because their nerves are finer, their feeling simpler.

'I am convinced that I shall set my individuality free simply by staying on here' (Van Gogh, ibid., no. 500, p. 590).

This, of course, was to become all too true. Van Gogh's rapid development, in part catalysed by the presence of Gauguin and the intense discussions about art that the pair had, involved his thrusting himself into his paintings with a new reckless abandon. There was something of the medium to Van Gogh's intense views of the world around him, and his manic quality is reflected as much in the frantic and enthusiastic brushwork of Parc de l'hôpital Saint-Paul as it is in his sheer output during this period. In terms of execution, he has taken a couple of lessons from Neo-Impressionism and twisted them to his own purposes and needs. The colours have been applied not with the backdrop of logic and colour theory of Paul Signac, whom he had met earlier in the year, but instead with boldness and passion. That Van Gogh was pushing himself too far was all too painfully evident to his brother, who wrote even before the July fit had struck celebrating the paintings but worrying about the strains of the process of their execution. 'Your last pictures have given me much food for thought on the state of your mind at the time you did them,' Theo wrote:

'In all of them there is a vigour in the colours which you have not achieved before this in itself constitutes a rare quality but you have gone further than that, and if there are some who try to find the symbolic by torturing the form, I find this in many of your canvases, namely in the expression of the epitome of your thoughts on nature and living creatures, which you feel to be so strongly inherent in them. But how your brain must have laboured, and how you have risked everything to the very limit, where vertigo is inevitable!

'For this reason, my dear brother, when you tell me that you are working again, in which from one point of view I rejoice, for by this you avoid lapsing into the state of mind which many of the poor wretches who are taken care of in the establishment where you are staying succumb to, it worries me a little to think about it, for you ought not to venture into the mysterious regions which it seems one may skim cautiously but not penetrate with impunity before you recover completely. Don't take more trouble than necessary, for if you do nothing more than simply tell the story of what you see, there will be enough qualities in it to make your pictures last' (Theo van Gogh, ibid., no. T10, pp. 543-44).

This was to become prescient both as a judgement on the lasting legacy of Van Gogh's pictures, and as a presentiment of what was to come in terms of his brother's health. Van Gogh was a rational, modern-thinking man, and yet his illness was accompanied by fits of completely irrational terror, a fact that almost embarrassed him: 'I am astonished that with the modern ideas that I have, and being so ardent an admirer of Zola and de Goncourt and caring for things of art as I do, that I have attacks such as a superstitious man might have and that I get perverted and frightful ideas about religion such as never came into my head in the North' (Van Gogh, ibid., no. 607, p. 214). Van Gogh's rational mind was being disrupted by his emotional state, and yet it was this curious intensity of experience and existence that makes paintings such as Parc de l'hôpital Saint-Paul such palpable, almost tangible traces of life and the beauty of nature in all its forms.

It was during precisely this period, so shortly prior to his death in Auvers the following year, that Van Gogh was beginning to receive more and more acclaim within a small group of artists and admirers. This was the period of his burgeoning fame, the founding of his immense legacy. While he famously sold almost none of his paintings during his lifetime, those which he presented as gifts or offered in exchanges with his friends were highly treasured, for instance the picture of herrings he had given to Signac earlier that year. It was in itself a tribute to the respect he inspired that Gauguin had made his way from Pont-Aven to Arles. Likewise, he was also being considered for more exhibitions and even benefited from favourable press in an article written by J.J. Isaäcson the same year that Parc de l'hôpital Saint-Paul was painted:

'Who interprets for us in form and colour the mighty life, the great life once more becoming aware of itself in this nineteenth century? I know of one, a solitary pioneer, he stands alone struggling in the deep night, his name, Vincent, is for posterity' (J.J. Isaäcson, quoted in J. Hulsker, The New Complete Van Gogh: Paintings, Drawings, Sketches, Amsterdam, 1996, p. 418).

Van Gogh was embarrassed by this praise, feeling unworthy of it, stating that Isaäcson should have waited until he had another year's worth of works to show in order to justify such a lavish statement. However, he was clearly aware of the fact that he was on the path he had so long sought, and was reconciled to a lack of fame or recognition during his own lifetime. This philosophical perspective is evidenced by his words to Theo from this same period:

'Do you know what I think of pretty often, what I already said to you some time ago - that even if I did not succeed, all the same I thought that what I have worked at will be carried on. Not directly, but one isn't alone in believing in things that are true. And what does it matter personally then! I feel so strongly that it is the same with people as it is with wheat, if you are not sown in the earth to germinate there, what does it matter? - in the end you are ground between the millstones to become bread.
'The difference between happiness and unhappiness! Both are necessary and useful, as well as death or disappearance... it is so relative-and life is the same.

'Even faced with an illness that breaks me up and frightens me, that belief is unshaken' (Van Gogh, op.cit., 1958, Vol. III, no. 607, p. 218).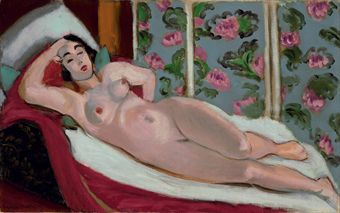 Henri Matisse (1869-1954) Nu à la chaise longue, signed 'Henri-Matisse' (lower left) oil on canvas, 15 1/8 x 24 in. (38.4 x 61 cm.) Painted in Nice in 1923. Photo: Christie's Images Ltd 2010
Estimate 5,500,000 - 8,500,000 Purchase Price £6,649,250 (€8,018,996) to an Anonymous
Provenance: Galerie Bernheim-Jeune, Paris (no. 23717), by whom acquired from the artist on 14 December 1923.
Henri Canonne, Paris, by whom acquired from the above on 21 January 1924.
Jacques Canonne, Paris, by descent from the above; his sale, Hôtel Drouot, Paris, 5 June 1942, lot 13.
Jeffrey H. Loria & Co., Inc., New York.
Acquired from the above by the present owner in May 1998.
Literature: A. Alexandre, La Collection Canonne, une histoire en action de l'impressionnisme et de ses suites, Paris, 1930 (illustrated, titled 'Femme nue').
G.-P. & M. Dauberville, Matisse, vol. II, Paris, 1995, no. 577, p. 1148 (illustrated p. 1149, titled 'Femme nue couchée').
Exhibited: Paris, Galerie Bernheim-Jeune, Exposition Henri Matisse, May 1924, (titled 'Nu allongé').
Notes: This work is sold with a photo-certificate from Mme Wanda de Guébriant.

Henri Matisse painted Nu à la chaise longue in 1923, and within months of its completion, it had entered the collection of the industrialist Henri Canonne, a mark of its quality. Canonne's collection included an incredible array of Impressionist masterpieces including seventeen of Claude Monet's Nymphéas, as well as pictures by Bonnard, Cézanne, Pissarro, Renoir, Signac, Sisley and Vuillard, amongst others; many of these now grace the walls of prominent museums. In the 1930 tome dedicated to that collection by the art critic Arsène Alexandre, Femme nue couchée was picked out for particular praise among Matisse's works because of the 'highly seductive suppleness' of the subject and the fact that it shows this scene in full light rather than exploring any facile contrasts; as Alexandre concluded, 'there is here a double discovery, of drawing, and of colour' (A. Alexandre, op. cit., 1930, p. 123).

That combination of drawing and colour is particularly evident in the body of the model, which sprawls across the expanse of the canvas. Matisse has perfectly conjured the sense of the model's curves, her volume. The looping undulations with which her form has been delineated reveal Matisse's masterful draughtsmanship, and this is particularly evident in the legs, where the outlines are visible. The flesh-tones of this painting dominate the composition and progress across its breadth with a lilting rhythm that fills it with a musicality, and this is accentuated by the deliberate contrast between the continuous flesh and the backdrop, with its vertical divisions separating the swirling garlands of its richly-decorated motif. That patterning serves both to heighten the atmosphere of opulence with which Matisse's studies of nudes and Odalisques are so often suffused and also to emphasise the abstract quality of the composition, a prominent and much-lauded characteristic of his paintings of this period. This abstraction is in turn heightened by Matisse's delicate, harmonious treatment of the light and the colours in Nu à la chaise longue: this is an exquisitely subtle painting which perfectly evokes the realm of pleasure that was so important to Matisse while also demonstrating his exploration of pictorial and plastic forms in two dimensions.

Henri Canonne had purchased Nu à la chaise longue from Matisse's dealers, Bernheim-Jeune, at the beginning of 1924; Bernheim-Jeune in turn had acquired it at the end of 1923, implying that the painting may have dated from the later part of that year. Certainly, in the deliberately muted light in this painting, one may see the Winter light of the South of France, where Matisse was staying at that time (he had also spent a portion of 1923 at his house in Issy-les-Moulineaux in the outskirts of Paris). By this time, he was renting a large apartment on the place Charles-Félix in Nice, which would be his base for almost two decades. As soon as he had moved in, he had sent to Issy for trunkloads of props, costumes and backdrops, and many of these would feature again and again in his works, augmented by the various items he acquired from his great source for such objects, Ibrahim (see H. Spurling, Matisse the Master: A Life of Henri Matisse: The Conquest of Colour, 1909-1954, London, 2005). This allowed Matisse to arrange his studio like a theatrical set, changing its appearance all the time: the screen in Nu à la chaise longue, for instance, can be seen in Nu couché, painted the following year and now in the Barnes Collection, Merion, in which the nude model reclines in a similar pose to that shown here, as well as in L'odalisque à la culotte rouge in the Musée de l'Orangerie, Paris. That work, also from 1924, shows the model clothed and surrounded by various exotic objects that reinforce the notion that in Nu à la chaise longue Matisse was partly using this backdrop to evoke the East.

With her dark hair, her sultry features, her oval face, her grace and her evident comfort in this pose, the model in Nu à la chaise longue appears to be Henriette Darricarrère. Those qualities made Henriette a perfect subject for Matisse, and she featured regularly in his paintings from 1920 to 1927. Henriette showed a great understanding of Matisse's own artistic quest, and was indeed a talented painter in her own right, to the extent that the master came to tutor her. At the same time, it was pertinent that she had first come to Matisse's attention when she was working on a film set; her knack for role-playing made her ideal for the artist's invocations of the world of Odalisques, of oriental luxury and sensuality. While there are no accoutrements of the harem in Nu à la chaise longue, the atmosphere of languid luxury conjured by the richly-ornamented backdrop and by the model herself nonetheless show that this work is closely related to those visions of exotic and even erotic splendour.

The poses that Matisse used in his pictures, such as that of the reclining figure in Nu à la chaise longue, often recall the Odalisques and nudes of other Western masters such as Ingres, Manet and Courbet, as well as the older precedents of Titian and Velasquez. Matisse even owned a fantastically foreshortened vision of a naked, sprawling, sleeping blonde by Courbet. Again and again during the 1920s Matisse returned to variations upon these poses, as is clear from looking at his Nu drapé étendu in the Musée de l'Orangerie, where the model is propped up slightly with her arm over her head, and Odalisque allongée, painted a few years later yet reprising a similar attitude. Looking at Nu à la chaise longue and the postures in these other works, it becomes clear too that another of his influences during this period was Michelangelo: he was inspired by the Renaissance master's treatment of plastic forms. It is telling that for some time during 1922, Matisse had spent his mornings painting Henriette and his afternoons drawing Michelangelo's Night, a sculpture that decorates the tomb of Giuliano de Medici in Florence and which features a similarly reclining figure, explaining at one point: 'This drawing marks real progress in my study of form, and I hope that tomorrow my painting will feel the benefit' (Matisse, quoted in ibid., p. 248). In a sense, Matisse was very knowingly adding to a canon of Western art, acknowledging his own place within this esteemed brotherhood. However, he was aware that he was actively adding to this legacy, that in terms of content and style alike, his paintings were very much a product of his own age.

This turn towards his historical precedents came at the same time that his friend and rival Pablo Picasso was turning to Neo-Classicism, looking to Ingres and the School of Fontainebleau for inspiration. In this light, both Picasso and Matisse appear to have been reacting in part to the so-called Rappel à l'ordre that swept through so much of the avant-garde in the wake of the chaos and horrors of the First World War. Many artists were now seeking order, reason, beauty and harmony, hoping that these qualities would come to filter through into the world at large. For Picasso and Matisse, though, this Return to Order was merely a backdrop against which they abandoned the rigours and restraints of the styles through which they had made some of their most important discoveries, applying the fruits of their bold artistic experimentation more generally. While Picasso discarded his Cubist apparatus in favour of his Ingresque figures, Matisse headed South. Discussing the atmosphere of sensuality and pleasure that sings through his paintings from the beginning of his time based in the South of France such as Nu à la chaise longue, he declared: 'Yes, I needed to have a respite, to let myself go and relax, to forget all worries far from Paris. The Odalisques were the abundant fruits at once of a light-hearted nostalgia, of a beautiful, living dream, and of something that I experienced almost ecstatically day and night, under the enchantment of that climate' (Matisse, quoted in P. Schneider, Matisse, London, 1984, p. 496).

Crucially, in these new paintings Matisse indulged, 'A desire for an abstraction of colours and rich, warm, ample forms where the supremacy of the arabesque would be assured' (Matisse, quoted in ibid., p. 496). These pictures provided Matisse with a joyous excuse to put into effect his concepts of form, of the abstraction of the picture surface, of its exploitation through patterns and of colour harmony, as is clear in looking at Nu à la chaise longue. For Roger Fry, who explained that Matisse's wider fame rested largely on the success of his paintings from the first half of the 1920s, it was precisely the ambidextrous nature of these paintings from Nice that was so virtuoso: Matisse was creating lyrical images such as Nu à la chaise longue which also continued his discoveries from the previous decades, taking up their gauntlet in a new manner. The pictures leap off the canvas in terms of readability, allowing them to serve as simple nudes, visions of a life of luxury; yet the colours have been carefully arranged in order to convey so much more: 'He has an almost uncanny gift of situating each colour in its place in the scheme viewed as a vision of plastic reality, as a world of volumes in a space' (R. Fry, Henri Matisse, London, 1935, p. 22). Discussing another of Matisse's pictures in terms equally apt to Nu à la chaise longue, he explained:

'One can see the figure in all its relief with all the free play of direction of the limbs, its volume and mass, but at the very same moment we see it as joining in the swaying, dance-like movement of all these flat linear patterns. By the magic of an intensely coherent style our familiar every day world, the world where the model sat on the carpet, in front of Matisse's easel, has been broken to pieces as though reflected in a broken mirror and then put together again into a far more coherent unity in which all the visual values are mysteriously changed in which plastic forms can be read as pattern and apparently flat patterns are read as diversely inclined planes' (ibid., p. 21)Christie's in Record London Impressionist and Modern Art Evening Sale