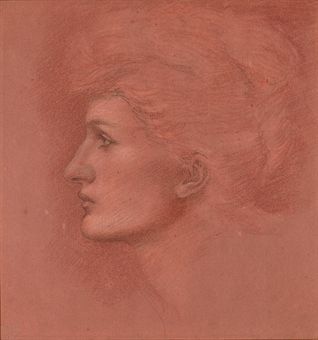 Sir Edward Coley Burne-Jones, Bt., A.R.A., R.W.S. (1833-1898) Portrait head of Kate Dolan, in profile to right. Photo: Christie's Images Ltd 2010
signed with initials and dated '1890' (lower left) pencil, black, white and red chalk on tinted tuscan red paper; 10 3/8 x 9 7/8 in. (25.9 x 24.9 cm.) Estimate £30,000 - £50,000 Price Realized £32,450
Literature: B. Harrison & B. Waters, Burne-Jones, 1973, pl. 249.
Exhibited: Springfield, 1988, no. 41.
Springfield, 1993.
Notes: Although little is known about her, it is believed that Kate Dolan was an actress and contemporary of the famed Shakespearean actress Dame Ellen Terry (see lot 1). Burne-Jones used a variety of young girls as inspiration for figures for his large works such as Arthur in Avalon and it is difficult to know exactly which work the present drawing is a study for. It clearly displays Burne-Jones's dramatic combination of charcoal and pastel to highlight his model's striking features.
There is a full-length portrait by Millais that is believed to be of Miss Dolan (1886) in the Metropolitan Museum of Art, New York.
Christie's. The Nicolette Wernick Collection British Watercolours and Paintings (1800-1950). 16 June 2010. London, King Street www.christies.com