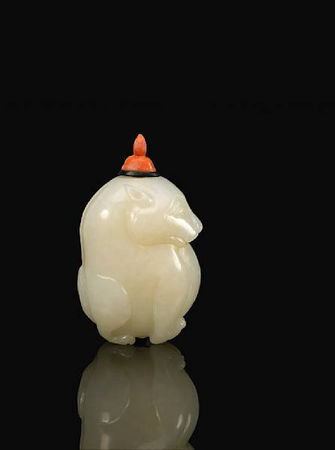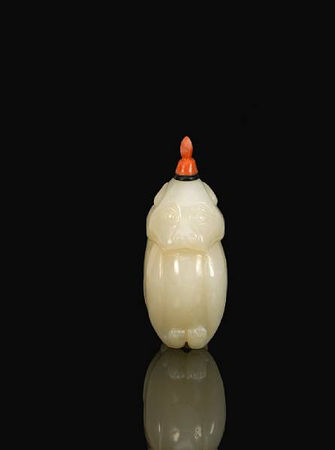 An unusual white nephrite jade snuff bottle. photo Bonhams
In the form of a bear on his haunches, the bottle has a flat mouth rim, well-hollowed inside, with coral stopper. 2 1/2in (6cm) -
Sold for $8,540

Note: This bottle is possibly part of a group of white nephrite jade animal form bottles of the mid-Qing period which includes bears, pigs, dogs, chickens, and mythological animals, or a later example derived therefrom.
A nephrite snuff bottle. 19th Century. photo Bonhams
Of natural pebble form, with a slightly recessed base, the body carved in a continuous landscape scene showing a luohan holding a ring out to a tiger amidst tall pines and a cliff, the stone's russet skin highlighting the scene, with a coral branch-form stopper. 2 1/2in (6.8cm) - Sold for $6,100
Bonhams. Fine Asian Works of Art, 22 Jun 2010. 220 San Bruno Avenue, San Francisco www.bonhams.com