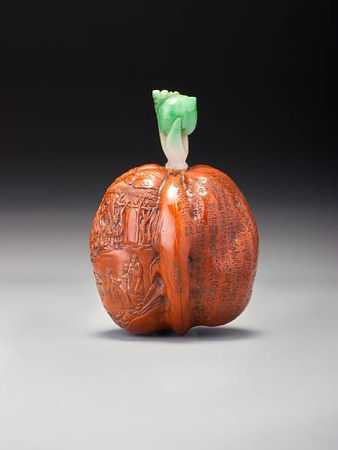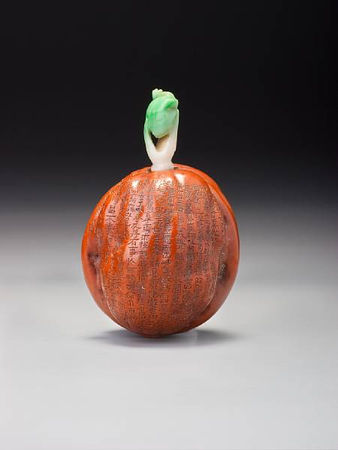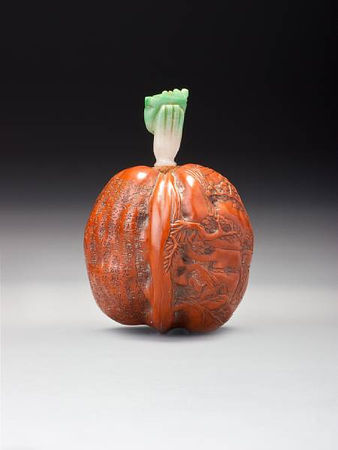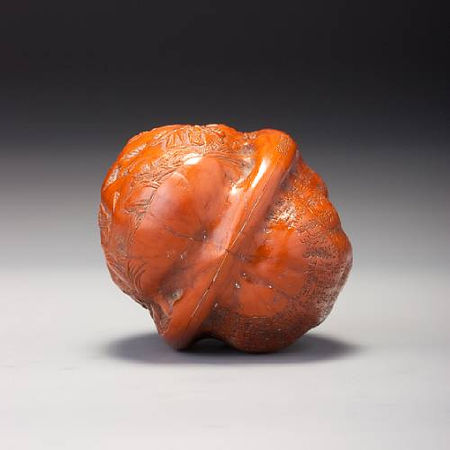 An inscribed walnut-shell snuff bottle. Imperial, probably palace workshops, Beijing, Qianlong incised seal mark and of the period, 1736–1799. photo Bonhams
4.33cm high. Sold for HK$600,000
Treasury 7, no. 1517

刻銘胡桃核鼻煙壺
御製品,大概為宮廷作坊作,北京,乾隆御製款識,1736~1799

The Return

Walnut shell and wood; with no functional foot; carved on one main side with an illustration of Tao Qian's poetic composition, Home Again, with the poet walking away from the boat which has carried him home, gazing back at the boatman, as his wife and three children bow to greet him outside their country residence, at the garden gate of which a young servant awaits, and on the other main side with the entire text of Home Again engraved in regular script, one narrow-side rib engraved in seal script Qianlong nian zhi (Made during the Qianlong period), the neck and lip of wood extending down a little into the interior
Imperial, probably palace workshops, Beijing, 1736–1799
Height: 4.33 cm. (including original stopper)
Mouth: 0.57/0.82 cm
Stopper: jadeite, carved as a hand holding a peach, with integral collar
Condition: perfect condition; practically no wear from use.

Provenance: D. A. Ionides
Christie's, London, 12 and 13 June 1990, lot 527
Published:
Kleiner, Yang, and Shangraw 1994, no. 258
Kleiner 1995, no. 331
Chen Tao 2002, p. 65
Treasury 7, no. 1517
Exhibited: Hong Kong Museum of Art, March-June 1994
National Museum of Singapore, November 1994-January 1995
British Museum, London, June-October 1995
Israel Museum, Jerusalem, July-November 1997

Commentary: By far the most exciting imperial walnut-shell snuff bottle known, this so far transcends the humble nature of its material that no serious, scholarly collector would exchange it for far more valuable materials.
It is the largest walnut known among this miniature art form, so much so that it is no longer even close to miniature, but a normal sized snuff bottle. It also has a remarkably smooth surface for a walnut, although this varies with different types of nut, and with a nut this size there would have been plenty of room to reduce the worst of the naturally pitted surface, leaving only the deeper indentations, which the carver has then brilliantly incorporated into the illustration on one main side.
The carving is extraordinary, not only superbly achieved by a master of his carving tools but supremely artistic. The evocative scene is composed like a painting with a natural command of the balance between finely detailed areas and blank spaces; and between the horizontal, vertical and diagonal elements in which the figures strut upon their stage. The scene being played out illustrates the poignant moment when the reluctant official returns home to his family, preferring poverty to the enslavement of official duty and wealth.
And if this bounty of delights fails to fully convince you, it also bears, on one narrow side along the raised rib of the nut, a tiny, seal-script Qianlong reign mark that is of the finest type for such marks and unsurpassed.
Tao Qian (365 or 372 or 376–427) explained in his own words the situation behind the poem, in a preface dated to the eleventh month of 405 AD. Because he was poor and his fields could barely sustain his family, he took an official position thirty miles from his home. Unable to brook, as he said 'discipline or restraint' he was ashamed that he had compromised his principles, 'mortgaging himself to his mouth and belly.' A sister who died gave him the excuse to quit his post and return home after a mere eighty days in office. He determined never to do it again.
The poem reads:
To get out of this and go back home!
My fields and garden will be overgrown with weeds—I must go back.
It was my own doing that made my mind my body's slave
Why should I go on in melancholy and lonely grief?
I realize that there's no remedying the past
But I know that there's hope in the future.
After all I have not gone far on the wrong road
And I am aware that what I do today is right, yesterday wrong.
My boat rocks in the gentle breeze
Flap, flap, the wind blows my gown;
I ask a passerby about the road ahead,
Grudging the dimness of the light at dawn.
Then I catch sight of my cottage
Filled with joy I run.
The servant boy comes to welcome me
My little son waits at the door.
The three paths are almost obliterated
But pines and chrysanthemums are still here.
Leading the children by the hand I enter my house
Where there is a bottle filled with wine.
I draw the bottle to me and pour myself a cup;
Seeing the trees in the courtyard brings joy to my face.
I lean on the south window and let my pride expand,
I consider how easy it is to be content with a little space.
Every day I stroll in the garden for pleasure,
There is a gate there, but it is always shut.
Cane in hand I walk and rest
Occasionally raising my head to gaze into the distance.
The clouds aimlessly rise from the peaks,
The birds, weary of flying, know it is time to come home.
As the sun's rays grow dim and disappear from view
I walk around a lonely pine tree, stroking it.
Back home again!
May my friendships be broken off and my wanderings come to an end.
The world and I shall have nothing more to do with one another.
If I were again to go abroad, what should I seek?
Here I enjoy honest conversation with my family
And take pleasure in books and cither to dispel my worries.
The farmers tell me that now spring is here
There will be work to do in the west fields.
Sometimes I call for a covered cart
Sometimes I row a lonely boat
Following a deep gully through the still water
Or crossing the hill on a rugged path.
The trees put forth luxuriant foliage,
The spring begins to flow in a trickle.
I admire the seasonableness of nature
And am moved to think that my life will come to its close.
It is all over - So little time are we granted human form in the world!
Let us then follow the inclinations of the heart:
Where would we go that we are so agitated?
I have no desire for riches
And no expectation of Heaven.
Rather on some fine morning to walk alone
Now planting my staff to take up a hoe, or climbing the east hill and whistling long
Or composing verses beside the clear stream:
So I manage to accept my lot until the ultimate homecoming.
Rejoicing in Heaven's command, what is there to doubt?
(Tr. James Robert Hightower)
The stopper is far too ostentatious to be the original, which would have been a discreet one in another organic material, not a flashy, jadeite fist holding a peach. Such a stopper is rare, and quite delightful in its own right, and on the right bottle, perhaps a ruby fruit-form bottle, or some other naturalistic form, would be wonderful. It has been published with it twice, and so we have left it for the time being. The symbolic meaning, of course, is to clutch longevity, the peaches representing this popular desire.

僮僕歡迎,稚子候門

胡桃核;無足;壺身一面刻楷隸雜體陶淵明《歸去來辭》全文,另一面雕陶淵明棄舟登陸、一家人候迎的景況,題文後一棱脊上刻"乾隆年製"四字篆款,頸與唇為插進核內的木料部件。

御製品,大概為宮廷作坊作,北京,1736~1799
蓋高:4.33 厘米
口經/唇經:0.57/0.82 厘米
蓋:白底青的翠玉,雕拿著一個桃子的手,蓋、塞一體,原件
狀態敘述: 完整無缺,幾乎沒有磨耗

來源:
D. A. Ionides
佳士得,倫敦,1990年6月12、13日,拍賣品號257

文獻:
Kleiner, Yang, and Shangraw 1994, 編號258
Kleiner 1995, 編號 331
陳韜,《鑒識鼻煙壺》,頁 65
Treasury 7, 編號1517

展覽:
香港藝術館,1994年3 月~6月
National Museum of Singapore, 1994年11月~1995年1月
大英博物館, 倫敦, 1995年6月~10 月
Israel Museum, 耶路撒冷, 1997年7月~11月

說明:
在已知的胡桃核鼻煙壺中,這是最令人興奮的,材料簡陋而文化價值甚高,任何謹慎的、有學問的收藏家都會認為它和大多數材料較珍貴的煙壺不可同日而論矣。

這也是胡桃核鼻煙壺當中最大的,它並不是微小模型的,是煙壺普通的規模。因為核大,面層很平坦,或許也有刮削的地方,宜於刻題340字的賦文;同時匠工利用了坑坑窪窪的地方琢磨出情趣盎然的圖畫。工藝人的用意表現在線條的豎橫斜、布局的疏與密等等的對立結合。

《乾隆年製》四字篆款,字體結構嚴謹,蒼勁渾厚,清代煙壺篆款無出其右。

如此炫耀之蓋,大約不是原件。但它是罕見而悅目的,將它移置於紅寶石水果型或其他象形型的煙壺上,也許最適宜,可是因為這件煙壺已有兩次帶此蓋而發表,我們還是保留著吧。
Bonhams. Snuff Bottles from the Mary and George Bloch Collection: Part I, 28 May 2010 to 29 May 2010. JW Marriott Hotel www.bonhams.com