Jiang Guo Fang, Reclining Court Lady, Oil on canvas, signed lower left, 132cm x 162cm. Estimate: £20,000 - 30,000.
Photo: Bonhams
LONDON.- A superb collection of Asian art, lovingly assembled over a decade by a single enthusiast while living and working in the Far East and South East Asia, is for sale at Bonhams Edinburgh on 7 July.

Among the most fascinating pieces is a painting by the internationally celebrated Chinese artist Jiang Guo Fang who became a personal friend of the collector when he was living in Shanghai in the early 1990s. The painting, 'Reclining Court Beauty' shows a beautiful model posing pensively in the costume of the 19th century Chinese court. It is from the artist's well known 'Forbidden City' period and is estimated at £20,000-30,000.
Photo: Bonhams
Jiang Guo Fang graduated from the Central Academy of Fine Arts and subsequently taught at the Central Drama Arts School. He was awarded the Beijing Blue ribbon at the 6th National Arts Exhibition. His works have been collected by the Hong Kong Museum, as well as institutions and private individuals globally. Jiang Guo Fang's works have been exhibited internationally in several solo shows from Hong Kong to Rome. He was the first contemporary artist to have a one-man show presented at the Forbidden City, Beijing in 2004.

The present work was painted in 1995. The image of the artist signing the work is in that year. This just proceeds his major exhibition 'The Forbidden City' shown at Schoeni Art Gallery, Hong Kong. The Forbidden City, a city within a city was constructed in Beijing early in the 15th century as home to the Ming and Qing emperors. In his 'Forbidden City' series, as in the current work, the artist creats an evocative interpretation of the now mainly ruined palace complex placing his sitters in the costume of past imperial rule.

Early 9th Century Burmese Pagan bronzes, stucco heads and votive items epitomise the simplicity and serenity so characteristic of South East Asian art and found elsewhere in the collection in sculptures from Thailand, Cambodia and Laos.

From Tibet, furniture and rugs are not only colourful and decorative statement pieces but also practical items for home furnishing.

Prices range from the lower hundreds for rugs, paintings and furniture, to £1,000-2,000 for large and impressive bronze Buddhas and £15,000 – 18,000 for a 16th century Khmer wood standing Buddha. This makes many of these stunning objects eminently affordable for private buyers and interior decorators alike.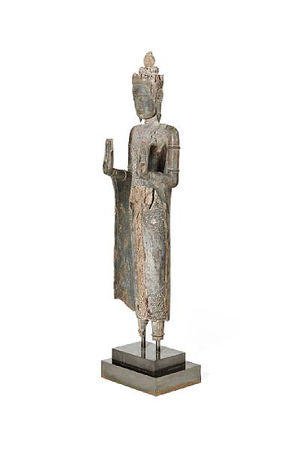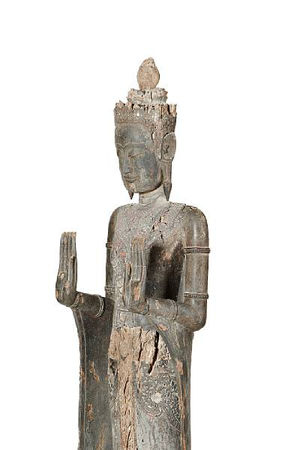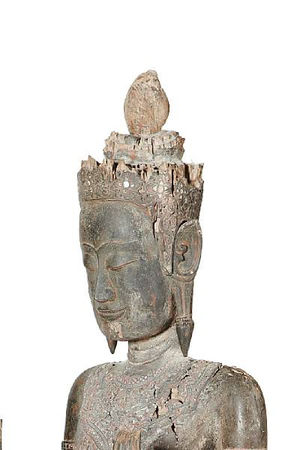 A Khmer wood standing Buddha, 16th century, post Angkor; figure 166cm high. Estimate: £15,000 - 18,000. Photo: Bonhams
The Head of Asian Art at Bonhams Scotland, Ian Glennie, said, "This collection shows a true connoisseur's knowledge and appreciation of Far East and South East Asian art. It's one of the best I've ever come across and passion and enthusiasm shine through every object. The sale is a dream for collectors and interior designers, full of unique and striking pieces of a calibre rarely seen outside the London salerooms."