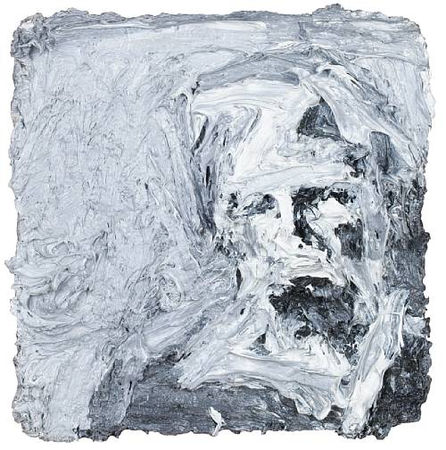 Frank Auerbach (German, born 1931) Head of E.O.W. III, 1961, oil on board, 31.7 x 30.5 cm..Sold for: £860,000, Photo: Bonhams
LONDON.- An important painting by the British painter Frank Auerbach of his long-term lover, Estella Olive West, entitled Head of E.O.W. III, 1961, sold yesterday (30 June) for a remarkable £860,000 at Bonhams, New Bond Street, as part of its 20th Century British Art sale. The sale fetched an impressive £2.8 million in total.

The painting, which has never appeared at auction before, had been expected to fetch £400,000 – 600,000.

Estella, a widowed amateur actress, was Auerbach's lover for 23 years, and one of his most regular models, referred to as E.O.W. in the titles of his works. It was with Estella that he started the process of working and reworking paintings, which sometimes took hundreds of sittings to complete.

The relationship between the artist and sitter in the present painting was deep rooted and intimate. It can be traced back to 1948, when Auerbach was still a teenager. Estella West, known throughout Auerbach's oeuvre as E.O.W, rented her basement flat out in Earl's Court Road to the young artist. During the immediate period after World War II and prior to Auerbach establishing himself fully as a painter, he was involved with the left-wing Unity Theatre. A product of the Worker's Theatre Movement it was formed in the East End of London to challenge, among other things, Nazism in Germany. It was here Both Estella and Auerbach appeared in Frank Marcus's production of Peter Ustinov's House of Regrets, but they only met formally at an after show party. Although Estella was considerably older, in her early thirties at the time and widowed with three children, once Auerbach moved in as a lodger they soon became lovers.

William Feaver comments, 'Their relationship was to last over twenty five years and involve more than seventy paintings, in the titles of which she is identified as E.O.W. She thought him "a beautiful, mature young man; he had a kitchen chair and he'd be kneeling, painting on his knees. I used to think, why am I doing this [sitting for him] with three children and a demanding job? I just loved him.' (William Feaver, Frank Auerbach, Rizzoli, New York, 2009, p.9).

At the time Head of E.O.W III was painted and, owing to financial restrictions, his works of the early 1960s were predominantly monochrome, often using a palette in keeping with the present lot: whites, greys and black. This painting was amongst the group of works shown at the Beaux Arts Gallery in 1962 which were begun in colour and ended up in monochrome (Catherine Lampert, Auerbach and his Sitters, Frank Auerbach, Royal Academy, London, 2001, p.25). The sitter is usually positioned off centre, invariably to the right, and the paint surface of the faces is built up layer upon layer to such an extent that they take on a sculptural quality quite separate to the flatter backgrounds. The formal structure of Head of E.O.W III, such as the distinctive angular outlines of the head and body most striking in the bold white zigzag of pigment used to denote the sitter's hair, was similar to that employed by the Abstract Expressionist Willem de Kooning (1904-1997) in his work dating from the 1950s.

As Robert Hughes states, 'In sum, Auerbach found himself admiring in de Kooning what he admired in Soutine – the sort of draughtsmanship which is deeply painted, bathes shapes in air and carries the eye around the back of the form, rather than leaving it with the contours and colour of a flat patch. If any American artist of the 50s seemed to Auerbach to have matched the terms of Bomberg's 'spirit in the mass', that person was de Kooning. The example of Abstract Expressionist gesture did not wreak a sudden change in Auerbach's work, as it did in other English painters like Peter Lanyon and Alan Davie at the end of the 50s, boosting them out of their Cubist framework. Instead it was slowly and cautiously absorbed, slowed down by the thickness of Auerbach's surface, which it energized in terms of vectors pushed through the paint – directional brushstrokes which wiped aside the clutter of pentimenti under the paint-skin.' (Robert Hughes, Frank Auerbach, Thames and Hudson, London, 1990, pp.149-150).
A rare charcoal and chalk on paper by Auerbach also featured in the sale. Entitled Portrait of Christopher Dark, 1977, it sold for £50,400.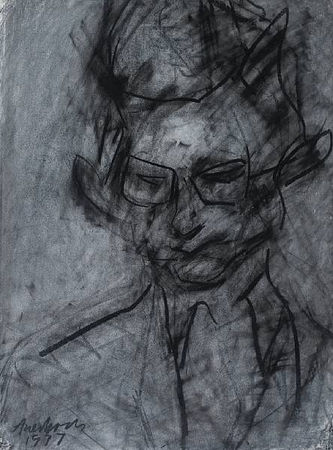 Frank Auerbach (German, born 1931), Portrait of Christopher Dark, signed and dated 'Auerbach/1977' (lower left) and again indistinctly (lower right), charcoal and chalk on paper, 73.7 x 55.9 cm. Sold for: £50,400, Photo: Bonhams
Chris Dark worked with Marlborough Galleries before moving to New York and changing career. Auerbach executed four versions of this drawing with the present work being not only the first but arguably the most successful. These multiple sittings are typical of how the artist works and at this stage he was using charcoal, although later began to incorporate pencil.

Unlike many of his drawings, the present work displays a certain clarity. He often rubbed out and reworked so severely that the paper would begin to disintegrate. Zigzagged and crossed strokes would indicate where Auerbach had changed his mind. Here though, the lines are strong and decisive. The sitters hairline, spectacles and ears are all rendered with sure hand. The third and fourth version of Chris Dark are more sketchy with him looking the other direction.

Earlier this year a new auction record was set (at over £1m) for a work on paper by Auerbach. This fine character study has never before been offered for sale and is a superb example of the artist's draughtsmanship.
Top prices were also paid for Ivon Hitchens' Algerian Woman, which fetched £150,000 having been estimated at £50,000 – 70,000 and Helen Bradley's The Rush Cart came to Lees Brook, which sold for £102,000.