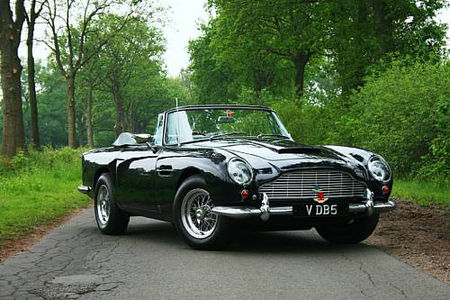 1965 Aston Martin DB5 Vantage Convertible. Sold for £551,500. photo Bonhams
A 1965 Aston Martin DB5 Vantage Convertible, one of only nine produced, sold for a remarkable £551,500 today (2 July) at Bonhams annual Collectors' Motor Cars and Automobilia auction at Goodwood Festival of Speed. The sale fetched a magnificent £3,707,687 in total with a 75% sale rate.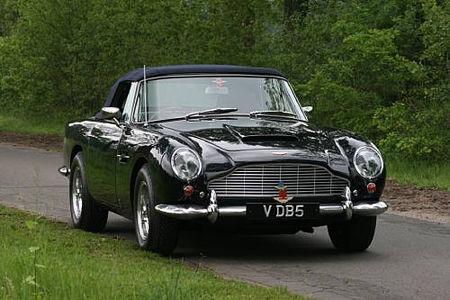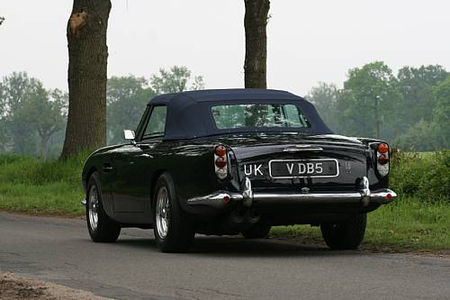 1965 Aston Martin DB5 Vantage Convertible. photo Bonhams
Registration no. VDB 5. Chassis no. DB5C/2118/R. Engine no. 400/2370/V. Sold for £551,500
'Like all classic GT cars, it combines enormous speed with comfort and the more you put into your driving, the more the car returns for your entertainment. And the DB5 really is entertaining to anyone who can exploit its outstanding performance, handling and brakes. It will also carry four people (just) and a fair amount of luggage so the merits of family transport (if need be) have not been entirely sacrificed to speed and elegant looks.' – Motor.
Aston Martin's post-war evolution took a giant step forward with the launch of the DB4 in 1958. Classically proportioned, the Touring-designed body established an instantly recognisable look that would stand the marque in good stead until 1970. The engine was still an all-alloy twin-overhead-camshaft 'six' but the old W O Bentley-designed 3.0-litre unit had been superseded by a new design by Tadek Marek. Proven in racing before it entered production in the DB4, the new 3,670cc engine featured 'square' bore and stroke dimensions of 92x92mm and developed its maximum power of 240bhp at 5,500rpm. The David Brown gearbox was a new four-speed all-synchromesh unit.
Touring's Superleggera body construction, which employed a lightweight tubular structure to support the aluminium-alloy body panels, was deemed incompatible with the DB2/4-type multi-tubular spaceframe, so engineer Harold Beach drew up an immensely-strong platform-type chassis. Independent front suspension was retained, the DB2/4's trailing links giving way to unequal-length wishbones, while at the rear the DB4 sported a live axle located by a Watts linkage instead of its predecessor's Panhard rod. Five series were built as the model gradually metamorphosed into the DB5, which thus represented a further evolution of the DB4 rather than the beginning of an entirely new model line.
Introduced in July 1963, the Aston Martin DB5 boasted a 4.0-litre engine, this enlarged unit having been seen first in the Lagonda Rapide of 1961. Equipped with three SU carburettors, the '400' engine produced 282bhp at 5,500rpm and was mated to a four-speed/overdrive gearbox, a 'proper' ZF five-speed unit being standardised later. Outwardly there was little to distinguish the DB5 from the final Series 5 DB4 apart from twin fuel filler caps, though these had already appeared on some cars. Beneath the skin however, there were numerous improvements including alternator electrics, Girling disc brakes instead of Dunlops, Sundym glass, electric windows and an oil pressure gauge as standard equipment. From September 1964 the 314bhp, triple-Weber Vantage engine became available and was fitted to a total of 95 cars. The DB5 was also offered in convertible form (the 'Volante' name would not be applied to the soft-top Aston until the DB6's arrival) while independent coachbuilder Harold Radford offered a shooting brake conversion. 1,021 DB5s were manufactured between July 1963 and September 1965, a total that included 23 convertibles and 12 shooting brakes.
One of only a tiny handful originally built with the Vantage engine, this ultra-rare DB5 convertible was purchased by the present owner in 1992 from Paradise Garage, London. Three previous owners are recorded, the immediately preceding being a George Goddard, of Iver, Buckinghamshire. On acquisition the DB5 was collected by Aston Martin Works Service and over the course of the next two years a complete 'last nut and bolt' restoration was carried out at Newport Pagnell. Returned annually to Works Service for servicing and MoT testing, the car was used sparingly over the years until 2004 when another 'body-off' restoration was completed by Aston Service Hamburg, including a full engine rebuild to 'lead-free' specification. The bumpers were re-chromed during the process but the interior, which had been restored by Works Service in 1994, was left untouched. The convertible hood, Borrani wire wheels and correct Michelin tyres are among new parts fitted, while a concealed FM radio and speakers, rear centre armrest, chromed hood frame and grey flannel headlining are the only notified deviations from factory specification. A credit to its restorers, the car was a worthy invitee to the prestigious Villa d'Este Concours d'Elegance in 2009.
The car retains its original registration 'VDB 5' and is offered with current road fund licence, MoT to September 2010 and Swansea V5. There are bills on file relating to the 1990s restoration at Works Service totalling £55,000, plus various invoices for maintenance works over the period 2000-2003 from Aston Service Hamburg and others totalling circa €36,000 (approximately £29,700) for the 2004 rebuild.
Fewer than 3,000 miles have been covered since the latter's completion and the car is presented in superb condition throughout, starting first time 'on the button', displaying regulation oil pressure and driving without fault. Indeed, the enthusiast vendor says that he would willingly sell the Aston to his best friend, such is his confidence in it. What higher recommendation can there be?
Top prices were paid for a 1937 Bentley 41/4-Litre Drophead Coupe, which featured in the 007 James Bond film 'Never Say Never Again' and starred at the Pebble Beach Concours in 2003, which sold for £221,500, and the ex-Yoshiyuki Hayashi 1958 model/1980s assembled Lister-Jaguar (also known as 'Knobbly'), which fetched £232,500.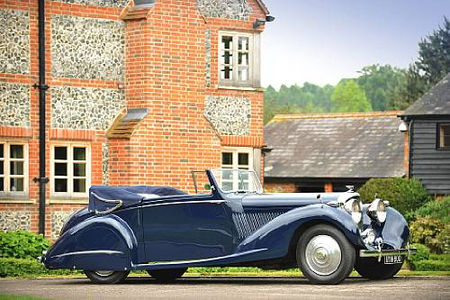 1937 Bentley 41/4-Litre Drophead Coupé. Coachwork by Gurney Nutting. photo Bonhams
Registration no. DYM 800. Chassis no. B129JY. Engine no. T7BR. Sold for £221,500
This supremely stylish and elegant example of master coachbuilder Gurney Nutting's work on the 4¼-Litre Derby Bentley chassis featured as 007's personal transport in the James Bond film Never Say Never Again and starred at the Pebble Beach Concours in 2003 following a "ground up" restoration costing in excess of $450,000.
Although Rolls-Royce's acquisition of Bentley Motors in 1931 had robbed the latter of its independence, it did at least ensure the survival of the Bentley name. Launched in 1933, the first of what would become known as the 'Derby' Bentleys continued the marque's sporting associations, but in a manner even more refined than before. Even W O Bentley himself acknowledged that the3½-Litre model was the finest ever to bear his name.
Based on the contemporary Rolls-Royce 20/25, the 3½-Litre Bentley was slightly shorter in the wheelbase at 10' 6" and employed a tuned (115bhp), twin-SU-carburettor version of the former's 3,669cc overhead-valve six-cylinder engine. Add to this already remarkable package an all-synchromesh four-speed gearbox and servo assisted brakes, and the result was a vehicle offering the driver effortless high performance in almost absolute silence. 'The Silent Sports Car', as it was quickly dubbed, had few peers as a tireless long-distance tourer, combining as it did traditional Rolls-Royce refinement with Bentley performance and handling. An increase in bore size upped the capacity to 4,257cc in 1936, the move coinciding with the adoption of superior Hall's Metal bearings. The new 4¼-Litre model offered more power than before while retaining the well-proven chassis with its faultless gearchange and servo-assisted brakes.
The Derby Bentley was, of course, an exclusively coachbuilt automobile. Of the 2,442 manufactured, almost 50 percent were bodied by Park Ward in a limited number of styles. Most of the other great British coachbuilding firms offered designs, many of them unique, on the Derby Bentley chassis. Some of the most widely admired - like that of the car offered here - were the work of J Gurney Nutting, a company associated with the Bentley marque from its earliest days and a supreme practitioner of the coachbuilding craft in the late 1930s. Founded in Croydon, Surrey in 1919, Gurney Nutting had bodied its first Bentley before moving to London's fashionable Chelsea district in 1924, and within a few years was established as the Cricklewood firm's foremost supplier of bodies after Vanden Plas.
This fruitful association continued into the Derby Bentley era of the 1930s, Gurney Nutting's most famous designs of this period being the limited series of fabulous 'sedanca coupés' commissioned by the London-based Bentley and Rolls-Royce agents H R Owen Ltd. Chassis number 'B129JY', the car offered here, is one of the exclusive handful of 4¼-Litre Derby Bentleys bodied in this unusual, yet most elegant, three-position drophead coupé style, each of which was unique. Included in the car's history file is a letter (dated July 16th 2002) from designer John Blatchley, identifying the body as one of his designs while at Gurney Nutting and revealing that it was one of the first to incorporate the new 'helmet' style of front wing.
Chassis number 'B129JY' was finally tested at Gurney Nutting on July 15th 1937 and sold new via H R Owen to first owner Miss Josefina Tarafa, of Havana, Cuba for the recorded purpose of touring in the UK. Among the special features of John Blatchey's creation were a set of fitted luggage and the continuation of bonnet louvres through to the bulkhead. After WW2 the car passed into the ownership of Mr Jack Hamson, of Newton Mearns, Strathclyde, Scotland, who retained it until its purchase by Mr Ivor Gordon in 1972. As proprietor of Frank Dale & Stepsons, one of the world's leading Bentley specialists, Mr Gordon maintained the car in first class condition for the next 20 years as part of his private collection. During this time 'B129JY' participated regularly in Concours d'Elegance and other events of the Bentley Drivers' Club. Mr Gordon estimated that he covered over 12,000 miles touring Europe in the car.
One of the major incidents of the Bentley's recent history occurred when it was selected to star in the 1983 James Bond blockbuster: Never Say Never Again. Sean Connery, in his role as Bond, drove the car in several scenes, enhancing its prestige and placing it on that most exclusive of lists: that of 'Bond' cars. The Bentley has also featured in the television series Magnum, P.I. starring Ted Danson, appearing in Déjà Vu, Parts 1 and 2, aired in September/October 1985.
In 1992, the car was sold to Mr Gert Kaiser, of Stuttgart, Germany, a well-known Rolls-Royce and Bentley collector. It returned to England in 1994 to the hands of another established Bentley collector, Anthony Moody, of Hong Kong. The car was then acquired from Mr Moody by Mr Arthur Freeman, of Fort Lauderdale, Florida in December 2001.
Shipped from England, it arrived in Florida in January 2002 and was delivered to D & D Classic Auto Restoration, of Covington, Ohio to be returned to its former glory. This lengthy and painstaking process is recorded in detail in accompanying photographs depicting every stage. Also included in the sale are copies of the original chassis cards, sales sheet, dynamometer tests and coachwork drawing, assorted photographs and the 1949 continuation logbook recording change of ownership from Jack Hamson to Frank Dale Ltd.
Completed in the summer of 2003, the 'ground up' renovation included a total engine rebuild, complete chassis strip down and repaint, removal of body panels and complete rebuild of the timber framework retaining original wood wherever possible. During disassembly the car's original dark blue colour scheme was rediscovered. After completion in 2003, 'B129JY' appeared at Pebble Beach and the Louis Vuitton Classic at Domaine National de Saint Cloud, Paris, France in September that year. The car was purchased by the current vendor at Bonhams' sale at the Goodwood Revival Meeting in September 2004 (Lot 191) and has since gained three prestigious R-REC Annual Rally concours awards: 1st Prize and the P & A Wood Trophy for 'Best Car' in 2006, and the Masters Trophy in 2007.
Offered with sundry restoration invoices, current MoT and Swansea V5, this car represents possibly a once-in-a-lifetime opportunity to acquire a unique, concours-winning example of one of the most celebrated series of bodies on the Derby Bentley chassis, possessing a fascinating cinematographic history.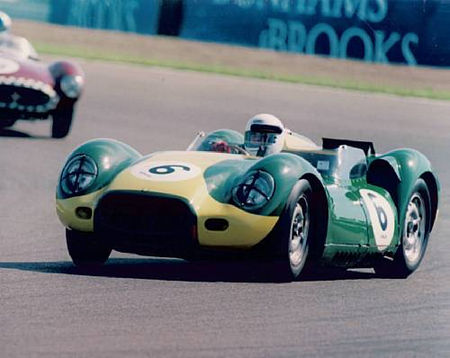 The ex-Yoshiyuki Hayashi. 1958 model/1980s assembled 3.8-litre Lister-Jaguar 'Knobbly' Competition Sports Two-Seater. photo Bonhams
Chassis no. see text. Engine no. KH 6489-8. Sold for £232,500
The muscular and extremely competitive Lister-Jaguar 'Knobbly' sports-racing cars originated in 1958 today form the backbone of Historic class sports car competition. What we are offering here is an extremely competitive 'Knobbly' Lister-Jaguar – offered here with current HTP papers (issued 30th January 2007) serial no GB 5889. The vendor has driven the car extensively in Vintage Sports Car Club, Historic Sports Car Club and Bentley Drivers Club competition where he has gained outright wins and placings – and he was also a regular competitor in the erstwhile British Racing Drivers' Club 50s Sports Car Championship where podium finishes were achieved. The car has competed twice in the British Grand Prix supporting race at Silverstone – most recently last year – and it has also appeared at venues as diverse as Macau, Spa-Francorchamps, Nogaro, Ricard-Castellet and Imola, in addition to nearly every leading UK circuit.

The car as offered here was assembled in the early 1980s from an extensive stock of original, made-in-period major Lister-Jaguar components. Most importantly, this stock included what we understand was an original Lister-made chassis frame that had been discarded by its original owner following an accident in a British race meeting during 1959. The owner of the car in question was a complete perfectionist, and rather than have the slightly damaged frame repaired he instead bought a fresh frame from the Lister company's Abbey Road works in Cambridge, England, and had his car reassembled around it. The old frame was set aside, and retained by the owner's contemporary mechanic as having been still "too good to throw away".

In the early 1980s the British motor racing journalist and historian Doug Nye was commissioned by an associate of Japanese collector Yoshiyuki Hayashi to acquire an "affordable" Lister-Jaguar. Nye contacted Historic racing Lister specialists John Harper and John Pearson, who subsequently assembled the car now offered here to Mr Nye's order. It was completed with a freshly-made body fashioned in aluminium by renowned specialist Bob Smith after the original style. Doug Nye understood that original 1958-59 period components built into the re-assembled car included the once-bent, now repaired, period chassis frame, the distinctive final-drive unit, the de Dion tube, wheels and numerous other smaller parts.

During Mr Nye's tenure pre-export, the car was photographed locally by the late, great, specialist motor racing photographer Geoffrey Goddard, and it then starred as the 'Salon' feature car in an issue of the leading American magazine 'Road & Track', with general Lister-Jaguar text by Nye. The car was fitted with a Jaguar XK-series 6-cylinder twin-cam engine, and had been finished in the works Lister-Jaguar racing colours of bright green with a yellow central stripe and nose intake surround. Just before it was due to be collected for transport to the Docks, it rolled forward in Nye's garage and struck a ZF gearbox sitting on the floor there. One of the prominent bolt heads on the gearbox tail casing punched a neat hole in the Lister's nose. There was no time for repair or repaint. Instead Nye found matching-coloured plasticene in his kids' toy box, so plugged the hole with that... Some ten years later when visiting the Hayashi Collection at Gotemba, Japan, he saw the Lister-Jaguar – apparently un-run since the day it had been delivered – and his last-minute plasticene repair had survived there untouched.

In later years the car was sold from the Hayashi Collection into the American trade. The car subsequently returned to the UK where – for the past ten years - it has been extensively campaigned in Historic sports car racing by the current vendor.

During the later 1950s the sports-racing cars produced by Brian Lister in Cambridge, England, became the dominant force not only in 'free-Formula' British sports car racing but also in Sports Car Club of America national Championship competition. The exploits of works drivers Archie Scott-Brown and Stirling Moss in the 1957-58 model Lister-Jaguars, and of American stars Walt Hansgen and Ed Crawford in the Briggs Cunningham team cars, are still recalled with awe by all who followed sports car racing during that period. The Lister-Jaguars were very powerful, very fast and lighter than the rival D-Type Jaguars and Aston Martin DBR1s and DBR2s. In Britain, Lister-Jaguars most notably defeated the tool-room made factory Aston Martins, and today the legend of the 'Knobbly' Lister-Jaguars and Lister-Chevrolets lives on in Historic sports car racing.

Brian Lister was the grandson of family company founder George Lister, and it was in 1890 that Geo. Lister, Charles Flatters and Harry Branch had formed a partnership in Cambridge, setting-up a general engineering, blacksmith and wrought ironwork shop in Abbey Road there. As his partners retired and his sons Alfred and Horace joined the business, so it became 'Geo. Lister & Sons' in 1919. Horace subsequently became sole proprietor in 1930 after the early death of his brother Alfred, and then their father. Horace's sons Raymond and Brian subsequently became directors, acceding to joint Managing Directorship in 1954. In the 1920s, Alfred Lister had briefly added the words "and Automobile Engineers" to the company title, but after his premature death it was lost...until Brian Lister developed his interest in motor racing from 1948, when he had his first competitive outings in a Morgan 4/4 sports. He then built himself a Cooper-MG sports car assisted by like-minded Lister apprentice Edwin 'Dick' Barton. He then raced his own Tojeiro-JAP named the 'Asteroid' after his interest in astronomy, but due to its driver describing its on-track behaviour as "simply frightening" the car became generally better known as the 'Haemorrhoid Tojeiro-JAP'. Young Brian became great friends with a diminutive – but immensely talented - fellow enthusiast living in Cambridge who proved to be a world-class racing driver – young Archie Scott Brown. He was born with only one hand, and exceptionally short legs, but his competitive nature and fantastic sense of balance equipped him perfectly to become a racer.

When Brian Lister and Scott Brown were joined by local motor engineer Don Moore the triumvirate had been formed which would create the brief but immensely successful series of Lister sports-racing cars.

'Brian Lister (Light Engineering) Ltd' was set-up to build the racing cars, which emerged with MG, Bristol, Jaguar, Chevrolet and even Maserati engines from 1954-1959.

The most famous model of them all was the Lister-Jaguar 'Knobbly' – just study this car's body shape to appreciate how the nickname came about – and long after Brian Lister had closed his car manufacturing business (following Scott Brown's fatal accident at Spa, Belgium, in May 1958) these great cars became the sports-racing backbone of the Historic and Vintage racing movements on both sides of the Atlantic. This car – which was completely reconditioned and whose major components were crack-tested as recently as 2007 - is offered here effectively ready to race.

It is a splendid tribute to the marque. It was re-created by expert specialists around a high proportion of original period components, and today it has the proven potential to be highly competitive in Historic sports car racing.
A black 1999 Mercedes-Benz SLK230, bought new by Dannii Minogue, and subsequently passed onto her sister, Kylie, attracted much pre-sale publicity. It finally sold to a 'lucky, lucky, lucky' buyer for £14,950 who fought off competition from several other interested bidders. Part of the proceeds from the sale are being donated to a breast cancer charity.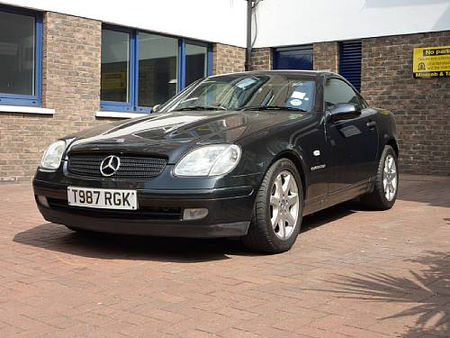 Property of Kylie Minogue, OBE, the ex-Dannii Minogue. 1999 Mercedes-Benz SLK230 Convertible Coupé. photo Bonhams
Registration no. T987 RGK. Chassis no. WDB1704472F111348. Sold for £14,950
The Mercedes-Benz SLK230 was announced at the 1996 Turin Show, production commencing towards the end of 1997 for the '98 model year. A strikingly styled, wedge shaped coupé, the SLK230 featured a then unique retractable hardtop, powered by five hydraulic cylinders, which took approximately 25 seconds to fold down into the boot. At a stroke Mercedes-Benz had done away with all the problems associated with fabric convertible tops, the only downside being the reduction in boot space with the hood retracted. If you want to carry a large amount of luggage, the hood has to stay up. The need to accommodate the retracted roof enforced a reduction in fuel tank size (it holds just 53 litres) and the deletion of the spare wheel, a Tirefit repair kit being provided for emergencies. Powering the SLK230 was a 2.3-litre 16-valve four producing 136bhp normally aspirated or 193bhp in Kompressor form, with 2.0-litre four-cylinder and 3.2-litre V6-engined versions following as the range expanded. Shorter than a Volkswagen Golf, the SLK230 was the smallest Mercedes-Benz ever at the time of its introduction, yet in keeping with company tradition was as well equipped as many of its larger models. Competitively priced, the new SLK (the initials stand for Sport, Leicht, Kurz – Sport, Light, Short) was an immediate hit and an enormous commercial success for Mercedes-Benz, tens of thousands of delighted customers appreciation the model's up-to-the-minute styling and technological wow factor.
Among them was Dannii Minogue, who owned this example from new before giving it to her sister, Kylie Minogue, its only other owner. We are certain that neither of these multi-talented and universally popular Australian entertainers needs any introduction. Suffice to say that this beautiful Mercedes-Benz represents a wonderful opportunity for fans of these two stars to acquire a stylish modern motor car owned and enjoyed by both of them. Finished in black with black/purple interior, 'T987 RGK' has covered 19,000 miles from new and is described as in generally good condition. A Swansea V5C document and current MoT comes with it.
A 1976 Jensen Interceptor Series III Coupe proved hugely popular selling for an impressive £54,300 against an estimate of £7,000 - 10,000.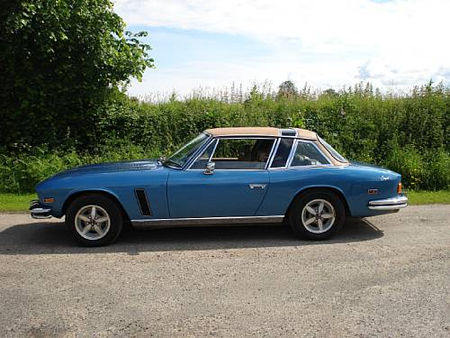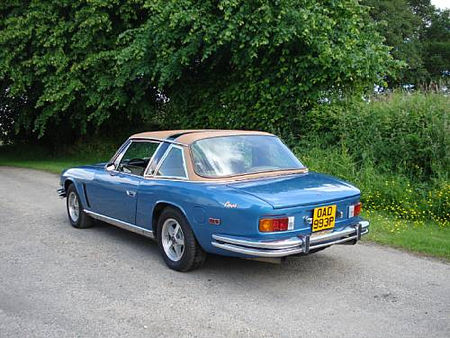 1976 Jensen Interceptor Series III Coupé
Registration no. OAD 993P. Chassis no. 27111961. Engine no. 27111961. Sold for £54,300
With the Interceptor's introduction in 1967, Jensen switched from glassfibre to steel for its car bodies. Underneath though, the preceding C-V8's chassis, running gear and 6,276cc Chrysler engine remained substantially unchanged. With around 280bhp on tap, performance was more than adequate, The Motor recording a top speed of 140mph with 100mph arriving in 19 seconds. Four-wheel servo-assisted Dunlop discs looked after the braking, and the ride quality could be varied by the Armstrong Selectaride dampers' dashboard control. Leather upholstery, reclining front seats and walnut veneer were all standard features, while automatic transmission was the choice of almost all buyers. The Series II incorporated revised front suspension, Girling brakes and a redesigned interior, while the Series III, introduced in 1971, came with a 7.2-litre engine, better seats, central locking and alloy wheels. For 1974 Jensen adopted an improved, 330bhp version of the 7.2-litre Chrysler V8 on the 'J Series' MkIII, which also gained all the equipment, including air conditioning, that had been standard issue on the now-discontinued Interceptor SP. The major development that year though, was the introduction of the Convertible, which in turn would inspire Jensen's final variation on the Interceptor theme: the Coupé.
Announced at the London Motor Show in October 1975, the striking-looking Coupé featured dark blue tinted panels, immediately behind the 'B' posts, that continued across the roof. Sadly, by this time Jensen Motors Ltd was in severe financial difficulty, and only 54 of this final model were built before the receivers called a halt. Today the Interceptor Coupé is one of Jensen's most sought after models.
This Interceptor III Coupé was purchased in 2000 by the present owner from a friend who advised that it was one of many Interceptors owned by her husband when he died some years before. She had sold all the others but kept this one as in was in the best condition and known to be very rare. This car had been brought back to the UK from California many years previously and spent most of the intervening period in storage. The current owner has continued to store the Jensen, only occasionally using it on the road. Finished in blue metallic with tan leather interior, the car displays a total of only 24298 miles on the odometer and is offered with USA ownership and import documentation, a quantity of expired MoTs, Swansea V5 registration document and current MoT. It is hoped that the bumper will have been re-chromed in time for the sale.
Leading lots in the automobilia section of the sale included Sir Malcolm Campbell's traveller's wallet, inherited by his son Donald, which made £4,715, and the World Waterspeed commemorative silver trophy presented to Sir Malcolm Campbell by Lord Wakefield in 1937, which fetched £24,250.

Today Goodwood Festival of Speed attracts over 250,000 visitors compared to 25,000 at its inaugural event in 1993.

Group Head of Bonhams Motoring Department, James Knight, comments: "There was extraordinary strength of bidding in all areas of the market and we were exceptionally pleased to establish yet another world record Aston Martin price with the sale of the DB5 convertible."