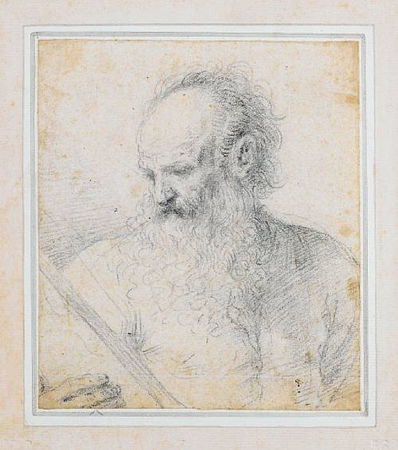 Giovanni Francesco Barbieri, called il Guercino (Cento 1591-1666 Bologna) Study of Saint Matthew turned to his right, reading a book. photo Bonhams
black chalk on paper laid on card, 167 x 145 mm. (6 5/8 x 5 3/4 in.), unframed. Sold for £14,400
PROVENANCE:: Collection, (unrecorded blindstamp M.C./E./56)
Private collection, Australia (unrecorded collector's mark P&L.W)

Bonhams is grateful to Nicholas Turner for confirming the attribution of the present drawing upon firsthand inspection and for his assistance in this catalogue entry

Nicholas Turner dates the present Saint Matthew to Guercino's mature style, towards the end of his later Cento period. At this time, for reasons that are not entirely clear, the painter often turned to black chalk for his more elaborate studies. For many years, he had invariably used red chalk for them.

It is very likely to be a study for the head of Saint Matthew in a lost, or never executed, half-length painting by Guercino of Saint Matthew and the Angel, datable to the mid-1630s; the appearance of this composition is known from a number of surviving preparatory studies (See N. Turner, Guercino, la scuola, la maniera. I disegni agli Uffizi, exhibition catalogue, Galleria degli Uffizi, Florence, 2008, pp. 65-66, no. 26. Although the work is otherwise undocumented in the sources, some four drawings indicate that Guercino worked on such a commission, which may for some reason or another have been withdrawn). The head in the present drawing corresponds closely to that of the saint in a pen-and-wash drawing by Guercino of Saint Matthew and the Angel in the Codice Resta, the Ambrosiana, Milan (inv. no. 219), where, however, the book lies open on a table in front of the saint. In the Milan drawing, the figure has the same curly beard, rugged bald head and venerable features, while his bust is lit in precisely the same way, the lighting coming from the top left and projecting a shadow from his head across his left shoulder. A slight modification to the position of the head would suggest that the present drawing was made after that in Milan. A further drawing by Guercino for this same composition, this time in the Royal Library, Windsor Castle (inv. no. 2435), was clearly drawn before that in Milan, since the composition is far from being resolved; it is also of interest in the present context because it too is in black chalk.

The fine horizontal line ruled with a stylus, a few millimetres above the lower edge of the present drawing, indicates that the paper originated from an unused ledger or account book, the lines of which have been ruled vertically to indicate columns. A number of drawings by Guercino made in the 1630s are on this paper, usually, as here, with the sheet turned so that the ruled line or lines appear horizontally rather than vertically, for example the Bearded warrior wearing a helmet, now at Windsor Castle (inv. no. 2428), which is connected to a known commission of the 1630s.
Bonhams. Old Master Paintings, 7 Jul 2010 New Bond Street www.bonhams.com