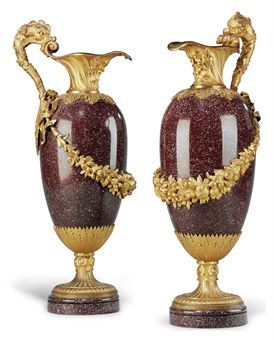 A pair of French ormolu-mounted porphyry ewers. Circa 1870, in the manner of Pierre Gouthière. Photo: Christie's Images Ltd., 2010
Each of slender ovoid form with dolphin handle and mask spout, on a circular base, 26¾ in. (68 cm.) high (2). Estimate £25,000 - £40,000. Price Realized £46,850.
Provenance: Mrs. Derek Fitzgerald, Sotheby's London, 22 November 1963, lot 113.
Notes: This elegant pair of porphyry vases are enriched with jewel-like ormolu mounts in the manner of Pierre Gouthière (1732-1814), who executed finely-chased mounts for pietre dure, hardstones and porcelain vessels, which were prized by Marie-Antoinette, possibly his greatest admirer, other members of the Royal family and the most discerning amateurs such as the duc d'Aumont. The latter was directeur des Menus Plaisirs from 1770 and was subsequently responsible for the workshops cutting and polishing precious hardstones employing Augustin Bocciardi (active 1760-1790) as his principle sculptor. The shallow mask on the spout of the present ewers appears on a drawing by Gouthière, and also on a pair of vases, sold from the Talleyrand Collection, 26 November 2006, lot 307. Gouthière's splendid mounted objects remained fashionable throughout the 19th century and were emulated by the celebrated ébéniste and bronzier Henry Dasson (1825-1896), who made direct copies of earlier Royal pieces, but also his own interpretation of the original models. These included various vases and ewers with porphyry bodies and mounted in ormolu such as those sold Christie's London, 4 December 2008, lot 27.
Christie's. A View from the Spanish Steps - The Collection of Maria Angiolillo 15 July 2010 London, King Street www.christies.com