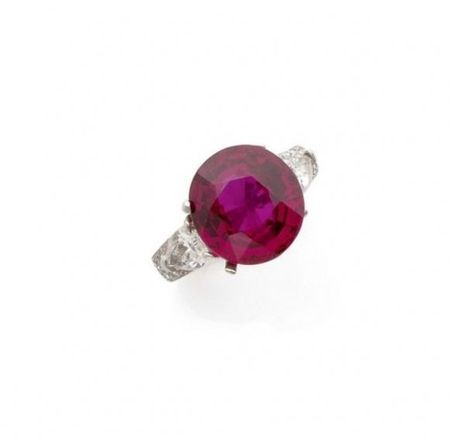 Rare bague en or gris, ornée d'un rubis pourpre, ovale épaulé de deux diamants poires et de diamants taillés en brillant. photo Artcurial - Briest-Poulain-F.Tajan
Poids du rubis : 10,86 carats accompagné d'un certificat du S.S.E.F indiquant couleur purplish red of medium strong saturation, et léger traitement thermique avec légères traces résiduelles dans les fissures. Poids brut : 11 g - Estimation : 40 000 / 50 000 €
A RARE PURPLISH RED RUBY, DIAMOND AND GOLD RING, ACCOMPANIED BY A SSEF CERTIFICATE STATING THAT THE 10,86 CARAT TRANSPARENT RUBY INDICATES MINOR RESIDUE IN HEALED FISSURES AND NINOR THERMAL ENHANCEMENT.
Bague en or gris et or jaune ornée d'un rubis ovale épaulé de deux diamants demi-lune. photo Artcurial - Briest-Poulain-F.Tajan
Poids de la pierre : env. 12 ct. Poids brut : 7 g - Estimation : 15 000 / 20 000 €
Accompagnée d'un certificat du laboratoire GRS indiquant la présence de traitement thermique.
A RUBY, DIAMOND AND GOLD RING ACCOMPANIED BY A GRS CERTIFICATE STATING THAT THE 12 Cts. RUBY HAS BEEN EHNANCED BY HEAT.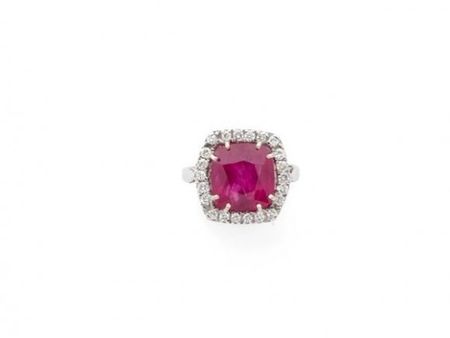 Bague en platine et or gris ornée d'un rubis taillé en coussin cerné d'un bandeau serti de diamants taillés en brillant. photo Artcurial - Briest-Poulain-F.Tajan
Poids de la pierre : 8,53 ct. Accompagnée d'un certificat du laboratoire GIA indiquant que le rubis n'a subi aucun traitement thermique. Poids brut : 6,7 g - Estimation : 15 000 / 20 000 €
A RUBY, DIAMOND AND PLATINUM RING, ACCOMPANIED BY A GIA CERTIFICATE STATING THAT THE 8,53 Cts RUBY IS NATURAL WITH NO INDICATION OF THERMAL TREATMENT
Bague en or jaune formée d'un anneau large souple orné en serti perlé de diamants taillés en brillant et d'un rubis ovale. photo Artcurial - Briest-Poulain-F.Tajan
Poids de la pierre : 4,01 ct. Accompagnée d'un certificat du laboratoire GRS indiquant que le rubis est d'origine de Tanzanie sans aucun traitement thermique constaté. Tour de doigt : 51 Poids brut : 13,2 g - certificat GRS 4.01 cts - Estimation : 15 000 / 17 000 €
A RUBY, DIAMOND AND GOLD RING, ACCOMPANIED BY A GRS CERTIFICATE STATING THAT THE 4,01 RUBY IS OF ORIGIN TANZANIA AND NO INDICATION OF THERMAL TREATMENT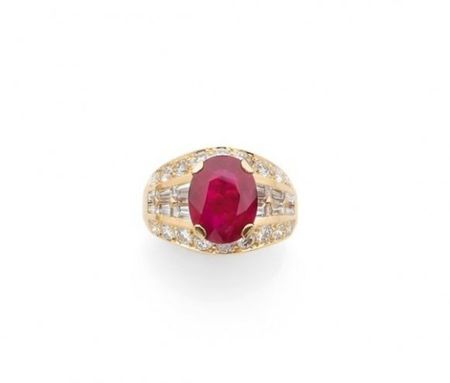 Bague demi-jonc en or jaune ornée d'un rubis ovale épaulé de diamants taillés en baguette entre deux lignes de diamants taillés en brillant. photo Artcurial - Briest-Poulain-F.Tajan
Poids de la pierre : env. 5,5 ct (givre ouvert). Tour de doigt : 53 Poids brut : 13,3 g - Estimation : 13 000 / 15 000 €
A RUBY, DIAMOND AND GOLD RING, RUBY WEIGHT 5,5 CTS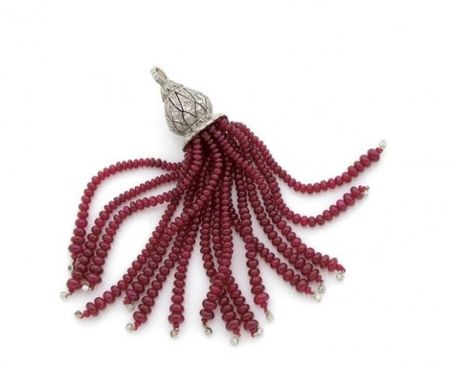 Pompon en platine piriforme, ajouré et serti de diamants taillés en brillant, frangé de seize brins de boules de rubis en chute terminées par un petit brillant. photo Artcurial - Briest-Poulain-F.Tajan
Hauteur : 9 cm. Poids brut : 37,7 g - Estimation : 10 000 / 12 000 €
A RUBY BEAD, DIAMOND AND GOLD TASSEL, APPROX. RUBY WEIGHT 86 CARATS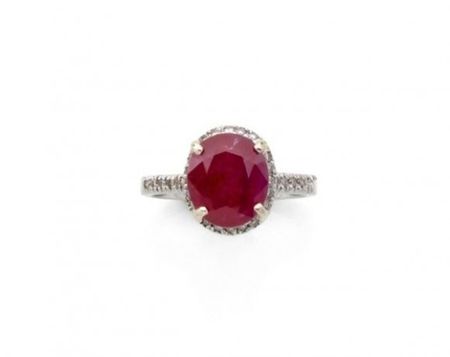 Bague en or gris ornée d'un rubis ovale souligné et épaulé de diamants. photo Artcurial - Briest-Poulain-F.Tajan
Poids de la pierre : 4,36 ct. Accompagnée d'un certificat du laboratoire GRS indiquant que le rubis n'a subi aucun traitement thermique. Tour de doigt : 53,5 - Poids brut : 4,7 g - Estimation : 10 000 / 12 000 €
A RUBY AND GOLD RING, ACCOMPANIED BY A GRS CERTIFICATE STATING THAT THE 4,36 CARAT RUBY IS OF ORIGIN: TANZANIA WITH NO INDICATION OF THERMAL TREATMENT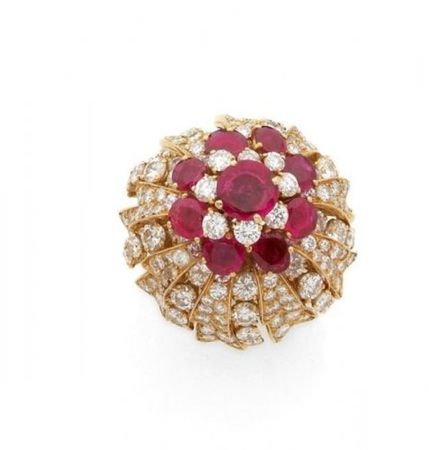 Importante bague dôme en or jaune en forme de palmier sertie de diamants taillés en brillant, au centre, d'une rosace de rubis. photo Artcurial - Briest-Poulain-F.Tajan
Poids du rubis : env. 1,30 ct Poids brut 33,6 g - Estimation : 10 000 / 12 000 €
AN IMPORTANT RUBY AND DIAMOND COCKTAIL RING
Artcurial - Briest-Poulain-F.Tajan - Monte-Carlo. Vente du Mercredi 21 juillet 2010. Hôtel Hermitage. Pour toute information complémentaire, veuillez contacter Julie Valade au +33 1 42 99 16 41