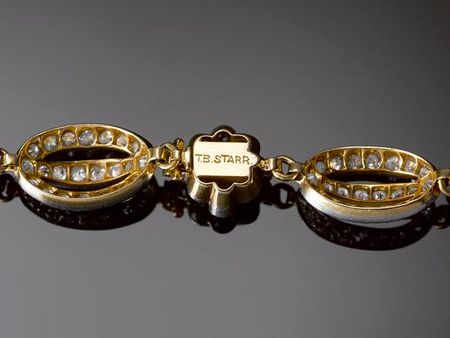 Diamond and emerald necklace by Theodore B. Starr, Circa 1910. photo M.S. RAU ANTIQUES
This magnificent necklace by T.B. Starr combines the brilliance of diamonds with the subtle beauty of emeralds. The stunning design incorporates openwork oval links alternating with florets, all set with an incredible 476 old European-cut diamonds weighing approximately 22.00 total carats, and seven captivating emeralds weighing approximately 100.00 carats suspended in diamond-capped drops. Crafted of platinum and 18K yellow gold, this necklace is a work of extraordinary artistry. Signed "T.B. Starr", 16 1/2" length. Price: $175,000 (138,000 €)

Originally founded in 1862, Theodore B. Starr was one of the great New York City jewelers and retailers of luxury goods until the early 20th century, competing with companies like Tiffany & Co. and Marcus and Company, which was founded by his former partner, Herman Marcus. Starr's shop was renowned both for producing beautiful "art" jewelry and for its air of exclusivity. In an effort to achieve this aura of luxury, Starr decided not to arrange the jewelry in display cases, as was the prevailing custom of the times. Instead, he kept it in the safe, and when a customer expressed interest in a piece, it would be removed from the safe and displayed on a long counter, covered with soft billiard cloth.
M.S. RAU ANTIQUES 630 Royal Street, LA 70130 New Orleans - USA. Tel : +1 800 544 9440 - Email address : info@rauantiques.com - Website : http://www.rauantiques.com