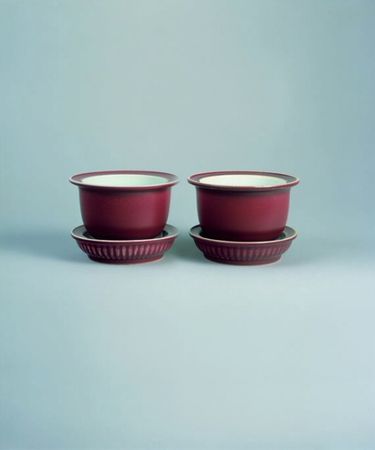 A pair of Chinese Imperial porcelain copper-red glazed jardinières and stands. Yongzheng four character sealmarks and of the period, 1723-1735. photos courtesy Marchant
of deep "U"-form with flat everted lipped rim, the stands with chrysanthemum petal ribs on the exterior, covered over all in a rich red glaze, thinning to a paler tone on the petals, the rim interior and base glazed white. 4 ¼ inches, 10.6cm total height. Price on application
Formerly in the collection of a North American Chinese family, acquired by the grandfather of the previous owners who lived in Whampoa, Guangdong, circa 1890-1920.
A similar jardinière and stand without the petals on the stand is illustrated by Ch'in Hsiao-yi in The Catalogue of the Special Exhibition of K'ang-hsi, Yung-cheng and Ch'ien-lung Porcelain Ware from the Ch'ing Dynasty in the National Palace Museum, Taiwan, no. 35, p. 72.
A ribbed jardinière with a similar mark and flared rim is illustrated by John Ayers in Chinese Ceramics in the Baur Collection, Vol. II, no. 257, p. 150/151.
MARCHANT 120 Kensington Church Street London, United Kingdom W8 4BH - Tel: 44 0207-229-5319 - Fax: 44 0207-792-8979 www.marchantiques.com