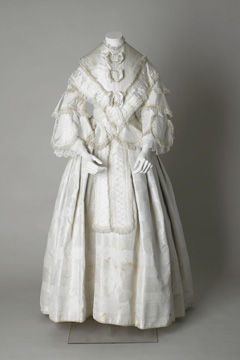 Wedding dress, 1853. White silk taffeta, trimmed with floral silk brocade ribbon and silk fringing. Accession number 60.225.19. photo courtesy Sudley House
LIVERPOOL.- This summer, during the height of the UK wedding season, Sudley House opens an exhibition of wedding outfits that reveals the changing face of marriage over the last 150 years.

"Hitched: Wedding Clothes and Customs" is on display from 23 July 2010 until Spring 2011.

From an elegant 19th century white silk taffeta wedding dress to the sharp suits of a 21st century civil partnership, "Hitched: Wedding Clothes and Customs" explores how, despite significant changes in society, marriage continues to play an important role in many people's lives.

Every cultural group around the world has its own dress code and customs linked to the wedding ceremony. This exhibition looks at wedding dress and customs of different communities including the Jewish, Chinese and Travelling communities.

The exhibition features around 20 dresses and accessories. Highlights include:

• A glass beaded silk crepe-de-chine wedding dress and train from the 1920s
• A wool cashmere and gold brocade wedding dress in the style of French designer Paul Poiret, 1913
• A beaded and sequined red satin wedding dress worn by a bride from Liverpool's Chinese community, 1966
• A crystal-beaded wedding dress worn by a bride from Liverpool's Traveller community, 2010

Alongside the outfits and accessories are photographs and ephemera revealing the many and varied traditions of weddings from food, transport, venue and even the stag and hen "dos".

Little known superstitions and beliefs are uncovered, such as why the wedding ring is always worn on the third finger of the left hand, or why the meal following the ceremony is known as the wedding breakfast, no matter what time of the day it is eaten.

Curator of costume and textiles Pauline Rushton says: "Despite the number of people getting married actually falling, the average cost of weddings continues to rise and now stands at almost £20,000. This tells us something about the importance still placed on an institution which has been part of our society for thousands of years."

"Hitched: Wedding Clothes and Customs" brings together items from National Museums Liverpool's own costume collection and private loans to build up a picture of weddings from Victorian times to the present day.

"Hitched: Wedding Clothes and Customs" will tour to other venues in the region during 2011.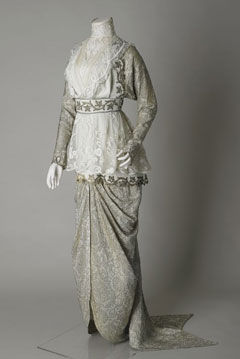 Wedding dress, 1913. Cream wool cashmere and silk and gold thread brocade, with overbodice of machine-made lace. Accession number 1966.345.1. photo courtesy Sudley House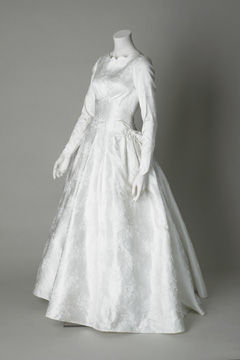 Wedding dress, 1960. White floral rayon brocade. Accession number 1986.141.1. photo courtesy Sudley House
Jewish wedding dress, 1935. Ivory silk crepe with applied gelatine sequins and glass beads. Accession number WAG 2009.5. photo courtesy Sudley House
Chinese wedding dress, silk satin, embroidered with glass beads and sequins, made in Hong Kong, 1966. On loan from Mrs Tang Cheung. photo courtesy Sudley House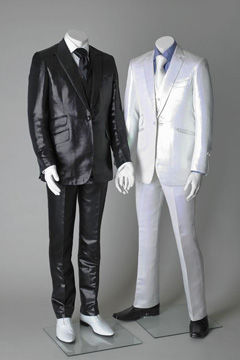 Civil partnership suits, 2008. Cotton and synthetic mix, custom made by Sir Tom Baker, bespoke tailor, 83-84 Berwick Street, London, 2008. On loan from Michael Atter and Christopher McDermott. photo courtesy Sudley House
Traveller wedding dress, 2010. Nylon and polyester, embroidered with crystal beads and sequins, bought in Wrexham, North Wales, 2010. On loan from Mrs Winifred Doran. photo courtesy Sudley House