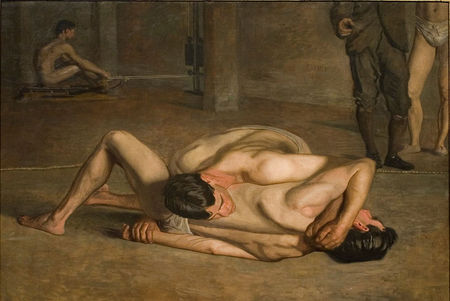 Thomas Eakins, Wrestlers, 1899. Oil on canvas, 62 x 72 x 2 in. Los Angeles County Museum of Art, Gift of Cecile C. Bartman and The Cecile and Fred Bartman Foundation. Photo: © 2007 Museum Associates/LACMA.
LOS ANGELES, CA.- The Los Angeles County Museum of Art (LACMA) presents Manly Pursuits: The Sporting Images of Thomas Eakins, on view from July 25 to October 17, 2010. Organized exclusively for LACMA by Ilene Susan Fort, the museum's Gail and John Liebes Curator of American Art, the exhibition celebrates the museum's acquisition of Eakins's last great sporting painting, Wrestlers (1899)—one of the single most important American paintings acquired in the history of LACMA. Featuring around 60 oil paintings, drawings, watercolors, photographs, and sculpture by the great American master, the exhibition serves as a rare opportunity to examine for the first time the entire range of sporting images by this iconic American artist.

"Eakins considered the body amazingly beautiful and a remarkable mechanism of movement," said Fort. "In his images from the late nineteenth-century of the athletic figure in action, Eakins created a new modern American hero; the sportsman—who can still be admired today by athletes and sports enthusiasts, as well as connoisseurs of great art."

Manly Pursuits is organized chronologically, from the 1870s to 1899, and thematically by type of physical endeavor.

1870s: Rowing, Sailing, Hunting and Coaching
Eakins began his career by depicting one of the activities he had missed while a student in Paris: rowing. His native Philadelphia was instrumental in developing sculling into a modern competitive sport. Although sun and fresh air pervade these river scenes, Eakins recorded the races with the precision and mathematical interest of a scientist. On view with their related paintings will be the large-scale perspective drawings in which he calculated the position of boats, oars, waves and even reflections.

Eakins also sailed and hunted and was skillful with a rifle. After he contracted malaria while hunting in one of the local marshes, he abandoned participating in the sport, and transferred his interest, instead, to painting it.

His most colorful and impressionistic scene, Fairman Rogers' Four-in-Hand was the sole example Eakins devoted to the upper middle-class activity of coaching (the art of driving horse-drawn carriages). It also was perhaps his most controversial sporting canvas since in it he attempted to depict the movement of the horses and wheels with photographic accuracy—an impulse many critics found to be at odds with the art of painting.

1880s: Swimming and Photography
At the end of the nineteenth century, swimming was deemed one of the most democratic of sports, especially in the United States, where doctors encouraged urban dwellers to maintain a healthy body through exercise. Eakins devoted his sole sporting canvas of the 1880s to this subject. Swimming (1884-85) was also one of the major paintings in which he demonstrated his new interest in photography. On view will be photographs that helped Eakins compose the scene along with his scientific studies of human anatomy and posture and his experimental motion photographs.

1890s: Boxing and Wrestling
Eakins's last sporting images feature boxers and wrestlers and showcase the new indoor spectator sports that attracted the attention of middle and working-class enthusiasts. These paintings, some of which rank among the artist's largest canvases, are ironically among his least known endeavors in the sporting genre. Boxing and wrestling imagery was typically modest in scale and relegated to journalistic reports and advertising. But the substantial size of Eakins's depictions elevated the sport to a new level of importance and its athletes to a new heroic stature. Remarkably, the three canvas versions of the Wrestlers paintings (two of which now belong to LACMA) have not been seen together since they left the artist's studio over a century ago. The LACMA exhibition will historically reunite them. In addition, the wrestling paintings will be shown along with a group of related wrestling photographs that were recently discovered and have never before been exhibited.

Thomas Eakins (1844-1916)
Although Eakins is now considered one of the great masters of nineteenth-century American art, his work, surprisingly, has not been extensively exhibited on the West Coast. During his lifetime, the artist showed close to home, primarily in Philadelphia and nearby New York City. Not until the end of his life, in 1915, did he display on the West Coast, at the Panama- Pacific Exposition in San Francisco. After his death, Eakins's widow, in a concerted effort to sell some of the extensive oeuvre that remained in her possession, organized traveling exhibitions of his paintings. The 1927 West Coast tour of twenty-five paintings was the first and last showing of Eakins paintings in Los Angeles—until now.

Manly Pursuits enables the West Coast community to again experience Eakins's art in depth and demonstrates LACMA's unique role in Eakins studies.