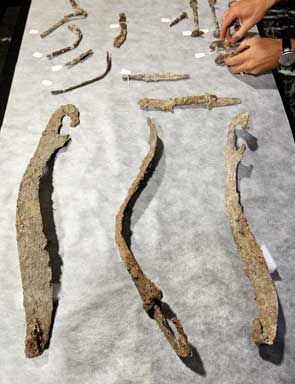 The fittings of an iberian door near three swords, several spears, the hilt of a shield and a knife, --all of them dated from 4th Century B.C. EPA/MANUEL BRUQUE.
VALENCIA.- The finding of a set of useful weapons for warriors from 2400 years ago in La Bastida de les Alcusses located in Moixent (Valencia) has confirmed this excavation as "the peninsular town of reference to study the Iberian period."

This has been assured by the delegate of the department of Culture of the Provincial Council of Valencia, Salvador Enguix, the director of the Museum of Prehistory of Valencia and co-director of the excavation campaign, Helena Bonet, and archaeologist and co-director of the excavation at La Bastide Alcusses, Jaime Vives-Ferrandiz, have presented at a press conference the details of the findings announced yesterday by the county.

Excavations have recovered over 60 iron objects in a small area of the western entrance to the village of La Bastida, including weapons, rods and nails belonging to the jamb of a door, the experts explained.

Archaeological excavations in the Iberian settlement of La Bastida de les Alcusses of Moixent have been indertaken this year in the West Gate. This entry to the town had already been excavated in 1998 but the evidence of the existence of an older entry at this point has led to the excavation this year.

In this set, stand out outfits - set of weapons and tools - for warriors located in the village. There are, Helena Bonet said, five sets of weapons, belonging to as many Iberian warriors from 2,400 years ago, which are the "most spectacular" find and enable to document "a unique ritual in Iberian Archaeology consisting of the intentional deposition of five complete sets of iron weapons, food offerings and ceramic vases, all burned together with wood and iron structures of the door and sealed under a layer of earth. "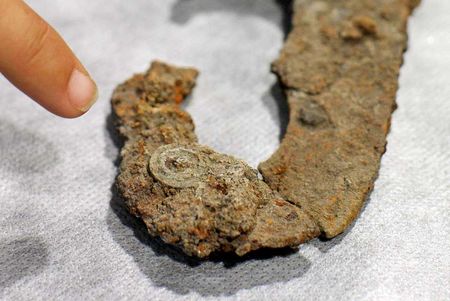 The hilt of an eagle-shaped sword dated from 4th Century B.C. and made of iron is pointed at by one one of the archaeologists working at an excavation in the site of La Bastida de les Alcusses in Moixent, Valencia, during its presentation at Archeological Museum of Valencia, Spain 28 July 2010. Five sets of iron weapons belonging to Iberian warriors, and dated from 4th B.C. were found at the site of Bastida de Les Alcusses two weeks ago and presented, among others, by director of Prehistory Museum of Valencia, Helena Bonet (not seen) on 28 July 2010. EPA/MANUEL BRUQUE.