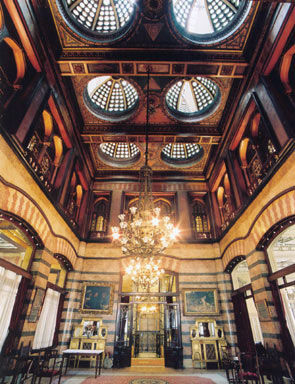 The main hall of Pera Palace in Istanbul, Turkey. AP Photo/Pera Palace.
ISTANBUL (AP).- It was the last stop on the Orient Express, a grand hotel with Istanbul's first electric elevator where artists and aristocrats sipped champagne beneath chandeliers as the Ottoman Empire dissolved and the world drifted toward war.

Mata Hari, accused of spying and executed in France in 1917, stayed at the Pera Palace Hotel. So did Greta Garbo, who played the shadowy dancer in a 1931 movie. Ernest Hemingway checked in to report on war between Turks and Greeks. Agatha Christie is said to have crafted "Murder on the Orient Express" in Room 411.

Then, like the empire it outlived, the hotel slid into decay.

On Sept. 1, the state-owned Pera Palace will reopen after a two-year restoration that cost 23 million euros ($30 million), seeking to capture the lost sparkle of what was one of Istanbul's most prominent landmarks. It is no longer the lone luxury hotel on a hill above the Golden Horn inlet. The former Ottoman capital teems with high-end accommodation, some in restored imperial mansions along the Bosporus Strait that divides the Asian and European continents.

Pinar Kartal Timer, general manager of the Pera Palace, believes fabled guests of the past will bestow new glory on the hotel, which held its opening ball in 1895.

"These people have left their traces in this hotel," Timer said in an interview in the 115-room hotel Wednesday. Major structural work and painting was complete, but the old ballroom was empty and the mother-of-pearl bookshelves had not been installed. Workers hammered, and layers of cardboard and plastic covered some balustrades and marble-floored passageways.

The Pera Palace mirrors the revival of the surrounding Beyoglu area, historically known as Pera, which comes from the Greek word for "beyond." It was nicknamed "Little Europe" in the late 19th century, an enclave of Greek and Armenian entrepreneurs, along with European diplomats and businessmen who imported luxury goods from capitals to the west.

Many local residents fled deadly unrest or moved to outlying areas, leaving neglected stone facades to brood in the narrow, trash-filled streets. In the last decade, shops and restaurants flooded the central neighborhood as economic fortunes and pride in Istanbul's heritage blossomed.

Mehmet Karaoren is a partner in an architectural firm that snapped up a dozen Pera buildings, restoring them and selling or renting the refitted apartments. In some years, the prices of their properties have doubled.

"In the beginning, this was a game for us. It became a business," said Karaoren, who sought inspiration for his restorations during travels to Paris, London and New York City.

A commission linked to Turkey's Culture Ministry bars changes that would taint the historical integrity of a structure, though allowances are made for reinforcement against earthquakes and the installation of elevators in tall buildings with dimly lit, winding staircases.

Business interests and a lack of political will have sometimes trumped the work of conservationists. Istanbul, home to relics and monuments from the Roman, Byzantine and Ottoman empires, is at risk of being placed on a list of endangered cultural treasures by UNESCO's World Heritage Committee. That would be a serious embarrassment since the European Union designated the city as its "cultural capital" this year.

David Michelmore, an international conservationist, said unrestored sections of old Pera were at risk of demolition, and he compared the area to London's Notting Hill district in the 1960s, a shabby area before its successful rehabilitation.

"It's not tourists mostly, it's Turkish people who are going there," Michelmore said. "Historic centers have a huge capacity for serving purposes of recreation and relaxation."

The original owner of the Pera Palace was Compagnie Internationale des Wagons-Lits, which operated the Orient Express luxury train line. A Turkish conglomerate, the Besiktas Group, now manages the hotel. It has a modern spa and an indoor pool, as well as new elevators to supplement the original wood and cast iron one.

The building is a mix of styles distinctive to 19th century Istanbul — neo-classical, art nouveau and oriental. Rooms have handwoven carpets and antique furniture mixed with the new. Sixteen are suites named after guests including Britain's King Edward VIII and Austro-Hungarian Emperor Franz Joseph I.

Basic room prices start at 185 euros ($240), excluding tax and breakfast, but go higher in peak season. Ahead of the September opening, they are 265 euros ($350).

Nobody will sleep in Room 101. Mustafa Kemal Ataturk, a former army officer who founded Turkey in 1923, once used it as a base. The room will house a museum of items belonging to Ataturk, including hats, slippers and dignitaries' gifts.

The hotel hosted spies as well as statesmen. Kim Philby, the British-Soviet double agent, was nearly unmasked in Istanbul, and the agent codenamed Cicero, valet to the British ambassador in Ankara, visited as he sold secret documents to German agents in World War II.

A witness to tumult, the Pera Palace became a target in 1941 when a bomb exploded at the entrance shortly after the arrival of a British diplomatic party from Bulgaria, which had sided with the Nazis. Several people died.

Hemingway drank at the hotel's Orient Bar in the early 1920s. In his story, "The Snows of Kilimanjaro," the main character, a writer, recalls a brawl over a woman with a British soldier in Istanbul. He slept with the woman that night:

"...and he left her before she was awake looking blousy enough in the first daylight and turned up at the Pera Palace with a black eye, carrying his coat because one sleeve was missing." By: Christopher Torchia, Associated Press Writer. Copyright 2010 The Associated Press.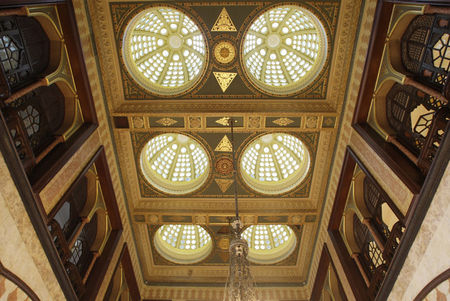 The ceiling of the main hall in Pera Palace hotel is seen, in Istanbul, Turkey, Friday, July 30, 2010. It was the last stop on the Orient Express, a grand hotel with Istanbul's first electric elevator where artists and aristocrats sipped champagne beneath chandeliers as the Ottoman Empire dissolved and the world drifted toward war. On Sept. 1, the Pera Palace will re-open after a two-year restoration that cost euro23 million ($30 million), seeking to capture the lost sparkle of what was one of Istanbul's most prominent landmarks. AP Photo/Ibrahim Usta