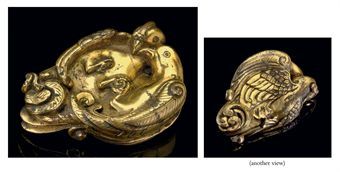 A very rare gilt-bronze bird-form weight. Tang dynasty (618-907). Photo: Christie´s Images Ltd 2010
Possibly a sleeve weight, finely cast as two birds nestling against one another, their claws and tail feathers interlocked and their wings overlapping on the reverse; 2 7/8 in. (7.3 cm.) long - Estimate $65,000 - $75,000
Provenance: L. Wannieck, Berlin.
W.W. Winkworth Collection, London.
The Fabbri Collection, Milan; Sotheby's, London, 10 June 1986, lot 36.
J.J. Lally & Co., New York.
Literature: R. Kleiner, Chinese Jades from the Collection of Alan and Simone Hartman, Hong Kong, 1996, no. 31 (detail).
Exhibited: Ausstellung Chinesischer Kunst, Berlin, January-April 1929, no. 93. Mostra d'Arte, Venice, 1954, no. 162.
J.J. Lally & Co., New York, May 1988, no. 28.
Christie's, New York, 13-26 March 2001.
Museum of Fine Arts, Boston, August 2003-December 2004.
Notes: This rare weight is similar to one from the Eumorfopoulos Collection and now in the British Museum, illustrated by O. Sirén, The History of Early Chinese Art, II, Han and Six Dynasties, Paris/Brussels, 1929, pl. 116 (b and c). One from the collection of Mrs. Walter Sedgwick was sold at Sotheby's, London, 2 July 1968, lot 30; and another was included in the exhibition, Ancient Chinese Bronze Vessels and Early Ceramics, Eskenazi Ltd., London, 13 June-14 July 1973, no. 20, where it was described as a sleeve weight.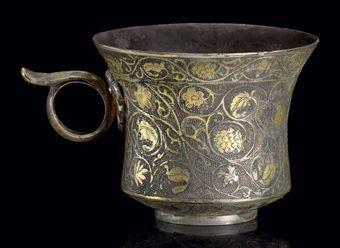 A rare small parcel-gilt silver cup. Tang dynasty (618-907). Photo: Christie´s Images Ltd 2010
Finely incised around the midsection with a continuous band of scrolling grape vine picked out in gilding and reserved on a ring-punched ground, repeated beneath the flared rim, with a single loop handle applied with two rivets, the whole raised on a short foot encircling a single flower head on the convex base; 2¼ in. (5.8 cm.) high - Estimate $20,000 - $30,000
Provenance: Isabel Mayer Oriental Antiques, late 1950s.
Notes: A smaller (4.5 cm.) Tang dynasty silver cup of closely related form, incised with a different style of floral scroll, from the Kempe Collection, was sold at Sotheby's, London, 14 May 2008, lot 43.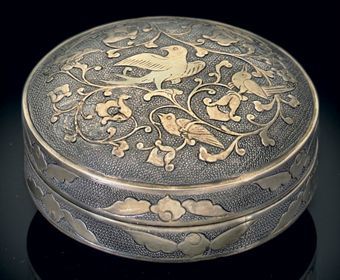 A small parcel-gilt silver box and cover. Tang dynasty (618-907). Photo: Christie´s Images Ltd 2010
Incised on both box and cover with five birds perched amidst a leafy floral scroll, the narrow sides incised with small billowy clouds, all with faint traces of gilding and reserved on the ring-punched ground; 1 15/16 in. (5 cm.) diam., box - Estimate $8,000 - $12,000
Provenance: Acquired in Europe, 15 March 1981.
Christie's. Fine Chinese Ceramics and Works of Art. 16 - 17 September 2010. New York, Rockefeller Plaza www.christies.com