1996 Aston Martin Sportsman Estate Car. Chassis no. 79007. Estimate: €400,000 - 500,000 © 2002-2010 Bonhams 1793 Ltd
Selection of Aston Martins spanning 40 years amongst top lots

After the success of last year's auction, Bonhams is pleased to announce the second sale of Fine Motor Cars and Automobilia at the 'Weekend de l'Excellence Automobile' held on the former site of the French Grand Prix circuit of Reims-Gueux on Saturday 11th September 2010.

Amidst the rich history of the site, the weekend event celebrates classic cars and motorcycles with Bonham's auction taking place amongst the spectacular demonstrations and aerial displays.
Very rare to the market is a highly desirable Aston Martin 'Sportsman' shooting brake. One of only two cars manufactured in 1996, and entirely hand manufactured in aluminium, this sought after model is estimated at €400,000- 500,000.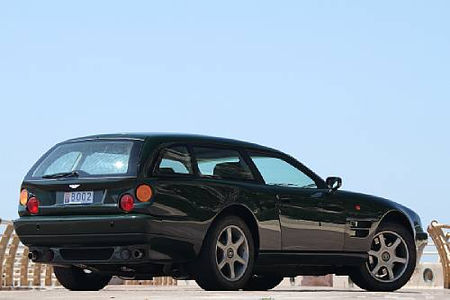 1996 Aston Martin Sportsman Estate Car. Chassis no. 79007. Estimate: €400,000 - 500,000 © 2002-2010 Bonhams 1793 Ltd
One of only two examples built
The car offered here is one of a pair ordered from the factory by two Swiss brothers in 1996, the other being '79008'. There had been 'estate' or 'shooting brake' conversions of Aston Martins in the past, most notably the seven DB6s built by coachbuilder Harold Radford and the three Virages converted at the factory in the early 1990s. This car however, is based on the Virage's successor – the V8 Coupé.
Launched at the International Motor Show, Birmingham, in October 1988, the Virage had restated its Aston Martin V8 forerunner's brawny looks in the modern idiom, contriving to be slightly narrower yet providing increased interior space. The car was still no lightweight, but with 330bhp on tap courtesy of the trusty V8 engine's new 32-valve top end, was good enough for a top speed approaching 160mph and a 0-60mph time of under seven seconds.
After spearheading the Aston Martin V8's transformation for the 1990s, the Virage name was dropped during 1994, its place as the 'standard' model being taken by a Vantage-style V8 Coupé. Introduced at the Geneva Salon in March 1996, the new V8 Coupé adopted all of the Vantage's muscular styling cues but retained the Virage's normally aspirated, 5.3-litre engine, which nevertheless had been extensively reworked and produced an extra 20 horsepower. The model formed part of the Aston Martin range for just three years and is one of the rarer members of the modern V8 family.
Both Sportsman estate cars left the factory as standard V8 Coupés in July 1996, were homologated and then returned to the factory to be modified as shooting brakes, the result looking much like the earlier Virage conversion but with the Coupé's obvious styling differences. The work was carried out by Aston Martin between September 1996 and December 1997.
In 1999 this example's engine was rebuilt by the factory at 9,263 kilometres (see accompanying correspondence) and then the car was sold to the current (second) owner. Subsequently upgraded with a satellite navigation system, '79007' has covered a total of about 20,000 kilometres from new and is offered fresh from routine servicing. A wonderful opportunity to acquire an extremely rare, limited edition Aston Martin combining practicality and high performance in equal measure. Exclusivity at it's pinnacle!
1996 Aston Martin Sportsman Estate Car. Chassis no. 79007. Estimate: €400,000 - 500,000 © 2002-2010 Bonhams 1793 Ltd
Un des deux seuls exemplaires construits

La voiture présentée ici est un des deux modèles commandés à l'usine en 1996 par deux frères suisses. On avait déjà connu des transformations d'Aston Martin en « break de chasse », notamment les sept DB6 construites par le carrossier Harold Radford et les trois Virage transformées par l'usine au début des années 1990. Mais cette voiture est construite sur la base de la remplaçante de la Virage, la V8 Coupé.

Lancée au Salon international de l'Automobile de Birmingham d'octobre 1988, la Virage avait reformulé la silhouette musclée de son ancêtre, l'Aston Martin V8, dans un langage plus moderne qui l'avait amincie tout en augmentant l'espace intérieur. La voiture n'avait pas été allégée pour autant, mais avec 330 bons chevaux délivrés par le fidèle V8 désormais coiffé de culasses à quatre soupapes par cylindre, elle frôlait les 260 km/h en accélérant de 0 à 100 km/h en moins de sept secondes.

Après avoir ouvert la voie à la transformation de l'Aston Martin V8 pour les années 1990, le nom de Virage fut abandonné en 1994 lorsque sa position de modèle « standard » fut occupée par la V8 Coupé style Vantage. Introduite au Salon de Genève de mars 1996, la nouvelle V8 Coupé adoptait tout les éléments du style musclé de la Vantage, mais conservait le moteur 5,3 litres atmosphérique qui avait d'ailleurs bénéficié d'une révision et gagné 20 ch Ce modèle, qui fit partie de la gamme Aston Martin pendant trois ans seulement, est donc un des membres les plus rares de la famille des V8 modernes.

Ces deux breaks Sportsman quittèrent l'usine sous la forme des V8 Coupé standard en juillet 1996, furent homologués et revinrent à l'usine pour être convertis en breaks de chasse qui apparurent assez semblables aux précédentes Vantage transformées, mais avec d'évidentes différences de style propres au modèle Coupé. Les travaux furent exécutés par Aston Martin entre septembre 1996 et décembre 1997.

En 1999, le moteur de cet exemplaire fut reconstruit par l'usine à 9 363 km (voir la correspondance présente au dossier) et la voiture fut vendue à son deuxième et actuel propriétaire. Améliorée par la suite avec l'installation d'un système de navigation par satellite, « 79007 » qui a parcouru au total environ 20 000 km depuis sa sortie d'usine vient juste de bénéficier d'un entretien normal. Une magnifique occasion d'acquérir une Aston Martin en édition extrêmement limitée alliant un caractère pratique aux performances les plus élevées : l'exclusivité au sommet !
One of the most famous cars in the world, a 1965 Aston Martin DB5 Vantage, is also one of the top lots. This beautifully presented car is one of only 17 left-hand drives manufactured to Vantage specification with a manual 5 speed transmission and has only had two previous owners. It is estimated at €300,000- 400,000.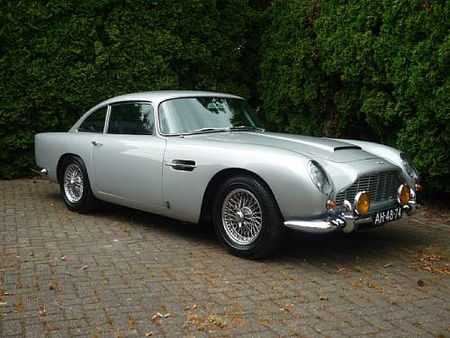 1965 Aston Martin DB5 Vantage Coupé. Chassis no. DB5/2217. Engine no. 400/2368/V. Estimate: €300,000 - 400,000
© 2002-2010 Bonhams 1793 Ltd
Like all classic GT cars, it combines enormous speed with comfort and the more you put into your driving, the more the car returns for your entertainment. And the DB5 really is entertaining to anyone who can exploit its outstanding performance, handling and brakes. It will also carry four people (just) and a fair amount of luggage so the merits of family transport (if need be) have not been entirely sacrificed to speed and elegant looks.' – Motor.
Aston Martin's post-war evolution took a giant step forward with the launch of the DB4 in 1958. Classically proportioned, the Touring-designed body established an instantly recognisable look that would stand the marque in good stead until 1970. The engine was still an all-alloy twin-overhead-camshaft 'six' but the old W O Bentley-designed 3.0-litre unit had been superseded by a new design by Tadek Marek. Proven in racing before it entered production in the DB4, the new 3,670cc engine featured 'square' bore and stroke dimensions of 92x92mm and developed its maximum power of 240bhp at 5,500rpm. The David Brown gearbox was a new four-speed all-synchromesh unit.
Touring's Superleggera body construction, which employed a lightweight tubular structure to support the aluminium-alloy body panels, was deemed incompatible with the DB2/4-type multi-tubular spaceframe, so engineer Harold Beach drew up an immensely-strong platform-type chassis. Independent front suspension was retained, the DB2/4's trailing links giving way to unequal-length wishbones, while at the rear the DB4 sported a live axle located by a Watts linkage instead of its predecessor's Panhard rod. Five series were built as the model gradually metamorphosed into the DB5, which thus represented a further evolution of the DB4 rather than the beginning of an entirely new model line.
Introduced in July 1963, the Aston Martin DB5 boasted a 4.0-litre engine, this enlarged unit having been seen first in the Lagonda Rapide of 1961. Equipped with three SU carburettors, the '400' engine produced 282bhp at 5,500rpm and was mated to a four-speed/overdrive gearbox, a 'proper' ZF five-speed unit being standardised later. Outwardly there was little to distinguish the DB5 from the final Series 5 DB4 apart from twin fuel filler caps, though these had already appeared on some cars. Beneath the skin however, there were numerous improvements including alternator electrics, Girling disc brakes instead of Dunlops, Sundym glass, electric windows and an oil pressure gauge as standard equipment. From September 1964 the 314bhp, triple-Weber Vantage engine became available and was fitted to a total of 95 cars. The DB5 was also offered in convertible form (the 'Volante' name would not be applied to the soft-top Aston until the DB6's arrival) while independent coachbuilder Harold Radford offered a shooting brake conversion. 1,021 DB5s were manufactured between July 1963 and September 1965, a total that included 23 convertibles and 12 shooting brakes.
This ultra-rare DB5 comes with a letter from Aston Martin company historian and archivist, the late Roger Stowers, confirming that it is one of only 17 left-hand drive examples completed with the Vantage engine. AML's accompanying build information lists the five-speed manual gearbox, chromed wire wheels, a Motorola radio, Fiamm horns and two Marchal fog lamps as original specification. The colour scheme is listed as Silver Birch with red Connolly leather interior.
Chassis number '2217' was delivered new to Portugal via Mocar, remaining with its original owner until 1991 when it was purchased from his widow by the current vendor. The car was restored in 1992, retaining the original interior, and has covered 76,419 kilometres from new (see restoration photographs on file).
Deux propriétaires depuis l'origine, une de 17 produites

« Comme toutes les GT classiques, elle joint le confort à la très haute vitesse et plus on la pilote, plus la voiture vous récompense. La DB5 est vraiment gratifiante pour quiconque est en mesure d'exploiter son extraordinaire capacité de performance, son comportement dynamique et son freinage. Elle accueille aussi quatre personnes (tout juste) et un honnête volume de bagages si bien que ses qualités de voiture familiale (si nécessaire) n'ont pas été entièrement sacrifiées à la vitesse pure et à l'élégance des lignes. » Motor.

L'évolution d'Aston Martin après la Seconde Guerre mondiale fit un pas de géant avec le lancement de la DB4 en 1958. Dotée de proportions classiques, la carrosserie signée Touring la dota d'une silhouette instantanément reconnaissable qui allait distinguer la marque jusqu'en 1970. Le moteur était toujours un six-cylindres double arbre en aluminium, mais l'ancien groupe trois litres de W. O. Bentley avait été remplacé par un nouveau moteur dû à Tadek Marek. Mis à l'épreuve en course avant son entrée en production sur la DB4, ce nouveau « six » de
3 670 cm3 affichait des cotes « carrées » (92 x 92 mm) et délivrait sa puissance maximale de 240 ch à 5 500 tr/min. La boîte David Brown était une nouvelle transmission entièrement synchronisée.

Le principe de construction de la carrosserie Superleggera de Touring, qui reposait sur une structure de petits tubes supportant les panneaux d'aluminium, étant jugé incompatible avec le châssis en treillis tubulaire de la DB2/4, l'ingénieur Harold Beach dessina une plate-forme d'une très grande robustesse. Les suspensions avant indépendantes furent conservées, mais les bras tirés de la DB2/4 furent remplacés par des triangles inégaux superposés, tandis qu'à l'arrière, la DB4 recevait un pont rigide oscillant guidé par un parallélogramme de Watt à la place de la barre Panhard du modèle précédent. Cinq séries furent produites alors que le type évoluait jusqu'à la DB5, celle-ci étant une ultime évolution de la DB4 plutôt que le point de départ d'une nouvelle famille de modèles.

Introduite en juillet 1963, l'Aston Martin DB5 bénéficiait d'un moteur porté à 4 litres qui avait déjà fait son apparition sur la Lagonda Rapide de 1961. Équipé de trois carburateurs SU, le moteur « 400 » qui donnait 282 ch à 5 500 tr/min était accouplé à une boîte à quatre vitesses plus une surmultipliée, une transmission ZF spéciale à cinq rapports standardisée par la suite. Extérieurement, il était difficile de distinguer la DB5 de l'ultime DB4 série 5 sinon par les deux orifices de remplissage qui avaient cependant déjà fait leur apparition sur certaines voitures. Invisibles, de nombreuses améliorations avaient été introduites dont un alternateur, des disques de frein Girling à la place des Dunlop, des vitres teintées Sundym, des glaces électriques et un manomètre de pression d'huile, tous ces équipements étant standard. À partir de septembre 1964, le moteur Vantage de 314 ch à trois carburateurs Weber proposé en option équipa 95 voitures. La DB5 fut également offerte en version décapotable (le vocable « Volante » ne désigna les Aston découvertes qu'à partir de la DB6), tandis que le carrossier indépendant Harold Radford proposait une transformation en break de chasse. De juillet 1963 à septembre 1965, AM produisit
1 021 DB5 dont 23 décapotables et 12 breaks.

Cette rarissime DB5 est accompagnée d'une lettre de l'historien et archiviste d'Aston Martin, le regretté Roger Stowers, qui confirme qu'il s'agit d'un des 17 exemplaires à conduite à gauche équipés du moteur Vantage. La fiche de fabrication jointe par AML mentionne le montage d'origine de la boîte manuelle à cinq vitesses, des roues fil chromées, de la radio Motorola, des avertisseurs Fiamm et des deux antibrouillards Marchal. Les teintes d'origine indiquées sont Silver Birch (argent) avec intérieur en cuir rouge Connolly.
Le châssis n° 2217 livré neuf au Portugal par l'intermédiaire de 'MOCAR' resta aux mains de son premier propriétaire jusqu'en 1991, date de la cession par sa veuve à l'actuel vendeur. Restaurée en 1992, la voiture qui a conservé son intérieur rouge d'origine a parcouru au total 76 419 km. (Dossier de photos de sa restauration disponible).
A 1957 DB2/4 MKII Drophead Coupe, estimated at €140,000- 180,000, represents a fantastic opportunity to acquire one of the rarest post-war Aston Martin models, which was created to cater for 'sports car enthusiasts with a family'. This particular car with full ownership history was the last to be completed on the DB2/4 MKII chassis and has been used on several long European tours where it has always performed faultlessly.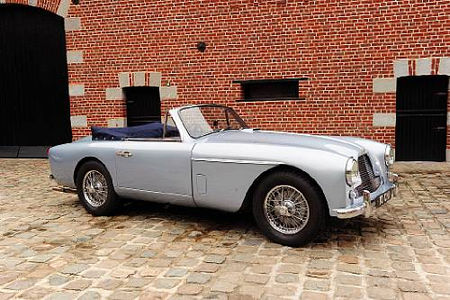 1957 Aston Martin DB2/4 MKII Drophead Coupé. Coachwork by Tickford. Chassis no. AM300/1281. Engine no. VB6J/900. Estimate: €140,000 - 180,000 © 2002-2010 Bonhams 1793 Ltd
'The Aston Martin DB2/4 is an expensive car designed to cater for the connoisseur of sports cars who is not limited by financial considerations.' - Autocar, 2nd October 1953.
With the introduction of the '2+2' DB2/4 in October 1953, Aston Martin extended the DB2's appeal to the hitherto untapped yet increasingly important market comprised of 'sports car enthusiasts with a family'. Modifications to the rear of the chassis plus a reduction in fuel tank capacity from 19 to 17 gallons liberated sufficient space within the existing design for two child-sized occasional rear seats. Alternatively, the rear seat backs could be folded down, thus creating a load-carrying platform that more than doubled the luggage space. The latter could be accessed via the 2/4's opening rear door, a pioneering example of the now commonplace 'hatchback' concept.
'This transformation gives the Aston Martin DB2/4 an unrivalled luggage-carrying capacity in a car which should be capable in favourable circumstances of achieving two miles a minute,' reported The Motor. 'The DB2/4 can truthfully claim to be the fastest car in the world capable of carrying two people with a month's luggage.'
Standard specification included the 2.6-litre 'VB6E' engine in 125bhp Vantage tune, but from early in 1954 the 3-litre 140bhp 'VB6J' engine was installed, providing 118mph top speed and 60mph in around 11 seconds. This was one of the fastest cars then built in Great Britain - with l00mph achievable in third gear and around 120mph maximum - possessing impeccable handling plus a level of comfort rare in any high-performance car.
David Brown's acquisition of Tickford Ltd in 1953 led to bodywork for the revised DB2/4 MkII being manufactured by the Newport Pagnell coachbuilder. Mechanically the same as the MkI, the MkII was identifiable by its subtly altered lines, the most significant change being a ¾" increase in roof height that afforded greater headroom.
Only 24 or 25 drophead coupés were constructed on the DB2/4 MkII chassis, the example offered here, 'AM300/1281' being the last completed. Delivered new in January 1957 and registered '10 CPD', the car was first owned by F & W Ingham Limited, of New Bond Street, London W1. In 1969 the Aston passed to its second owner, one C A Simmonds, remaining with the latter until 1991 when it was acquired by Dr A Isaakoglau. The fourth owner, A Visser, purchased the Aston in 2001, and the fifth, E Brumenil, in 2004. The current vendor acquired the car in 2006.
In 1987 '1281' was treated to renovation of the chassis, front suspension and steering, the work being undertaken by franchised Aston Martin dealers Stratton Motor Company, in Norfolk. The car underwent further extensive restoration by Paul Michaels at Hexagon of Highgate in the early 1990s, while in 2001 minor paintwork blemishes were attended to and a complete new clutch assembly fitted.
Regularly maintained, with no expense spared, while in the current vendor's care, the car benefits from recent works that include installing a Kenlowe electric cooling fan and fitting a new radiator core (sourced from the UK), shock absorbers, suspension bushes, brakes, tonneau cover, hood and hood bag. Most of this work was carried out by M B Motors 'Classic Car Service' in Courtrai, Belgium.
The Aston has been used for several long tours from Belgium including trips to northern Italy, Sicily, the South of France and Wales, and has always performed faultlessly. Offered with copy build sheets, Belgian Carte Grise and full Contrôle Technique, '1268' represents a wonderful opportunity to acquire one of the rarest of post-war Aston Martin models, possessing complete ownership history from new. (Prospective purchasers should note that there is no UK V5 registration document with the car and it is not known whether the registration '10 CPD' is retrievable).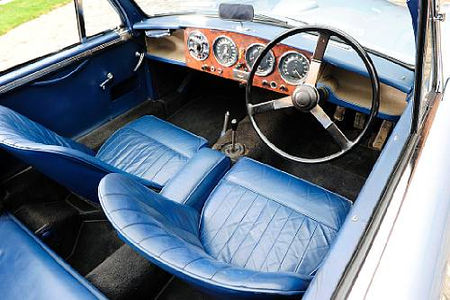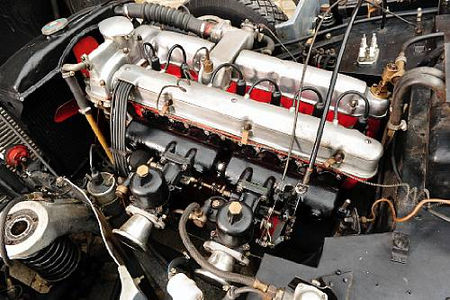 1957 Aston Martin DB2/4 MKII Drophead Coupé. Coachwork by Tickford. Chassis no. AM300/1281. Engine no. VB6J/900. Estimate: €140,000 - 180,000 © 2002-2010 Bonhams 1793 Ltd
« L'Aston Martin DB2/4 est une voiture chère, destinée à satisfaire l'amateur de voitures de sport en dehors de toute considération financière. » Autocar du 2 octobre 1953.

En présentant la DB2/4 2+2 en octobre 1953, Aston Martin élargit la clientèle potentielle de la DB2 au marché jusque-là inexploité, mais en constante augmentation, constitué par « les amateurs de voitures de sport avec famille ». Quelques modifications introduites à l'arrière du châssis et une réduction de la capacité du réservoir de 86 à 77 litres permirent de dégager assez d'espace dans le volume existant pour y loger deux sièges d'appoint capables d'accueillir des enfants. Autre possibilité, le rabattement des dossiers des sièges arrière offrait un espace de chargement qui faisait plus que doubler la capacité du coffre à bagages désormais rendu accessible de l'extérieur par un nouvel ouvrant arrière précurseur du concept de la berline à hayon.

« Cette transformation, » écrivit The Motor, « donne à l'Aston Martin DB2/4 une capacité de bagages exceptionnelle pour une voiture capable, quand les circonstances le permettent, d'atteindre une vitesse de 190 km/h. La DB2/4 peut parfaitement revendiquer le titre de plus rapide voiture du monde susceptible de transporter deux personnes et un mois de bagages. »

Les spécifications standard comprenaient le moteur « VB6E » 2,6 litres en version Vantage de 125 ch, mais au début de 1954 la DB2/4 reçut le trois-litres « VB6J » de 140 ch pour atteindre 190 km/h en pointe et accélérer de 0 à 100 km/h en 11 secondes. Il s'agissait d'une des voitures les plus rapides produites en Grande-Bretagne à l'époque, capable de monter à 160 km/h en troisième et de plafonner à environ 190 km/h, avec un comportement dynamique impeccable et un niveau de confort rarement offert par un modèle aussi performant.

L'acquisition de la firme Tickford Ltd par David Brown en 1953 permit de faire exécuter la carrosserie révisée de la DB2/4 MkII par la maison de Newport Pagnell. Identique du point de vue mécanique à la MkI, la MkII était caractérisée par ses lignes subtilement retouchées, le changement le plus important concernant le rehaussement de 22 mm de la ligne du toit avec un gain corrélatif de hauteur intérieure.

Seuls, 24 ou 25 cabriolets furent construits sur le châssis DB2/4 MkII, la voiture présentée ici, « AM300/1281, étant la dernière de cette série. Livrée neuve en janvier 1957 et immatriculée « 10 CPD », la voiture fut d'abord la propriété de F & W Ingham Limited de New Bond Street, Londres SW1. En 1969, elle fut acquise par son deuxième propriétaire, un certain C A Simmonds qui la conserva jusqu'en 1991, date à laquelle elle fut achetée par le Dr A Isaakoglau. Le quatrième propriétaire, A. Visser, l'acquit en 2001 et le cinquième, E. Brumenil, en 2004. Le vendeur actuel l'acheta en 2006.

En 1987, « 1281 » fut rénovée au niveau du châssis, de la suspension avant et de la direction par les agents franchisés Aston Martin Stratton Motor Company dans le Norfolk. La voiture bénéficia au début des années 1990 d'autres importantes opérations de remise en état effectuées par Paul Michaels d'Hexagon à Highgate et, en 2001, de petites retouches de peinture furent exécutées en même temps que le montage d'un embrayage complet neuf.

Régulièrement entretenue sans considération de coût par le vendeur actuel, la voiture a récemment fait l'objet de travaux dont le montage d'un ventilateur électrique Kenlow et le remplacement du faisceau du radiateur (d'origine britannique), des amortisseurs, des bagues de suspension, des freins, du couvre-tonneau, de la capote et de sa housse. La majeure partie de ces travaux a été effectuée par M B Motors Classic Car Service à Courtrai (Belgique).

A partir de la Belgique, cette Aston Martin a effectué plusieurs grands voyages vers l'Italie du Nord, la Sicile, le sud de la France et le pays de Galles en fonctionnant parfaitement. Proposée avec une copie des fiches de fabrication, sa carte grise belge et son contrôle technique, « 1281 » représente une excellente occasion d'acquérir une Aston Martin d'après guerre comptée parmi les plus rares, accompagnée d'un historique complet depuis sa sortie d'usine. (Les acheteurs potentiels noteront qu'elle ne possède pas de document d'immatriculation britannique V5 et que l'on ignore si le numéro « 10 CPD » est récupérable.)
A further highlight is a 1986 Aston Martin Volante, described by former Chairman Victor Gauntlett as, 'a stylish thoroughbred, beautifully built, luxurious, fast and immensely safe,' the V8 was built in several variants, one of the more exclusive being the Volante convertible which was also ranked as one of the world's fasted convertibles. It is estimated at €75,000- 100,000.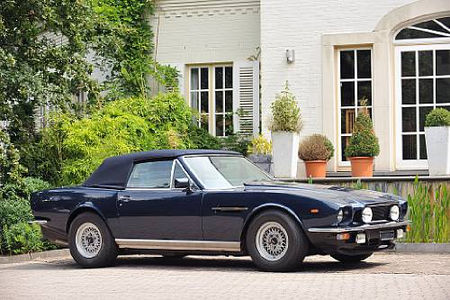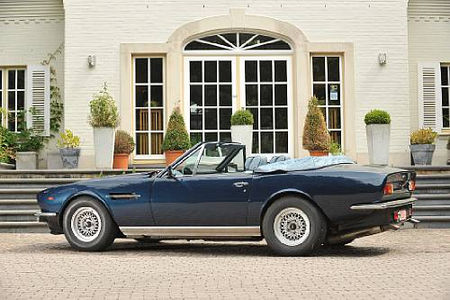 1986 Aston Martin V8 Volante. Chassis no. SCFCV81C6GTR15493. Estimate: €75,000 - 100,000 © 2002-2010 Bonhams 1793 Ltd
It's not by any means the world's most expensive drophead in production (the Corniche costs an extra £23,000) nor is it quite the quickest, though a Porsche Cabrio would have to be very well driven to get away from it, but the Aston Martin Volante is perhaps the greatest. It is a true sports car which is also luxuriously comfortable.' - Fast Lane.
Aston Martin had always intended the DBS to house its new V8 engine, but production difficulties meant that the car first appeared with the DB6's 4.0-litre six. Bigger and more luxuriously appointed than the DB6, the heavyweight DBS disappointed some by virtue of its slightly reduced performance, but there were no complaints when the V8 finally arrived in 1969. With an estimated 315bhp available from its 5,340cc four-cam motor, the DBS V8 could reach 100mph in under 14 seconds, running on to a top speed of 160mph, a staggering performance in those days and one which fully justified the claim that it was the fastest production car in the world.
After Aston Martin's acquisition by Company Developments in 1972, production resumed with the Series 2, now known as the Aston Martin V8 and distinguishable by a restyled front end recalling the looks of earlier Astons. The most successful Aston Martin ever, the V8 survived the changes of ownership and financial upheavals of the 1970s, enjoying a record-breaking production run lasting from 1969 to 1988, with 2,919 cars sold.
Described by former Aston Martin Chairman Victor Gauntlett as, 'a stylish thoroughbred, beautifully built, luxurious, fast and immensely safe,' the V8 was built in several variants, one of the more exclusive being the Volante convertible. Introduced in response to customers' demands for such a car, the Volante first appeared in June 1978. Arguably the ultimate in soft-top luxury, the newcomer boasted a lined, power-operated hood which, when erected, endowed the walnut embellished interior with all the solidity and refinement associated with the saloon version. Although its open-car aerodynamics meant that top speed suffered with the hood down, the Volante's 150mph maximum nevertheless ranked it among the world's fastest convertibles.
In January 1986 original, carburettor-equipped Volante was superseded by the Weber fuel-injected Series 2 version. The latter is one of the rarer and more exclusive V8s, only 172 being built against the 438 of the preceding model. V8 Volante and Vantage Volante chassis numbers ran from '15001' to '15849', a total of 849 cars.
Finished in dark blue with dark blue-piped light blue interior, this Series 2 Volante currently displays a total of 27,798 kilometres on the odometer and is offered with numerous invoices and cancelled Swiss registration documents. Duty will be liable if the car remains within the EU.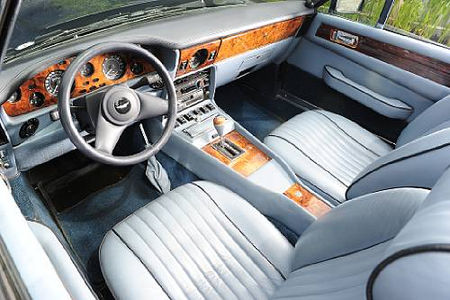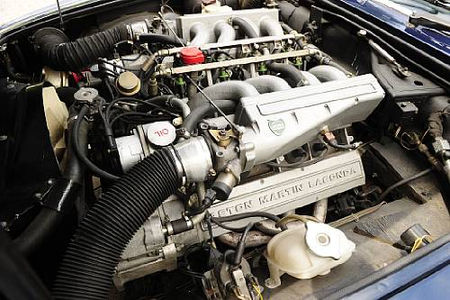 1986 Aston Martin V8 Volante. Chassis no. SCFCV81C6GTR15493. Estimate: €75,000 - 100,000 © 2002-2010 Bonhams 1793 Ltd
« Ce n'est sûrement pas le cabriolet de production le plus cher du monde (la Corniche coûte 23 000 livres de plus), ni le plus rapide - un pilote de Porsche Cabrio devra pourtant cravacher pour la semer -, mais l'Aston Martin Volante est probablement la plus grande. C'est une vraie sportive qui offre aussi un confort luxueux. » Fast Lane.

Aston Martin avait toujours eu l'intention de doter la DBS de son nouveau moteur V8, mais des problèmes de mise en production expliquent que la voiture fit son apparition avec le six-cylindres 4 litres de la DB6. Plus grande et plus luxueusement équipée que celle-ci, la lourde DBS déçut quelque peu en raison de ses performances légèrement inférieures, mais les critiques s'éteignirent lors de l'arrivée du V8 en 1969. Avec une puissance estimée à 315 ch obtenue de son moteur à 4 ACT de 5 340 cm3, la DBS V8 pouvait atteindre 160 km/h en moins de 14 secondes et accélérer jusqu'à sa vitesse maximale de 260 km/h environ, une performance exceptionnelle à cette époque suffisant à justifier sa revendication du titre de plus rapide voiture de production du monde.

Après le rachat d'Aston Martin par Company Developments en 1972, la production reprit avec la série 2 appelée aussi Aston Martin V8, caractérisée par une retouche de la face avant rappelant les premières DB. La V8, la plus diffusée de toutes les Aston Martin, survécut aux changements de propriétaires et aux tempêtes financières des années 1970 pour connaître de 1969 à 1988 une durée de production et un volume de vente record de 2 919 unités.

Décrite par l'ancien président d'Aston Martin Victor Gauntlett comme un « pur sang élégant, magnifiquement construit, luxueux, rapide et immensément sûr », la V8 fut produite en diverses versions dont la plus exclusive fut la décapotable Volante. Introduite en réponse aux demandes de la clientèle en faveur d'une voiture de ce type, la Volante fit sa première apparition en juin 1978. Probablement au sommet du luxe en matière de cabriolet, la nouvelle Aston offrait une capote doublée à manœuvre électrique qui, une fois fermée, conférait à l'habitacle enrichi de placages en ronce de noyer toute la protection et tout le raffinement du coupé. Malgré la détérioration de son aérodynamique et une diminution de sa vitesse de pointe une fois la capote abaissée, les 240 km/h de la Volante la rangeaient toujours parmi les cabriolets les plus rapides du monde.

En janvier 1986, la Volante originale à carburateurs fit place à la série 2 à injection Weber. Celle-ci est une des V8 les plus rares et les plus exclusives avec 172 unités seulement contre 438 pour le modèle précédent. Les numéros de châssis des V8 Volante et Vantage Volante vont de 15001 à 15849, soit un total de 849 voitures.

Peinte en bleu foncé avec intérieur de même teinte et passepoil bleu clair, cette Volante série 2 qui affiche actuellement un kilométrage de 27 798 km est accompagnée de nombreuses factures et de documents de circulation suisses périmés. (Son acquéreur devra acquitter les droits et taxes en vigueur si la voiture demeure sur le territoire de la CE).
Bonhams is also delighted to present an as new 2001 Ferrari 550 Barchetta Pininfarina estimated at €125,000 – 175,000. To mark the world renowned Carrozzeria's 70th Anniversary in 2000, Ferrari supremo Luca di Montezemolo invited Sergio Pininfarina to submit designs for a front-engined roadster embodying the spirit of past Ferrari Maranello classics. Choosing the 550 Maranello coupe as the basis, the maestro proposed a return to the traditional barchetta style.

Only 448 cars were manufactured, each individually numbered and carrying a plaque inside with its own serial number and Sergio Pininfarina's signature. The result was an instant classic, with production reserved for a handful of faithful Ferrari clients including the owner of this immaculate example, the 264th produced.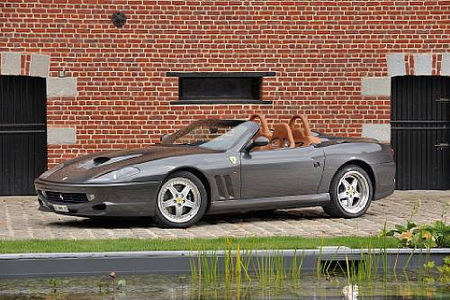 2001 Ferrari 550 Barchetta. Coachwork by Pininfarina. Chassis no. 124242. Estimate €125,000 - 175,000 © 2002-2010 Bonhams 1793 Ltd © 2002-2010 Bonhams 1793 Ltd
'The 550 Barchetta Pininfarina was designed to recall the glories of successful road racers of the past, such as the 166MM, and thoroughbred front-engined 12-cylinder Ferrari roadsters of the calibre of the 250GT California and 365GTS/4 Daytona. Ferrari has always created very special runs of cars, and the 550 Barchetta Pininfarina was developed with the aim of being a unique Ferrari - one that deliberately seeks to be more provocative and less rational than the rest of the range.' - Ferrari.
The long association between Ferrari and Pininfarina has been responsible for the creation of some of the most sublime fusions of art and automotive technology, and to mark the world renowned Carrozzeria's 70th Anniversary in 2000, Ferrari supremo Luca di Montezemolo invited Sergio Pininfarina to submit designs for a front-engined roadster embodying the spirit of past Maranello classics. Choosing the 550 Maranello coupe as the basis, the maestro proposed a return to the traditional barchetta style.
In Ferrari's own words: 'Functional and unadorned with a simple manual soft-top, the barchetta-style solution has enabled Ferrari's engineers to offset the additional weight gained by reinforcing the chassis and fitting rear roll bars. Consequently the 550 Barchetta Pininfarina weighs no more than the 500 Maranello.'
The heart of any Ferrari is its engine, and the Barchetta Pininfarina's 48-valve, 5.5-litre V12 is the same as that of the 550 Maranello, developing 485bhp at 7,000rpm. All main engine castings of this state-of-the-art power unit are in light alloy, the aluminium wet liners are Nikasil coated and the connecting rods are titanium alloy. The design of the inlet and exhaust systems is derived directly from that of Ferrari's Formula 1 engines, providing the optimum balance between volumetric and combustion efficiency. Variable intake geometry helps increase both torque and maximum power as its manufacturer explains: 'Ferrari's patented system incorporates a third plenum in the intake manifold which varies the fluid dynamic characteristics. Air is taken in via 12 electro-pneumatic throttle valves which are governed by the engine's CPU. This control ensures optimum performance at all engine speeds, guaranteeing excellent torque delivery throughout the rev range.' One expects nothing less from Ferrari.
The production run was limited to just 448 cars, each individually numbered and carrying a plaque inside with its own serial number and Sergio Pininfarina's signature. The result was an instant classic, with production reserved for a handful of faithful Ferraristi including the owner of this immaculate example, the 264th produced. Delivered new in Paris on 26th October 2001, the car was ordered to this particular specification – including special order paint in 'gunmetal grey' and carbon fibre interior fittings – after its owner had visited the factory. Maintenance has included fitting four new tyres in 2007 and a full major Ferrari service at 7,173 kilometres in August 2009, when the cam belts were changed. Presented in effectively 'as new' condition, this most exclusive modern Ferrari is only being sold due to lack of use and restructuring of the owner's collection.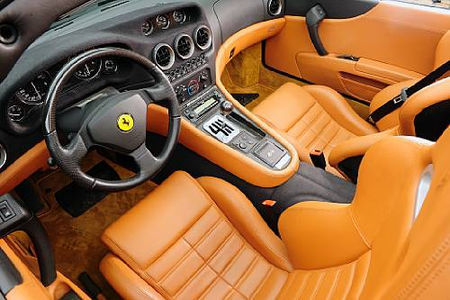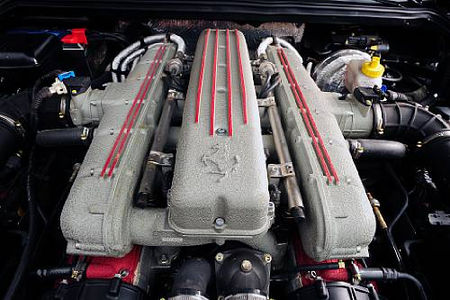 2001 Ferrari 550 Barchetta. Coachwork by Pininfarina. Chassis no. 124242. Estimate €125,000 - 175,000 © 2002-2010 Bonhams 1793 Ltd © 2002-2010 Bonhams 1793 Ltd
Numéro 264 sur 448 unités produites

« La Ferrari 550 Barchetta Pininfarina a été conçue pour rappeler les prestigieux succès des routières de compétition Ferrari de jadis telles que la 166 MM et les roadsters douze-cylindres à moteur avant du style de la 250 GT California et de la 365 GTS/4 Daytona. Ferrari a toujours créé des séries spéciales de modèles et la 550 Barchetta Pininfarina a été développée en tant que Ferrari unique en son genre, délibérément voulue plus provocante et moins rationnelle que le reste de la gamme. » Ferrari.

La longue association Ferrari-Pininfarina a été à l'origine de la création de quelques-unes des plus sublimes rencontres entre l'art et la technologie automobile et afin de marquer le 70e anniversaire de la Carrozzeria de réputation mondiale, en 2000, le grand patron de Ferrari, Luca di Montezemolo, invita Sergio Pininfarina à lui soumettre des projets de roadster à moteur avant évoquant précisément l'esprit des classiques de jadis de Maranello. Choisissant comme point de départ le coupé 550 Maranello, le maestro proposa un retour au style traditionnel de la barchetta.

Selon les propres termes de Ferrari : « Fonctionnelle et sans fioritures, dotée d'une simple capote manuelle, le choix du style barchetta permit aux ingénieurs de Ferrari de résoudre le problème de l'alourdissement du châssis dû au renforcement et au montage de barres anti-dévers arrière. En conséquence, la Ferrari 550 Barchetta Pininfarina n'est pas plus lourde que la 550 Maranello. »

Le cœur de toute Ferrari est son moteur et le V12 de 5,5 litres à 48 soupapes de la Barchetta Pininfarina identique à celui de la 550 Maranello développe 485 ch à 7 000 tr/min. Tous les carters principaux de ce groupe d'avant-garde sont en alliage léger, les chemises humides également en alliage léger sont revêtues de Nikasil et les bielles sont en alliage de titane. La conception des systèmes d'admission et d'échappement qui découle directement de celle des moteurs Ferrari de Formule 1 combine de façon optimale les rendements volumétrique et de la combustion. Une admission à géométrie variable améliore à la fois le couple et la puissance maximale comme l'explique le constructeur : « Le système breveté Ferrari comporte une troisième chambre de tranquillisation dans la tubulure d'admission qui fait varier les caractéristiques dynamiques des gaz. L'air est admis par 12 valves électro-pneumatiques contrôlées par l'unité centrale de gestion du moteur. Ce contrôle garantit des performances optimales à tous les régimes et la délivrance régulière du couple sur l'ensemble de la plage de régimes. » On n'en attendait pas moins de Ferrari.

La production se limita à 448 voitures seulement, toutes numérotées et munies d'une plaque à l'intérieur portant le numéro de série et la signature de Sergio Pininfarina, ce qui en fit immédiatement des classiques, la production étant réservée à une poignée de fidèles de la Marque dont le propriétaire de cet exemplaire immaculé, le n° 264. Livrée neuve à Paris le 26 octobre 2001, la voiture avait été commandée selon des spécifications spéciales - dont sa couleur « gris canon de fusil » et des garnitures intérieures en fibre de carbone – après une visite du propriétaire à l'usine. L'entretien a porté sur le montage de quatre pneus neufs en 2007 et une révision complète par Ferrari à 7 173 km en août 2009 avec changement des courroies de distribution. Présentée dans un état réellement « comme neuf », cette Ferrari moderne des plus exclusives est proposée à la vente en raison d'une insuffisance d'utilisation et de la restructuration de la collection du propriétaire.

Bonhams. Automobiles de Collection, 11 Sep 2010. Week-End de l'Excellence Automobile Reims Circuit de Gueux en Champagne www.bonhams.com