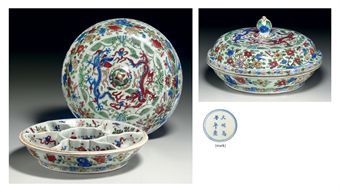 A rare wucai sweetmeat box and cover. Wanli six-character mark in underglaze blue within a double-circle and of the period (1573-1619). photo Christie's Ltd 2010
The domed cover painted around the bud-form finial with opposed dragons in underglaze blue and iron red chasing flaming pearls amidst crashing waves rendered in green enamel, above a band of flowers and rockwork repeated on the box, the interior divided into seven lobed compartments forming a large flowerhead and painted en suite with butterflies amidst flowers and rockwork, the whole raised on a short foot encircled by a band of key fret beneath a lappet border; 9 5/16 in. (23.6 cm.) diam. - Estimate $80,000 - $100,000
Exhibited: Selections from the William and Winifred Corbin Collection of Chinese Pottery and Porcelain, Portland Art Museum, 1 - 29 March 1964, no. 43.
Notes: This rare wucai box and cover demonstrates the exuberance of color and design seen among imperial polychrome porcelains in the Wanli period. The balance between the underglaze blue and the red, green and yellow enamels is used to good effect, producing a design that is at once harmonious and lively.

The interior of the box is particularly attractive, and is divided into S-shaped compartments suggestive of a six-petalled flower radiating from a central lobed compartment. The use of S-shaped petals to suggest floral forms on ceramics is evident as early as the Northern Song dynasty, and can be seen on a Ruyao cup stand in the collection of the Percival David Foundation. See R. Scott, Imperial Taste - Chinese Ceramics from the Percival David Foundation, San Francisco, 1989, p. 37, no. 13.

Round boxes of this type with bud-shaped finials found considerable favor in the Wanli reign, and a very similar box and cover is in the collection of the Idemitsu Museum of Arts, Tokyo, illustrated in In Pursuit of the Dragon - Traditions and Transitions in Ming Ceramics, Seattle, 1988, p. 131, no. 64. A blue and white example of this form, although with slightly different decoration, is illustrated ibid., p. 130, no. 63. Another wucai box of similar form, but with a single register of phoenix and dragon on the cover, is in the collection of the Tokyo National Museum, illustrated in Imperial Overglaze-Enamelled Wares in the Late Ming Dynasty, Museum of Oriental Ceramics, Osaka, 1995, p. 23, no. 30. A third wucai box and cover of this form and decoration is illustrated in Sekai Toji Zenshu - 14 - Ming Dynasty Tokyo, 1976, p. 107, no. 109.

See, also, the Wanli-marked wucai box and cover of the same form, although painted with scholars in underglaze blue, sold in our Hong Kong rooms, 31 May 2010, lot 1992.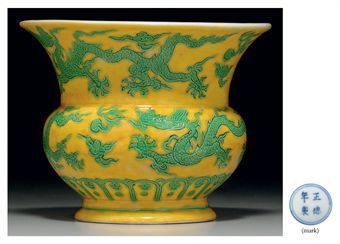 A rare yellow and green-glazed zhadou. Zhengde four-character mark in underglaze blue within a double circle, and possibly of the period . photo Christie's Ltd 2010
With compressed globular body and broad trumpet-shaped neck, incised all over with five-clawed dragons striding amidst clouds in pursuit of flaming pearls, all above a border of lotus lappets rising from the flared foot, and all glazed green in contrast to the mustard yellow-ground; 4 1/8 in. (10.5 cm.) high, box - Estimate $60,000 - $80,000
Provenance: Mrs. E. Vane Collection; Sotheby's, London, 16 May 1967, lot 100.
Notes: This zhadou is similar to other Zhengde mark and period examples, a number of which have been published: in Sekai toji zenshu, vol. 14, Ming Dynasty, Tokyo, 1976, pl. 172; by Liu Liang-yu, A Survey of Chinese Ceramics - 4 - Ming Official Wares, Taiwan, 1991, p. 178; by J. Ayers, Chinese Ceramics in the Baur Collection, vol. I, Geneva, 1999, p. 123, no. 70 (A150); by J. Harrison-Hall, Ming Ceramics in the British Museum, London, 2001, p. 208, no. 8:32; and one in the Percival David Foundation, by M. Medley, Illustrated Catalogue of Ming Polychrome Wares, London, 1978, pl. IV, no. 33.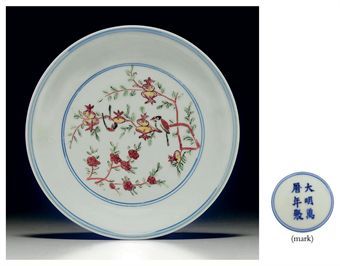 A rare small wucai dish. Wanli six-character mark in underglaze blue within a double circle and of the period (1573-1619). photo Christie's Ltd 2010
Painted on the interior with two birds perched in the branches of a fruiting pomegranate tree above branches of red roses, the reverse painted in underglaze blue with two chilong grasping leafy lingzhi sprays, all within double blue line borders; 4 7/8 in. (12.4 cm.) diam., Japanese wood box - Estimate $6,000 - $8,000
Provenance: The Yousaian Collection, Japan.
Notes: For a nearly identical dish, of slightly larger size, see the example in the Kwan Collection illustrated in Joined Colors: Decoration and Meaning in Chinese Porcelain: Ceramics from Collectors in the Min Chiu Society, Hong Kong/Washington DC, 1993, p. 108, no. 36.
Christie's Fine Chinese Ceramics and Works of Art, 16 - 17 September 2010, New York www.christies.com