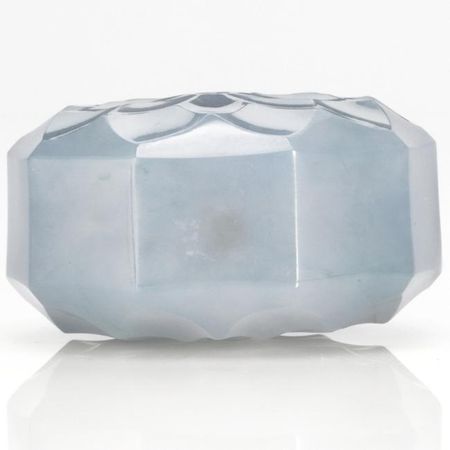 A faceted blue jadeite snuff bottle. 1780-1830. Imperial, attributed to the Palace workshops, Beijing. photo courtesy Sotheby's
superbly hollowed, of faceted decagonal form and generous section, rising to a cylindrical neck, supported on a flat foot, crisply carved on each face with a flowerhead comprised of two tiers of concave petals radiating from a central heart, the stone of icy semi-translucent blue-gray color with very faint green inclusions; height 2 1/4 in., 5.7 cm. Estimate 30,000—50,000 USD - Lot Sold 22,500 USD
NOTE: The present bottle belongs to a group made for the Court which appear to have been made in the latter half of the 18th century. A similar one was included among Bob C. Stevens' favorites, in his book The Collectors Book of Snuff Bottles, New York and Tokyo, 1976, no. 1009.
Three similar examples, one of which is the aforementioned Stevens bottle, were sold in our Hong Kong rooms as part of The Collection of Eric Young, 2nd May 1991, lots 1222, 1223, and 1228.
This design is also found on snuff bottles of other media. An agate example and a rock crystal bottle are in the collection of The Victoria & Albert Museum, illustrated in Helen White, Snuff Bottles from China: The Victoria & Albert Museum Collection, London, 1992, p. 70, no. 1 (for the agate), and p. 98, nos. 2-3 (for the rock crystal).
Sotheby's. The Joe Grimberg Collection of Chinese Snuff Bottles, 14 Sep 10, New York www.sothebys.com