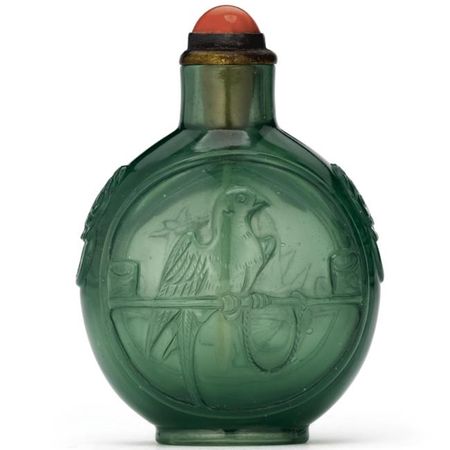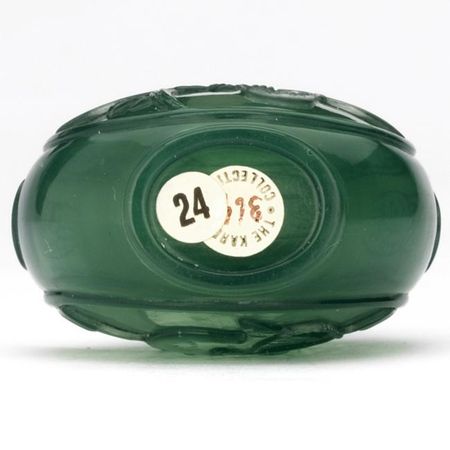 A carved green glass snuff bottle, 1750-1820. Imperial, attributed to the Palace workshops, Beijing. photo courtesy Sotheby's
of rounded form, the transparent green glass carved in low relief on each face with a recessed circular panel, carved on one side with a parrot chained to a perch, the reverse with a parrot swinging from a perch, flanked by mock mask and ring handles on the shoulders; height 2 1/4 in., 5.7 cm - Estimate 8,000—12,000 USD. Lot Sold 17,500 US
PROVENANCE: Collection of Arthur Loveless.
Kardos Collection, no. 364.
Sotheby's London, 1st July 1985, lot 34.
EXHIBITED: Vancouver Centennial Museum, 1977.
LITERATURE AND REFERENCES: Robert Kleiner, 'Saleroom News. Chinese Sales at Sotheby's', Arts of Asia, November-December 1985, pp. 134-5.
Patrick K. M. Kwok, 'The Joe Grimberg Collection of Chinese Snuff Bottles', Arts of Asia, November-December 1993, pp. 92-97, no. 17.
NOTE: Parrots are rarely depicted on Chinese snuff bottles, although they do appear in other forms of Chinese art - notably the Kangxi period glazed biscuit figures of parrots made in large numbers for the export market. A very similar image of a perched, chained parrot enamelled in famille-rose on export porcelain vases datable to circa 1740-45 is believed to have been copied directly from a European drawing or engraving, possibly by Cornelis Pronk (1691-1759). Although it seems unlikely the present design derives from the same source it is quite possible it too derives from a European engraving.
A red overlay bottle with a similar subject is illustrated by Viviane Jutheau, Guide du Collectionneur de Tabatieres Chinoises, Paris, 1980, p. 61, nos. 2 and 3. Another red overlay bottle which depicts a parrot on a similar perch as part of its overall design is in the Victoria and Albert Museum, London, illustrated by Helen White, Snuff Bottles from China, London, 1992, p. 202 and pl. 93, no. 2.
Sotheby's. The Joe Grimberg Collection of Chinese Snuff Bottles, 14 Sep 10, New York www.sothebys.com