Pablo Picasso, La Minotauromachie, Etching, 1935 (detail). Estimate: £400,000 - 600,000. Sold for £1,273,250 ($1,987,416). Photo: Sotheby's.
LONDON.- A new record has been set for any single print sold at auction with the sale of Pablo Picasso's La Minotauromachie for £1,273,250 / $1,987,416 at Sotheby's in London . The print eclipsed the pre-sale high estimate of £600,000 (the estimate was £400,000-600,000).

Discussing the sale, James Mackie, Sotheby's Prints specialist, said: "A new record has been set for any single print sold at auction with the sale of Pablo Picasso's La Minotauromachie for £1,273,250. Pablo Picasso was the most important and innovative printmaker of the Modern period and he has been credited with the creation of some of the most significant works in the medium's five-hundred-year history. La Minotauromachie is considered to be the artist's masterpiece of printmaking. It reflects key themes of the artist and demonstrates a mastery of technique that is unsurpassed. Nearly all recorded impressions of this subject are now in public or permanent collections round the world. The sale total of £8,885,525 is the highest ever for a Sotheby's Prints sale held in London. At the core of the sale was a group of works from a Private European Collection, which collectively realised £6,540,175 against an estimate of £3,711,000 – 5,283,000. The price realised for Picasso's La femme qui pleure is the highest achieved at auction for a print of this subject by the artist. Bidding during the auction was competitive and globally based."

• The previous auction record for a print by Picasso was 2,150,000 Swiss Francs / £880,840 and this was set by a print of the same subject – La Minotauromachie – in 1990. (Prices sourced from Artnet and conversion website www.oanda.com).

• The previous record for any single print ever sold at auction was 11,800,000 NOK (Norwegian Kroner) / £1,056,490 (Hammer price) for Vampire II by Edvard Munch, sold in Oslo in 2007. (Prices sourced from Artnet and conversion website www.oanda.com).

• The current record for a portfolio of prints sold at auction is for 18 Cantos (portfolio of 18 works) by Barnett Newman, sold at Sotheby's in New York in May 2008 for $2,057,000.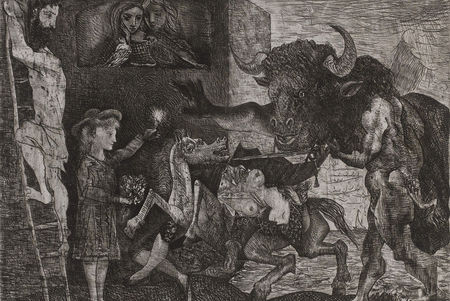 Pablo Picasso, La Minotauromachie, Etching, 1935. Estimate: £400,000 - 600,000. Sold for £1,273,250 ($1,987,416). Photo: Sotheby's
Etching with scraper and engraving, 1935, the seventh (final) state of the artist's masterpiece of printmaking, a richly inked impression with strong contrasts and fine detail, printed by Lacourière, on Montval laid paper; plate: 495 by 693mm; 19½ by 27¼in - sheet: 572 by 775mm; 22½ by 30½in.
PROVENANCE: Estate of the artist
Marina Picasso, her stamp verso (not in Lugt)
NOTE: Often cited as one of the most important graphic works of the 20th century, La Minotauromachie is indisputably at the pinnacle of Picasso's printmaking œuvre. This rare work is hardly ever seen on the market with most impressions now held in museums or permanent collections around the world. Visually stimulating and technically brilliant, the subject matter is also extraordinarily complex, evading conclusive interpretation of the work's ultimate meaning.
La Minotauromachie was executed at a time of significant turmoil in Picasso's personal life. His floundering marriage to Olga, which had long since lost romantic significance for Picasso, was about to come to a crisis point with Olga's discovery that his young lover, Marie-Thérèse Walter, was pregnant. It was in the period leading up to this revelation that Picasso produced La Minotauromachie, a period which Picasso would later describe as "the worst time in my life".[1] It has been suggested that the physically intense nature of the production of the work appealed to Picasso's state of mind at the time. The emotional intensity which he invested in the work served as a much needed distraction from the tumult that was unravelling in his personal life.
The image of Marie-Thérèse permeates Picasso's work of the late 1920s and early 1930s. She was his inspiration for the Vollard Suite (1933-34) with her image appearing repeatedly throughout the series (see also lots 84-86 in this sale) as well as in paintings and drawings from the period (see figs. 2 & 3). The Vollard Suite, can be seen as an important pre-cursor to La Minotauromachie, with many of the themes and characters explored in the series incorporated into the masterpiece. The most significant of these is the Minotaur. Generally recognised as a representation of the artist himself, the Minotaur has its roots in Greek mythology. It was a character that had intrigued Picasso for some time and was appropriated by him in a number of different guises: sometimes lustful and sexually predatory, other times merry and sociable or introverted and vulnerable. The Minotaur that we see in La Minotauromachie allies itself most obviously with the latter manifestation. No longer convivial or erotically charged, the beast appears tamed and subdued, shielding his sight from the scene illuminated by the young girl with the candle. In this respect, this Minotaur is most akin to the 'blind Minotaur' of the Vollard Suite (see lots 85 and 86 in this sale). If one seeks to find a direct correlation between the Minotaur's demeanour in the print and Picasso's personal situation, it would suggest that the news of Marie-Thérèse's pregnancy, to which he was supposedly ambivalent, had produced in Picasso a sense of powerlessness enhanced by the knowledge of the effect this was to have on his domestic situation. According to Sebastian Goeppert and Herma C. Goeppert-Frank "Marie-Therese's pregnancy sharpened awareness in Picasso of the innate antinomy of birth and creation, of the rivalry between man and woman, and of life and death...".[2]
The juxtaposition of the dying horse and the sprawled torera, clearly depicting a pregnant Marie-Thérèse, supports this premise. As one life ends so another begins, and yet, this scene is not one to which the Minotaur is resolved. It is not a harmonious representation of the cycle of life, but rather a gory, fearsome reality from which the Minotaur recoils. Set in Picasso's much-loved forum of the bullfight, La Minotauromachie brings together the central themes preoccupying his thoughts and work in an epic tussle between love and death, fear and truth, destruction and creativity. Observing this unfolding narrative are a bearded man at the far left of the composition, often also interpreted as the artist, and two young women with doves (of peace?) watching from the window. Faced with this scene, it becomes clear "that the Minotaur can no longer remain a Minotaur. Confronted with the truth the girl reveals to him, he has not closed his eyes, and he can go neither forwards nor backwards. His only recourse is to take off his bull's head as though it were a mask and wear his human visage again.."[3]
La Minotauromachie served as a visual source for Picasso's greatest work of art: Guernica which he painted two years later in response to the Spanish Civil War and which re-uses many of the motifs seen in this print.
Picasso worked intensively on the plate for La Minotauromachie at the studio of Roger Lacourière in Paris over a number of weeks between March and May 1935, producing a total of seven states of which the present work is a final (seventh) state.. There has always been some confusion over the number of prints actually pulled. More reliable information exists regarding the number of trial proofs, but the supposed final edition of 50 was never completed at one time and the numbering of those issued is not systematic. Hence it would appear that numbers 1/50-15/50 can be accounted for, along with 31/50 and 32/50. This erratic numbering suggests that Picasso never intended to issue a completed edition of the work for commercial distribution. Indeed, he very frequently kept the prints that were pulled for himself, subsequently giving them out to friends over a number of years. At his death, either 23 or 27 impressions remained in the artist's estate, of which this is one. Picasso's reluctance to formally edition La Minotauromachie in large numbers is perhaps indicative of the emotional investment the artist had put into the work and the deep personal significance with which he regarded it.
[1] Cited in Exhibition Catalogue, Picasso's Greatest Print: The Minotauromachy in All its States, Los Angeles County Museum of Art, 2006
[2] Sebastian Goeppert & Herma C. Goeppert-Frank, Minotauromachy by Pablo Picasso, Geneva, 1987, p. 11
[3] Sebastian Goeppert & Herma C. Goeppert-Frank, Minotauromachy by Pablo Picasso, Geneva, 1987, p. 104