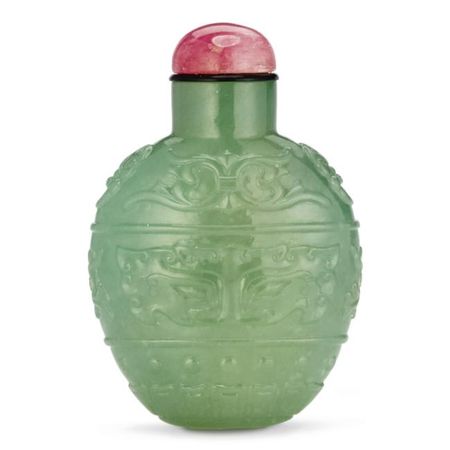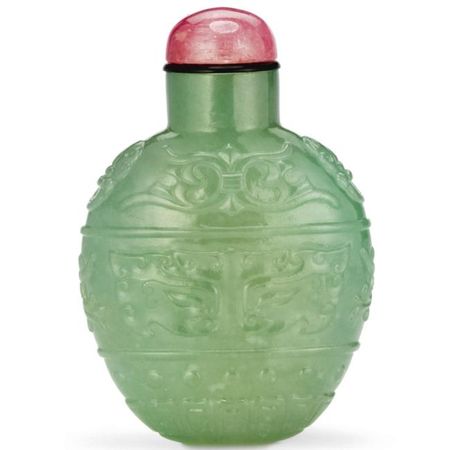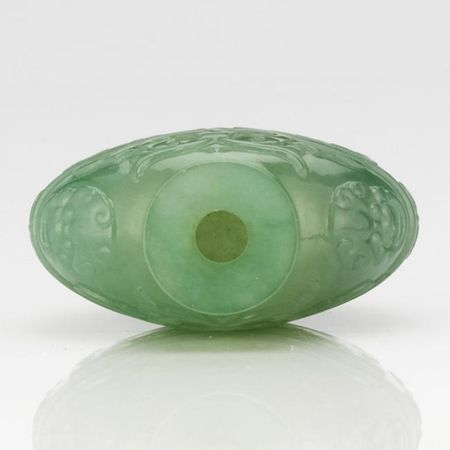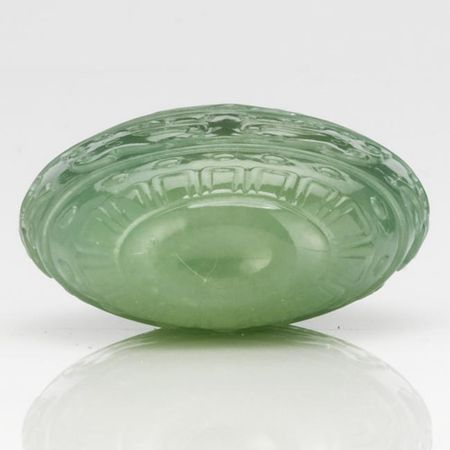 A jadeite snuff bittle, 1760-1830. Imperial, attributed to the Palace workshops, Beijing. photo courtesy Sotheby's .
well hollowed, of flattened ovoid form with a cylindrical neck and concave mouth rim, resting on an oval recessed foot, beautifully carved in low relief on each face with a central panel comprising an archaistic taotie mask, below a formalized foliate motif, above a band of lappets and raised bosses, the shoulders set with animal masks suspending mock ring handles, above a vajra-shaped motif on each side, the stone of an even apple-green color with very faint snowy inclusions; height 2 1/8 in., 5.4 cm. Estimate 30,000—50,000 USD. Lot Sold 60,000 USD
PROVENANCE: Hugh Moss (HK) Ltd.
NOTE: The attribution to the Palace Workshops is based upon the design of the present bottle, which exactly echoes a group of highly imperial opaque yellow glass bottles from the Qianlong period, some of which have Palace reign marks, and most of which have either mask handles dividing the formalized design into two main sides, or occasionally deer, or other animal handles.
This design also appears on a red glass snuff bottle, formerly in The Collection of Bernice Straus Hasterlik, and sold in these rooms, 16th September 1996, lot 18. However, it rarely appears on any material other than glass, making this jadeite example very rare. The Crane Collection houses an example of the same design in carnelian and it is likely that they both would have been made in the same workshop contemporaneously (see www.thecranecollection.com, no. 234).
Sotheby's. The Joe Grimberg Collection of Chinese Snuff Bottles, 14 Sep 10, New York www.sothebys.com