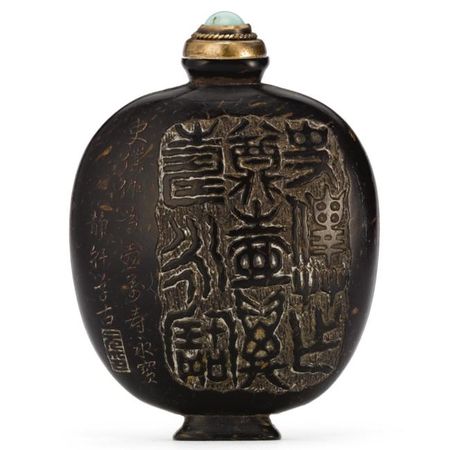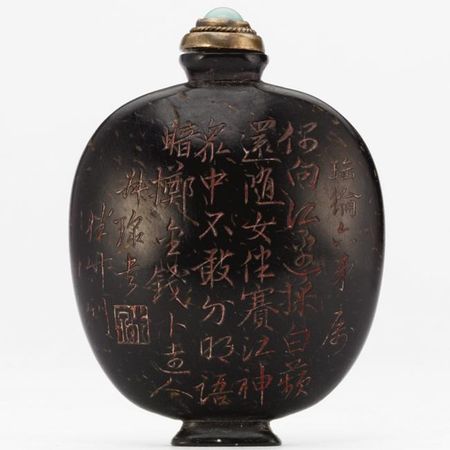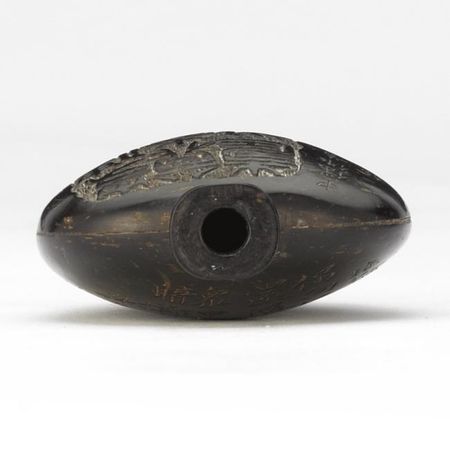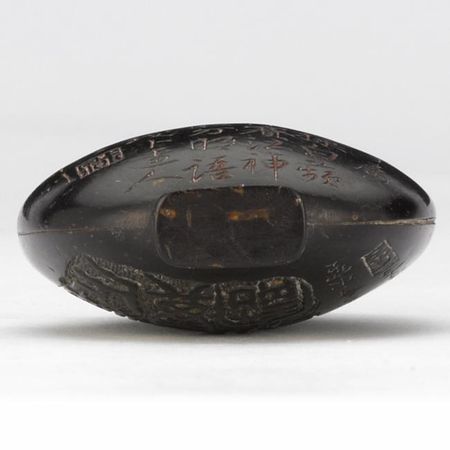 A rare coconut snuff bottle, 19th century. photo courtesy Sotheby's .
of rounded square form with convex faces, below a waisted neck and a flared foot, one face carved in relief with three columns of calligraphy in archaic bronze script, set on a textured ground, adjacent to a two-column inscription lightly incised followed by a seal, Yuanyin, the reverse occupied by a poetic inscription filled with red pigment; height 2 in., 5.1 cm. Estimate 10,000—15,000 USD. Lot Sold 7,500 USD
PROVENANCE: Hugh Moss (HK) Ltd.
NOTE: The inscriptions on one face, one in the ancient seal script and the line adjacent in regular script, can be translated as:
'The servants of history made the ceremonial vessels in order to have them treasured for eternity.
Quiet demeanor to emulate the antiquity', followed by a seal, Yuanyin (Seal of Yuan)'.
The poetic inscription on the reverse is Yu Hu 'Tune of Jiangnan' and describes a woman's longing for her loved one. It can be translated as:
'As a keepsake for my brotherly friend Yaolun, the sixth son of the family
Picking white duckweed at the riverbank, and
With my women companions, I attend the ceremony at the River God temple.
Among this many people on-site, I simply dared not to speak up and ask,
So could only pay for a divination inquiring about the certain someone who is traveling afar,' followed by an undecipherable name and seal.'
Sotheby's. The Joe Grimberg Collection of Chinese Snuff Bottles, 14 Sep 10, New York www.sothebys.com