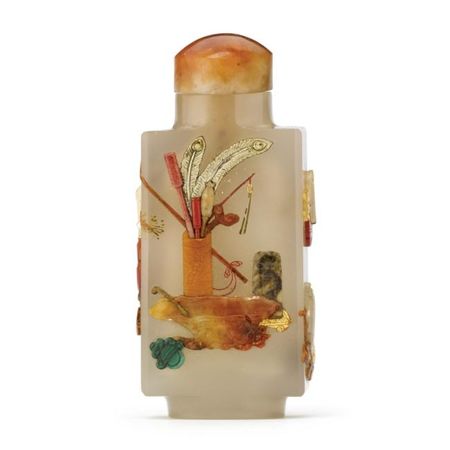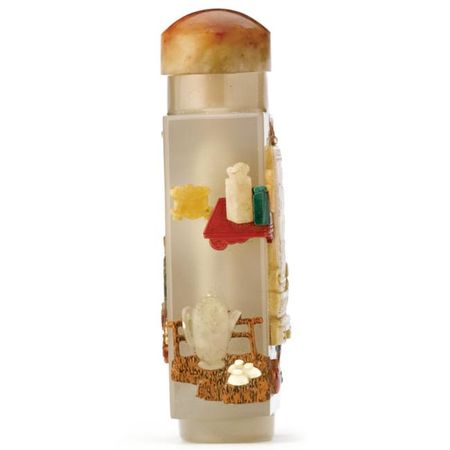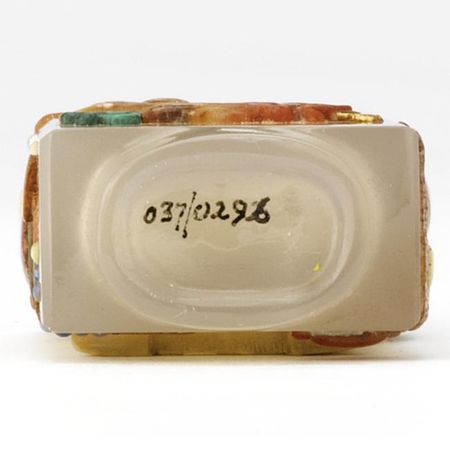 An embellished chalcedony snuff bottle, 1820-1880. photo courtesy Sotheby's
of tall rectangular form, supported on a raised oval foot, and with a cylindrical neck, beautifully embellished on all four sides with steatite, lacquer, malachite, gilding and litharge to depict 'Precious Antiques', including a finely incised table screen and stand, surrounded by a cinnabar lacquer stand displaying three seals, a ruyi scepter, and a baluster vase holding a pine branch, the reverse with a brushpot containing literati articles and peacock feathers behind a horn libation cup, the translucent agate of a smooth pale gray tone; height 2 in., 5.1 cm - Estimate 60,000—90,000 USD. Lot Sold 46,875 USD
PROVENANCE: Los Angeles County Museum of Art.
Bob C. Stevens Collection.
Sotheby's Honolulu, 7th November 1981, lot 200.
The Collection of Eric Young.
La Société Jersiaise.
Sotheby's Hong Kong, 28th October 1993, lot 1161 and cover.
Sotheby's New York, 19th September 2001, lot 246.
EXHIBITED: Chinese Snuff Bottles and Dishes: An Exhibition of Chinese Snuff Bottles from the Bob C. Stevens Collection at Mikimoto Hall, Tokyo, 22nd-31st October 1978, cat.no. 351.
LITERATURE AND REFERENCES: Bob C. Stevens, The Collector's Book of Snuff Bottles, New York and Toyko, 1976, p. 219, cat.no. 813.
JICSBS, Spring 1987, p. 21.
JICSBS, Winter 2001, p. 31, fig. 4.
NOTE: A discussion of this bottle's origins as Chinese rather than Japanese was presented by Bob C. Stevens in his publication, The Collector's Book of Snuff Bottles, New York and Toyko, 1976, p. 224. In his research on embellished bottles, including this one, he met with Fukuya Tsuda in Kyoto, a snuff bottle artist who with his father were renowned for their expertise on embellishing old Chinese bottles. Mr. Tsuda, upon inspecting the present bottle, along with other embellished examples in Mr. Stevens' collection, attributed the bottles to be Chinese, stating 'that in his opinion no-one in Japan was capable of doing the meticulous work required in fashioning the many small pieces of hardstone and fitting them together to make the intricate designs that embellish these bottles.' Whether or not this is accurate, it is unlikely Mr. Tsuda, or his father, decorated this bottle, since he did not recognize it as one of their embellishments.
For an example of a Tsuda Family embellished bottle, compare a chalcedony bottle in the collection of Denis Low and illustrated in Chinese Snuff Bottles from the Sanctum of Enlightened Respect III, Singapore, 2007, fig. 306, p. 353.
Sotheby's. The Joe Grimberg Collection of Chinese Snuff Bottles, 14 Sep 10, New York www.sothebys.com