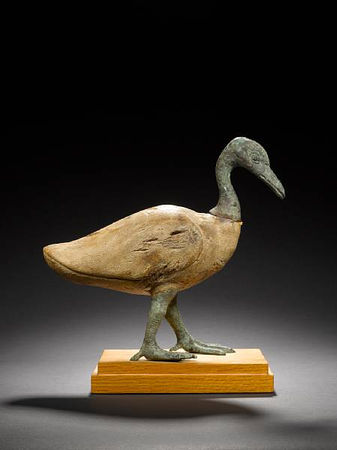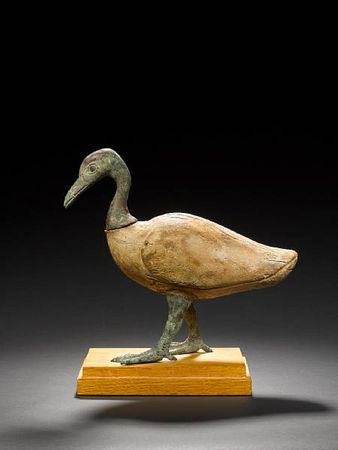 An Egyptian wood and bronze goose. Late Period, circa 664-32 B.C. © 2002-2010 Bonhams 1793 Ltd.,
The walking bird with left leg advanced, the sinuous bronze head and neck cast with a well-defined beak and recessed nostrils, the ovoid eyes with incised outline, the cedar wood body carved with folded wings and upturned tail, the finely detailed webbed feet with pointed claws, the textured scale-like skin finely incised, 11in (28cm) high, mounted on a wood base; Estimate: £30,000 - 50,000, € 37,000 - 61,000, USD 47,000 - 78,000
Provenance: Property from the Estate of Jay Ward, Los Angeles. Acquired before 1950.

Exhibited: Museum Folkwang, Essen, Germany, 1966.
Los Angeles County Museum of Art, Age of the Pharaohs, 1974.

Published: Jacques Vandier, 'L'Oie D'Amon', Monuments et Memoirs of the Academy of the Inscriptions and Fine Letters, Vol.57, Mon Piot, 1971. The article discusses the cult of the Goose of Amon, listing only three known bronze and cedar wood geese, two of which can be found in the Louvre, the third being this goose, which was exhibited in Essen in 1966 and Los Angeles in 1974.

H. Müller-Feldmann, Zeugnisse altägyptischer Kultur aus europäischem Privatbesitz, Ausstellung des Folkwang-Museums, Essen, vom 1. Februar bis 15 März 1966.
Bonhams. Antiquities, 6 Oct 2010 New Bond Street www.bonhams.com