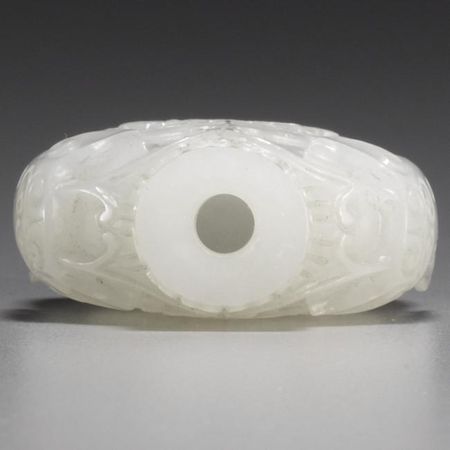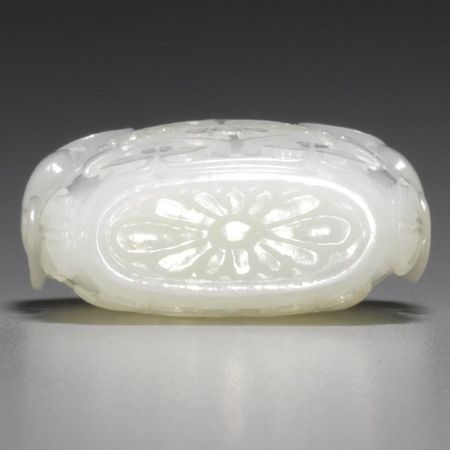 A Mughal white jade snuff bottle, 1750-1800. Possibly Imperial, attributed to the Palace workshops, Beijing. photo courtesy Sotheby's
superbly hollowed, of flattened rectangular form with shoulders sloping to a cylindrical neck, resting on a well carved oval footrim, the body carved in low relief with stylized lotus, each shoulder carved in high relief with prominent elephant-head handles suspending loose rings, the neck carved with upright lappets, the concave base with an elongated chrysanthemum, the stone of even white color; height 2 1/8 in., 5.4 cm - Estimate 25,000—35,000 USD. Lot Sold 53,125 USD
PROVENANCE: Private Collection, California.
Mrs. John Sheafe Douglas, #131.
Chinese Porcelain Company.
LITERATURE AND REFERENCES: Chinese Snuff Bottles and Jade Carvings from the Douglas, Gnam and Other Collections, Chinese Porcelain Company, Hong Kong, 1992, p. 35, no. 46.
NOTE: The present bottle was almost certainly made in the Xifanzuo, the Tibetan Workshop in the Imperial compound. Much of the jade carved in the workshop directly copied the jades the Qianlong emperor knew as Hindustani jades, with their fine quality, exaggerated thinness and formalized floral designs, often based on Indian lotus scrolls and acanthus leaf designs. The Tibetan Workshop was one of six new workshops around the country which were set up to cope with the Imperial demand for jade carvings, increasing the amount of workshops in the latter part of the 18th century from two (one in Beijing and one at Suzhou), to eight.
A bottle also attributed to the Xifanzuo is in The Crane Collection (www.thecranecollection.com, no. 283). See also one illustrated by Bob C. Stevens, The Collector's Book of Snuff Bottles, New York and Tokyo, 1976, no. 1013.
It is remarkable that the loose ring handles have survived, as few bottles manage to retain them due to their fragility. However, a similar bottle formerly in the Collection of Mrs. Elmer A. Claar, also had its ring handles intact and was sold in these rooms, 2nd December 1969, lot. 149.
Sotheby's. The Joe Grimberg Collection of Chinese Snuff Bottles, 14 Sep 10, New York www.sothebys.com