A George III Silver-Gilt Tea Tray Mark of Digby Scott and Benjamin Smith, Estimate: $250,000-350,000. Photo: Christie's Images Ltd 2010
NEW YORK, NY.- On October 19, Christie's will present an exquisite group of Regency and George IV silver from The Stuart Collection. Assembled by a gentleman from Louisiana, this superb assortment of over 50 works from celebrated artists such as Paul Storr, Philip Rundell, and Robert Garrard II, encompasses an impressive range of style and forms that captured the opulence of England in the early 19th century.

The Sawbridge-Erle-Drax Wine-Coaster Wagons
Leading the collection is a monumental pair of George IV silver-gilt double wine coaster wagons, mark of Edward Barnard & Sons, London, 1829 (estimate: $400,000-600,000). These magnificent wine trolleys, or "jolly wagons," are exceptionally large and sculptural examples, with a silver content of over 354 ounces. Each wagon would have held decanted wine and port and was passed to guests along the dining table.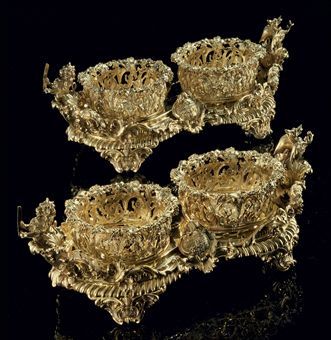 A monumental pair of George IV silver-gilt double wine coaster wagons, mark of Edward Barnard & Sons, London, 1829. Photo: Christie's Images Ltd 2010
Each fitted with two removeable coasters, on shaped oblong base and four shell and scroll feet, cast with a coat-of-arms on either side, each flanked by matted scrolling foliage and vines, applied at either end with a heraldic figure in the form of a demi-lion holding a saw and a demi-griffin, the openwork coasters with borders of putti playing among matted foliage below everted rims of grape-laden vines, the center engraved with a coat-of-arms, each marked on coaster base and field, body of wagon, and wheel wells, the coasters and wagons also stamped D. Ellis London Fecit. The wagons 20¼ in. (50.5 cm.) long, the coasters 7¼ in. (18.5 cm.) diameter; 354 oz. 18 dwt. (10,135 gr.), recorded weight at manufacture (2) - Estimate: $400,000-600,000
Provenance; J.C.W. Sawbridge-Erle-Drax, Esq. of Bilting House, sold Christie's, London, 27 February 1929, lot 44
Trustees of the late H. E. Christy, Esq. sold Christie's, London, 7 October 1946, lot 94
Collection of Sir William Butlin, MBE, sold Christie's, 17 July 1968, lot 34
Sotheby's, London, 3 May 1984, lot 143
Christie's, New York, 16 April 2004, lot 79

Literature; Vanessa Brett, The Sotheby's Directory of Silver, 1600-1940, 1986, no. 1373
The Glory of the Goldsmith: Magnificent Gold and Silver from the Al-Tajir Collection, Christie's, London, 1989, no. 163, p. 211

Exhibited; "The Glory of the Goldsmith: Magnificent Gold and Silver from the Al-Tajir Collection," Christie's, London, 1989, no. 163

Notes; The arms are those of Drax quartering those of Erle, Sawbridge and others with Drax in pretense, for John Samuel Wanley Sawbridge (1800-87) who married Jane Francis Erle-Drax on 1 May 1827. She was heiress to her brother, Richard Erle-Drax-Grosvenor, who died on 13 August 1828. As part of his wife's inheritance, Sawbridge assumed the additional surname and arms of Erle-Drax.

These magnificent wine trolleys, or "jolly wagons," are exceptionally large and sculptural examples, with a silver content of over 354 ounces. David Ellis, the retailer who supplied them to J. C. W. Sawbridge-Erle-Drax, paid Barnard's the very high price of £187-19s-10d for them in 1829. In their Day Book recording the sale, Barnard's described them as "Two richly chasd wavd Bottle Coasters abt. 20 by 9 openwork Chasd scrolls rising in foliage at ends with demi Griffin and lion crests, antique shields with engravd arms and side & chasd feet, & patt Casters on Mahogany bottoms. Pitchd & raisd silvr bottoms sunk to receive B. Stds. 4 Chasd piercd foliage & boys B. Stds with piercd Vine edges & Silver bottoms" The recorded silver weight at the time of manufacture was 354 oz. 18 dwt. (Barnard & Sons, Day Book, 26 September 1829, illustrated in Sotheby's, London, 3 May 1984, p. 96).

These wagons belong to a distinguished group of wine-related silver commissioned by Sawbridge-Erle-Drax, including four wine coolers also by Barnard's and a pair of claret jugs (the coolers were sold Christie's, London, 23 June 1971, lot 12).
Additional highlights include: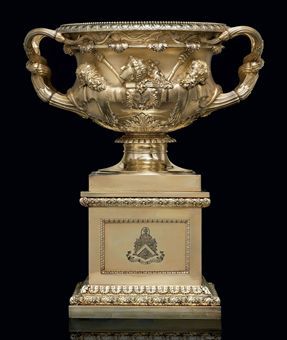 A FINE GEORGE IV SILVER-GILT WARWICK VASE AND PLINTH MARK OF PAUL STORR, LONDON, 1823. Estimate: $60,000-90,000. Photo: Christie's Images Ltd 2010
In the form of the Warwick Vase, the square base with foliate scroll and stiff leaf borders, applied with a silver plaque depicting the storming of the Redan, portrait bust of Major General Charles Ashe Windham, also engraved with coat-of-arms and presentation inscription, the base of the vase stamped 'SMITH & NICHOLSON DUKE ST. LINN. INN FIELDS,' marked on vase, plinth, the bust and applied plaque, four nuts apparently unmarked; 18¼ in. (46.3 cm.) high; 325 oz. (10,119 gr.)
Notes: The Warwick Vase, a colossal marble vase from the 2nd century AD, became one of the most celebrated pieces of antiquity. The vase, measuring nearly six feet high, was excavated in 1770 from a lake at Hadrian's Villa in Tivoli and acquired by Sir William Hamilton, antiquarian and Ambassador to Naples. It was later sold to the Earl of Warwick who installed it on the grounds of Warwick Castle noting: "I built a noble greenhouse and filled it with beautiful plants. I placed in it a vase, considered as the finest remains of Grecian art extant for size and beauty." Several views of the vase were engraved by G.B. Piranesi in Vasi, Candelabri, Cippi, Sarcofagi of 1778 and served as inspiration for silver and silver-gilt versions during the Regency period.

The arms are those of Windham for Sir Charles Ashe Windham C.B. (1810-1870). Charles Ashe Windham was born in 1810 and educated at the Royal Military College, Sandhurst. In 1854, he went to the Crimea and on September 8th, 1855, led the advance against the Redan. Windham walked through the gunfire uninjured and with a striking calm. The press took note of his bravery, Windham was promoted to Major-General, and when he returned to England, he received gifts of gratitude including the present vase.

The plinth is inscribed:
To Major General Charles Ashe Windham, C.B.
This vase is presented as a token of the great respect entertained for him by his friends in Warwickshire, and especially of their high admiration of those brilliant services during the Crimean War, which have not only secured for him the gratitude of his fellow countrymen, but won for him an imperishable name in history as the hero of the Redan.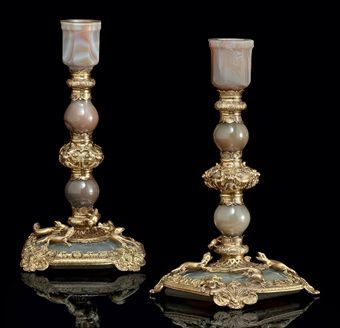 AN IMPORTANT PAIR OF EARLY VICTORIAN SILVER-GILT MOUNTED AGATE CANDLESTICKS MARK OF ROBERT GARRARD II, LONDON, 1839 . Estimate: $40,000-60,000. Photo: Christie's Images Ltd 2010
In historicist taste; each baluster form, the pale brown striped agate candlestick on square base with canted angles, the base set on four silver-gilt scroll bracket feet and chased with shells, foliage and diaperwork and applied with a frog and salamanders, the stem with silver-gilt knops at intervals with foliage, grotesque masks and a bee, each marked on base, two upper knops and nut; 7 in. (17.8 cm.) high (2)
Provenance: The Duke of Buckingham; The Stowe Sale, sold Christie's, August 1848, lot 1089 [£48 16s 6d to Sir Anthony de Rothschild]
Sir Anthony de Rothschild 1st Bt. (1810-1876)
Christie's, London, 12 May 1993, lot 74
Christie's, London, 14 June 2005, lot 110
Literature: H.R. Forster, The Stowe Catalogue Priced and Annotated, 1848, p. 69 J. Culme, "The Most Shocking Fakes," The Silver Society Journal No. 2, 1991, illus. p. 86
Notes
THE STOWE SALE

The Stowe sale, a forty-day sale of the contents of the Duke of Buckingham's family seat in 1848, was widely covered by the contemporary press, as it represented an astonishing reversal of fortune for one of England's greatest families. Richard, 2nd Duke of Buckingham and Chandos (1797-1861), through excessive expenditure and land speculation, had within eight years of his succession become a "ruined man," bankrupt with debts of over one million pounds. The Times wrote censoriously of the Duke "as a man of the highest rank, and of a property not unequal to his rank, who has flung away all by extravagance and folly, and reduced his honour to the tinsel of a pauper and the baubles of a fool."

Of the dispersal of contents at Stowe, H. R. Forster wrote: "The desecration to which the ancestral halls of the Duke of Buckingham have lately been subjected, has been regarded almost as a national disgrace. The 'household goods' of the ancestral home of the Dukes of Buckingham and Chandos have been shivered to fragments, which can never again be re-united. Those public and private testimonies of the estimation in which the family has been held from generation to generation, and which must have possessed for their owners a value wholly extrinsic of their commercial worth, have been torn from them, and 'scattered to the four winds of heaven'."


THE CANDLESTICKS

These remarkable historicist candlesticks were sold on the ninth day of the sale, from the State Bed Chamber, so named as it had been occupied by Queen Victoria and Prince Albert. As with the sale itself, these candlesticks were the subject of controversy. It was evidently the belief of many in the saleroom, including the purchaser, Sir Anthony de Rothschild (1810-1876), that they were of the Renaissance period; certainly the price realised, over 48 pounds, was astronomical for candlesticks which were in fact made just nine years earlier by the Royal goldsmith Robert Garrard in Panton Street.

H.R. Forster commented: "These candlesticks were very beautiful specimens of workmanship, and generally believed to be antique. They were put in at five guineas, from which sum they ran rapidly up to forty. The biddings then became more select, and were chiefly confined to Sir Anthony Rothschild and one or two other parties: Sir Anthony at length secured their possession for forty-six and a half guineas. When the hammer fell, the manager of a well-known London house, rising from his seat at the table, quietly remarked 'I made them and sold them for less than half the money.' This observation naturally occasioned some excitement in the room; and Mr. Manson, who was selling, administered a rather sharp rebuke to the gentleman alluded to. Having witnessed the occurrence, we are inclined to attribute the remark to a very natural feeling of surprise at the success of the manufacturer's art in deceiving the connoisseur, and to acquit the party of any blame in the matter."

THE SILVERSMITH: GARRARD'S

Garrard's, the Crown jewelers and successors to the venerable firms of George Wickes and Parker and Wakelin, is best known for its imposing presentation pieces of the Victorian era. Yet, it is the eclectic and sculptural designs for household silver of the 1830s-1850s that warrant further consideration and study.

The Stuart Collection includes three lots by Garrard. These agate "Renaissance" candlesticks represented a taste for treasury objects that were eagerly sought after by sophisticated connoisseurs like William Beckford and members of the Rothschild family. The magnificent marine theme salt cellars (lot 83), which draw upon the designs of the talented French silversmith, J.V. Morel, and the fiery dragons which serve as the flames for the cauldron-form salt cellars (lot 80) reflect the quality, creativity and sculptural nature of the firm's output. In addition, this auction features Garrard's double-magnum wine coasters with Rothschild arms (lot 69), surely one of the most impressive designs in wine silver since the height of the Regency era.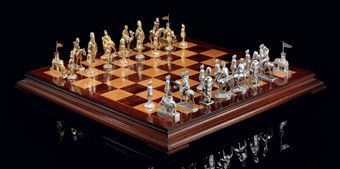 A RARE REGENCY SILVER AND SILVER-GILT CHESS SET MARK OF EDWARD FARRELL, LONDON, 1816, Estimate: $80,000-120,000. Photo: Christie's Images Ltd 2010
The royal pieces shown as crowned orientals, riding camels side saddle, the bearded bishops shown wearing robes and mitres and carrying processional crosses, the equestrian knights as mustachioed and cuirassed cavalrymen, their helmets crested with salamanders, holding aloft batons, the rooks as elephants with castellated howdahs each surmounted by a pennant, the pawns as Roman foot soldiers, shown helmeted and wearing capes, each marked on side or under base, one king, two queens and three rooks sterling standard, together with an oversized wood chess board; The kings 3¼ in. (9.5 cm.) high; the pawns 2 7/8 in. (7.3 cm.) high; the chess board 26½ in. (67.3 cm.) square (33).
Provenance: Christie's, South Kensington, 25 June 1997, lot 705
Notes: Lots 111-113 are the work of Edward Farrell (d. 1850), who inarguably produced some of the greatest silver in the 19th century. Farrell most notably supplied silver to the Duke of York, through his association with the retailer Kensington Lewis. Farrell's work drew upon disparate styles and subject matter, with a particular affinity for Renaissance and Mannerist prototypes. The oriental motif of this chess service is also seen on an elephant-form bottle ticket, 1818, which is illustrated in John Culme, "Kensington Lewis: A Nineteenth-Century Businessman," The Connoisseur, September 1975, p. 27.

Silver chess sets are a great rarity. In addition to this set, Michael Clayton cites three: one 1689, one 1750, and another service by Farrell, nearly identical to this one, that also dates to 1816. Each set features one side of silver, the other of silver-gilt. The other Farrell service sold Sotheby's, London, 15 June 1961, lot 152, and again from the collection of Mrs. Fay Plohn, Sotheby's, London, 15 October 1970, lot 55 and is illustrated in Michael Clayton, The Collector's Dictionary of the Silver and Gold of Great Britain and North America, 1971, illus. p. 65, n. 123 and in Victor Keats, Chessmen for Collectors, 1985, p. 135, fig. 160.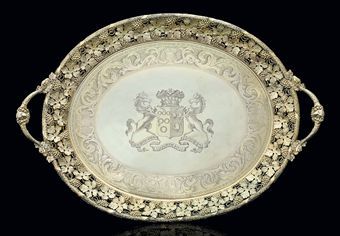 A GEORGE III SILVER-GILT TEA TRAY MARK OF DIGBY SCOTT AND BENJAMIN SMITH, Estimate: $250,000-350,000. Photo: Christie's Images Ltd 2010. Photo: Christie's Images Ltd 2010
Oval, on four bacchanalian mask and goat's-hoof feet, the tray with cast and applied openwork grapevine border, with ribbon and berried laurel leaf rim, the handles centering a leopard's mask with fruit garland rim and ram's-head joins, the field engraved with a band of scrolling foliage with baskets of fruit at intervals, the center later engraved with a coat-of-arms, marked under base and rim, stamped RUNDELL BRIDGE ET RUNDELL AURIFICES REGIS ET PRINCIPIS WALLIAE LONDINI FECERUNT; 30¼ in. (76.8 cm.) long; 222 oz. 10 dwt. (6391 gr.)
Notes; The arms are of those of Lowther as borne by the Earls of Lonsdale.

This model of tray, characterized by vine borders, leopard handles, and an exceptionally fine engraved border, is the most accomplished and extravagant of its type in Regency silver.

Other examples include a set of six, 1809-1810, in the Royal Collection and illustrated in A. E. Jones. A tray by Digby Scott and Benjamin Smith of 1805, with the arms of Ernest Augustus, Duke of Cumberland, son of George III, sold from the collection of the Earl of Harewood, Christie's, London, 30 June 1965, lot 111, and again at Sotheby's, New York, 17 October 1995, lot 63. A silver-gilt tray by Benjamin and James Smith of 1809, with identical openwork frame and handles and engraved border was sold at Sotheby's, London, 1 June 2006, lot 51. Another by Digby Scott and Benjamin Smith of 1806 is in the Metropolitan Museum of Art. Three others, of 1803, 1805, and 1809, are illustrated in The Glory of the Goldsmith: Magnificent Gold and Silver from the Al-Tajir Collection, 1989, nos. 115, 126, and 129.

Auction: Important Silver including The Stuart Collection of Magnificent Regency Silver October 19

Viewing: Christie's Rockefeller Galleries October 15-18