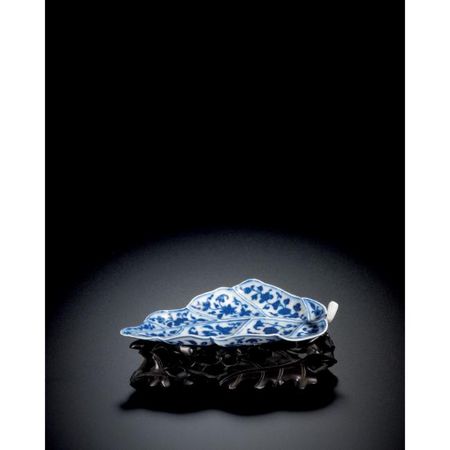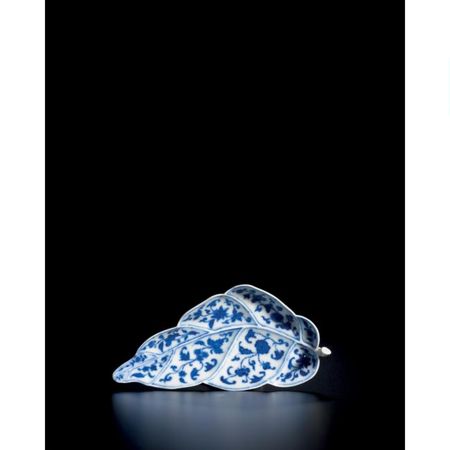 A fine small Ming-style Blue and White leaf. Seal Mark and Period of Qianlong. photo courtesy Sotheby's
delicately moulded as a veined leaf furled to form a shallow dish with a short stem at the base, the raised veins creating small segments each decorated with sprigs of flowers including peonies, lotuses, and chrysanthemums, the exterior similarly painted, the underside inscribed with a four-character reign mark straddling the stem, fitted hardwood stand; 13 cm., 5 1/8 in. - Estimate 600,000—800,000 HKD. Lot Sold 3,380,000 HKD
PROVENANCE: C.T. Loo & Co., Paris (according to label).
Irene Taylor, New York, June 1961.
NOTE: Small leaf-shaped dishes were in the Qing Dynasty created mainly for the writer's desk, as brush washers or shapers, but it is extremely rare to find an example in blue-and-white porcelain, in particular one of imperial ware, inscribed with a reign mark. No comparable piece appears to be recorded and this exquisite little dish is admirable testimony to the potters' unending imagination and attention to individual items, in spite of the vast industrial-style production of porcelains at the Qing imperial kilns. The piece is decorated in the style of early Ming blue-and-white, although no blue-and-white prototype appears to be known from that period either.
The leaf is also highly unusual in the way it is marked, as Qianlong reign marks are very rarely rendered in four seal characters. According to Peter Lam's research on the change of Qianlong reign marks throughout the long reign of this emperor, the present inscription bears the characteristics of early Qianlong marks that were in use while Tang Ying (1682-1756) was in charge of the imperial kilns at Jingdezhen as superintendent (Peter Lam, 'A Dating Framework for Qianlong Imperial Ware', lecture at the Oriental Ceramic Society, London, 15th December 2009 (forthcoming in Transactions of the Oriental Ceramic Society).
The leaf may be meant to represent an artemisia leaf, and artemisia leaves certainly are represented on the hardwood stand, although the typical leaf from of that plant is more serrated in outline than the present dish. Artemisia (mugwort) leaves have many uses in Chinese medicine and a small leaf supposedly representing artemisia appears often as base mark on Kangxi porcelain.
Sotheby's. Masterpieces of Qing Imperial Porcelain from J.T. Tai & Co., 07 Oct 10, Hong Kong www.sothebys.com