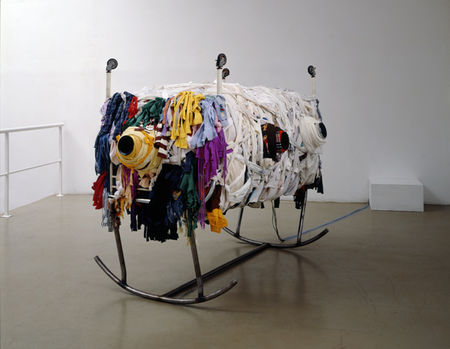 Chen Zhen, Berceau, 1995 (FNAC 970545), Centre national des arts plastiques - ministère de la Culture
et de la Communication, Paris. © ADAGP/CNAP
Le musée Guimet s'associe au Centre national des arts plastiques pour présenter, dans les espaces des collections permanentes du musée, des ensembles monographiques d'artistes asiatiques ou marqués par l'art oriental et représentés dans les collections du CNAP. Pour cette première expérience, le choix s'est porté sur Chen Zhen (1955-2000), l'un des artistes les plus influents des années 1990, exposé dans de nombreux musées d'art contemporain en Europe, en Amérique et en Asie, invité régulier des biennales de Lyon (1996), Shanghai (1997), Venise (1999, 2001, 2007 et 2009) et montré récemment au musée d'Art moderne de la Ville de Paris.
Entre tradition et modernité.
Présenter un artiste contemporain au sein des collections du musée Guimet est une entreprise audacieuse qui s'inscrit parfaitement dans sa nouvelle politique scientifique et culturelle en s'ouvrant sur « La Fabrique contemporaine de l'art en Asie ». Le visiteur est invité à déplacer son regard sur les lignes de permanences ou de ruptures entre la tradition et la modernité ; soit, sur toute l'histoire artistique et culturelle des nations d'Asie. Les deux établissements publics du ministère de la Culture et de la Communication : le Centre national des arts plastiques (CNAP), collection sans lieu muséographique, et le musée Guimet, véritable centre de la connaissance des arts et des civilisations asiatiques, se sont associés dans cette passionnante entreprise.
Dialogue entre Orient et Occident.
L'œuvre de Chen Zhen s'impose de manière évidente. Universelle, mais aussi profondément chinoise, elle cristallise en protocoles puissants et originaux, empruntés à tout l'univers des formes, des matériaux et des sons, ce dialogue déjà multiséculaire entre l'Orient et l'Occident. Depuis son arrivée à Paris en 1986 jusqu'à sa disparition, Chen Zhen n'a eu de cesse d'instaurer un dialogue transculturel qui échappe à toute tentative de classification. Né en 1955 à Shanghai, naturalisé français, Chen Zhen est issu d'une famille de médecins. A l'heure de la mondialisation, il sera préoccupé par la rencontre entre les traditions chinoises et les principes de la société occidentale. Sa création pose clairement la question de la place de l'homme et son devenir dans un « vivre ensemble », où « l'art a le pouvoir de dépasser la politique et la science, et celui de révéler la bonne conscience de l'Homme ».
Purification et simplicité.
Cinq œuvres majeures de Chen Zhen sont présentées dans les salles d'art chinois. Elles entrent en relation unique, spirituelle et formelle, avec celles de la collection permanente. Le Berceau renvoie à la permanence du cycle de la vie lorsque Round Table, disposée dans la rotonde du musée, convoque les thèmes de la communion, de l'unité et de l'harmonie, en référence au «Guanxi». Les chaises et la table symbolisent ainsi l'ordre humain idéal, développant les idées de respect mutuel, d'égalité et de multiculturalisme. Les notions de rite de transition, de purification et de simplicité sont autant de pistes de lecture des œuvres présentées, comme La Stèle/le Cercueil, L'Hibernation/la Divagation et L'autel n°9.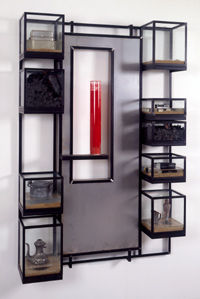 Chen Zhen, L'autel n°9, 1993 (FNAC 94028), Centre national des arts plastiques - ministère de la Culture et de la Communication, Paris. © ADAGP/CNAP
Du 29 septembre au 13 décembre 2010. Musée Guimet, 6, place d'Iéna – 75116 PARIS www.guimet.fr
Chen Zhen, L'hibernation / la divagation, 1990 (FNAC 91549), Centre national des arts plastiques - ministère de la Culture et de la Communication, Paris. © CNAP/ photographer: Y. Chenot
The Musée Guimet joins the Centre national des arts plastiques to present together, in the areas of the museum's permanent collections, monographic sets by Asian artists or artists influenced by oriental art and represented in the CNAP's collections. For this first experience the choice fell on Chen Zhen (1955-2000), one of the most emblematic artists of the 1990s. Five major works will be displayed in the Chinese art rooms. Of world renown, his work has been mainly displayed in contemporary art museums in Europe, the USA, Canada, Japan, Korea, China and Israel. As a regular guest of biennial events in Lyon (1996), Shanghai (1997), and Venice (in 1999 and 2009), his works were more recently shown at the Museum of Modern art, in Paris.
Between tradition and modernity
It is rather audacious to present a contemporary artist in the middle of the collections of the Guimet museum, but he fits in perfectly with the institution's new scientific and cultural policy of opening up to « La Fabrique contemporaine de l'art en Asie » (The contemporary Creation of art in Asia). The visitor is invited to run his eye over the permanent and broken lines between tradition and modernity, in other words, over the entire artistic and cultural history of the Asian nations. The two public institutions of the ministry of Culture and Communication, the Centre national des arts plastiques (CNAP), a collection without a museum, and the Guimet museum, a true centre of knowledge of Asian arts and civilizations, have associated themselves to this fascinating project.
Dialogue between the far-East and the West
Chen Zhen's work speaks for itself. It is universal, but also deeply Chinese, and it crystallizes the centuries-old dialogue between the Eastern and the Western worlds in powerful and original protocols, borrowed from the entire universe of forms, materials and sounds. Since his arrival in Paris in 1986 up to his death, Chen Zhen relentlessly introduced a trans-cultural dialogue that goes beyond any classification. Born in Shanghai (1955) and naturalized French, Chen Zhen came from a family of doctors. At the time of globalization, he focused on the encounter between Chinese traditions and the principles of Western society. These works clearly underline the purpose of man's situation and his future in «shared life», conceptualized around his ideal where «Art has the power to go beyond politics and science, and in doing so to reveal man's good consciousness».
Purification and simplicity
Presented within the musée Guimet, Chen Zhen's works enter a spiritual and formal relation with those of the permanent collection. The Cradle refers to the permanence of life's cycle while Round table, arranged in the rotunda of the museum, summons the themes of communion, unity and harmony, in reference to «Guanxi». Chairs and table symbolize the ideal human order, developing the ideas of mutual respect, equality and multiculturalism. The notions of ritual transitions, of purification and simplicity are so many different ways to approach the works displayed, such as Funeral Stele/Coffin, Hibernation/Rambling and Altar n°9.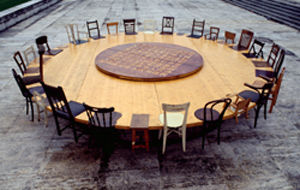 Chen Zhen, Round Table, 1995, (FNAC 02-532), Centre national des arts plastiques - ministère de la Culture et de la Communication, Paris.© ADAGP/CNAP