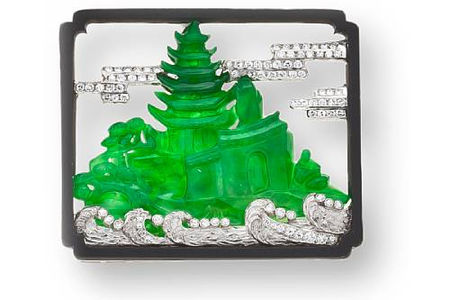 An art deco jadeite jade and diamond brooch, Marsh & Co, circa 1930 © 2002-2010 Bonhams 1793 Ltd
of openwork design, centering a carved jadeite pagoda accentuated with round brilliant-cut diamond detail, within a blackened steel frame; signed Marsh's; mounted in platinum - Estimate: $6,000 - 8,000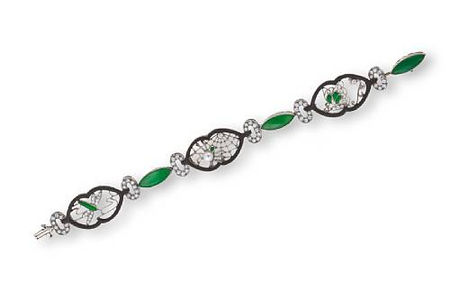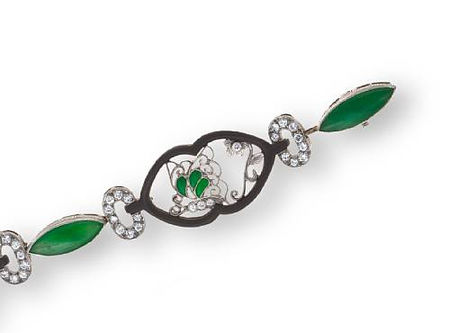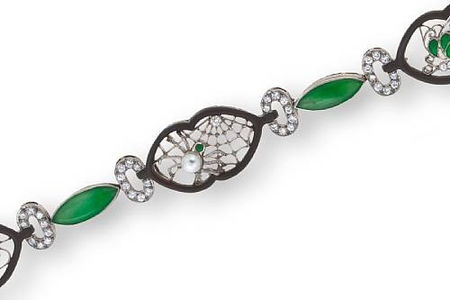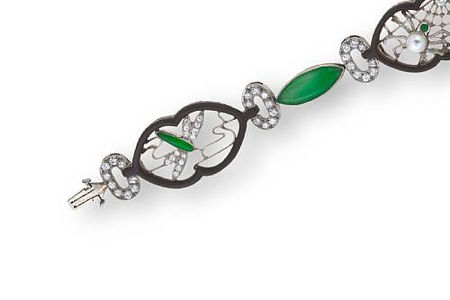 An art deco jadeite jade and diamond bracelet, Marsh & Co, circa 1935 © 2002-2010 Bonhams 1793 Ltd
designed as three openwork shaped-lozenge blackened steel panels each centering separate scenes of a jadeite and diamond dragonfly; a cultured pearl, jadeite and diamond spider and web; and a jadeite and diamond butterfly and flower; with lozenge-shaped cabochon jadeite and round brilliant-cut diamond C-shaped spacers; signed Marsh's; estimated total diamond weight: 1.40 carats; mounted in platinum; length: 7 1/4in. Estimate: $5,000 - 7,000
A pair of art deco jadeite jade, cultured pearl and diamond clips, Marsh & Co, circa 1935 © 2002-2010 Bonhams 1793 Ltd
each designed as a circular jadeite bi centering a round cultured three-quarter pearl with round brilliant-cut diamond and round cabochon jadeite scrolling surmount, delicately etched clips to reverse; each signed Marsh's; mounted in platinum - Estimate: $2,000 - 3,000
An art deco diamond and jadeite jade wristwatch, Marsh & Co, circa 1930 © 2002-2010 Bonhams 1793 Ltd
the rectangular silvered dial with black Arabic numerals and blued steel hands within a bezel of circular-cut diamonds accentuated with jadeite panels and winder, completed by a black silk cord bracelet with jadeite and diamond detail; unsigned, attributed to Marsh; mounted in platinum; length: 6 5/8in. Estimate: $1,500 - 2,500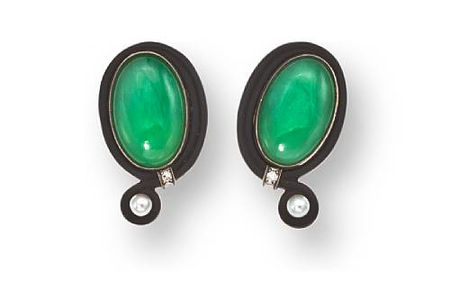 A pair of art deco jadeite jade, cultured pearl and diamond earclips, Marsh & Co, circa 1935 © 2002-2010 Bonhams 1793 Ltd
each designed as an oval cabochon jadeite within a blackened steel surround with single-cut diamond and cultured pearl detail; unsigned, attributed to Marsh; mounted in platinum - Estimate: $1,500 - 2,500
Note: The Estate of Margaret Roebling Perrine. Margaret J. Roebling married Frederick Auten Combs Perrine in Trenton, New Jersey on June 28, 1893, with more than 300 guests watching. She was the eldest daughter of the four children born to Ferdinand W. Roebling and Margaret Gatzmer Allison. Her father, Ferdinand Roebling, was the general manager of John A. Roebling Sons Company, perhaps best identified for building the magnificent Brooklyn Bridge. Widely known in the wire rope industry, their firm made iron, steel, cooper and brass wire, wire rope, electric cables and modern wire goods, all used in the construction of important structures. Ferdinand Roebling was among the first industrialists to recognize the importance of electrical development. A progressive, quiet mannered genius, Roebling managed not only his own company, but a host of other firms as well. Among these were the Wirecloth Company, Union Mills Paper Manufacturing Company, the Syracuse, Rochester & Eastern Railway Company and the Mechanics' National Bank of Trenton. He also was involved with the Otis Elevator Company, Mercer Automobile Company, Trenton Street Railway Company, the Interstate Railway Company, Trenton Brass and Machine Company, Mechanics' and Metals National Bank of New York and the Standard Fire Insurance Company.

Growing up in a household that fostered business, family values and refinement, Margaret J. Roebling availed herself of her father's extensive library, which included a highly important collection of books on ceramics and decorative wares. A woman of taste, she showed an interest in gardening.

Her husband, Dr. Frederic Auten Combs Perrine, a graduate of Princeton, worked for John A. Roeblings Sons Company from 1889-1892. After their marriage they moved to California, settling into a home on Bryant Street in Palo Alto. In 1893, F.A.C. Perrine became the first Professor of Electrical Engineering at Stanford University. There he established a program which centered on the design and construction of central generating plants for electricity. Dr. Perrine left the university to become a consultant for Standard Electric Company of California where he directed a project to harness the hydroelectric energy from the surrounding mountains and streams and transmit this to the cities of the Pacific coast. Later Dr. Perrine developed a private practice as a consultant and was a former editor of San Francisco's Journal of Electricity and Chicago's Electric Engineering.

The Perrines were enamored with the beauty of the Chinese and Japanese cultures, choosing to incorporate these exotic objects, furniture, decorations and jewelry into their personal collection. Sharing this interest and obsession, they became personal friends with the pioneer dealer, George Turner Marsh; this started what was to be a relationship that lasted generations in each family.

G. T. Marsh and Company
George Turner Marsh became fascinated with Japanese culture during his job at an import/export tea firm/auction house in Yokohama. At the age of fifteen, Australian-born Marsh had persuaded his family to leave him in Japan when they emigrated to San Francisco. Following the expedition of
Commodore Perry and the 1854 treaty opening Japan, Western civilization became captivated by Eastern culture. A few years later, Marsh rejoined his family in San Francisco. In 1876, G. T. Marsh and Company: Japanese Art Repository opened their doors at 625 Market Street at the Palace Hotel in San Francisco. The store originally featured fine Japanese antiques, works of art, textiles and clothing, becoming one of the first Asian art galleries in the United States. The business flourished and expanded as Americans embraced Japanese, and later Chinese culture. Branches in Coronado, Los Angeles, Santa Barbara, and Monterey opened.

George Turner Marsh was responsible for the commercial introduction of Japanese and Chinese arts, the creation of landmarks, and for providing the name for the Richmond neighborhood (named after the suburbs of his native Australia) for which he named his house, and subsequently dubbed the land where his home stood. He conceived and designed the Japanese Village Exhibit for the 1894 California Midwinter International Exposition in Golden Gate Park. After the exhibition closed Makoto Hagiwara, a wealthy Japanese landscaper, transformed this space into what is today the oldest public Japanese garden in the United States: the Japanese Tea Garden, now encompassing nearly five acres, complete with typical plantings, pond, and structural elements such as bridges and gates. In 1932, at the age of 75, George T. Marsh died in an automobile accident. He had become an important and prominent figure in San Francisco society.

In 1985, the San Francisco store closed, but the landmark Marsh building in Monterey, which opened in 1927, continued to operate. This third generation family run business finally closed their doors, in 2001, after 125 years.

The collection of Marsh jewelry that appears on the following pages is unusual. Marsh's love of the Orient attracted him to fine jade and pearls. He incorporated these materials and motifs into his inspired jeweled creations. In addition, and as contrast, his designs combined a highly unusual, black patinated steel, created by an Italian born jeweler who worked for Marsh. Early examples of Marsh jewelry are rare and collectible, other gems and metals – diamonds, coral, lapis, platinum and gold - provided further dimension and uniqueness. These distinctive elements provide an identifiable signature to his jeweled creations.

Perhaps it is the 1931 typed note that George Turner Marsh addressed to Mrs. F.A.C. Perrine to accompany her brooch (see lot 108) that is the most telling. It details an Eastern myth of the mystical land of Horai, and provides an explanation of the art deco scene worked in carved jade, diamond and patinated black steel. Beyond this reference, the note serves to reflect Marsh's passion for Eastern culture and dedication to giving insight to his western clients -- it expresses and captures the shared genuine interest, love and understanding of Orient.
Bonhams. Fine Jewelry, 19 Oct 2010. New York, Los Angeles and San Francisco www.bonhams.com