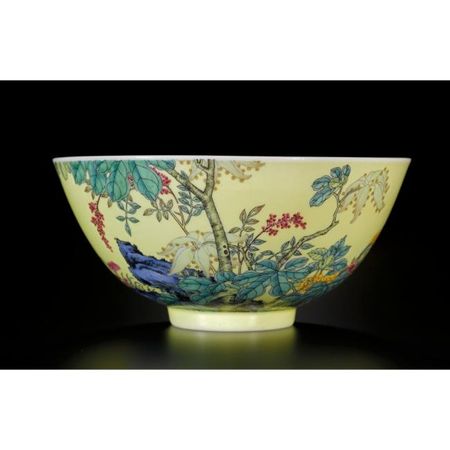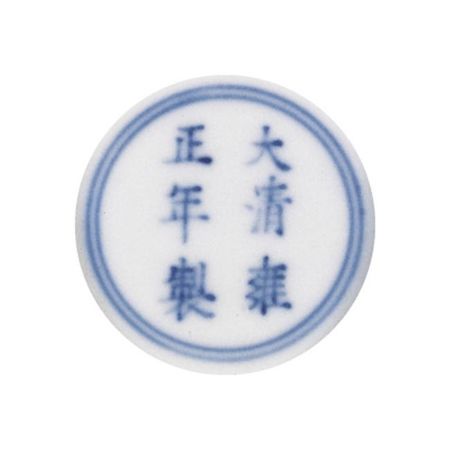 A superbly esnamelled and extremely rare chartreuse-ground bowl enamelled in the Imperial Workshops. Mark and Period of Yongzheng. photo courtesy Sotheby's
finely potted with rounded sides rising gradually from a tapered footring, exquisitely painted on the exterior in famille-rose enamels with a luxuriant garden centred around a leafy tree growing before a naturalistically rendered rock and issuing large palmette leaves and unusual five-petalled white blooms, among red and rich yellow rose plants, clusters of berries, pink lingzhi fungus and other plants, near two bats in flight, all framing a fourteen-character inscription with three seals, reserved on a pale chartreuse-coloured ground, the interior and base glazed white, the base inscribed with a six-character reign mark in underglaze blue; 14.2 cm., 5 5/8 in. Estimate 6,000,000—8,000,000 HKD. Lot Sold 7,220,000 HKD
NOTE: The translation of the poem reads:
To Jade Terrace comes springtime
with its beauty of rosy clouds,
Days and months lasting forever
at the tips of crimson blossoming boughs.
The three seals read:
Chunhe ('Spring Harmony')
Duofu ('Much Prosperity')
Duoshou ('Much Longevity')
Yinli, Imperial Prince Guo (1697-1738), offically the seventeenth son of the Kangxi emperor. His collected literary works are entitled the Chunhe tang ji (Literary Collection from the Hall of Spring Harmony). The Chunhe tang was the name of his princely residence. It is likely that the couplet inscribed on the bowl is from a poem by Yinli.
Nature scenes set against subtle shades of enamel colour were characteristic of falangcai porcelains from the Yongzheng reign painted in the imperial workshops in Beijing. This bowl was therefore previously believed to belong to this group of vessels painted in the precincts of the imperial palace in the Forbidden City. In recent years, more information has, however, become available about the finest enamel wares produced to imperial orders in Beijing as well as in Jingdezhen, so that this bowl, with its underglaze-blue Yongzheng reign mark, should now be attributed to the imperial kilns in Jiangxi.
The bowl forms part of an exceedingly rare group of vessels decorated in direct response to the greatest pieces of falangcai. Superficially the well-painted design and beautiful calligraphy of the present bowl are indeed very similar to those known from the Forbidden City, and the layout of the design is directly based on such prototypes. A closer look, however, shows that its flower painting does not directly copy the quiet nature scenes from the Beijing workshops but translates them into a much more dramatic tableau composed of idealized blooms, leaves and rocks. The seals used around the poem also differ from those applied in the palace; and the elegant chartreuse background colour is not identical to similar shades on falangcai, but represents an extremely rare, special creation of Jingdezhen.
Only one direct companion to the present piece appears to be recorded, a bowl from the collection of R.H.R. Palmer, illustrated in Soame Jenyns, Later Chinese Porcelain: The Ch'ing Dynasty (1644-1912), London, 1951, col. pl. C, and again in Hugh Moss, By Imperial Command. An Introduction to Ch'ing Imperial Painted Enamels, Hong Kong, 1976, pl. 58. This bowl is painted with an equally impressive design of narcissus, lingzhi and rocks on a similarly rare and unusual background tone of pale rose-pink, and also bears the underglaze-blue Yongzheng reign mark.
This reign mark is also seen on a number of vessels in the National Palace Museum, Taiwan, included in the Special Exhibition of Ch'ing Dynasty Enamelled Porcelains of the Imperial Ateliers, National Palace Museum, Taipei, 1992, pls 100-106, which are, however, enamelled in a different style.
Sotheby's. Fine Chinese Ceramics & Works of Art, 08 Oct 10, Hong Kong www.sothebys.com