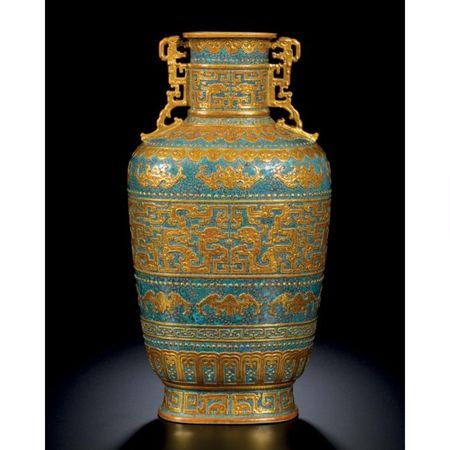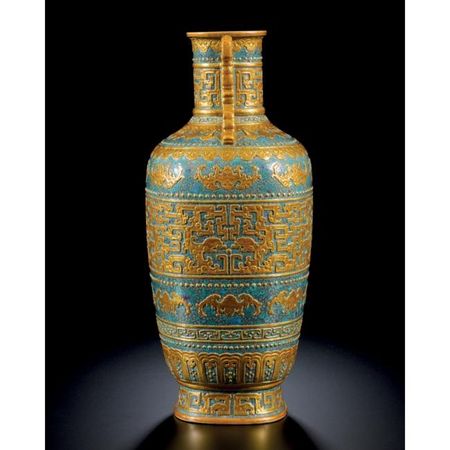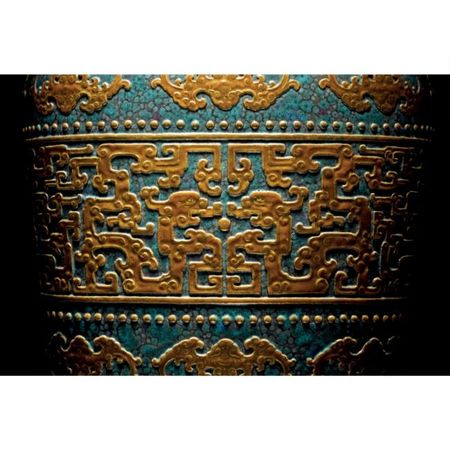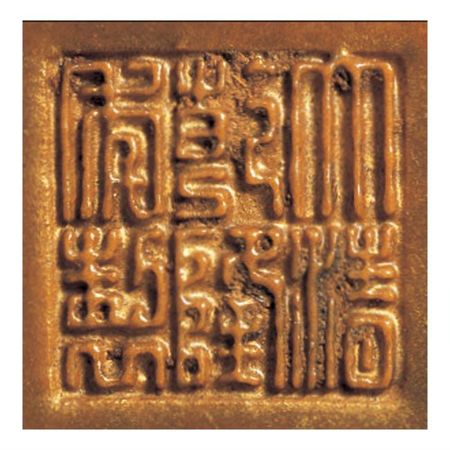 A fine and rare Robin's Egg-Ground Gilt-decorated Archaistic Vase. Seal Mark and Period of Qianlong. photo courtesy Sotheby's
based on the archaic bronze hu form with decoration imitating bronze and green patina, of compressed ovoid section with broad shoulders rising to a collared neck, flanked by a pair of reticulated archaistic gui dragons below an everted mouth, the body moulded in low-relief in a café-au-lait glaze outlined in gilt with a wide register containing four pairs of confronting gui dragons with bodies dissolving into 'hooks and volutes', set between two rows of moulded bats and bosses, with further bands of ruyi-heads and a trefoil collar around the shoulders, the neck decorated with further confronting gui dragons, all above moulded upright lappets skirting the gui dragon foot, reserved against a mottled robin's egg blue ground with details picked out in gilt, the interior glazed in a café-au-lait glaze, the countersunk base similarly glazed with a further layer of gilding and impressed with a six-character reign mark; 37.5 cm., 14 3/4 in - Estimate 18,000,000—25,000,000 HKD. Lot Sold 45,460,000 HKD
PROVENANCE: Collection of Lord Loch of Drylaw (1827-1900) (?).
Collection of Alfred Morrison (1821-1897), Fonthill House, Tisbury, Wiltshire.
The Rt. Hon The Lord Margadale of Islay, T.D.
Christie's London, 18th October 1971, lot 52.
Jen Chai Art Gallery, New York, no. A526 (one of the gallery labels of J.T. & Co.).
NOTE: This large oval vase with stylised dragons vaguely inspired by archaic ritual bronzes is one of the most impressive porcelains copying a metal prototype. Among the many simulations created by the imperial workshops for the Qianlong Emperor, those imitating archaic bronzes appear to have been the most popular. Ritual bronze vessels particularly of the late Shang (c. 1600 – c. 1050 BC) and Western Zhou (c.1050 - 771 BC) periods, which the Emperor equally collected, inspired precise trompe-l'oeil copies as well as 'modern' interpretations, like the present vase, and bronze shapes and design elements equally entered the general repertoire of Qianlong porcelain and provided inspiration for vessels otherwise unrelated to the ancient metal versions.
No simulated bronze vase of this large shape and this type of decoration appears to be otherwise recorded. In shape the present vase is loosely based on a Bronze Age hu of oval section, a form that, however, does not usually come with stylised dragon handles. The design equally mixes archaic designs with Qing dynasty elements: whereas the confronted dragons dissolved into almost abstract angled scrollwork derived from bronze design, the bands of auspicious bats and ruyi-heads are stylistically firmly rooted in the Qianlong period.
Bronzes were simulated through a variety of glazes, typically a brown of 'café-au-lait' or 'tea-dust' type heightened with gold, and this was often combined with a mottled turquoise or green glaze to evoke the blue-green patina of ancient metalwork. The lavish use of robin's-egg glaze seen on the present vase is, however, unusual.
Compare a massive vase in the Palace Museum, Beijing, echoing an archaic bronze zun with only a narrow band of this robin's egg glaze reserved on an overall tea-dust surface, illustrated in Kangxi, Yongzheng, Qianlong. Qing Porcelain from the Palace Museum Collection, Beijing, 1989, p. 412, pl. 93, together with a gu and a bell simulating bronzes, pp. 414f., pls 95 and 96. A tripod censer of Qianlong mark and period, probably lacking any turquoise glaze but decorated with very similar stylised dragons, is illustrated in Geng Baochang, Ming Qing ciqi jianding [Appraisal of Ming and Qing porcelain], Hong Kong, 1993, p. 282, fig. 486. A miniature vase of hu form with a much simpler decoration simulating inlaid bronze, with a band executed in a similar colour scheme with coffee-coloured dragon motifs raised on a mottled turquoise glaze, included in the Min Chiu Society exhibition An Anthology of Chinese Ceramics, Hong Kong Museum of Art, Hong Kong, 1980, cat. no. 138, was sold in these rooms 14th November 1989, lot 340. A porcelain gu from the Shanghai Museum, apparently unmarked and with a somewhat different turquoise glaze, was exhibited together with a Shang dynasty bronze gu of the type it copies in the exhibition Treasures from Shanghai. Ancient Chinese Bronzes and Jades, The British Museum, London, 2009, cat. nos 56 and and b.
A smaller plain white vase of similar form and decoration, originally perhaps intended to receive similar glazes but remaining unfinished, and with the reign mark partly obliterated, was included in the exhibition Ethereal Elegance. Porcelain Vases of the Imperial Qing: The Huaihaitang Collection, Art Museum, Institute of Chinese Studies, The Chinese University of Hong Kong, Hong Kong, 2007, cat. no. 2.
Sotheby's. Masterpieces of Qing Imperial Porcelain from J.T. Tai & Co. 07 Oct 10. Hong Kong www.sothebys.com