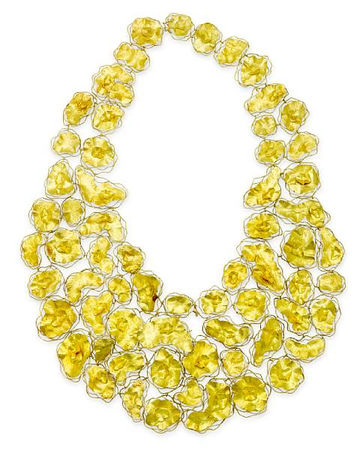 An exotic eighteen karat gold necklace © 2002-2010 Bonhams 1793 Ltd
the oversized bib designed as an openwork cascade of various-shaped three dimensional gold discs with wirework detail; gross weight approximately: 719.2 grams; approximate interior length 32in. Estimate: $18,000 - 22,000

Note: The former owner of this necklace often used to travel with her husband on romantic trips to Europe. They first saw this fascinating necklace, which she referred to as her "gold bib," on the runway at a fashion show in the Mediterranean around the mid 1970s. A model emerged wearing nothing but this "body jewelry" on her top. The wife turned to her husband, and said "I love that!" He found a way to purchase it for her as he loved to adorn her jewelry.
Bonhams. Fine Jewelry, 19 Oct 2010. New York, Los Angeles and San Francisco www.bonhams.com