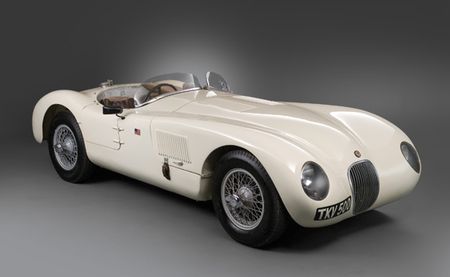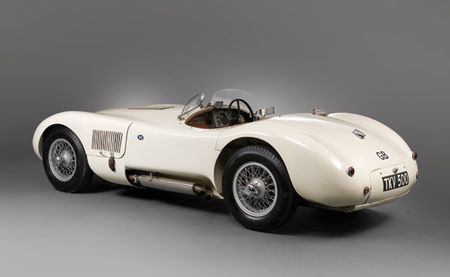 1952 Jaguar C-Type. photo courtesy RM Auctions
Chassis No.XKC-015 - Estimate: £1,900,000-£2,400,000
210 bhp, 3,442 cc double overhead camshaft inline six-cylinder engine with two SU carburettors, four-speed manual transmission, independent front suspension with upper and lower wishbones, torsion bars and hydraulic dampers, live rear axle with trailing arms, 'double-action' torsion bar and torque reaction member and hydraulic dampers, four-wheel Lockhead hydraulic drum brakes. Wheelbase: 96"

- Original matching-numbers competition C-Type
- Ex-Masten Gregory, victory at Golden Gate Nationals, San Francisco
- Victory and Course Record in Mount Washington, New Hampshire Hill Climb
- Unbroken chain of ownership and delightful patina
- Eligible for the most prestigious events

Jaguar's engineering team was truly formidable. William Heynes had joined the company as chief engineer in 1934, and his colleagues included Harry Weslake, Walter Hassan, Harry Mundy and Claude Bailey. When the Jaguar XK120 was launched in October 1948, it was lauded as one of the finest high performance sports cars to emerge from Britain. The 160 bhp, 3.4-litre, twin-overhead cam, six-cylinder engine gave the car a top speed of 120 mph.

The Jaguar XK120 was an immediate success in competition. Three were entered in the Silverstone Production Car Race in June 1949, Britain's first big motor race since the War. Leslie Johnson and Peter Walker destroyed the opposition with Johnson taking a resounding victory. XK120s went on to win races across the world. In America, Phil Hill, a future Formula 1 World Champion, bored one out to 3.8 litres and won race after race. In Britain, Stirling Moss helped cement his reputation in a semi-works XK120, winning the Tourist Trophy at Dundrod in atrocious conditions and leaving the field standing in the 1951 Production Car Race at Silverstone.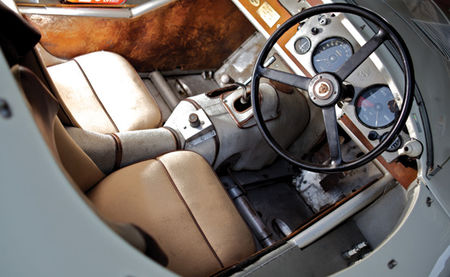 1952 Jaguar C-Type. photo courtesy RM AuctionsDevelopment of the C-Type
Chief engineer William Heynes had stated that, until he went to the 1950 Le Mans race, he had "never seriously contemplated designing a car for racing." At Les Vingt-Quatre Heures du Mans that year, Leslie Johnson had his more or less standard XK120 as high as third place until failing brakes eventually caused the clutch to fail. Lyons and Heynes watched the race from the pits. Heynes observed, "this race, as far as I was concerned, debunked the tradition of a tuning wizard with a lifetime experience on the track and a special gimmick in his tool box. I realised that a car could be built of standard production units from the factory, and that such a car could win the race given reasonable luck." The performance was enough to convince Lyons of the car's potential; Jaguar were going seriously racing, with the aim to win the great race at Le Mans in 1951.

Work began on the first prototypes in Autumn 1950, and the XK120C – the C stood for competition – quickly became known as the C-Type Jaguar.

Three C-types lined up for the start of the third post-war Le Mans in 1951. The works drivers were Stirling Moss and Jack Fairman, Peter Whitehead and Peter Walker, and Leslie Johnson partnering Clemente Biondetti.

An oil pipe flange failure eliminated Biondetti at a quarter distance, and after eight hours Moss had the same problem resulting in a blown engine. Before bowing out, though, Moss set a new lap record of 105.24 mph. Meanwhile, Whitehead and Walker concentrated on getting their car to the finish and took the victory with a record average speed of 93.50 mph, a staggering 77 miles ahead of the second-place finisher. In addition, the car set a new record for the greatest distance travelled over the 24 hours – 2,243.886 miles.

An impressive showing for the first time out, this was just the beginning of a period of domination at Le Mans for the Jaguar factory – a record few other marques have matched, before or since. In total, the 1950s saw Jaguar win Le Mans an amazing five separate times.

Three months later, in the Tourist Trophy at Dundrod, the C-Types came first, second and fourth with Moss winning from Walker and Tony Rolt recording the fastest lap whilst nearly snatching third place. Stirling Moss rounded off the C-Type's debut season by winning at Goodwood in September.

In 1952, Moss won the Daily Express Production Sports Car race at Silverstone and won again in the privately owned Wisdom and Cannell car at the Reims Grand Prix. Young Scottish driver Ian Stewart won the Jersey Road Race in July for the newly-formed Ecurie Ecosse team and then won another two races at Charterhall in Scotland.

In private entries, Stirling Moss and Duncan Hamilton finished 1st and 2nd at the International August meeting at Boreham. The works cars together with the three privately owned C-Types won numerous races in Britain until the end of 1952. Regular delivery of production C-Types to the United States began in August 1952, and before the season was over, the first cars exported to America were making their mark in the hands of Sherwood Johnson, John Fitch and, most notably, Phil Hill.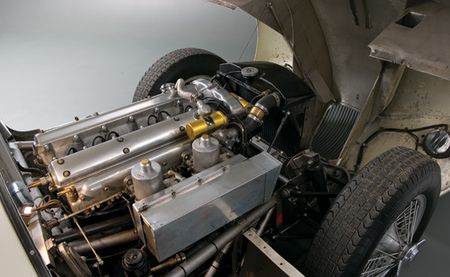 1952 Jaguar C-Type. photo courtesy RM Auctions
XKC-015
The C-Type Jaguar presented here, chassis XKC-015, was despatched from Browns Lane on 14 October, 1952, finished in cream with suede green interior trim and optional 3.92 rear axle, for delivery to Charles Hornburg, Jaguar's West Coast dealer in Beverly Hills. Hornburg had convinced William Lyons that competing in America would increase sales and had already received delivery of XKC-007, the very first C-Type to arrive in the US and a car which went on to be raced by Phil Hill.

Phil Hill recalled the arrival of the C-Types in America. "It was a big moment. These cars were not just a replacement for the XK120. People expected these cars to be a darn sight better than the 120 had ever been. The 120 was 'gee whiz' in'49 and still 'gee whiz' in '50 but by '51 they were passé – they were still very much envied as transportation but not taken very seriously as race cars. I was just in awe of the C-Type when I first stepped into it. When I look back on it now, it makes me smile. The steering was light – almost scary light. It was the first car I ever drove that had a really precise feel about it – it really felt like a racing car."

The first owner of XKC-015 was one J. Hall (not to be confused with Jim Hall, the other racing driver), who took his new C-Type racing on just one occasion. Early in 1953, XKC-015 was sold to upcoming driver Masten Gregory. Sports car legend Carroll Shelby called him "the fastest American to ever go over and race a Grand Prix car." He scored a podium finish in his very first Formula 1 World Championship Grand Prix start (a first by an American) and was also a winner of the world famous Le Mans 24 Hour endurance race. Formula 1 legend and two-time World Champion Jim Clark considered him to be his hero. Known as the "Kansas City Flash," Gregory was born into an insurance company fortune and bought this car at the age of 23 – quite an exotic sports car for such a young man. In fact, Gregory had started racing just one year earlier, in an Allard no less!

A win would come for Masten in his third race, an event in Stillwater, Oklahoma, with his brother-in-law Duncan finishing second in a Jaguar. The Jaguar that Duncan drove in this race was a cream-coloured Jaguar C-Type that Masten had bought at Sebring. Masten raced the car himself from then on with more wins and great finishes following.

Gregory won the Guardsman Trophy race at Golden Gate Park in San Francisco, as well as a race at Offutt Air Force Base in Omaha, Nebraska – the latter in front of 50,000 spectators (which supposedly was the highest attendance for an SCCA event at that time). After being black-flagged in a race at Chanute Air Force Base, Masten displayed his characteristic sense of humour by showing up at his next race with black-flags painted on his car, which were used as a background for his car number 58.

It was not a bad start for Gregory, or for XKC-015 for that matter. Gregory then loaned his C-Type to preeminent American car magazine Road & Track in August for their official road test of the new C-Type Jaguar. "For some reason Type Cs are hard to get and all attempts to line one up for our rather strenuous test routine failed, that is, until just before the Golden Gate Road Races when we received a phone call from Masten Gregory. Mr. Gregory, it seems, had heard of our dilemma and suggested that we test his car – provided, of course, that it survived the coming race event. To make a long story short, the car not only survived, it won the race and was duly returned to Los Angeles for us to test." (A copy of the full article is available in the file.)

Following the Road & Track test and a great start to its career, XKC-015's luck was to change when, during practice for the Floyd Bennett Races in New York, Gregory spun out, colliding with an oil drum, and the car caught fire. Gregory managed to leap out, as he was famous for doing even with cars still on the move, prior to sustaining any injury. The car was badly damaged, however, and he went back to the pits and purchased another C-Type, XKC-022, selling the damaged XKC-015 to Lindy Hansen and Jaguar racer Sherwood Johnson. The next year, with the chassis and mechanicals fully repaired, Johnson went on to achieve the best time of the day and break the course record at the Mount Washington hill-climb with the C-Type, famously running as a bare chassis minus its body panels.

Hansen used the C-Type on the road for many years prior to deciding to sell it to Merril Wells from Maine in 1958. Wells then sold XKC-015 to John Howe from Massachusetts in 1961, and the car was next seen advertised for sale in Road & Track in 1964.

The next owner was Mark Daniels from Milwaukee who purchased both XKC-015 for $2,500 and another C-Type, XKC-034, which was in a very sorry state and without an engine, for $900. Daniels went on to fully and correctly restore XKC-015 using all original components over a period of two years. He utilised chassis 034 for any un-repairable or missing parts. (Details of the restoration and components salvaged or swapped are included in the file accompanying the car.)

Following restoration, Daniels used his C-Type as a road car and on social rallies for almost 14 years until he sold it to Godfrey Miller of Vancouver. Miller then sold the car to Campbell McLaren, who was to bring XKC-015 back home to the UK.

The next owner was to become Tom Candlish, who acquired XKC-015 in 1984. Now issued with the registration TKV 500, XKC-015 went on to participate in numerous Ecurie Ecosse Scottish Rallies, the Jaguar Danish Spring Rally, Italia Classica and several Jaguar factory cavalcades to Le Mans, all with Mr. Candlish at the wheel.

XKC-015 has now acquired that lovely worn-in look, a natural patina that is totally unachievable on a freshly restored car. A look with a certain charm that not only perfectly suits this lovely old C-Type but has a great deal of appeal to the discerning collector today.

JD Classics bought the car from Mr. Candlish in 2008 for a client and, whilst retaining the car's delightful patina, has fully gone through the car mechanically, including having all suspension components, brake components and steering components specialist crack-tested and plated. All of the suspension and steering geometry has been properly set up for use on the road. A new radiator core and J.D. Sport high power 16-inch radiator cooling fan with thermo couple control with manual override has been fitted, and the car has been issued with FIA papers and the all-important Historic Technical Passport, so it is ready for use in the numerous European events for which it is imminently eligible.

The gloriously authentic C-Type Jaguar presented here, chassis number XKC-015, has an exemplary history and comes with a comprehensive history file which includes details of its restoration as well as numerous invoices and past MOT certificates. It is a race-winning car in the hands of one of the all-time great racing drivers Masten Gregory, sports car ace and Formula 1 World driver for Cooper and Ferrari. A car that is presented today in lovely condition, on-the-button mechanically and ready to take to the European circuit of highly prestigious classic motoring and racing events, including the Monaco Historic Grand Prix, Le Mans Classic and the Mille Miglia. A rare and very special opportunity!

DOCUMENTS: UK V5
RM Auctions. Automobiles of London, Wednesday, October 27, 2010 www.rmauctions.com