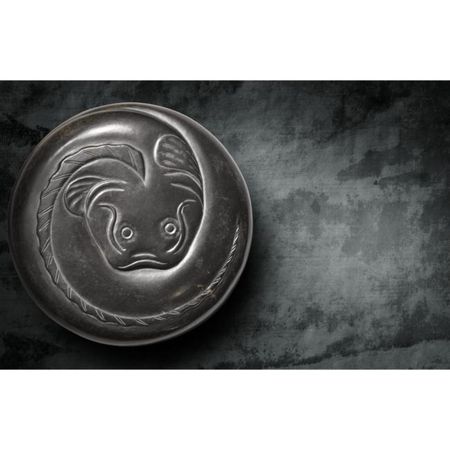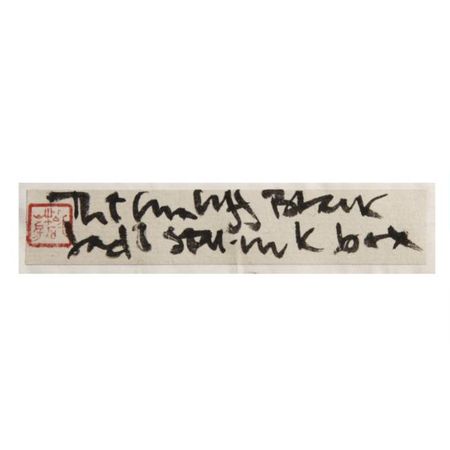 A black jade seal-paste box and cover. Ming Dynasty. photo courtesy Sotheby's
of circular form, the cover carved in low-relief with a catfish with its body continuing onto the side and underside of the box, the interior carved out to match the spiralling contours of the fish on the exterior, the stone of dark greenish-grey with white inclusions; 8.4 cm., 3 3/8 in. Estimate 200,000—300,000 HKD. Lot Sold 437,500 HKD
PROVENANCE: Collection of Lord Cunliffe (No. JM 32).
Bluett & Sons, London, 1978.
Collection of Prof. Peter H. Plesch and Mrs. T. Plesch.
NOTE: This jade box and cover is intriguing for the simple yet effective decoration of a coiled catfish, a design rarely seen on vessels of this type. Carved with great imagination, the artist's commitment to his work is displayed by the working of the interior of the box to echo the exterior, an area that is usually hidden by the contents of the box and generally considered less important.
The Chinese word for catfish (nianyu) is a pun for 'year'(nian) with the word for fish (yu) meaning 'plenty', hence the overall message conveyed is 'may you have plenty year after year'.
For examples of jade carvings of catfish see a russet-brown jade catfish group, from the collection of Gerald Godfrey sold at Christie's Hong Kong, 30th October 1995, lot 813; and a lobed saucer with catfish in its centre holding a lingzhi fungus spray carved in relief, in the collection of the Museum of East Asian Art, Bath, illustrated in Angus Forsyth and Brian McElney, Jades from China, Bath, 1994, pl. 341.
Compressed globular-form boxes were generally made to contain vermillion seal paste; compare two of closely related form, one of spinach-green jade and the other of yellow jade, from the collection of Dr. and Mrs. Cheng Te-k'un, published in James C. Y. Watt, Chinese Jades from Han to Ch'ing, New York, 1980, pl. 116; and a third box of similar shape but carved with a pair of chilong enclosing a shou character, sold at Christie's New York, 23/24th September 1988, lot 189.
Sotheby's. Water, Pine and Stone Retreat Collection - Scholarly Art, 08 Oct 10, Hong Kong www.sothebys.com