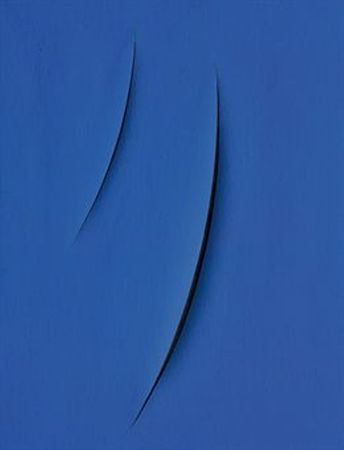 Lucio Fontana (1899-1968) Concetto spaziale, Attese, 1961. Photo: Christie's Images Ltd., 2010
signed and titled 'L. Fontana Concetto Spaziale ATTESE' (on the reverse), waterpaint on canvas; 25½ x 19 7/8in. (65 x 50cm.). Painted in 1961. Estimate £300,000 - £400,000 - Price Realized £313,250
Provenance: Galeria del Triangolo, Rome.
Literature: A. Pellegrini, New Tendencies in Art, New York 1966 (illustrated, p. 14).
E. Crispolti, Lucio Fontana: catalogo generale, vol. II, Milan 1986, no. 61 T 67 (illustrated, p. 437).
E. Crispolti, Lucio Fontana: catalogo generale, vol. II, Milan 2006, no. 61 T 67 (illustrated, p. 622).
Notes: 'As a painter, while working on one of my perforated canvases, I do not want to make a painting: I want to open up space, create a new dimension for art, tie in with the cosmos as it endlessly expands beyond the confining plane of the picture' (Fontana, cited in Jan van der Marck and Enrico Crispolti, La Connaissance, Brussels 1974, p.7).

Spare, elegant and immediate, Lucio Fontana's Concetto spaziale, Attese of 1961 is a striking example of his ambition to immortalise a fleeting moment for eternity. Belying the painting's emphatic simplicity is a profound consideration of abstract concepts surrounding nature, matter and existence. The Attese ('Expectations') series were so-named because when they were first exhibited by Fontana in 1958, they represented a dramatic departure from the "Buchi" or holes that everyone had come to expect in his work. Using a single clean-cut slash to cut through the canvas and open its two-dimensional surface into a three dimensional world of infinite and seemingly dimensionless space, Fontana's cuts stand as the single most elegant gesture in the artist's oeuvre.

Revisiting Italian artists pre-war attempts to depict movement through painting, Fontana's cutting gesture acts as a radical progression upon one of the first Futurist manifesto's proud declaration: 'The gesture which we would reproduce on canvas shall no longer be a fixed moment in universal dynamism. It will be dynamic sensation itself' (U. Boccioni et al., 'Futurist Painting: Technical Manifesto', 1910 reproduced in C. Harrison and P. Wood, (ed.), Art in Theory 1900-1990, Cambridge, 1993, p. 150). Instead of creating a representation of dynamic movement through time and space, Fontana enacted it, leaving the slash mark and the hole as its trace. Slicing through the hallowed and seemingly intractable surface of the canvas to project into the shadowy world beyond, Fontana deliberately sublimates matter, conceptually bringing art in line with the infinite possibilities presented by the great scientific developments of the twentieth century - space exploration and nuclear fission.

With works such as Concetto spaziale, Attese, Fontana points to the three-dimensional nature of the canvas, bringing his earlier incarnation as a sculptor to the practice of painting, combining its different processes to forge a hybrid object that is no longer constrained by traditional artistic conventions. However, the materiality of the painting is arguably subordinate to the space that passes through it, and the physical gesture that produced it. The sharp, vertical incision to Concetto spaziale, Attese shouts from the canvas like an exclamation mark as a definitive and iconographic image of Spatialist theory. The importance of the gesture lies in its expression of the enveloping abyss and as a powerful existential affirmation of the self. Lending form to the invisible, Fontana explores the conundrum that to represent 'Nothing', we must either imagine it or conceive it, therefore bringing about an awareness of being. The cut, though an emblem of the void is likewise an assertion of his active place in the world, however insignificant it might seem in the vastness of the universe. Just as Fontana converted a seemingly destructive act into one of creation, so too has he proved that contemplation of nothingness can provide a great wellspring of artistic inspiration.
Christie's. Post-War and Contemporary Art Day Auction. 14 October 2010. London, King Street www.christies.com